Lucky Pig Studio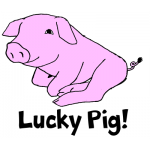 What We Do
Welcome to Lucky Pig Studios! This little shop is a joint venture between David Steffen and resident artist Joey Jordan. Every design we offer was created by one or the other. We're working on the page right now, but soon we'll show all of the available design images. Clicking on any image on this page will take you to a store page where you can buy a variety of products with that design printed on it.
NEW! We are trying out a pet cartooning service.
The Designs
To begin with, we just have a quick tossed together storefront, with our 12 first designs and a limited set of products.
We're working on providing a wider range of designs combined with a wider range of prices. Check back later to see what we've come up with!