written by Laurie Tom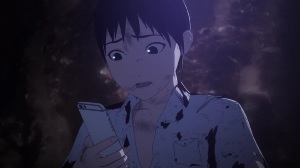 Ajin initially bears a superficial resemblence to Tokyo Ghoul, in that the protagonist goes from normal human being to a monster in the first episode. From there Kei Nagai undergoes a similar journey from lamenting his fate to accepting what he is, but Kei's journey progresses faster and he takes a decidedly different tack when it comes to dealing with what he's become.
The past couple decades have seen the emergence of a few people called Ajin. They cannot be conventionally killed. Any lethal damage from starvation to disintegration will result in the body dropping for a few seconds to a minute before regenerating to full health. But the interesting thing is that partial damage stays until the body dies, so it's possible to incapacitate an Ajin for capture. Ajin themselves can put their regeneration to creative combat uses and may intentionally try to kill themselves if they're too hurt.