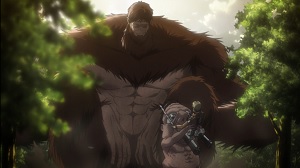 Attack on Titan's first season aired far enough back that I don't have a review on Diabolical Plots to point newcomers to, but suffice to say it's good! It crosses over to mainstream media much easier than most anime, but the story was clearly far from complete, which brings us to Season 2.
Be aware that there will be first season spoilers as I tackle the second season!
Attack on Titan took four years to return, which is surprising considering how popular it is. Part of the delay was no doubt because the first season had chewed through most of the available manga at the time it was animated, but considering that the second season is only covering one additional story arc, rather than two, I'm not sure why the studio waited so long. The manga has completed three more story arcs since the end of the first season, so from a storytelling standpoint, there's a lot to work with.