written by Laurie Tom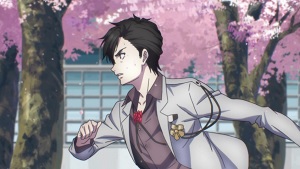 What if your reality isn't real? It should be, but you start to notice things that don't make sense and you can't ignore it.
That's the situation that Ritsu Shikishima finds himself in when he hears an odd voice through his phone, and discovers the class representative for the graduating third year students is the exact same person as the class representative for the incoming first years. And he's not the only one to find something amiss. His classmate Mifue comes home and discovers her mom has become a literally different person overnight, with a different appearance and personality.