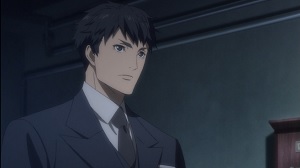 Joker Game isn't the series I thought it would be, but it's not the series I feared it would be either, and that's both good and bad.
The story starts in 1937, in the midst of Japan's invasion of China leading up to WW2. Lieutenant Colonel Yuuki has started up a specially trained spy organization known as D-Agency. The men who have graduated its rigorous training are regarded as both mavericks and monsters for adhering to tactics that the prevailing military thinking at the time regards as cowardly or even sacrilegious.
The opening two-parter is a delicious start, with conventionally trained Lieutenant Sakuma arriving as a military liaison between D-Agency and the Imperial Army. Sakuma quickly gets caught up in a cat and mouse game between D-Agency and his own superior that ends the first episode on a glorious cliffhanger with no obvious way out.