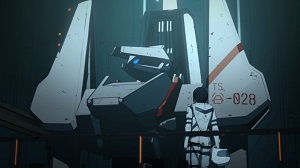 Knights of Sidonia is one of the few anime series in recent years that was brought over to the US, but never simulcast. While I heard the series was good, it missed a lot of the seasonal round-ups because no one could watch it during its original airing.
I finally had the opportunity see it and decided to give it a shot, even though I heard that the second half doesn't hold up to the first.
If you like hard science fiction in your anime though, the first half will entertain you plenty, as a lot of things that go unaccounted for in other series (like the fact a combat pilot in a cockpit needs some way of urinating without ruining his spacesuit) are called out and accounted for.
The sheer grittiness of the characters' situation calls to mind similarities to 2013's hit Attack on Titan. Once again we follow the last known bastion of human civilization, fighting a relentless enemy that cannot be communicated or reasoned with. Characters are introduced and wiped out, and tough decisions are made between the lives of a few or the survival of humanity.