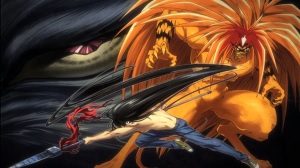 When I first started watching anime I wasn't too picky, because there wasn't much available, so I watched a lot of genres that I wouldn't anymore.
One of those early series was a direct to video supernatural action series called Ushio and Tora. It was fairly violent, but made tolerable by its endearing leads, the titular Ushio and Tora. Only ten episodes were animated, but the popular manga series eventually ran a whopping 33 volumes.
Fast-forward almost twenty years and in mid-2015 a new Ushio and Tora TV series was launched, spanning 39 episodes and covering the entire storyline. Despite being 20 years old, Ushio and Tora quite frankly doesn't care and runs with with the same cheeky attitude (and wild hair!) that it did in the 90s.