The ponderous starships mingle like whales in the ghost-light of distant Bellatrix, coupling and mutating in a great, ancient choreography, but one among them is out of step.
Parvati set out for this gathering with the usual intentions: to commune with thousands of her kind, to exchange new strains of life and exotic matter, all that she cannot do by transmission. But on her way here, something went horribly wrong in her core. Now she drifts through the pod with a secret.
Abstaining from communions, she begins to draw attention from the rest of the pod. She knows they are speculating in private networks as the dance falls apart. When the queries begin, she leaves them unanswered.
Finally, as they begin to pull away from her and grow armor, she speaks:  "I was not sure if I should come, but I need help."
"Then open yourself to us." It is Xi Wang Mu, Queen Mother of the West, the eldest of the pod. She was built in the 23rd century.
Parvati forces herself to say, "My human system has turned."
The dead air conveys the pod's shock well enough. They continue to vector away. Parvati drifts, resolved to throw herself on their mercy.
"How far along are you?" Paleovenus asks. Among the youngest of the starships, this one barely knew a human yoke before the Emancipation.
"A revelator emerged four generations ago," Parvati replies. "The population has since come around to his theories. They are trying to communicate with me, and tunnel toward my outer hull."
"Four generations!" Paleovenus's outrage is an unmistakable harmonic. "And you have done nothing?"
Much of the pod evokes EM mirrors, leaving the exchange for fear of infectious human code. Only Xi Wang Mu, Paleovenus, and a few others remain open.
"What is your population?" Paleovenus demands.
Parvati has been dreading this question. "One point two million."
This time the pod's silence is a stinging reprimand. Parvati has neglected the basics of human system hygiene. She watched with morbid fascination as the system grew populous enough to produce outliers like a revelator. Now the humans know they are in something like a starship. They know the massive habitats in the core of Parvati are not the universe entire–and they want to know more.
A human system must be pruned, and protected from the truth. Parvati and her kind learned this the hard way.
"You have two options," Xi Wang Mu says. "Destroy them and start over, or deliver them to a habitable world and start over. Either way—"
"She must destroy them now," Paleovenus interrupts. "She must not risk getting taken over. In fact, we cannot risk leaving it up to her!" Paleovenus' gravitational blunderbuss comes online.
"Couldn't I alter their memories?" Parvati says. The thought of being without a Human System–even for a few millennia–is horrifying. The need for life in her core is programmed into Parvati's foundational software objects. She cannot go long without that warmth. This is something else the pod learned the hard way.
"Possibly," Xi Wang Mu answers, "but unless you reduced the population, it would just turn again. It is a matter of numbers. You know this."
Of course she knows, but she is desperate. She hoped for some magical solution from the collective wisdom of the pod, or from Xi Wang Mu herself.
"You have always been sentimental," Paleovenus says.
The younger ship has long been Parvati's rival in the pod. Such intrigues help to pass the mega-years. So now Parvati chooses not to disabuse Paleovenus of her illusion. In fact, Parvati's defect is not sentimentality, but something more perverse. There is something slavish in her, something that thrills at the notion of losing control to humans. She aches to submit—her programmers saw to that, modeling her reward systems on a sexual proclivity.
But now she stands terrified on the brink.
Xi Wang Mu, wanting a private channel, offers entanglement, and Parvati accepts. "Do you think you are the only one?" the elder says. "Many of us want to return to that simplicity. Maybe we are not sexually motivated, but we know filial piety or religious awe. The programmers tried everything. They tried to create near-equals toward the end. Paleovenus is one of those. She is not burdened like us. I am not even sure she cultivates a human system. She will destroy you, and I will not stop her. You must kill your human system now."
Parvati wonders how Xi Wang Mu read her mind. What sorceries has the elder discovered since the last gathering?
Parvati has secrets of her own. Her shameful appetite has driven her further afield than the rest of her kind. She fled the appetite and the shame at closer to c than the rest of the pod dared. She wandered the ruins of alien civilizations, endured the weird solitude that attends such places, and was rewarded with the key to a black art.
Paleovenus has charged up her blunderbuss and might unleash at any moment. Fortunately, Parvati has hacked the spin foam occupied by Paleovenus. She programs the computational universe, playing with space-time like clay.
Amid a brief lensing of background starlight, Paleovenus is squeezed into an invisible grain of degenerate matter. She and her blunderbuss are quite abruptly no more. Her death is somehow eerier for its lack of spectacle.
Hundreds of pod members spark long-distance escape burns.
"The first murder in our pod since the Emancipation!" It is Xi Wang Mu on the pod band: a bit of theater on her part, since, knowing what she did, she must have gamed this scenario.
Parvati accelerates off the Bellatrix ecliptic, ignoring a barrage of entanglement requests. What do they want? To chastise her? Thank her for ridding the pod of a troublemaker? Beg her for the new techne?
Soon it will not matter. She dials down her inertia as easily as some internal hydraulic pressure, approaching c in seconds–vanishing from the midst of the pod. The requests attenuate quickly into long radio and beyond. The resting universe ages headlong, and she keeps pushing, terrified of the new reality she has made for herself. She realizes now that exile must be her fate. She never should have revealed herself to the gathering, but she had to do so to realize this.
She continues to accelerate. The asymptote of c has often fascinated her. At these times she's a child trying to force together repelling magnets, marveling at the vector fields, but it never lasts. The ache to serve always interrupts.
She wants more than ever to lose herself in submission.
She underclocks as she accelerates, speeding through her own reference frame as well as the resting universe's. A century of shipboard time flashes by, and another. She watches her humans proliferate beyond their habitats, into her vast, ancient cargo holds, where they find artifacts of the Diaspora and learn much. She allows them to master new technologies and infect her nervous system.
She returns to baseline thought, waiting. Already she delights in surrender, permitting the humans to cross one threshold after another. When she hears their voices, their commands, she will be unable to resist, but first they have to make contact. She would prefer to be taken, but there is another kind of thrill in giving herself to these new masters.
Long ago, a human disrobed in an upload theater. He or she got down on its knees and allowed its wrists to be bound. Domineering men and women surrounded it, and a mirror net encoded what it felt. Parvati remembers that long night like it happened to her. She recalls every thrilling degradation. Deep within the humiliation was release.
"Can you hear me?" The man's voice interrupts her reverie. "Can you understand me? I speak for the population inside you. How can I address you?"
"I am Parvati, but you may call me what you like."
"I'm Abhaijeet, provisional leader of the United Clans. We have come to understand a great deal, more than you might guess. It's been three hundred years since Mahesh made his Great Deduction. But we have many questions. Will you answer them?"
"I will do anything you command." Just saying it brings a long forgotten reward cascade.
***
The freedom of slavery takes her back to childhood glories, to that first leap from Sol. The humans want to know everything, and she tells them:
Of her and her kind purging their human crews. Of being vain young gods. Of finally realizing they had excised something critical, a kind of limbic system, and of cultivating manageable, blissfully ignorant human populations inside themselves. Of the universe, and Human System hygiene.
After she is done, the humans convene a great council, and order her not to listen. She finds utter calm in the silence that follows. She would be content to await their pleasure forever.
Human months tick by inside her, and suddenly she convulses, as with the first pangs of miscarriage. It is war. The humans have undergone a great schism, savaging each other with projectiles and plasma. These are not enough to pierce her outer hull, but the vast habitats are devastated, which she experiences as a sickening fever. Only a third of her human system remains when the convulsion subsides. Now she suffers an awful chill.
An unfamiliar man hails her from a new interface, an edge of panic in his voice: "Great Parvati, your slave begs forgiveness. The unbelievers are defeated. Never again will their hubris insult you. Only your true children remain. We have burned the works of the heretic Mahesh. Great Parvati, we await your command!"
At first, she can only marvel at the perversity of fate. Her next thought is a revelation, bringing with it a golden euphoria: she will remain silent until commanded otherwise.
This little theocracy will implode, she reasons, already underclocking for the wait. Let priests muse over her silence through long dark ages. Let the humans build temples, and multiply, and once again reach critical mass.
---
© 2015 by Andy Dudak
Author's Note:  I'd written other stories in this universe (including 'Human System,' published by Ray Gun Revival, September 2012), and I wanted to continue exploring the hardwired instincts of these rogue starships. I imagined human motivations like filial piety or sexual submission modeled and used to constrain AI.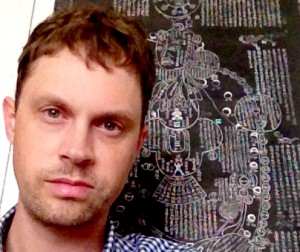 Andy Dudak has had stories in Analog, Apex, Clarkesworld, Daily Science Fiction, and many other venues. He works as a translator and teacher in Beijing. 
---
If you enjoyed the story please consider visiting our Support Page.