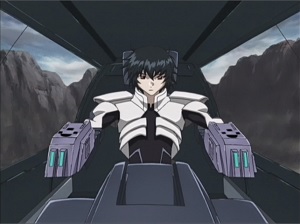 Fafner: Right of Left wasn't available to English speaking audiences for a long time. Animated back in 2005, it's the second oldest entry in the long running Fafner series, but never made it stateside, likely due to its status as a direct-to-video prequel.
Right of Left was also skippable when the Heaven and Earth movie came out in 2010, but when the Exodus TV series emerged in 2015, it became clear that Right of Left wasn't optional viewing anymore, as they made references to characters and the plan that makes up the heart of Right of Left. It was clear I was missing something.
Thankfully, at some point in the past year or so, it quietly slipped into the streaming library at Daisuki.
Right of Left takes place about half a year before the original Dead Aggressor and involves the class ahead of Kazuki and the others who will become the pilots of the first show. As such, we get treated to slightly younger versions of most of Dead Aggressor's pilots, back before their worlds got turned upside and raked over the coals.
However, because we know the pilots of Right of Left don't exist in Dead Aggressor (save for the one who's killed in the first episode), it's a safe conclusion going in that Right of Left is going to be a downer. Some tissues may be needed.