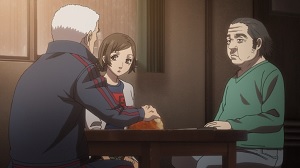 I really wanted to like Kokkoku. I really did.
The setup in the very first episode has a lot of promise. Juri Yukawa is a young woman, newly graduated from college, and she's from a middle class family that has fallen on hard times. Her mother is still working, but her father has been laid off. Her grandfather is retired, her older brother is unemployed, and her older sister is a single mother with a child she had with a man who has since exited her life.
All four generations of the Yukawas live in the same house and Juri feels like she needs to get out of town before she ends up going nowhere like almost every other adult in her family. She knows she's not that special. None of her job interviews locally have resulted in any offers.