written by Laurie Tom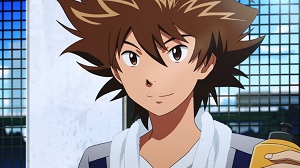 I did not grow up with Digimon in that I had just graduated college when it started airing, but it was one of the last series I watched as a Saturday morning cartoon. People who haven't seen it tend to dismiss it as a Pokemon knock-off, for featuring young children with monster buddies, but it did something that Pokemon did not. It allowed its protagonists to mature and grow up.
Digimon had always maintained in-universe that no matter how old you were, even if you became an adult, your partner digimon would always be there for you. Intelligent and able to speak, partner digimon are a pint-sized buddy that can be temporarily supercharged to grow into more powerful versions of themselves. No matter how badly their human screws up (and some of them do), the digimon are loyal for life.
Digimon Adventure tri is the 15th anniversary project originally intended for spring of 2015 and was devised as a TV show until it was revamped as a six part movie series.
It is clearly a nostalgia vehicle for those who had grown up with Digimon, specifically the original Digimon Adventure and its sequel Digimon Adventure 02. The first teaser was addressed to all the Digidestined in the world, a name for the chosen children with digimon partners (and by proxy, the audience), and the opening song is a new rendition "Butterfly," the opening theme from the first series.
Six years after their first adventure in the digital world, the oldest of the Digimon Adventure kids are now in high school with the younger ones in middle school. For the audience it's been a much longer fifteen years, but it still feels like coming home.
Reunion glosses over most of the worldbuilding about how/why digimon exist in favor of catching up with the original cast and setting an ominous tone for what is about to happen. While parts of the movie are watchable as a newcomer, the mechanics of digimon evolution and their different forms is not addressed at all, making it unclear why some digimon change forms (even multiple times in the same battle) and others do not.
The movie knows it's only the first of six, so it doesn't rush itself, resulting in a pace a closer to a TV show, but without the storytelling beats expected in a half hour episode. This makes it strange that the streaming sites do divide the movie up into four TV length chunks. Episode breaks feel arbitrary as some episodes have action scenes and others don't, and there isn't necessarily a climax.
Most of the screen time is focused around Taichi, now in his second year of high school and being badgered by his teacher to think about what he wants to do for a career after graduation, but instead of looking to the future, he's still caught up in his past.
The eight Digidestined are no longer as close as they used to be. Though most of the group goes to the same high school, getting together isn't easy. Mimi now lives in America. Jo, the eldest, is consumed by studying for entrance exams for college. Taichi's soccer game conflicts with performance day for Yamato's band, which conflicts with the anniversary dinner for Koushiro's parents. Takeru will go to the concert since he's Yamato's brother, and Sora can't make up her mind whether to go to the concert or the game or attempt both.
Peaceful days are limited though, and the digital world collides once again with the real one when a rift opens and a Kuwagamon (a large pink beetle monster) emerges and begins wreaking havoc on the city.
With the assistance of a secret government agency that seems to have been put together in the years since the previous invasions, Taichi and the other Digidestined are reunited with their digimon partners to again fight monsters and save the lives of others.
But for Taichi, it's surprisingly harder to go fight the bad guys now that he's older and wiser. Reunion is unfortunately ham-handed about it, but it's clear that watching his pet monster chase another digimon through a dense urban development and crashing into buildings everywhere isn't giving him the same rush. He's aware now that there could be people in those buildings. Someone could get hurt.
If you saw the trailers and wondered what happened to the new characters introduced in 02 or if they were retconned out, don't worry. The first few minutes make it clear they're still part of continuity. My feeling is their introductions are being held back for a later movie to avoid having twelve returning lead characters to catch up with at the same time.
There is also a new girl, Meiko, who has a digimon partner, and by virtue of being new, she is probably the crux around which the new events are happening. I'm not sure how well her inclusion will work though, since as a character she has to match up against all the nostalgia value of the other eight. She still doesn't quite fit in by the end of the first movie, though arguably it's because there has barely been the screen time to get to know her and the revelation that she even has a partner is only towards the very end.
Overall, I enjoyed watching Reunion because with the exception of Taichi, it felt like visiting an old friend and finding out we still click, but I find this difficult to recommend as an entry point for new fans. There is too much to catch up on, which is too bad since I would have liked a more grown up Digimon series to introduce people to. For previous fans though, it plays like a Digimon Greatest Hits.
Digimon Adventure tri is currently streaming subtitled on Crunchyroll and Hulu.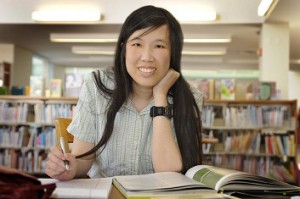 Laurie Tom is a fantasy and science fiction writer based in southern California. Since she was a kid she has considered books, video games, and anime in roughly equal portions to be her primary source of entertainment. Laurie is a previous grand prize winner of Writers of the Future and since then her work has been published in Galaxy's Edge, Strange Horizons, and the Year's Best YA Speculative Fiction.