written by Laurie Tom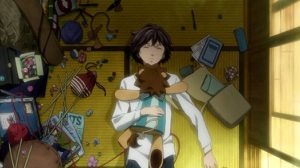 Hal is an original animated movie from Studio Wit about a robot sent to help the bereaved. Specially, the titular character, Hal, is sent to the young woman Kurumi after a fatal airplane accident.
Hal is told that it's his job as a robot that looks and sounds like the original Hal to help Kurumi through her grief. Initially I had to question why it would be a good idea to send someone a care robot who looks exactly like the person they had lost, but as the story progresses I can see why it works, as it allows the bereaved to address the misgivings and unsaid feelings they never got to say to the unexpectedly departed.
Watching Hal learn to become human is touching, especially as he tries to figure out how to reach Kurumi. He discovers that it's not enough just to show up and be kind, but he needs to understand who it was that she had lost, which is most often done through the puzzle cubes that Kurumi and the original Hal had made for each other.
Essentially a 5×5 Rubik's Cube, the puzzle cubes have a colored face on each side, and on each face the couple had inscribed wishes they wanted to come true, then scrambled them, because there is a saying that fixing the cube will make the wishes come true. As Hal solves the cubes, or gets help from others around him to do so, he begins to see what the relationship between Hal and Kurumi was like and what kind of person Hal had been.
At an hour in length, Hal is on the short side for a movie, but it's exactly the length it needs to be, as it doesn't burden itself with complicated subplots, and it allows the story to focus on Hal and him finding who he really is.
There is, however, a twist towards the end of the story that has virtually no foreshadowing. It worked for me, and I think it dovetailed nicely with the premise, but others viewers might be less forgiving. It's possible to detect on a second viewing as there are subtle animation cues, and a couple lines of dialogue that make more sense, but I would be very surprised if anyone figured it out the first time around.
I really enjoyed Hal and would recommend it to anyone who likes animation. Anime outside of Hayao Miyazaki films and assorted TV series rarely get much attention in the U.S. and with its length I'm sure Hal would never have gotten a theatrical run here, but it's a touching bit of science fiction that deserves to be seen by more people.
Hal was reviewed on Funimation's YouTube channel as part of a limited time promotion, with the first viewing dubbed and the second subtitled. The trailer and the first seven minutes are still available for viewing. Hal is available on Blu-Ray and DVD from Funimation.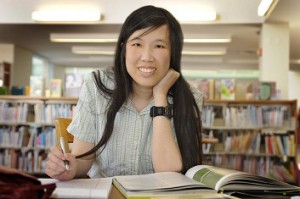 Laurie Tom is a fantasy and science fiction writer based in southern California. Since she was a kid she has considered books, video games, and anime in roughly equal portions to be her primary source of entertainment. Laurie is a previous grand prize winner of Writers of the Future and since then her work has been published in Galaxy's Edge, Penumbra, and Solaris Rising: The New Solaris Book of Science Fiction.