written by Laurie Tom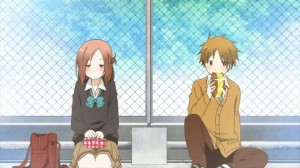 One Week Friends started off as my one must-watch show of the spring season, despite having only the barest of speculative elements (in that Kaori's malady is not a real world condition). Though the rest of the series never again hits the high of the first episode, it remains an enjoyable watch throughout.
The premise is that one day while running an errand for a teacher, high schooler Yuuki Hase comes to realize that solitary classmate Kaori Fujimiya is not the ice queen he thought she was, so he offers to become friends with her. She oddly refuses.
At first Yuuki thinks it's because her parents are strict and she's not allowed to have friends, but throughout the coming week he manages to eat lunch with her everyday (as an acquaintance, not a friend) and gets to know her. It feels very natural and adorable watching the two of them, as Yuuki is obviously attracted to her and she keeps insisting they're not really friends.
Finally, she admits that she has a strange condition where she forgets the people she cares about every Monday (barring family) and all the memories associated with them. She refuses to have friends because it's very inconvenient for others to discover they're strangers to her with the start of every week, and she is certain she will forget Yuuki because they're been eating lunch together all week and she has enjoyed her time with him.
Yuuki finds this difficult to believe until the following Monday when Kaori gives him a hostile look in class when he greets her. But undeterred, Yuuki resolves to tell her at the start of every week that he wants to be her friend.
In the second episode, Yuuki manages to convince Kaori that they had become friends, and when she thinks about it, she realizes she had no memory of what she had done during lunch for the past week, so Yuuki must be telling the truth. Happy to have someone who is okay with her condition, the two of them form a plan where she writes a diary of events important to her so she can remember what her mind forgets, and Kaori hangs a sign on her bedroom door to remind herself every Monday morning to read her diary before going to school.
Each episode covers a few days in a given week, and explores the nature of friendship as Kaori comes out of her shell and realizes that she really does want friends, and Yuuki has to realize that just because she's friends with him doesn't mean he's the only person she wants to be friends with. Yuuki does have jealous streaks, where he's clearly unhappy that she's spending time with other people, but even though he's flawed and borderline possessive, he ultimately cares about Kaori and tries to do what's best for her.
The supporting cast is good fun as well. Shogo, Yuuki's blunt talking best friend, can steal the show with his pragmatic advice (that the audience is probably thinking as well) and Saki is such a naturally forgetful person that she's completely accepting of Kaori's unusual way of forgetting.
Probably the only thing I didn't like too much was the extra bit of drama in the last few episodes when a new character is introduced from Kaori's past. Though her condition is strange, I find I didn't really need to know what the root of it all was, though the drama does allow for the formation of something closer to a series ending than if the show had simply made another episode.
The last episode is still a source of good feels regardless of the drama leading up to it and I like the small change to their weekly ritual of becoming friends again.
I'd recommend One Week Friends to anyone who doesn't mind a heartwarming slice-of-life show. There's no action to be found, but it's a good series to curl up with.
Number of Episodes: 12
Pluses: adorable main characters, friendships evolve naturally, interesting premise
Minuses: sometimes feels a little slow in the middle, ending drama feels forced
One Week Friends is currently streaming at Crunchyroll and is available subtitled. Sentai Filmworks has licensed this for eventual retail distribution in the US.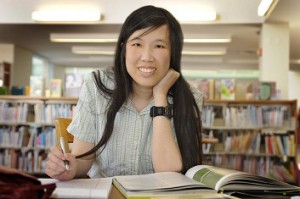 Laurie Tom is a fantasy and science fiction writer based in southern California. Since she was a kid she has considered books, video games, and anime in roughly equal portions to be her primary source of entertainment. Laurie is a previous grand prize winner of Writers of the Future and since then her work has been published in venues such as Galaxy's Edge, Crossed Genres, and Solaris Rising: The New Solaris Book of Science Fiction.