written by Laurie Tom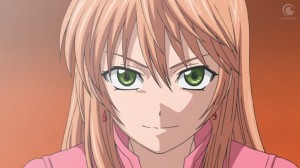 The World is Still Beautiful is based off an ongoing shoujo (girls) manga of the same name. Teenage Princess Nike comes from the small and relatively powerless Duchy of Rain, and in recent years a furious warlord known as the Sun King has conquered most of the known world. In exchange for leaving the Duchy of Rain alone, he asks for one of their princesses to be sent to him as a bride.
But to show how silly this series can be, Princess Nike is declared the bride when she loses a game of rock-paper-scissors against her three older sisters, and she's promptly shipped out of the only country she has ever known to meet the Sun King, who turns out to be a boy even younger than she is.
The first episode probably could have been cut. It didn't exist in the manga and seems to be only there to provide some background flavor to the Sun Kingdom, and a little understanding for why the Sun King might want to marry a princess from the Duchy of Rain. The royal family members of the duchy have the ability to call the rain with song, and the Sun Kingdom is a land without rain; most of the water for their crops comes through irrigation.
Once King Livius is introduced (he appears at the very end of the first episode) the ball gets rolling, as both he and Nike are incredibly stubborn, and he has a nasty mean streak to him. When Nike doesn't sing on command at their first meeting, because calling the rain is a sacred act to her people, he tosses her in the dungeon. But Nike being a very spirited young woman, doesn't stay there. Calling the wind isn't the only part of her weather related powers.
There are parts of The World is Still Beautiful that feel terribly formulaic; the rival love interest (for both leads), how Nike manages to make peace with even the worst of former enemies, and how Nike is completely incompetent at palace life (except when it really counts).
The story is not deep and mostly revolves around Nike and Livi's growing feelings for each other despite everybody and their grandmother trying to tear them apart, but the execution is clean and Nike and Livi play off each other so well it's forgivable.
I really like that Nike is so outspoken. She's not a delicate princess and what comes to mind just as frequently comes out her mouth, even if it gets her in trouble. And once she decides that she really is going to marry Livi, she isn't about to let anyone else take that away from her.
Probably the two most problematic parts of their relationship are 1) Livi looks really young (though he's voiced by an adult man and sounds like it), which makes scenes where he's undressed a little squicky and 2) even though Nike mellows out Livi, he is still the Sun King and that cruel streak pops now and again. He never directly hurts her, but there's one point where he threatens to burn her homeland to ashes because he catches her in a situation where it looks like she might have been unfaithful, and I don't think he was joking.
Aside from that, their relationship revolves around Nike learning how to behave herself as the future wife of the Sun King (they don't actually marry by the end of the series) and Livi learning to love life and see the world through the eyes of others. Their relationship is pretty chaste with just the occasional kiss, usually accompanied with a lot of blushing, making it (barring a really out of place rape joke in the skippable first episode) suitable for pre-teen viewers. Though there is brief nudity, it's not sexual in nature and is played for laughs.
Later episodes of the series take us to the Duchy of Rain, which is of a rainy southeast Asian design as opposed the obvious European one of the Sun Kingdom. The story arc there is a nice way of affirming Nike and Livi's relationship, though I think the final episode's pacing was strangely off, like the writers found themselves with an extra 15 minutes of footage and didn't know what to do with it.
The World is Still Beautiful isn't an anime for the ages, but for those looking for solid girl's anime that isn't based on a dating game, this isn't a bad bet. It's equal parts silliness and actual drama, and when Livi isn't a complete jerk (which is actually most of the time) he's fun to watch.
Number of Episodes: 12
Pluses: romantic leads play off each other well, beautiful costume design in the Duchy of Rain, Nike is a girl who knows how to take charge of her destiny
Minuses: Livi's actions may cross the line depending on viewer's sympathy for jerk romantic leads, Livi looks like a ten-year-old making for uncomfortable viewing, a little formulaic
The World is Still Beautiful is currently streaming at Crunchyroll and is available subtitled.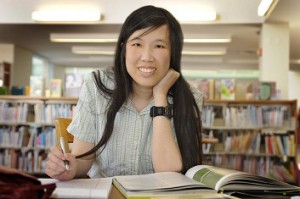 Laurie Tom is a fantasy and science fiction writer based in southern California. Since she was a kid she has considered books, video games, and anime in roughly equal portions to be her primary source of entertainment. Laurie is a previous grand prize winner of Writers of the Future and since then her work has been published in venues such as Galaxy's Edge, Crossed Genres, and Solaris Rising: The New Solaris Book of Science Fiction.