written by Laurie Tom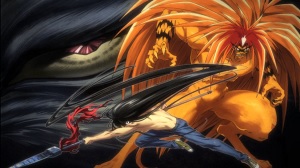 When I first started watching anime I wasn't too picky, because there wasn't much available, so I watched a lot of genres that I wouldn't anymore.
One of those early series was a direct to video supernatural action series called Ushio and Tora. It was fairly violent, but made tolerable by its endearing leads, the titular Ushio and Tora. Only ten episodes were animated, but the popular manga series eventually ran a whopping 33 volumes.
Fast-forward almost twenty years and in mid-2015 a new Ushio and Tora TV series was launched, spanning 39 episodes and covering the entire storyline. Despite being 20 years old, Ushio and Tora quite frankly doesn't care and runs with with the same cheeky attitude (and wild hair!) that it did in the 90s.
At the start of the series, teenage Ushio discovers a hidden cellar in his dad's monastery while being condemned to do his chores. However, once he opens the cellar he discovers a living demon pinned in the cellar by an enchanted spear. After an amusing conversation during which the demon promises to eat Ushio as soon as he frees him, Ushio shuts up the cellar door and plans to ask his dad about it later.
But things don't stay that simple. Just by opening the door, Ushio released 500 years' worth of demonic energy that has been building up and his home is suddenly attracting yokai of all kinds. The only way to drive them off (and save his classmates who came to visit) is to free the demon who promises he can take them out.
The demon does try to renege on his promise, but there's a slight problem in that since Ushio pulled out the enchanted Beast Spear, he's now the wielder of it, and the Beast Spear gives him the power to not only fend off the demon, but beat him back in line.
And this is the start of the frenemy partnership of Ushio and Tora ("Tora" being the name Ushio gives to the demon).
They make a fantastic duo, with Ushio being the constant optimist and Tora the pessimist. Ushio wears his heart on his sleeve and says he would gladly cry tears if it means someone else won't have to. Tora can't admit he cares about anyone but himself (though his actions say otherwise). One of the ongoing jokes is Tora promising to eat Ushio one day, and as time goes on, finding excuses not to do it (yet).
The violence is censored somewhat for the TV run, using shadows and discretionary shots that the original did not bother with, but it doesn't detract since blood and gore isn't as much of the point as the action and the buddy dynamics between the two leads. If the snark between them wasn't so good this series wouldn't have made it as far as it does, but even if the characters aren't too deep, they're entertaining to watch.
And that's a good thing considering that the series starts off in a monster of the week fashion, which is unavoidable when following the manga. A fair bit of it is streamlined to fit the 39 episode run, but there are still a lot early one-off episodes that only later play a larger role as the series progresses. Because of this, Ushio and Tora is not particularly binge-able at the start, you can tell at the time the manga was created the artist was still trying to get his storytelling legs under him, but once the greater plot comes out it makes for fine viewing.
The source of all the woes in Ushio and Tora comes from Hakumen no Mono, a nine-tailed fox so powerful and malevolent that even other demons fear it. Hakumen has no redeeming qualities and is impossible to sympathize with, but it's so damn freaky that even when it's ranting about death and destruction it works. The audience isn't meant to understand how such a creature is possible, it just is.
Veteran voice actress Megumi Hayashibara is unrecognizable as the voice of Hakumen no Mono, and initially her casting seems odd. Usually such a demon would be voiced with a deep bass, but Hayashibara gives us a scratchy and hissing Hakumen no Mono in a register where it's not possible to guess a gender. And because it's not the voice we expect, it feels wrong, just like it looks wrong.
A nine-tailed fox should be beautiful, but Hakumen is twisted, with eyes that are too big and a body that is too thin.
Between Hayashibara's excellent performance and sparing visual use of Hakumen itself, the show does an excellent job of building up just how terrifying the fully unleashed Hakumen no Mono ought to be. I haven't seen such a good build up of an earth-shattering, apocalypse level villain in a long time. Hakumen feels unstoppable, even though it's imprisoned for the majority of the series.
Ushio and Tora isn't going to win awards for its plot, but as a shounen action series it's good fun, and since it's based on a completed manga, it has no filler. Everything gets used eventually by the end. If you like shounen material, and don't want to sit through 100+ episodes to get to the end (if the end is even there), Ushio and Tora is worth checking out.
Number of Episodes: 39
Pluses: entire storyline is animated and filler free, Ushio and Tora are entertaining and compelling leads, Hakumen no Mono is an incredibly good villain
Minuses: slow pacing at the start of the series, characters and plot aren't particularly deep, filler removal creates the impression that everyone Ushio meets has to be involved in some way
Ushio and Tora is currently streaming at Crunchyroll and is available subtitled. Sentai Filmworks has licensed this for eventual retail distribution in the US.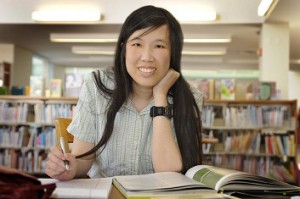 Laurie Tom is a fantasy and science fiction writer based in southern California. Since she was a kid she has considered books, video games, and anime in roughly equal portions to be her primary source of entertainment. Laurie is a previous grand prize winner of Writers of the Future and since then her work has been published in Galaxy's Edge, Strange Horizons, and the Year's Best YA Speculative Fiction.