written by Frank Dutkiewicz
Well, so much for that pledge. Disaster hit me a month plus ago. My laptop died. Fortunately, most of the stuff I was working was backed up, except for the reviews of Daily SF. No big deal, just had to reread, rewrite, and resave the entire month of reviews I did. Good thing these stories are worth a second readâ€
"Worlds Like a Hundred Thousand Pearls" by Aliette de Bodard (debut 2/1 and reviewed by James Hanzelka). Okay this is the part of the review where I tell you a synopsis of the story. The problem is that after reading this several times I'm not sure what that story is. It starts out with an explanation of the transcendental number, e, and progresses through Buddhism, ending in a parable wrapped in a metaphor. Maybe it's just because I read it on the 20th of April. (If you don't know the significance of that date, ask a college student.)
This story definitely isn't for everyone, because it sure wasn't for me. I found it confusing, muddled and I'm still not sure what the point was. I guess there was an attempt to build a pseudo-existential parable, but it was lost on me. There were some good little descriptions in there, like the worlds being stacked on one and other like a child's stacking toy, but they are too few and not joined by any connective tissue. In the end the story felt like a bad saying I had found inside some fortune cookies.
The death of a monkey is seen from several perspectives in "Thirteen Ways of Looking at a Monkey" by Ruth Nestvold (debut 2/2 and reviewed by James Hanzelka). As we progress from the simple statement, that a monkey was alive and then died, to more detailed descriptions, the impacts are revealed. This is a story in thirteen vignettes each building on the previous ones. They tell a story of man's inhumanity and the ape's all too human reactions to it.
I liked how this story changed perspectives with each segment, and how the author used this perspective change to touch our sensibilities. He leads us down the path we know we must go, but rebel against. Good story, handled with deftness and a clever setup.
The main character is pulled into a game night in "Cloudburst" by Robert Reed (debut 2/3 and reviewed by James Hanzelka), forcing him to put aside business and focus on mundane interactions with his wife and son. A sudden storm interrupts and as it grows in intensity and destructiveness he is forced to view the world differently, often applying his own particular prism to the events.
This is a simple tale proceeding from a mundane night at home to more profound thoughts. The author does a good job of injecting wonder and mystery into a seemingly simple set of natural events. I liked the way he managed to weave several levels of consciousness into what might seem a simple night of homebound normalcy interrupted by a simple storm. The writing is clear and crisp as the air after that cloudburst and as evocative as the display of lightening in the northern sky.
Be careful what you pour down a drain is the theme of "Biomass" by Alexander Stanmyer (debut 2/6 and reviewed by Frank D). The protagonist in this tale is a commercial genetic therapist, working within the confines of a Living City. A botched batch of a concoction to boost a client's immune system is dumped into the city's waste reservoir, and now the city is showing signs that it isn't feeling so well.
This story is set in a future where cities are living breathing life forms; tailored to absorb our waste, see to our needs, and grow the infrastructure a city needs. The author presented it as one person's confessional, keenly aware he is the instrument of the city's oncoming death. Perhaps because of its short size, the tale is eerily dark, making it appealing and revolting, depending on your particular flavor of speculative fiction. I must confess I loved this premise but was disappointed because of the brief manner in which it was told. This is a tale that deserves a far larger narrative. A novella or novel is the proper venue to tell a tale like this correctly, and I encourage the author to bring it to life so we can view what a metropolitan involuntary manslaughter crime truly looks like.
"Magic Enough" by Chuck Von Nordheim (debut 2/7 and reviewed by Dustin Adams). Sometimes there's just enough magic. As adults, we wouldn't know. Perhaps the real world and our bills and busy lives steal the magic from us, or perhaps it just fades with time.
For young Evan, he's got just enough remaining to conjure his invisible friend and pass a tangled message to his best friend who is about to pass from our world. The boys know, they understand, even if the parents only wonder.
"Angry Child" by Benjamin Rosenbaum (debut 2/8 and reviewed by Dustin Adams) is an interesting story of a man, plummeting to his death, contemplating who is to blame for his falling; himself, for not catching hold of the window as he was pushed through it, or his daughter, for having done the pushing.
Other contemplations take place during the life-flashing fall but for the most part, the plot through-line, that which led his fall, is what I found most gripping.
This is the first story I've read by Benjamin, so I can't say if his style is traditionally wordy and purple, but this particular prose was a bit too over-the-top for me to fully sink my teeth into. However, the story is sound.
The Empress Uvay is dying and must choose her heir in "The Steel Throne" by Eric James Stone (debut 2/9 and reviewed by Frank D). The hard empress has two descendants to choose from; a son , the rightful heir, and her daughter , child of her heart. The two have their own strengths that would benefit the great nation she helped to create, but would lead the empire in opposite directions. She has only one real choice to make, and only she can change it.
"The Steel Throne" is mostly a historical look back at the empire Uvay created. The narrative explains how the nation came to be and shows why her choice is so difficult to make. The path the author took to tell this story made it obvious that a twist was on its way. It read like one big set up for an ending that had only one of two ways to go, which turned the reveal into a coin flip for the reader.
Early tension. A prophesy. A mysterious girl. A kingdom under tyranny. What more could you ask?
In "The Age of Three Stars" by Kenneth Schneyer (debut 2/10 and reviewed by Dustin Adams), the author draws a complex life for Petros, the aging protagonist. His station, blacksmith's apprentice, and his age, say a lot about his character. A self-professed coward, he hid during a preliminary uprising, and was the only rebel to survive.
Now, thirty some years later, the prophecy of a new age, heralded by an eclipse, should be about to come true… but he's the only one who remembers the date.
He relates the prophecy through song to Zandra, a young street urchin dead-set on being his apprentice, thus unburdening his tainted soul.
The conclusion and how the prophesy plays out is best told by Kenneth, not I. So please sit back and read this Friday offering. You won't be disappointed.
Recommended.
A man seeks a magical item that will give him an advantage in "The Pencil of Truth" by Shamus Maxwell (debut 2/13 and reviewed by Frank D). Magnus knows his shops, asking the owner for a "magical object that will change my life for the better, then for the worse, After turning down the first two choices, the owner offers him a pencil that writes only the truth.
"The Pencil" was a delightful story. The pencil changes anything the writer writes but what it reveals can never be predicted. Waiting for information you'll find useful can take some time, and may reveal facts you really didn't need to know. For a work of flash, the twist and turns in this tight narrative had me on the edge of my seat. The ending was to die for.
Recommended.
"Joey LeRath's Rocketship" by Julian Mortimer Smith (debut 2/14 and reviewed by Frank D) is the tale of a recently missing boy recruited to pilot a vagrant's cardboard rocketship. Billy is lost. He ran off when his parents began to argue in the crowded Crouchtree market near a nuclear weapons stand. Joey LeRath finds him and offers the scared lad a bit of candy and a safe place out of the crowd. Joey has made a spaceship, flimsy as a weathered shack. He needs a pilot, and Billy is just the man for the job.
"Joey LeRath's Rocketship" is a fantasy story set in a science fiction world. Billy's family has torn itself apart on the eve when the Earth is about to do the same. The tale was difficult for me to buy. Although I found the writing solid, I was left unsatisfied following along. The ending left me wondering what the whole story was about.
"Pulse" by Stephen Gaskell (debut 2/15 and reviewed by Frank D). The protagonist is an interstellar probe on its way the Crab Nebula.
"Pulse" is one of the Numbers Quartet's offerings. The story receives its inspiration from the Elementary Charge equation. I failed to make to connection between the equation and the story.
In, "In Her Arms of Dresden Place" by Damien Walters Grintalis (debut 2/16 and reviewed by Anonymous) a glassblower repairs what appears to be the broken remains of a glass woman and somehow breathes life back into her. The story is about his relationship with the re-animated statue and how his 'help' may be contributing to the problem of adjusting that the statue has. I think this story is a metaphor for the heart and mind, and although the metaphor is taken quite literally it works quite well on that level. Nicely written.
Tom has the solution to Marla's allergies in "Nanomite" by Patricia Duffy Novak (debut 2/17 and reviewed by Frank D). Marla's husband is a bit extrinsic who has a habit of jumping to conclusions and solving paranoid problems with grand schemes. He is sure Marla's cold is caused by dust mites, but not to fear. The latest technological advancement is guaranteed to solve the problem, for good.
"Nanomite" is told from the perspective of a wife with an excitable husband. Marla sniffles is all the proof he needs to pepper the house with tiny robots to exterminate dust mites. After going a summer without a running nose, the first signs of a cold returns in the fall, spurring a new worry for Marla.
The story is slightly science fiction. It is more of an everyday tale with a small futuristic element inserted to make it fit DSF. Although I enjoyed the voice, I expected a grander resolution to this tale. The ending left me slightly disappointed.
"Digital Blues" by Greg Mellor (debut 2/20 and reviewed by James Hanzelka) starts as a wistful siren's call. It beckons the reader to come visits old places, feelings. The passion and feelings are laid bare, as if the teller wants to show us how entwined the two of us are. Slowly it is the depth of an algorithm's love for its mainframe that is revealed as the two lover's quest for fulfillment.
This story started out almost as verse, but without any underlying meter. It was as if Shakespeare wrote in a mixture of prose and mathematics, but lacked a soul. The story pulled me in by unraveling the twine. But alas, it was not to be, for the ending did not live up to the promise of the beginning. The strong foundation laid by the earlier passion was weakened by the tepid ending. It was a piece of such promise left unfulfilled.
A pilot crashes on the home planet of a race his force is keeping imprisoned by blockade in "The Prisoners" by D.K. Latta (debut 2/21 and reviewed by James Hanzelka). He is remarkably uninjured, but is held captive by the reptilians that are his hated enemy. While the elder being set to watch him seems unthreatening, the pilot knows their true nature. Though he is uninjured, the pilot cannot move; he cannot imagine how the telepathic race has bound him. If he could free himself Chanthrow would kill his captor with his bare hands and escape. The price for his release may be too high to pay, the truth often is.
This is an excellent story of how our perception can be colored by prejudice, whether it is of our making or not. The story does a good job of drawing us in spite of a few strange word choices, such as ".., like a wave slamming him against the surf." This phrasing caused me to stumble once or twice. These few minor glitches aside, the writing is clear and crisp, the underlying theme timeless. One of the best I've read on this site.
An imaginary friend seeks a purpose in "Nilly" by Benjamin Rosenbaum (debut 2/22 and reviewed by Frank D). The boy who imagined Nilly has died. Now the imaginary child wishes to attach someone new.
"Nilly" is a small tale within a far larger, yet unknown, story. Something awful happened to Nilly's creator. Somehow, Nilly is responsible. An effort to attach himself to the boys sister goes all wrong and now Nilly is left alone.
I am not sure what was going on in this tale, but in a good way. The unanswered questions left me wanting for more. Not knowing the entire story inhibits me from giving this intriguing story a full recommendation. However, I feel as if there is enough to this brief universe to warrant a greater work of art.
A boy finds a treasure from a dead civilization in "Saurus" by John Van Pelt (debut 2/23 and reviewed by Frank D). The book he brings to his clan he hopes is filled with stories. The words within are eloquent but does it hold the treasure he is after?
I found this brief tale curious but nothing more.
"Bus Ride to Mars" by Cat Rambo (debut 2/24 and reviewed by Frank D). Djuna boards a bus headed to Paradise. The bus to Mars is a five-day journey with many stops along the way. The passengers are just as intriguing as the bus's multiple destinations.
"Bus Ride" is a people watchers tale. Djuna doesn't want to go to Mars, or get to know her fellow passengers, but the odd people on the bus tell their own tales within earshot of Djuna. The passengers on the bus are as odd as the alien bar in Star Wars.
I confess, I am befuddled on the point of this tale. The cast of characters are a mish-mash of competing genres and are as odd as the aliens in the bar scene in Star Wars. The passengers sound more shallow than interesting to me. Djuna, the protagonist, I'm guessing would agree with me. The entire story left me confused because I was never sure if Djuna had passed and 'Paradise' was indeed heaven (the unanswered question of why heaven would be on Mars makes me believe otherwise). The bulk of the tale are tracks of sidebar stories the passengers tell, which made me wonder if "Bus Ride" was a retelling of the Canterbury Tales. Whether it was or not matter little. The real attraction to this piece is Ms Rambo's ability to compile an array of odd individuals with random tales and turn it into a single story.
"Storytellers" by Jen Brubacher (debut 2/27 and reviewed by Frank D). Beatrice and Gary have stories to share. The pair compete to tell about the extraordinary events of their day.
"Storytellers" is a dual perspective narrative of two tale-weavers. Beatrice has the ability of making mundane events sound compelling while Gary's astounding tale has a way of coming out humdrum. Gary's ghost tale proves to be far more interesting than even he imagined but Beatrice's boring story may end up one-upping him in the end.
Like Ms Brubacher's characters, I have two different reactions to this piece. I found the overall premise of "Storytellers" to be silly. It took an extraordinary right turn that (in my opinion) cheapened the greater tale. The story's final lineâ€
"Well, that makes sense."â€
â€I couldn't have disagreed with more. The real draw to this piece was Ms Brubacher's portrayal of two polar opposites through different perspectives. I enjoyed following along while one character listened and judged the other while they told their exciting tale. A true jewel of a gift for the author to bring characters to life like that. If it wasn't for the way the tale ended, I would have given this story an enthusiastic recommendation.
Anna needs one last operation for her to achieve immortality in "The Procedure" by L.E. Elder (debut 2/28 and reviewed by Frank D). Her last biological component , her brain– is defective. She is one of the last of the bio-residued beings , or humans , left. Her daughter is eager for her to become Alltech. Only ten percent of her components are bio, what could she possibly miss if she were to ditch the last of it.
There is a curious moral to "The Procedure". Anna was an early advocate for cyborg rights. The opposition gradually gave way, not because they were swayed but rather because they died out and while the techno-enhanced lived on. The 'people' in this story have lost all their humanity but have retained their consciousness. Anna is the unique position of realizing the people she opposed ended up being prophetically correct.
I liked this tale a lot. "The Procedure" put a price on immortality, the fare being the loss of your soul. But the 'people' in this tale don't care, having likely lost the sense of the true value of what they once possessed. The author in this tale established the fine line of where humanity strides and where being human ends.
I found this story to be thought provoking , what science fiction is all about.
Recommended.
"The Princess of the Perfumed River" by Aliette de Bodard (debut 2/29 and reviewed by Frank D). Thein has been waiting for Kim. She left two years before to investigate the Artifact , an alien vessel in space. She is back on Earth but so distant she might as well be light years away.
This tale is part of the number quartet series. The in feels left behind, hoping Kim will be the one to save him. Her distance leads him to believe she will never come back, but he may have misunderstood why she is so far away. Distance isn't always one person's inability to separate. Sometimes it may be one person's inability to find their way back.
The theme to "The Princess" was difficult to decipher. As a fan of several of Ms Bodard's works, I have become accustomed to the deep nature of her plots. The short narrative did not make this easier to puzzle out. In fact, its brief size made it more difficult. It took a second reading for me to fully grasp this storyline. Even so, I wished more answers would have been available to me.
Congratulationsâ€
The Million Writer's Award is an award for speculative fictions most notable online short stories. To my dismay, only one story from Daily SF made the list, but if you could only pick one story for the award, you couldn't have gone wrong with Eugie Foster's "Requiem Duet, Concerto for Flute and Voodoo". In our September 2011 review I wrote in my recommendationâ€
I first heard of Eugie Foster years ago. A friend told me he read the best story ever in a popular critique group. That story went on to win the Nebula in 2009. If "Requiem" is any indication on how well she writes, you can expect several more awards to come her way in the near future. The story was just plain dynamite. It is the best Friday story I have read at DSF yet.
â€and it is still the best Friday story I have read yet at Daily SF. Although I disagreed strongly with Million Writer's Award choice last year, I am hoping they will get this one right and choose "Requiem" as their overall choice and give Daily Science Fiction a much deserved feather in its cap.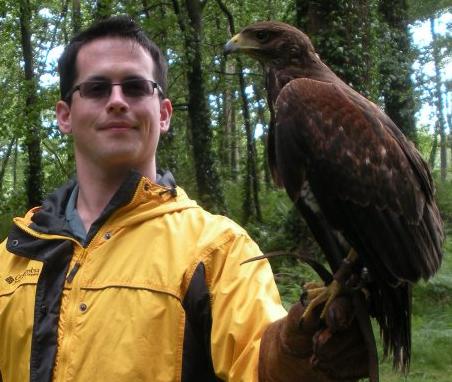 Dave Steffen is editor and owner of this wonderful ezine Diabolical Plots. He recently reached a goal many writers desire, the chance to become a full-fledged member of the Science Fiction Writers of America organization. Congratulations, my friend.