I was waiting for the teakettle to boil, and the office wasn't due to open for, oh let's say three minutes. The phone blinked and I considered not answering, what with those three minutes of leisure ahead of me, but I needed every client I could get. I put on my phone voice and chirped, "Jasmine Alexa, Attorney at law."
The voice on the other end trembled with fear and flat, Bostonian vowels. "I'm not shuh, but Ah think I might have killed someone."
That was as good as a shot of straight caffeine. "Excuse me? Wait… right now?"
There was an unsettling long pause. "No?" It was a woman's voice, rough and deep, but definitely feminine.
You are no doubt thinking exactly what I was thinking at this point: This person is a murderer. After years of handling divorces and wills, I was suddenly transported into an episode of Law and Order: Special Weird Calls Unit.
Before my brain could decide if murderers paid well, my mouth said, "I'm sorry, this is a civil law office. I don't do criminal cases."
"Crap. Wrong number." She hung up.
I stared at my phone. Should I call the police? Report the call? The number? The time? I was still writing down the digits when my phone lit up again. The same number. I let it ring once, but oh, I was too curious to let it go to voicemail.
"Jasmine Alexa."
"Yeah, you said you were a lawyah?"
I propped the phone on my shoulder and wrote down the rest of the phone number, and the times for both calls. "Civil law," I said.
"I wanna ask you about a custody problem."
I set my pencil down. "What about the person you might have killed?"
A pause. "Aw, I don't need a lawyer for that. So, uh… lemme ask you, and does it cost money just to ask? What happens if someone leaves a baby on your doorstep, say like in the movies, in a basket with a note and all that? Is that your baby?"
"Uh… no. You're under no legal obligation, but you should call the authorities. The police will try to find whoever abandoned it. If the baby ends up a ward of the state, you'll have to apply for adoption the same as anyone."
"Thanks," she said, and hung up.
What the hell?
This time I called her. She answered the phone with, "This is Elle."
"This is Alexa. Did someone leave a baby on your doorstep?"
Elle sighed, long and heavy. "I guess ya better come over."
The teakettle whistled. I looked at my note for the police. I picked up my car keys. You don't go into business for yourself as a lawyer unless you're more curious than smart.
*
Elle's apartment was a walkup above a consignment shop, so the story about doorsteps was probably fabrication.
From her accent on the phone I expected a husky white woman with a cigarette permanently attached to her lip. Elle was skinny and very, very black. Almost blue. Never assume. Elle had a short afro pushed back by a yellow daisy headband, bright pink lipstick and a yellow shift dress. Glam.
Her deep voice sounded warmer than on the phone. "My girlfriend Veronica and I were arguing. Nothing serious! It got maybe a little heated, and she fell." Elle backed into the apartment, twisting the hem of her dress between nervous fingers. "I mean… I pushed her," she said, like a caught-out child. "But it wasn't that hahd, I didn't even expect her to fall but… anyway, that's what's left." She lifted her chin to the right.
This was the moment when I could turn around, head back down the rickety steps, and forget the whole thing. I closed my eyes as I turned, picturing splattered blood and gore. I opened my eyes.
An adorable baby, about six months old with Asian eyes and drool-wet lips, looked up at me from a pile of rumpled laundry.
Before I could censor myself, my mouth blurted out, "But where's the body?"
"That's what I've been trying to tell you!" Elle groaned. She stomped over to just to the left of the baby. "I was here. Veronica was there." She gestured at the air over the baby. "I pushed, she fell. She didn't move or nothing. I got scared. You were the first lawyer in the phone book. Then while we were talking, she just…" Elle waggled her fingers in the air. "Melted or something. So I'm looking at this pile of her clothes, and that – that kid crawls out!" Fat tears spilled down her cheeks. "Did I kill Veronica? Did I make her a baby? Gawd, I never even step on bugs. She just… I just…"
"This is not the sort of problem I'm trained to deal with," I said. Understatement of the Month.
Elle walked around the baby, reaching out like she was afraid to touch it or to let it crawl away. "So what do I… do I call the cops? What if that's not a baby?" She bit her lower lip. "What if this is Veronica?"
"I'm not following."
Elle squatted down, peering at the baby, who stared back with an adorable "oo" expression. "It… it kinda looks like Veronica. I'm afraid to pick it up and check its parts to see if it's a girl."
"However it got here," I said, "you are now the proud finder of a lost infant."
"I should just treat it like that?" She looked at me like I was her mom and could solve all this for her.
I get that look a lot from potential clients. "Want me to call for you?"
Her skinny, anxious face bloomed into this relieved smile. "I'll get ya some cake," she said.
I didn't believe Veronica was from Mars or whatever. I believed there was a logical, if odd, explanation. Elle produced a slice of cinnamon pound cake and a mug of Red Rose tea for me. She didn't act like she'd recently had a head injury. The baby picked at Veronica's discarded clothing with baby-like intense scrutiny. We made awkward small talk until the police came.
Elle paid me for my time, which was nice of her, and I wrote it all off as an unexplained mystery I'd enjoy telling at parties.
Not so lucky. Two days later, Child Protective Services called.
"Yeah, we got you as a witness to a foundling recovery in JP two nights ago?"
I knew right then it wasn't going to be good. "What about it?"
"There's a problem."
"Did you find the birth mother?"
"Lady, you have got to be kidding me."
"I… really am not kidding you. What's the problem?"
"Your 'foundling' is a teen and asking for her lawyer."
"I'm not…"
"Yeah, well, her much older girlfriend says you're their lawyer, so you better come down here and talk to your client because she ain't in the system and we aren't in the habit of letting kids walk out of here without a legal guardian."
I took one longing look at my lunch – fresh pesto on shells from the market up the street – and sighed. "I'm on my way."
*
Veronica Wong, if you believed that was her name, was a coltish teen with shaggy, short hair. She wore oversized sweats and sprawled on the sofa in the front parlor of the Forbes Home for Wayward Youth.
In my briefcase I had a Xerox of Veronica Wong's Massachusetts driver's license proclaiming her to be twenty-five and a resident of Jamaica Plain. The photo was uncannily similar, but older, with longer hair.
"You're sure this is the kid you brought in?" I asked the social worker.
She was a thickset black woman and she looked about one second away from flipping out. The whites showed all the way around her irises. "We get a lot of kids in and out," she said, "but we tend to notice if one grows five years every night."
Veronica blew a tuft of hair out of her face. "I want my lawyer," she said.
The social worker asked, "You want to back out?" She asked it like she was asking if I wanted to stab her in the back.
I stepped forward, hand out. "Veronica? I'm Jasmine Alexa. We… may have met at your apartment, when you were…?" I stopped myself short of saying "destroyed and reformed as a baby." It's bad to assume things.
Veronica gave me a quick once-over. "Elle trusts you," she said. "Is she still mad?"
I retracted my hand. "I don't know what you were fighting about."
Veronica rolled her eyes. "She thinks I've changed. Like I'm not the same person. She's the one who changed! I'm me. I'll always be me."
"Well, right now that's not as important as the question of your custody. You are… you appear to be a minor."
"I know that. I'm adolescent, not stupid." Veronica sank deeper into the couch, her legs spread wide. "They wouldn't even let me see Elle until an hour ago. Tell Elle to stop freaking out and I'll come home. And tell her I'm not going to replace her in her sleep! Jeeeeez. Why do people always think that about us, huh? We don't go replacing any old person just to do it."
I looked to the social worker for some help. She held her hands up and backed out of the room.
I sat down. "Right, so if you agree to have me represent you, I can hold anything we talk about in confidence. If your legal guardian—"
"I'm not an orphan. I told them, my parents live on Long Island."
"Yes," I said. I opened the file CPS had given me. "And those parents are a little confused how their college graduate daughter ended up in a home for minors."
Veronica examined the ceiling through her bangs. "This sucks," she said.
"Well, what do you expect me to do about it?" It wasn't the tone I usually take with my clients, but this was getting unreal.
"Can't you get them to release me into Elle's custody? What if my folks wrote a note?"
"You can't get Herbert and Julia Wong to come fetch you, why would they write you a note?"
Veronica flicked a hand dismissively. "They just hate taking the expressway."
"I don't think you understand: your claimed parents are officially denying you."
She looked wrecked. After a long minute staring at her own sneaker digging holes in the carpet, she said, "Yeah, I guess they would."
"Veronica, are Mr. and Mrs. Wong really your parents?"
Morosely, to her feet, she said, "I'll be twenty-five in a couple more days and it'll all smooth out. Guess I just gotta wait."
"I'm not sure this will smooth itself out. I think we're about five minutes away from black helicopters coming in to take you away."
She half-grinned. "Guess I really need a lawyer, then."
"My first question, as your lawyer, is: are you going to persist in being Veronica Wong? Even if everyone who knows Veronica Wong denies you?"
Hands clasped between her knees, every inch a vulnerable teen, she said, "I don't know how to be anyone else."
"Okay. Okay, so, Veronica, um… was there an original, other Veronica I should be concerned about?"
She rolled her eyes, and in almost exactly the inflection of Elle, but with a distinct Long Island lockjaw, said, "I don't need a lawyer for that."
*
The social worker stopped me with a hand on my chest as I tried to leave the building. "Look, we processed her as an infant two days ago. We got the paperwork all in place – we had adoption people breathing down our necks – but suddenly she was too old to be a newborn. Had to re-process as a toddler. The hospital bracelet had to come off. Three times. That's a re-admit, full paperwork. Then there were the vaccination questions at each age landmark. You want to explain to the state why you can't vaccinate a five year old because it hasn't been twenty-four hours since their two-year-old vaccinations? I'm losing my marbles and no one is helping. District, City won't touch her with a forty-foot pole. We don't have procedures for this. The fourth time they asked me to re-do the paperwork, I put her in as school-age, which incidentally is loads worse with extra considerations, but I figured if we jumped a few years ahead we'd be in the clear. We are NOT in the clear."
"What are you saying?"
"I'm saying that, regardless of what CPS is saying right now, she's going to look eighteen soon enough and I'd really like to release an eighteen year-old into her lawyer's custody. We'll say she aged out of the system. It won't be a lie."
I didn't think adults could get their eyes that round and puppy-like. "This is asking a lot."
"You're a civil lawyer. I'll owe you a favor and I'm sure you'll be back to collect before too long. You do divorces? Custody disputes?"
"Wouldn't I love to," I said.
*
Elle stood at the base of the stairs up to her apartment, arms crossed tight across her chest. "I don't want her in here."
"She lives here," I said.
"That isn't Veronica. I don't know what that is, but it is not my girlfriend!"
Veronica groaned. "I've been Veronica as long as you've known me."
"And how do I know that?"
It was drizzling – that soft, fuzzy drizzle that you hardly notice but that soaks you through after a while. "Look," I said, "I got her out of official custody, but I'm not taking her home like an abandoned kitten. My landlord would kill me. Veronica has to live somewhere."
"Veronica does," Elle said, lifting her chin.
I said, "You're accusing your girlfriend of being an illegal alien and identity thief. That involves contacting Immigration. That involves criminal charges. I'd be required to report that to the police. If they arrest her and can't find a record of her citizenship, what do you think will happen?"
Elle took a step back, into the shelter of the covered stair. "I don't want anybody deported, but come on – she's a damned pod person! Or, or that thing from that movie in the Artic with the dogs and whatshisname. That… what was that thing called?"
"The Thing," I provided. "Veronica, you can weigh in on this at any time."
Veronica stepped forward, chin down, hands clasped before her. "I'm the same girl you met on the red line, Elle."
"Your folks don't say that. Your folks are more pissed than I am."
Veronica's contrite posture evaporated. She balled her fists on her hips. "You've been talking to my folks behind my back again?"
I said, "Can we please have this argument indoors?"
Elle gave in. She kept shooting glares at Veronica, but she let us follow her up into the apartment.
"Have a seat," she gestured at the couch.
"I'm not a guest. I live here," Veronica said. "I bought that couch."
"A pod person bought my couch," Elle said, disgusted.
Veronica started crying, helpless, wracking sobs, standing there in the middle of the room.
It was an ugly couch: tomato-soup red tweed. I charitably assigned the disgust and the tears to it. I said, "Veronica, she's not trying to hurt you; she really wants to know who you are. Elle, she's trying to tell you who she is. Be patient and listen. If she was going to melt your brain and use it to destroy the Earth, I think maybe she'd have done it by now."
Elle frowned hard, but she turned to look at Veronica. "Who are you?"
Veronica sat down on the couch. She wiped her nose on her sleeve. "I'm not the original Veronica Wong, but it's not like I killed her. My parents – my real parents, my pod parents – put an ad on Craigslist, looking for someone who would want to trade identities, get away. Veronica answered, and they sent her my pod." Veronica shrugged. "That's the way we do it. The real Veronica put my pod on her bed and slept next to it for a week, until I formed. Like I'm re-forming now. We grow to adulthood fast, then we age normal. So I… I will look a few years younger now. Because I kinda got re-set. It's my stem, see… we're like plants?" Turning to me, she said, "The real Veronica is in Nevada, driving a truck. We keep in touch on Instagram. You never met her. I mean… she's not me. She's straight, and she likes pro wrestling." Veronica wrinkled her nose.
"I'm relieved I won't have to recommend you a criminal lawyer for her murder." I reconsidered my Understatement of the Month.
There was an awkward pause. I found myself listening for black ops helicopters. Perhaps, in the real world, there's no funding for Mulder and Scully.
Elle squinted. "Wait. But how old was Veronica when you took her place? If she, like, consented and all? She can't have been younger than… how old are you?"
"It was seven years ago, but…"
"Holy crap!"
"…but that's like thirty in human years! Come on! I'm a pod person, remember? You see how fast I grow back. Oh, and thanks for killing me, by the way."
Elle's lips trembled, her eyebrows canted high. "I… I didn't mean to hurt you."
"Well, you did. And now you know what happens when you break my plant stem. It gets weak in the winter and I don't move backwards so good, and then you stepped on my toe and SNAP. Do you know how much it sucks being a baby again?"
"But… seven? V, I can't date some child!"
"In pod years. Jeez, it's not like I had to spend a whole year growing up! Figure year one is actually eighteen years, development-wise."
I raised my hand and held it in the air until they remembered they had an audience. "So," I said, "to recap: Veronica is a pod person who replaced another girl who was over the age of consent. None of us have ever met Veronica the First, and she is not a party in this dispute. Elle did not know of Veronica's non-human nature, a fight broke out, and, if I'm hearing this correctly – Elle, you actually did kill someone that morning when you called me?"
"Aw gawd," Elle said, and fell down on the couch next to Veronica, twisting her fingers together.
"Not, like, permanently," Veronica said. She reached out like she wanted to put her arm around Elle but wasn't sure it would be accepted. "Didn't even hurt all that much. I was just… startled. And a baby."
"I didn't… I don't wanna be that kind of girlfriend," Elle sniffled. Now they were both wet-faced.
I said, "Do we need to do something about this? We're talking about deadly assault."
Veronica gestured wide. "I'm not pressing charges or anything. Elle didn't know I'm more fragile than a normal human."
"I'm so sorry!" Elle threw her arms around Veronica. They hugged each other tight, sobbing together. "I'll never walk again if it means not stepping on your adorable little toes. Oh gawd!"
"No, Elle. I'm sorry. I shouldn't have said that, about your mother."
"She is a bitch. Oh, honey. I shouldn't have let her pressure you."
"No, no, she's right. I mean… it's been four years. Maybe we are taking things too slow."
I was beginning to feel like a fifth wheel, but I still had some things to clear up. "So, if you don't mind, I'll charge this as a one-hour consult?"
They looked up like they were shocked to remember I was still there.
Elle sniffled, and grasped my hand. "Thank you, Ms. Alexa. Really. I don't know how we'll ever pay you back."
I said, "Consider getting a prenuptial agreement and filing power of attorney writs. You never know what will happen."
Elle quickly said, "Oh, no… I mean, I asked, but she…"
Veronica pulled her girlfriend back and looked her in the eyes. "Yes," Veronica said.
Elle said, "Oh sweetie, no, you're all emotional and with all this…"
"Shut up, Elle. I'm saying 'yes,' and you can't take it back now." She glared sternly at her girlfriend, who melted – in the normal, romantic sense.
They kissed, and I saw myself out. When I got back to the office, I sent them my standard prenup packet and a note to pass my name along to anyone who needed special legal attention as a pod-American. There were identity theft issues, legal status, citizenship – gallons of delicious, charge-by-the-hour paperwork.
I think those two crazy kids – and my business – are going to make it.
---
© 2019 by Marie L. Vibbert
Author's Note: My friend Alexandra, a lawyer, related to me a puzzling wrong number she'd received.  The first phone call is verbatim from her memory.  I found myself trying to come up with an interested reason why this person wasn't sure if they'd killed someone.  Then I decided to set it in Boston because, well, I hadn't set anything in Boston yet, and two of my Clarionmates were living there at the time.  Shout out to Christian and Thom!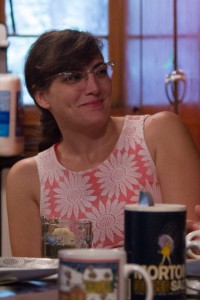 Marie Vibbert's writing has appeared in Analog, Asimov's and F&SF, among other places.  She is a computer programmer and played tackle football for the Cleveland Fusion for five years.
---
If you enjoyed the story you might also want to visit our Support Page, or read the other story offerings.