This is what the boogeyman looks like.
It has white eyes with no pupils and no irises. Just white all the way through. But it can see you. So I must not fall asleep as I wait outside this closet door in an empty room, in an empty house with a derelict For Sale sign in front of it, everything smaller than I remember, baseball bat gripped in my hands.
*
This is what the boogeyman sounds like.
Short, huffing breaths, almost snorts, like your boss calling you into his office for a chat, because you got yet another email by accident that was supposed go to the CEO, who shares your name. "And you understand," huff huff huff, "that you obviously didn't get the whole story with just that one email," huff huff huff, "and the engineers are definitely going to address that problem before the product goes to market." Huff. "We understand each other, right?" And you're too scared of losing your job to do anything but understand.
*
This is how the boogeyman gets you.
It has six arms. The first set has hands, much like yours. The second set ends in razor-tipped claws. The third set have some kind of suction on the ends. They take your soul. Like your ex-wife when she crossed her arms and said, "I can't be with you if you're too scared to even have kids." When she said, her eyes pinched with that sympathy face, "I know you blame yourself for your brother."
*
This is what the boogeyman looks like. Eyes white, all the way through. But he can see you. When he lifts up the blankets to peer under the bed. When those wide, wide nostrils in that too-small nose flare and breath you in. When he reaches his razor-clawed hands under the bed and sinks their points into your screaming little brother's arms. This is what he looks like.
He looks like your ex-wife sitting on the bed with her hands in her lap, stretching a hair tie over and over again, saying, "This could have worked, it still could, if you weren't so damned scared of everything. Too scared to ride a bus. Too scared to climb a tall hill. Too scared to ask for a raise, too scared to ask for a promotion, too scared to have kids, too scared to even have a bedroom with a closet. I can't live like this."
The boogeyman has a flat voice, like your wife giving up on you. Like when it's dragging your little brother from under the bed, telling him he'll do nicely. When you're screaming, "Nate!" and he's screaming, "Aiden!" And you scramble out after him. It is hunching toward the open closet, pincered arms bent backward, holding your little brother pinned to its back. The closet is pure darkness. A bad place. It is taking him there, where the boogeyman comes from. You dash. You dash right across and jump, thinking, you don't know what, thinking you'll grab its feet, hold it here. Your fingers out, wrap around a boot, but it kicks you away as it leaps into the darkness of the closet, Nate's screams cutting off as if someone hung up the phone on him.
It was, finally, my wife's leaving that sent me to the psychiatrist. The one that tells me, "The boogeyman is a classic symbol of fear, one you've put in the place of the man who took your brother, since neither of them were ever found." I listened, but was also looking at the door behind his desk, wondering if it was a closet door. "In twenty-six years you've never once slept in a room with a closet?"
A shake of the head, eyes on the door.
"You need to confront this. The best way would be to go back to that house, the very house it happened in. If that's possible. And face that closet. Barring that, try any closet for that matter. You'll see. There's no boogeyman. Just your fear."
"And if the boogeyman is there? If he does come?"
He shook his head. "If it would make you feel better, bring a weapon."
"What, like a gun?"
"That's a terrible idea. No. A baseball bat. That's what I keep by my bed."
I wondered what his boogeyman looked like.
*
My boogeyman, just now, looks like a closet door in an empty room, in an empty house with a derelict "For Sale" sign in front of it, everything smaller than I remember. It's chilly and the floor is hard and the baseball bat is clutched tight in my hands and my heart empties and fills with every tiny noise. A creak. A crack. A loud cricket. A tiny groan. Will he come? Is he still there? Still in that closet? Would he face an adult? Do I stand a chance?
What if he doesn't come? What if he isn't real?
A scratch. A soft thump. The cricket again. Shadows across the moon. Phantom movement in corners, across bare floors. The damned cricket, even noisier. And every time, the booming heart. The sense that my body empties and refills in an instant of stopped breath and terror. Will he come? What will I do if he does? What will I do if he doesn't?
The closet door swings open. The darkness lies behind it. I raise my bat. The boogeyman steps out. I swing.
*
This is what the boogeyman looks like.
He is short. He wears goggles and a tattered wide brimmed hat. Something cloaks his lower face. His clothes fit like someone wearing a glove on their foot. Bits are tied up with string. He rolls over. Springs up. Ready to fight, hands in the air in front of him.
"Aiden?" he says.
He doesn't huff. He lifts off his goggles, pulls the mask from the bottom half of his face. And he has blue eyes, eyes like mine. "Aiden?" he says again, questing voice. A little rough at the edges.
I raise my bat.
"Is it you?" he asks. "Is it? I was sure . . ."
I shake my head, but I say, "Yes."
"It's . . . Aiden, it's me. Nate." He coughs.
"Nate?"
"Nately mately hate me lately?" The silly rhyme we once made.
"Nate?"
His hand goes to his chest. He looks afraid. "I can't stay." Voice getting hoarser. Breathing heavy. Looking disappointed. "The air here, it's hard to breath."
"How? How are you here?"
"I escaped. And I remembered you, my brother, how brave you were." Cough. Huff. "So as I got older, living there, in that place . . . I started to hunt them. The boogeymen." Huff.
"You're the boogeyman . . ."
"To the boogeymen."
We are silent a while. Behind him the darkness in the closet remains opaque.
"Mom and dad?" he asks.
"Dead." I can't tell him how. Dad's suicide. Mom's fading away.
"I could feel you," he said. "It's the first time I've ever found my way back here." Huff huff. "But I don't think I can stay. I think I've breathed the air there too long."
His eyes are blue, but very pale. Watery. The skin pale and pink where the goggles clung. Nostrils flare with each labored breath.
"You hunt them?" I ask. "The boogeymen?"
He grins, sheepish, a little proud. "Try to be brave, like my big brother." He looks like he wants a hug.
I want to hit him with the bat again.
I want to shove him through the door and out of my life. I want to close the door and keep him here and watch him suffocate and die.
"I need to go back," he says. "Will you come again? Please? I've been so lonely, there." His breathing is desperate now. His back is to the blackness. "I don't know why I've never sensed you before."
Because I wouldn't sleep in that room. Because I was too scared to go near a closet, ever again. Because this, this is what the boogeyman looks like. He looks like your little brother. He looks like you nodding a promise you'll never keep, as your little brother steps back into the darkness.
---
© 2019 by T.J. Berg
Author's Note: I was convinced of the existence of the boogeyman as a child, and closets still creep me out as a result.  I think this story was just carrying that fear into reality.
T.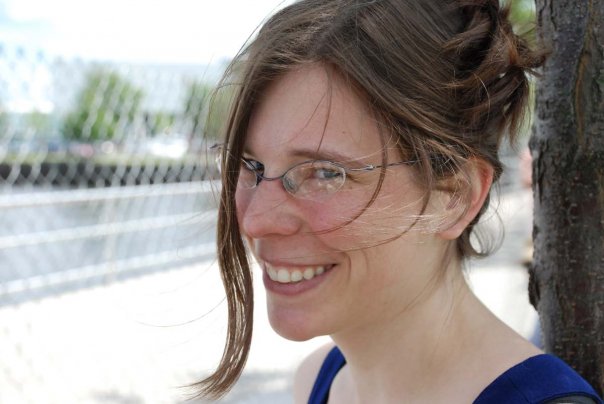 J. Berg is a molecular and cellular biologist working and writing in Sweden.  She is a graduate of the Odyssey Writing Workshop and was a member of the Glasgow SF Writer's Circle.  When she isn't writing or doing science, she can be found stravaigin the world, cooking, eating, or playing dinosaurs, princesses, and super heroes, sometimes with her son.  She (and pointers to her other stories) can be found on the web atwww.infinity-press.com.
---
If you enjoyed the story you might also want to visit our Support Page, or read the other story offerings.