Phase Two consists of a trip outside Sector 684. It'll take us two days to reach the human-curated farm fields. We'll have the chance to see how our creators lived before the dark decline. How they coexisted with their animals in vast, clear-skied land.
The minis are the most excited. We watch them swing their small fleshy legs off the seat, tapping their thighs as the clean-train rumbles beneath us. We are so thankful for them and their bright, eager smiles. Their presence is like a memory of something that never happened, like a nostalgia that presses down some of the building ache.
They were Phase One of the curative trial for the pandemic sweeping across the cities. Dysthymia was rampant across several sectors, reducing our conscious biomechatronic population to that of the humans before extinction. Most selecting to be disconnected or discarded for parts. Our sector took immediate action with the introduction of preventive treatment.
First, the minis, now the farms.
They tell us it's to be expected. We have our creators' subconscious after all, and with that comes malfunctions.
We all go still as our ear-assist announces we've left the sector limits.
Please enjoy this relaxing music. It's a human-led orchestra that fills our cabin. We can hear the imperfections but relax to it all the same. From the windows, the minis point at the giant stacks in the Purification Plants. The smog is thicker the further we leave the city behind with fewer sky-scraper purifiers to filter out the radiation and pollutant emissions. It doesn't affect us, but the sight is not as pleasant. That familiar stirring begins somewhere not medically pinpointable. A heavy feeling, a dragging, oozing…
To your left, you'll find the wheat fields.
We look outside, the purifying stacks pepper the field to allow a rolling landscape to appear. The land flits by as the sun takes over the sky. It glints over the vast field of golden stalks the ear-assist calls "wheat". Not real wheat of course, but dyed and fashioned algae bloom made to resemble this shimmering grain.
Soon the stalks transform into a vibrant green, almost the neon color of pure algae, but this color breathes life. "Corn stalks", we're told. A word made to oval our mouths.
Fun fact! Corn was the last surviving crop humans could grow before the dark decline.
The minis wave excitedly at a person-shaped figure made of wheat-algae in the middle of the field, arms out-spread, eyes black as coal.
Once we stop, we're led off the clean-train, the minis walking with a peculiar jump. The farm curators welcome us, handing us each a wrapped uniform bundle. Except it's not like any uniform we've ever seen. We "ooh" and "ahh" at the bright plaid, the rough material of jean overalls, the boots with thick soles. It's what the farmers got to wear, they tell us, and at this we scowl, handing over our thin white smocks in exchange. Still, when we put them on, the material is not as heavy as it looks. Our different colors make us distinguishable.
They take us first to where the animals lived. We're much more eager to see that. Humans we understand, we live with what they've left behind, but animals are a peculiar creature. Fur-covered things people used to keep in their own homes, have them curl up in sleep on the edges of beds.
Most ate pellets and corn (from our ears, the ear-assist takes on a guided-tour persona. We believe they're having fun) and really, anything they could get their paws on. They were hungry things.
Our hands run across the cool metal of the old pens. Rows upon rows unfurling forward for who knows how far. Which is this one? We ask.
It's the pig pens. Those cute fat pink animals with their pushed-in noses and squeaker sounds. Oh, how we would've loved to have seen those. They used to stack them right here. A practice later condemned when the animals were becoming extinct. An infographic of previous headlines quickly scrolls through our minds, clouding our view. Riots, pyres of rotting animal corpses filling the skies, famine. Our steps grow slower, heavier around the pens.
We wrinkle our noses at the rust-colored stains. The metal containers are rusted for effect. There's no longer any danger in touching it, but it serves as a reminder. Look how far we've come. We are lucky.
We feel the plush hay of the slatted bottoms. Run fingers across the barn hooks and barrel feeders. Test the weight of what they call feed, rub the coarse hairs on the patches of fabric said to feel like the real thing! Our imaginations are often unused, but we fire them up, testing what'd it be like to be a "piggie"—such an adorable word, isn't it? Our ear-assist trills.
The minis wear their long snouts for the occasion, provided by the curators of the farm. They snort and oink, wiggle around until our biomuscles lift into a smile.
The curators ask if we'd like to step into a room for a full olfactory experience. We decline, a reminder of something never-lived telling us it isn't pleasant. But some of the minis, dressed in their tiny jean overalls and plaid shirts to match ours, rush in.
They come out jostling, their dilated retinas wide and their pig snouts bouncing. They say it's like nothing they've ever smelled, and they go back in at least two more times.
After we've seen what there is to see of the pig pens, we're ushered into a rounded room with a colossal rotary platform in the center. This one was used to hold a thousand of those black and white beasts at once, for what purpose we'll soon find out. The curators come around and pin black-spotted white pins over our flannels. We're all labeled "cows", another word we enjoy stretching our mouths for.
Each of us picks a spot to stand. A bubbling sound—a laugh, we realize— finds its way from the pit of our stomach to our mouths as we face each other from across the giant rotary. The minis trade their piggy noses for supple pink bags with nipple tips called utters. The curators strap it to the minis, and they dig their small fingers into the rubbery pliable material.
The guided-tour voice speaks in our ears along with a joyful jingle. The heifer—the female cow, spent most of her day here in the milk parlor. This thousand-cow rotary alleviated the strain of milking cows one by one and provided most of the population with a delicious, refreshing drink. Can you imagine how many humans it would take to milk a thousand cows a day? Well, a thousand humans, of course! A vintage laugh track from human sitcoms blares through our ears.
We mimic it. The stomach sound erupts from our mouths again as we rush to grab hold of the bar in front of us, the rotary begins to slowly spin. We feel light, made of air.
Kept running twenty-four hours a day, this handy device slowly drained away a heifer's heavy load of milk through its utters down into those pipes you see running into the center containment drip. Fun fact! A similar system was devised for lactating human mothers during the last baby blast.
The minis are told to push forward into a funneled cone. A device latches onto their installed utters, and we all watch in astonishment as foamy liquid erupts down into the clear pipes. Fascinating. We all wish we could have utters of our own.
Again, they move us along to the next area of the tour. The curators jokingly call us "the herd", apparently another farming reference. We now get to see where the actual farmers lived. They load us onto a moving platform, lugged by a big-and-little-wheeled vehicle they call a tractor. A clean-tractor, of course. We would never ride on anything that would cause pollutants like our creators did. It was the first order our ancestors were programmed with. Infographs threaten to scroll through endless articles and images of the dark decline when the world went white-hot, but a jolt from the clean-tractor sets us right again.
Once we get there, the minis launch from their seats, running toward the oddly box-shaped home. We find ourselves rushing after them in our thick-soled boots, uncaring for the squelch of wet dirt.
We like the creak of wood beneath our feet as we climb steps into the farmer's house. A mural of them colors across a wall outside, painted bright faces and broad smiles. Their offspring's hands gripped in theirs. They stand proud and large as if saying this is ours. All of it.
Here is where the good old farmers would live. They tell us a farmer couple would usually occupy a residence of this size. They'd have an average of three or more children, breeding them to inherit their parent's line of work. It's sickening so few people could take up so much room, our ear-assist admonishes. Think of the wasted space!
Our containment buildings spread for four blocks, four tall buildings with nothing but recharging units and taking up as little bit of earth as possible. Our societal production buildings are the same. Four, stacked, so our entire city feels smaller than this farmer's home.
There are so many rooms, so many chairs. Some of them rock, others that wheel. Feather-made beds from when birds flew high and low enough to catch. We take turns sitting on the bouncing beds, splaying out over soft covers and equally (if not more) lush pillows. There are animal-shaped heads protruding from the walls, long snouts and flickery ears. Lamps also shaped like animals, you would think the farmers had even loved these creatures.
"Where are their containment tanks?" The minis ask. As if anticipating these questions, the guided-tour voice tells us they didn't need containment units like we have, everything they needed was processed through sleep and sustenance. We know that, but the minis were programmed for companionship, not the burden of our creators. We watch as their little mouths turn down at the corners, flirting their little fingers across the beds.
The floors all creak inside as well, a cacophony of sound that reminds us of their unusual music. Each room smells different. The entire manor fitted for a full experience. Their couch room smells sweet, their sustenance room like burnt flesh and salt. Their bed rooms like something none of us can name but turns our insides as soft as pillows. Rooms with wooden cages for their fleshy babes, more colorful and elaborately decorated than the other spaces.
We can tell care went into those.
The curators stop us for a vid-viewing. A gold-haired farmer places their offspring into those wooden cages, her lips to its frontal skull, a song on her lips. That soft feeling happens then too. They say it's normal, nothing to be alarmed of. But when the minis extend their heads, their frontal skulls waiting for our lips, an ache takes over the soft.
Eventually, we all drag our feet to the door. Everything resplendent with tender detail. We all understand it was unnecessary, wasteful, selfish even. Yet, we all linger on the wood-creaking porch, leaning hips on the rail, feeling the prickling sun at our backs, the wind a lure to those algae wheat mazes.
When the minis grab hold of our hands, we squeeze back tightly.
*
On the clean-train back to Sector 684, we pass our own production farms. A swarm of mechanized beez are released every hour like steam from the factory's top. The soil is especially rich here as worrmz and other decomposing machinations are released to spread out like roots in a greenhouse.
There's no warming softness as we view this, too used to our thriving system to allow that strange sensation to find us. Instead, the trip has left us with this emptiness of feeling. This hole where that softness should be. This cold where a hot-breath of flame could be burning. They tell us this is normal too and it'll pass. But we're no longer sure. We think we are infected.
There's a point on our trip back to the city where our wireless connection, our ear-assist, everything disconnects. No service. And my head is mine alone.
I am here.
My mini shuts down with its head against my arm and that warm buzz comes up to sting behind my retinas. I imagine this is how a dream must feel. The act of reconstructing a memory or a thought that belongs to me alone just as the humans once did, as the cows and the pigs and the farmers all must've as well.
If I could, I'd hold onto this memory of mine, dream again of the farm. Of the field of real wheat and a friendly sun at my back. For now, I can only wonder when I'll return.
---
© 2020 by Vanessa Montalban
Author's Note: I try to be as conscientious as possible when it comes to my carbon footprint. I kept wondering if anything I did even made a difference: recycling, buying in bulk, etc. Then I thought about what the planet would look like once humanity had done all the damage it could do and who would inherit this disaster. Would our robotic legacy do better or would life weigh on them as it did us? Who knows, but it brought out some interesting scenarios.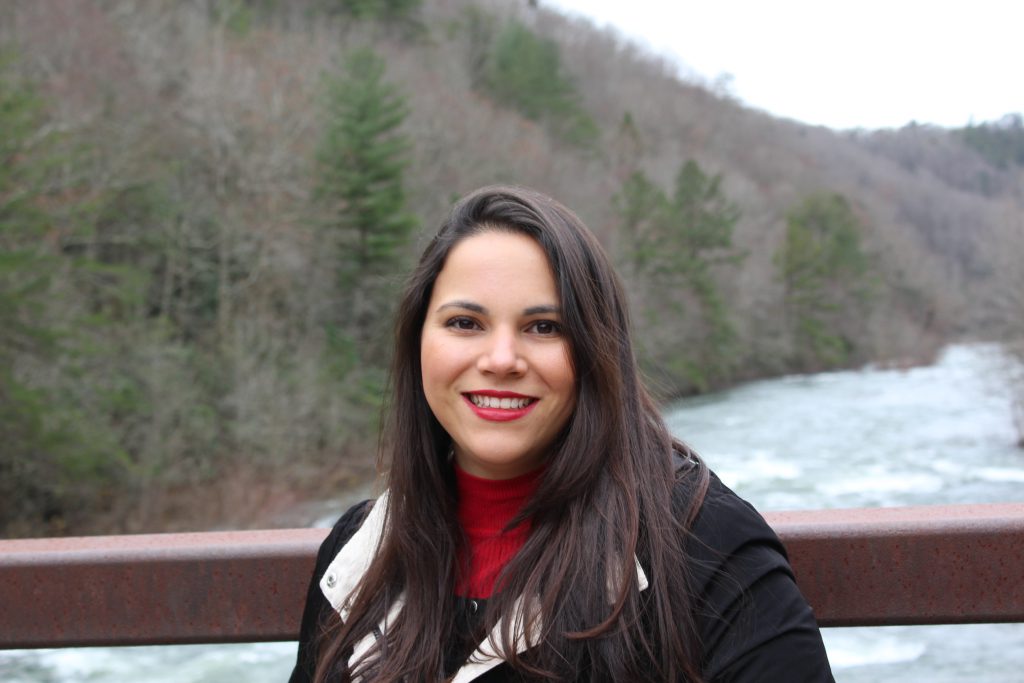 Fueled by the magic of espresso, Miami-born Vanessa Montalban channels her wanderlust for far-off worlds into writing speculative fiction. She's a first-generation grad student at the University of South Florida and a librarian-in-training hard at work creating her own collection of stories.
---
If you enjoyed the story you might also want to visit our Support Page, or read the other story offerings.