1. They think they know everything. Like your twenty years of mining experience is useless compared to a high-acting neural processing drive. Like you're nothing but a softer, weaker liability, and the only thing you're good for is greasing their joints and blowing out their compressors. Just one bot and one human to babysit them.
2. They have no personality. Stuck on an asteroid is bad enough without having a pencil sharpener as your only company. Every joke goes over their finely-polished head. Every vent of frustration is met with a vent of auxiliary heat instead. They tell you their name and pronouns, but it doesn't help. They don't know calloused hands. They don't have a family back planetside who depends on that paycheck, hoping every day that you make it back in one piece because they are the only reason you left in the first place.
3. They don't understand privacy. They're always there, always watching, even when you don't want them to be. When you eat and their lens follows each bite. When you sleep and hear their parts whirring in the bunk beside you. They never leave you alone. Even when news of your father's death comes, and you miss him like hell and just want to scream in the blackness of space because the next resupply ship is forty-two light-years away and won't get back in time to make the service. Even when you're at your loneliest, they never leave your side.
4. They squeeze too tight. When you finally give in and cry on their shoulder, they hold you and somehow squeeze every buried memory to the surface. Even as tears leave rust splotches along their dented casing. You start to think that maybe this box of nuts and bolts knows you more than anyone. Maybe they've been piston to shoulder with you all along, and are as hardworking and caring as any other miner you've known. Maybe you'll get through this… together.
5. They leave too soon. When you finally get home, you think of them each night you stare into the sky. Because you know everything about that arrogant prick by then. The way they laughed at your bad welds. The way their lens retracted when they were glum. So when the drill bit was stuck, you knew they'd give you that funny little chortle as they worked the stubborn thing free. But neither of you expected it to roar to life, catching their shell in its carbide-teeth. How you tried to stop it, but seconds too late. How you could only watch as your co-worker, friend, best friend perhaps, was mangled beyond repair, and all that's left is an oil stain on the asteroid's mine face. Leaving you alone, with no one to hold you too tight, or buzz in the bunk beside you at night, or even laugh at your bad welds. Alone… until it's time to go home.
6. Because bot or not, they become family, and losing them hurts. And it should've been you left out there. It should've been you.
---
© 2023 by Matt Bliss
512 words
Author's Note: I have worked in mining and construction for nearly twenty years, and have unfortunately seen firsthand the impact of death and injury among my colleagues and coworkers. With this story, I wanted to capture some of the complex emotions that arise from such a loss, and reflect upon the true toll of working in a blue-collar industry.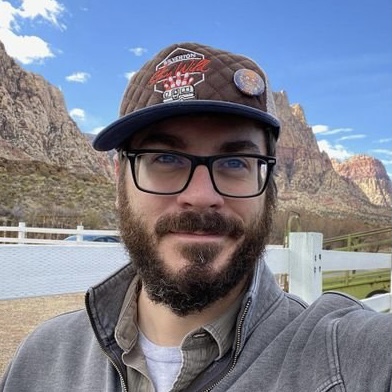 Matt Bliss is a miner and construction worker (on Earth) turned speculative fiction writer. His short fiction has appeared in MetaStellar, Cosmic Horror Monthly, and a number of other magazines and anthologies. When he's not daydreaming about robots or rocket ships, you can find him on Twitter at @MattJBliss.
---
If you enjoyed the story you might also want to visit our Support Page, or read the other story offerings.