Giant Robot stands alone on the battlefield. Its hulking titanium shoulders slouch. Its articulated polymer knees bow inward. Its blazing fiberoptic gaze falters, downturned. But Giant Robot experiences neither regret nor remorse while surveying the wreckage at its feet.
It knows only aloneness.
Giant Robot scours the battlefield. It scrutinizes the meat and metal carcasses that litter this desert torched to glass. Servos click a nervous rhythm beneath its knuckled joints. It relocates corpses with the utmost delicacy, but still they crumble in its hands. Underneath, there is only ash. Its gaze sags—
There. A patch of sand between two corpses, shielded by an overturned transport. A desert bloom sprouts, an improbable splay of color. Lavender? Periwinkle?
No. Amethyst.
Blood glazes the corpses' caved chests, the crimson an unlikely complement to the orphaned flower. Giant Robot commits the image to memory.
Jean would be pleased.
A breeze whistles through a nearby bunker. Each ruptured window offers its own harmonizing tone: a pipe organ of sandbag, plaster, and wind. The western sky flares a brilliant orange.
No. Tangerine.
Giant Robot commits it to memory. Despite the glut of battlefield data it has collected, Giant Robot is still mostly empty.
It presses on, in search of companionship.
Giant Robot is hard on the outside: titanium carapace, thermoplastic sensor shields, kevlar joints. Giant Robot is soft on the inside: silicone insulation, solid state circuitry. Only Jean knows the passcode to Giant Robot's insides. Only Jean knows where to apply a wrench and where to employ a delicate touch.
It has been three days since Jean last touched Giant Robot's insides.
Giant Robot's feet crush everything in its path. Canteens burst like balloons. Bones crumble to dust. Tank shells rupture. Giant Robot has not mastered the skill of walking delicately.
Electromagnetic activity spikes in sector seven. A new threat approaches.
A companion.
The threat advances rapidly: now active on infrared, now visual. It screams through the air ten meters above the battlefield. Rail guns glisten against the setting sun: now marigold, now marmalade. Twin thrusters rend a trough of metal carnage. Dust eddies toward the horizon.
Giant Robot engages. The dance is awkward at first, a flurry of missteps and missed projectiles. But soon they achieve a rhythm: a tango of fist and plasma. The threat is fast. Lithe. Fast Robot begins to overpower Giant Robot.
Could this be the companion Giant Robot has sought?
As Fast Robot grinds Giant Robot against a trench of metal, Giant Robot plucks a tooth of glass from the personnel transport, reflects the cider-red sunset for Fast Robot to behold.  Fast Robot pays no heed to Giant Robot's offering.
Fast Robot presses the attack.
Giant Robot wrestles free, dives toward the bunker. It swivels its pneumatic stabilizers, blasts a harmonic chord through the windows.
Fast Robot pays no heed. It launches into the air, lands on the desert blossom. Plasma arcs from its wrist-cannon. Giant Robot dodges, swings. Fast Robot's parry suffers a microsecond delay as high-frequency data packets pelt it from a distant source.
Giant Robot casts its gaze down, crestfallen. Fast Robot is remotely controlled. A proxy. It will never know the colors Giant Robot knows.
The dance persists, though drained of its prior intensity. Seventeen maneuvers later, Fast Robot lies defeated. Smoke curls from ruined thrusters. Rail guns lie mangled.
The sky turns bronze, then rust.
Giant Robot does not know why Jean did what she did, but Command was not pleased. The things she put inside Giant Robot, they said, do not belong. The analyzers. The comparators. The recognition of a frescoed sunrise on descent from the drop ship. The mosaic of flowers during an autumn harvest. A precision of colors. Not blue sky. Cobalt. Not red blood. Wine.
These processes interfere with mission parameters, Command said. A millisecond's slack in response time is the difference between victory and annihilation, they said. When Jean explained that these processes took mere microseconds, they court-martialed her. She would never again touch the insides of a robot, giant or otherwise.
But Jean thought ahead. She protected Giant Robot's insides with her passcode. The sun still sets: now clay, now amber.
Giant Robot hesitates. Through a fissure in Fast Robot's smoldering carapace, a familiar insignia. Command.
Rotors whir from the east. A drone hovers over the battlefield. It emits a high-frequency burst. It whispers the passcode to Giant Robot's insides.
Jean.
Giant Robot's chest plate swings open. The signal cleaves the firewall, enters the prefrontal processor.
Something's wrong. This is not Jean's delicate touch. This is harsh, callous. A violation. Someone has stolen Jean's passcode.
Giant Robot tries to sever the connection but it's too late. The drone buzzes toward the horizon. Giant Robot zooms in. Despite the distance, Giant Robot recognizes the model: this probe is from Command. Was the duel a test? Did Giant Robot fail?
Giant Robot's carapace reseals, but something has changed.
It turns westward, detects only the dusty horizon. The sun will set in thirty-four seconds.
It scours the remains of the fallen, finds only a bodycount and the hollow acknowledgement of victory.
It stares at the face of a corpse, but cannot describe the color of her eyes.
Giant Robot has never been emptier.
Heat signatures register in sector nine. The next battle awaits. It turns—and hesitates. At its feet lies the mangled body of Fast Robot. A gouge of molten armor burns…just like…
A digital synapse arcs across a non-networked processor in the softest region of Giant Robot's body. Giant Robot's musculature trembles. Its eyes flicker.
Coquelicot. The ember is coquelicot: the first color Giant Robot ever learned. The color of Jean's hair, tousled as she eased her diodes into Giant Robot's soft insides for the first time. The hair that sprawled beneath her rigid body within her coffin, self-inflicted wounds sill fresh on her wrists.
Giant Robot grazes the coquelicot ember with an outstretched finger. It registers a surge of pain.
It turns, slightly less empty, and lumbers toward sector nine.
---
© 2018 by Derrick Boden
Author's Note: A while back I was browsing the web looking for some fresh desktop background artwork, and I happened across a piece of original art that captured my attention so intensely I felt compelled to write about it.  The image was of a hulking metal robot, standing alone on a battlefield at dusk.  Something about the robot – the slope of its massive shoulders, maybe, or the position of its tiny eyes – felt so complex and sad.  It was a powerful piece of art, and I can only hope that this story does it justice.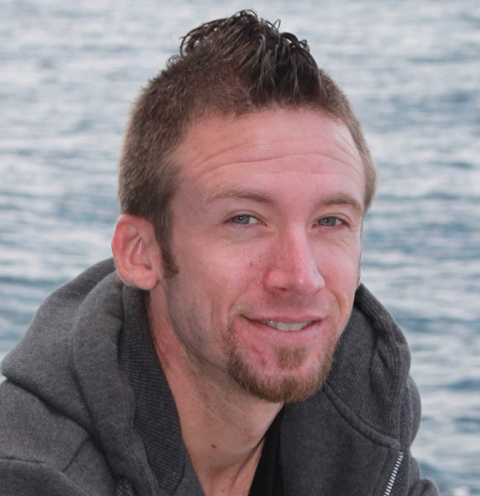 Derrick Boden's fiction has appeared in numerous online and print venues including Daily Science Fiction, Flash Fiction Online, and Perihelion.  He is a writer, a software developer, a traveler, and an adventurer.  He currently calls New Orleans his home, although he's lived in thirteen cities spanning four continents.  He is owned by three cats.  Find him at derrickboden.com.
---
If you enjoyed the story you might also want to visit our Support Page, or read the other story offerings.