A plate, a plate, another plate burst upon the kitchen tile. This one broke into three large pieces and assorted ceramic crumbs. Giraffe closed her long-lashed eyes and prayed to her many makers. Why in the world would the people make one hard thing that was so likely to smash into a second hard thing?
"Another one?" Ms. Mtombe yelled. "Get out of my kitchen immediately!" She seemed to have been lurking near the kitchen entrance in anticipation. Giraffe didn't bother to look. That unshining face made guest appearances in her night terrors. It was Tuesday, so it would be the zebra print dress, the long strand of Moroccan beads, and those slapping gold sandals.
Giraffe turned off the water, wiped her hands on the dish towel, and let out a long sighber. Giraffe's designers—possibly a focus group of three- to five-year-olds—had blessed her with a ridiculous set of stubby arms which protruded from just above her forelegs. She had to almost climb into the sink to wash the dishes. And with the proximity of the wall behind the sink and Ms. Mtombe's impossibly low ceilings—which Ms. Mtombe insisted were high ceilings—Giraffe's head was pressed snugly into the upper northwest corner of the room. She had to rely on her silicone-skinned hands to feel their way through.
"I wanted something graceful, like a gazelle, something that would look beautiful in my home, and look at what I got," Ms. Mtombe said. "I would prefer a wildebeest to you."
"My sincerest apologies, Ma'am," Giraffe said. "If you will excuse me, I must step outside, Ma'am."
"You are always stepping outside and inside again. What is so important outside? You're letting in flies!"
"My neck hurts, Ma'am. From bending, Ma'am." Her polished hooves clopped across the floor.
"They can make a giraffe that can walk and talk—"
"I could walk long before the enhancements, Ma'am."
"—but they can't make a giraffe who's neck won't hurt indoors!"
"I should like it if they made one of those as well, Ma'am. I encourage you to take that up with the agency, Ma'am."
No wonder the dish washing machine had quit in a huff!
Giraffe squeezed past the sliding glass doors and unfolded herself into the blinding back yard. Her head bobbed to the top of her height as if it was one of the floats in Ms. Mtombe's pool, escaping from beneath its wriggling child. She stretched and bent her neck back as far as it would go. Vertebrae popped like bubble wrap. Oh, that felt good!
Giraffe fantasized of roof-removing storms and arms that reached to the stars, scrubbing out stubborn sunspots with the lemon-scented dishwashing liquid of the gods. She shook one stunted tyrannosaur fist at the sky. Or perhaps at her neck. She swore revenge. On . . . something.
The Kawawas' lion sunned itself in the next yard. Intellectually, she knew the lion should not harm her. Nevertheless, she kept a metaphorical eye on it when it they were outside together. If she didn't fret so much over scratches, she could have kept a literal eye on it as well, given their removable nature. Giraffe looked back into the kitchen.
Mtombe watched her while shouting into her headset, presumably at Mr. Mtombe:"This is not a servant, this is some sort of insult! This clumsy beast is destroying our home! We can't afford to buy a new set of dishware every week . . . I want a replacement. Now! . . . I don't care if there are no others available, demand an exchange with someone. You have people below you . . . Well, someone must have one!"
Giraffe heard all of this through her cybernetic ear while wondering why anyone thought that a cybernetic ear would be important for a giraffe housekeeper. Most of her enhancements were questionable, to be honest. Disco ball eyes. Regenerating caramel tail. Cybergills. Giraffe was afraid she had come along at the end of a cyborg servant frenzy, when an exhausted industry had grasped in desperation for any animal that was left, and hastily hot-glued on whatever miscellaneous enhancements had been found in the dusty corner of the factory floor.
Ms. Mtombe didn't understand that she and Giraffe were two of a kind. Two years into her husband's promotion, she was at the very bottom of the nouveau upper-middle-class, too house-proud of a place in Kimara which they couldn't quite afford. She'd been catapulted from a life which was the envy of all around her, to a world in which she was woefully behind. The trophy possessions she managed to gather were never quite right, inspiring derisive smiles from women who wouldn't deign to call her a peer. Giraffe stewed as one of those second-rate status symbols.
While Ms. Mtombe was turned away for a moment, Giraffe saw a chance for a quick snack. She trotted toward the acacia tree.
"You will stand your ground, Giraffe," the acacia tree cyborg warned, "or suffer the consequences!" It bent its limbs in a one-legged karate stance, ready to chop. Giraffe was unperturbed. The tree would never dream of damaging its mistress' property, whereas, in Giraffe's case, that train had sailed.
A little more snacking effort was required now, as Giraffe had already stripped the leaves off the limbs that always fought to push her away. The lazy acacia and its slow-growing leaves made it necessary for Giraffe to go deeper. But Giraffe always won. Trees simply didn't have the killer instinct of the ferocious herbivore. Giraffe chewed greedily, undaunted by the acacia's screams. They were screams of indignation rather than pain, anyway. Probably.
Giraffe tried to alleviate the tree's outrage with her soothing words. "You taste infinitely better than Ms. Mtombe's giraffe chow." But the snobby tree didn't seem able to take a compliment.
"Enough!" it cried. It stopped trying to push Giraffe away and instead embraced her. Giraffe had only wanted acceptance from the acacia. Its affection was totally unexpected, though perhaps, Giraffe thought, not unwanted. But, alas, Giraffe had been mistaken. The tree limbs' cybernetically enhanced thorns pressed into Giraffe from either side. Like that, the acacia had become an enormous mouth and Giraffe had become a ham sandwich.
"What is going on here?" Ms. Mtombe appeared and began spritzing Giraffe's dancing legs with that dreadful anti-ungulate spray. It smelled like Satan's ravioli. "How many times have I told you to leave my tree alone?" Ms. Mtombe shouted.
"I would like nothing better at the moment, Ma'am. It seems that I am being eaten by your tree. I suspect this is an act of revenge rather than of sustenance and I strongly encourage you to take this up with the agency, Ma'am."
The thorns tore into Giraffe's flesh as her arms punched air that was almost near the acacia's trunk. With the end in sight, Giraffe's thoughts were butter-side up. As deaths went, this was certain to be no more humiliating than the rest of her life.
Fortunately, at that moment, the lion attacked.
Intellectually, Giraffe had known that it shouldn't attack, given the restrictions imposed upon it by its pie slice of cybernetic brain. Intellectually, Giraffe had known that she would never be eaten by a tree. Upon reflection, Giraffe recalled the intellect under consideration was that of a giraffe, which perhaps had its shortcomings in modern day suburban Tanzania. In her defense, the lion didn't seem to be attacking her, but Ms. Mtombe. Giraffe suspected it was her delicious looking dress.
Ms. Mtombe screamed. Her short, chubby legs tried something that resembled running, but the lion was nearly upon her. Giraffe kicked her sharp hoof out hard, squarely into the center of its head. Momentum carried the lion's body—if not its head—into Ms. Mtombe, who frothed in terror, but the lion only twitched as it died.
To acacia trees, giraffes have always been far more terrifying than lions. After witnessing Giraffe's nonchalant disposal of her foe, the tree lost its nerve and released her. Besides, not having been supplied with a cybernetic esophagus, it would never have been able to swallow even a bite-sized Giraffe.
While Ms. Mtombe dealt with the police, Giraffe waited inside, tending those wounds she could reach with a tub of Old Chizimu's Giraffe Spackle (Original Flavor). Even after viewing the tree's memory of the events, the police had trouble believing there was a giraffe in the house. One officer poked her head inside the kitchen.
"Hello," Giraffe said. The officer withdrew her head.
When the police questioned the lion's cybernetic enhancements, their manufacturer offered through them to settle with the Mtombes on the spot for thirty million shilingi. Ms. Mtombe demanded a replacement for her servant in addition to the money. Giraffe would have lowered her head in mortification had it not already been bowed due to being indoors. She hoped her replacement would be a lion. To be delivered next Tuesday.
"Yes, of course," the lion's left hind leg responded. "What type of servant would you prefer in exchange?"
All was quiet for a moment, save for the sound of the acacia tree rubbing its limbs together in anticipation.
Fortunately, at that moment, Ms. Kawawa attacked.
"You beasts! The lot of you!" Ms. Kawawa shouted as she marched across her yard in a sensibly solid dress. "My wild date palm told me everything!" Giraffe peered out of the back door. Shit, it seemed, was about to go down.
"The lion tried to kill me," Ms. Mtombe said in a supplicating voice. She had always feared Ms. Kawawa.
"My baby would never do such a thing!" Ms. Kawawa said.
"We're sorry to say that he did, indeed, do such a thing, Ms. Kawawa," her baby's leg said.
Ms Kawawa was undaunted: "You filthy trash have been a blight to this street ever since you moved here!"
Giraffe had always imagined that the look of horror now on Ms. Mtombe's face would be delectable when it came. In fact, Giraffe's cybernetic stomach felt as if it had dropped into a pit of cybernetic acid. Giraffe felt herself drawn out of the house. She had to put herself between the two ladies and comfort her mistress.
"You and that freak of an animal," Ms. Kawawa said, pointing at the approaching Giraffe, "your fool of a husband and your nasty children!"
At those last words, Ms. Mtombe's lips grew tight. Giraffe stumbled and then spun about, galloping for the safety of the kitchen.
In the end, Ms. Kawawa was grateful for the presence of the police. She too ran for the safety of her kitchen.
At some point, the police officers thought it was safe to release Ms. Mtombe's tight arms. Giraffe cowered with her head on the kitchen floor. Ms. Mtombe looked at Giraffe, who sought some way to cower even further. Perhaps she could dig through the tile with her mirror-facet eyes.
"How about," Ms. Mtombe said to the lion's leg in deep, shaking breaths, "instead of a replacement, a longer set of arms for my current servant?"
Giraffe raised her burrowing head slightly. A couple of tiny eye-mirrors tinkled to the floor.
"Absolutely," said the leg, with some relief. It already had to replace the rest of its lion.
"And also," Ms. Mtombe said, "Extra support for its neck."
After the police had left and the lion's leg dragged its corpse out of the yard, Ms. Mtombe came back inside and looked at Giraffe while holding her fists to her hips. Giraffe said nothing. She had cleaned up the kitchen (except for the dishes), and now folded the laundry in perfect right angles.
"Well," Ms. Mtombe said after a sigh, "you do do an excellent job cleaning my ceiling."
"Thank you, Ma'am." Giraffe nodded most effectively, thanks to her cybernetically enhanced nodder. "The popcorn texture feels delightful on my back, Ma'am."
---
© 2015 by Matthew Sanborn Smith
Author's Note: The brilliant comic book mini-series, WE3, written by Grant Morrison and beautifully illustrated by Frank Quitely, put the idea of animal cyborgs into my head. A giraffe seemed a sufficiently ridiculous creature to use in my own story. Stuffing the poor thing inside a human house and expecting it to clean up a bit struck me as both funny and rife with problems for the protagonist. Once the tree spoke, I knew I'd hit gold.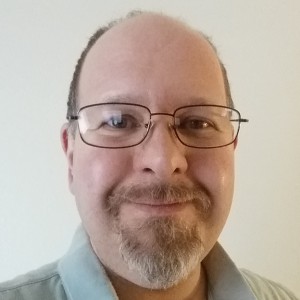 Matthew Sanborn Smith's fiction has appeared at Tor.com, Nature, and Chizine, among others. He is an infrequent contributor to StarShipSofa, SF Signal, and SFF Audio. He shares even stranger things than this story on his podcast, Beware the Hairy Mango, and has recently released his short story collection, The Dritty Doesen: Some of the Least Reasonable Stories of Matthew Sanborn Smith.
---
If you enjoyed the story you might also want to visit our Support Page, or read the other story offerings.