written by David Steffen
The Magic Circle is a first person puzzle/action game released by Question in July 2015.
Ishmael (Ish for short) Gilder is a celebrity in the gaming world, the designer of a wildly popular game twenty years ago, a text-based adventure.  The fans have been pining for the first person fantasy sequel that Ish has been developing… for the last twenty years. Ish dithers over every little choice, never making firm decisions on anything, and so the game continues to linger in "development hell".  Not even so much as a color scheme, so the game in development is still in monochrome.  He has become too emotionally attached to the game so that any actual game could never possibly live up to his expectations, and his ego has become so inflated he thinks of himself as the Starfather god figure from the fantasy world.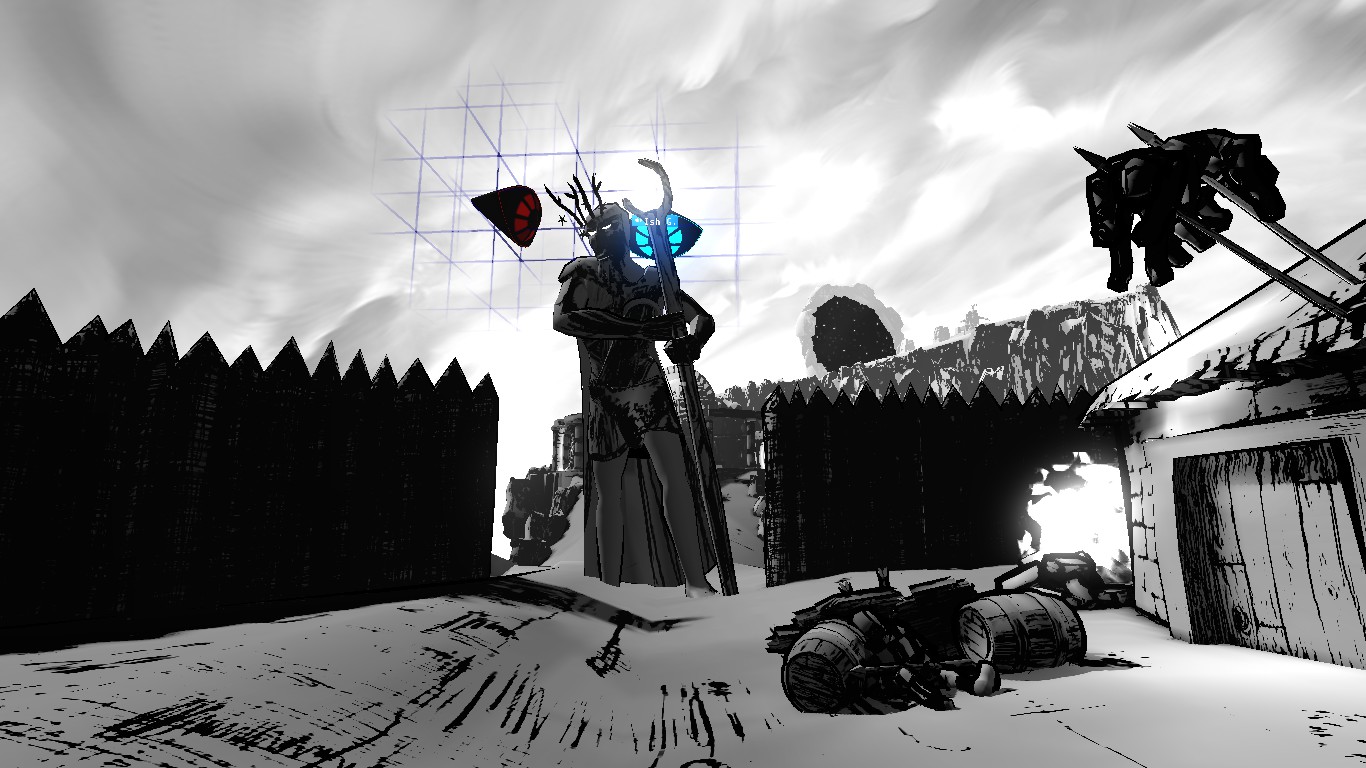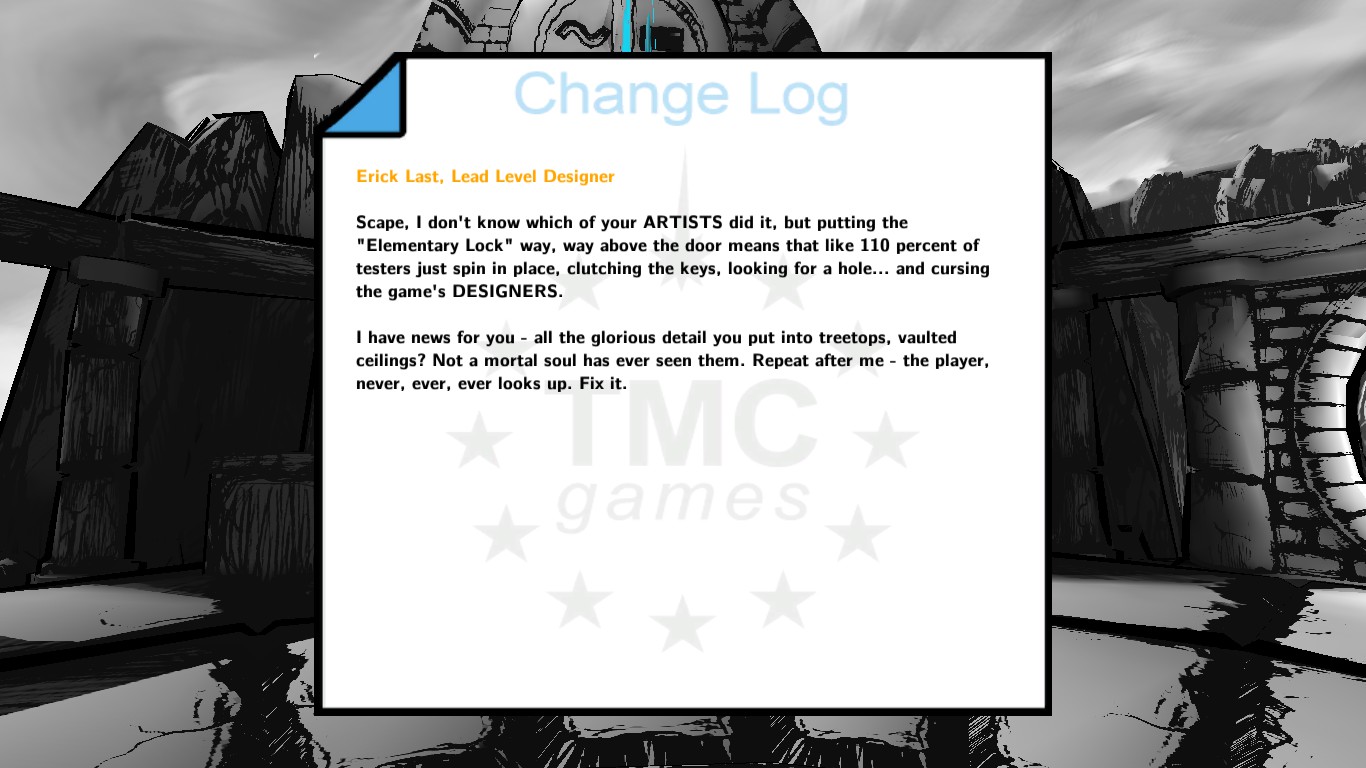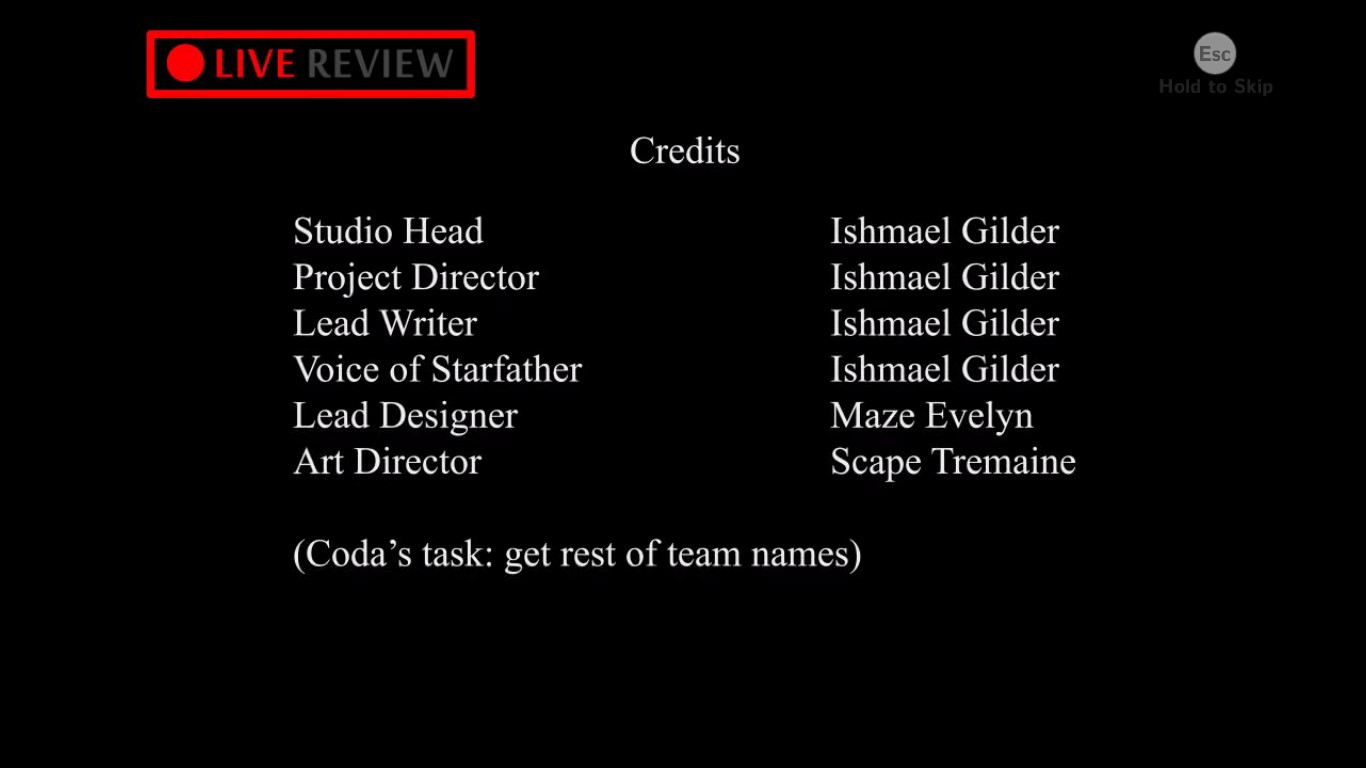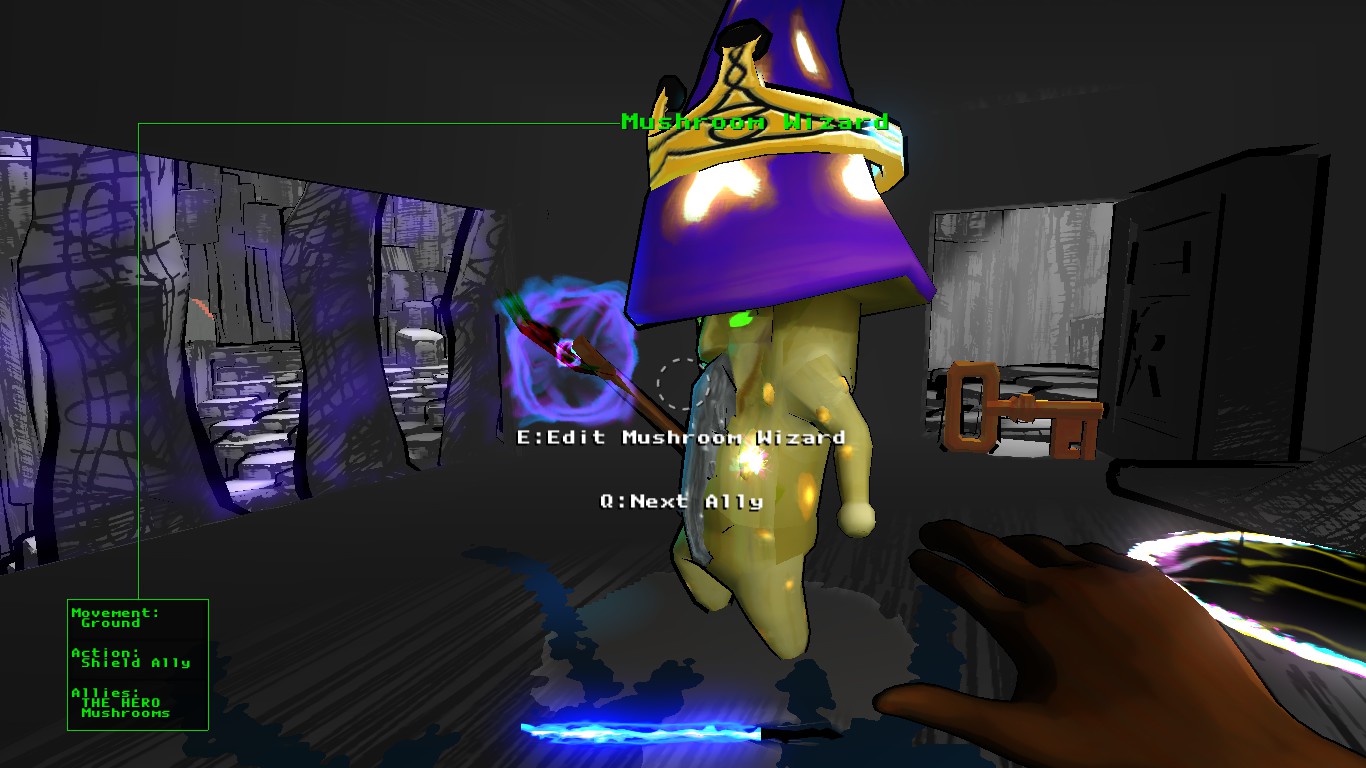 You are the protagonist of that game.  But Ish is so indecisive, he won't even allow the protagonist to have a weapon.  So, you can't possibly win an action fantasy game like that.  Can you?
But soon you start to hear a voice that isn't part of the game.  A voice that is aware of Ish's indecisive nature and the embarrassingly incomplete state of the game.  And he knows how to help you.  He knows where the cracks in the game are, to let you manipulate the environment to your advantage.  You can harness energy from cracks in the program, and you can use that to generate glitches to trap enemy creatures.  Once you've trapped a creature you can manipulate its attributes–its method of movement, its attack type, its passive attributes, its alliances.  You can strip them away from one creature and attach them to another creature–make flying wolf, or a biting mushroom, or a flamethrowing rat.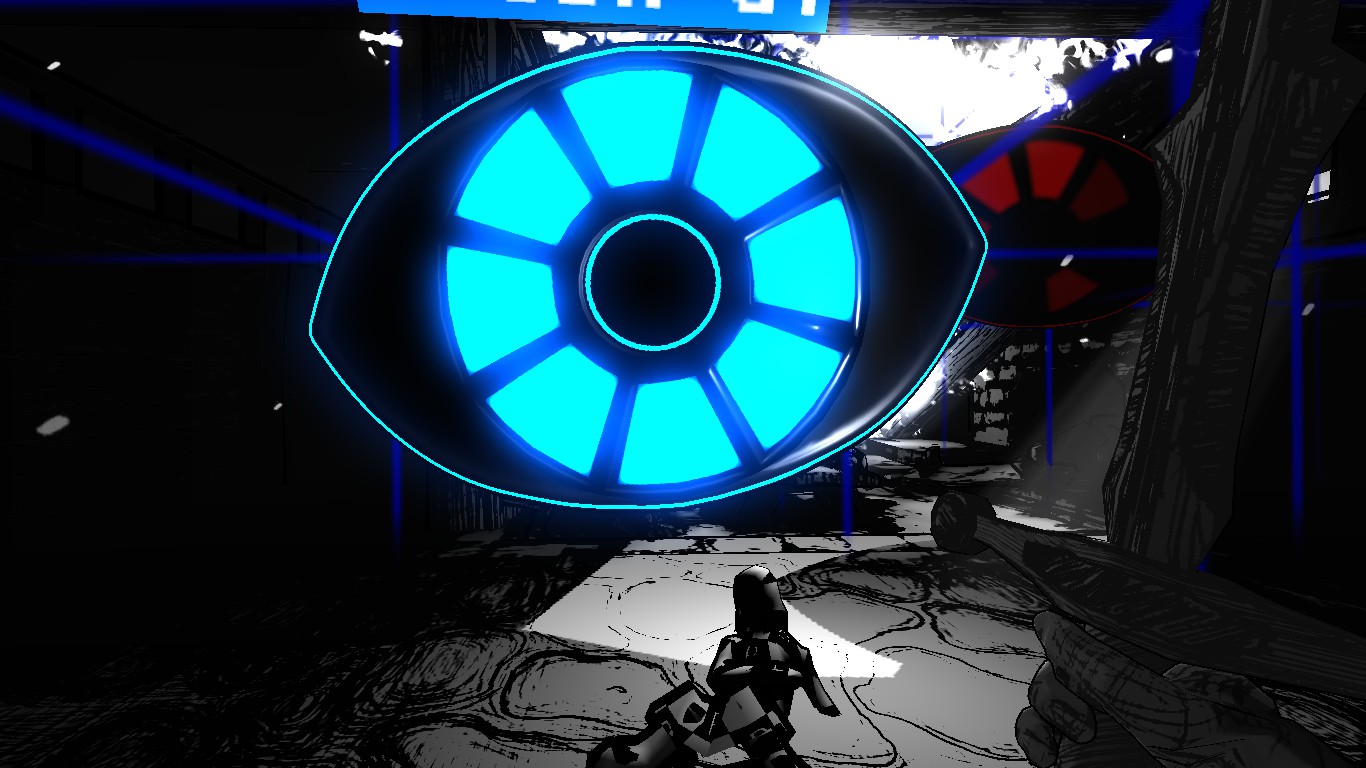 The mysterious voice has a vendetta against the Sky Bastards, which is what he calls the programmers (because they manifest in the game as floating polygonal eyes with rotating wait logo for irises, and he wants to use you to get revenge against them.
The game is clearly broken in many ways and you can approach each obstacle from various approaches.  You can make an army of creatures to follow you around everywhere, or you can make one creature your tank, or you can experiment with different attributes to find a different way.
As the game goes on, there are completely different kind of gameplay focuses in each one–but I don't want to spoil the fun to work through them yourself.
Visuals 
Fun graphics.  Overly simple because much of the game is monochrome, (though that's justified by story!).  They did a good job making it look like a half-finished game.  Besides the main fantasy quest game there is also some other segments of an unrelated game you end up, which has a fun but dated look.
Audio
Nice music, which is a nice plot element as well when it occasionally gets messed with because it's not actually finished.  The voice acting is really really good, especially Ish, who is constantly complaining about game design details, and you can find collectible dev audio notes.
Challenge
The challenge level is reasonable, and the game is flexible enough in strategy that you can adjust the difficulty by picking a different approach to the game.
Story
Fun metastory.  The story of the game within the game is kindof all over the place, but of course that's much of the entertainment.  The "real world" story is consistently entertaining, and meshes with the in-game story as the real-world actions impact the game world.
Session Time
Mostly, very very short, because you can save at most any point during playtime, so it's easy to put down.  It… can be pretty slow to load, so might not be worth booting up if you know it'll only be a few minutes of time to play.  There are a couple of longer story sequences, which aren't easy to escape out of, so if you happen to catch one of those at an inconvenient time, then it can be a little aggravating.
Playability
Easy to pick up.  The only thing that took me a little bit of time to understand is that traits that you extract/give
Easy to get the controls down, challenging to master the game.  The level of challenge escalates well as the game progresses.
Replayability
Definitely some potential for replayability, to get all the collectibles, to try to figure out a different approach to different obstacles.
Originality
Much originality!  The FPS format is familiar, of course, but the metaformat where you're in a game-in-development, where the slipshod state of the game is in itself an obstacle, where the point of the game is to get the game-in-the-game into some kind of releasable format, that all felt new.
Playtime
About 5 hours to finish according to Steam, on one straightforward playthrough.  I didn't take a lot of time to try to seek out every collectible, and there were some areas and abilities that I didn't fully explore (i.e. the groupthink ability).
Overall
Fun metastory for a game, fun play, nice and flexible gameplay, great humor element as the creator continually sabotages his own creation, and a good human story too as the various real-life people act against each other.  A lot of fun, well worth a playthrough.  $20 on Steam.