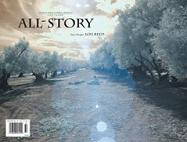 Reading these two magazines was an attempt to broaden my horizons and learn more about so-called "literary" publications. I put literary in quotes because I don't care for that label at all. Isn't all writing literary? To me, it's like labelling a section in the book store "The Good Stuff", leaving the obvious assumption that everything else in the bookstore is not good. But that's a topic of its own that I'll cover another day.
Anyway, these two magazines label themselves as literary, making me question whether I ever want to submit to a literary publication. I don't think my stories could fit in, if these two copies are the norm.
Among other things, each of these magazines cost me 9 dollars. Even the more expensive speculative novels don't cost that much, and the expensive ones of those are often 800 pages! It's worth it for a little market research, but I can't imagine paying that regularly for a magazine.
Does anyone have any literary publications that they think are particularly good examples? I would love to read one that would make me want to buy a second copy. I welcome any input–if you suggest one that I can find a copy of, I'll try to give it a read. I don't want to make blanket statements about literary magazines without a well-rounded sample.
In these two issues, I only enjoyed one story, but it was the one published back in 1921, written by F. Scott Fitzgerald, "The Curious Case of Benjamin Button". No doubt it was included more as part of a cross-marketing campaign, but I'm glad I read it. It's rather dry, and doesn't get very close into any of the character's heads, but that was more of the style of the time, so I'm not going to criticize reading/writing tastes of a long-gone decade. I can tell even just from seeing the previews that they changed quite a bit from the stort-story, which is fine. The short story is a neat idea, but not nearly fleshed-out enough to want to spend two hours with. I'd been wanting to see the movie, so it's raised my interest level.
The rest of the stories were pretty much all the same as each other, so I won't list them off. It was clear that many of the writers have a whole lot of talent, I'm not disputing that. There were some great turns of phrases and some interesting moments that let the talent shine through, but I think they could write better: the talent's there but they're holding themselves back.
I tried to read these with an open mind, I really did. I'll always be, first and foremost, a speculative fiction fan. Like so many things, this is just a matter of taste. I've like many non-speculative books and stories, but nothing quite hits that "sense-of-wonder" button like a good science fiction or fantasy. I didn't try to compare these literary stories to speculative stories as that wouldn't have been fair. I wanted to decide if I would just enjoy them on their own, not compare them to some other ideal. I really didn't care for them, and while trying to examine why, I made a short list of things that seemed to be in common between many or all of these stories:
1. No cohesive theme. After I read something, I like to have a feel for the theme. That doesn't mean it has to be spelled out with an explicit moral, like the ending of a fable, but I like to have a feel for what it was trying to say. Either these stories were trying to give it no theme or too many themes. Too many themes is just as bad as no theme, as each one is diluted by the presence of too many others. Perhaps they all had the theme "Life sucks". That's possible, but I don't really care to read them in that case. I can get enough "Life sucks" themes by watching the news.
2. No plot, no climax, just a series of small things happening after another. Like ripping a page from someone's journal at random. You see some of that person's day-to-day struggles, but you're told that these struggles have been that way for a long time, and nothing in the story hints that they will be any different in the days to come.
3. No attempt to get close into the protagonist's point of view. My favorite stories are the ones that allow you to get into the protagonist's head. This is why prose has the potential to be so much better in its way than cinema. Cinema allows you to see what happens, but well-written prose allows you to experience it. Instead of being told what happens by a seemingly impartial (and boring) narrator, the narration can be a lens through which you can see through the eye of the protagonist. There was none of that here. Each story told me what happened in that person's life, without really letting me get into their head. Perhaps that's the preferred way in "Life sucks" stories to avoid causing depression in yourself.
This somewhat relates to a previous blog post of mine, about cinematic descriptions:
http://steffenwolf.blogspot.com/2009/03/cinematic-descriptions.html
4. almost all are in 1st person. I've heard many editors complain about first person stories, how writers should generally stick to 3rd person. I'd never understood, but I think now I'm beginning to. I felt like first person was used to counteract the #3 on my list, getting close into the protagonist's point of view. Rather than going through the difficult labor of making me see through the protagonist's eyes, just use first person narration instead. After all, what's closer into the person's head than first person? The trouble is when first person is used as a substitute for #3. In one case, a woman is talking to her friend and the friend suspects her husband is cheating on her. She's right, and it's the narrating woman who is the other woman, but we don't find that out until halfway through the story! When the protagonist withholds information from me that's not mysterious, it's annoying and distancing.
5. The opening sentence and paragraph have nothing to do with the rest. I like opening sentences best when they are like a topic sentence of the story–they tell what the stories about without giving too much away. For example, in the cheating story mentioned in #4, the story starts out by saying they got an unusual September snow, then spends the whole first paragraph telling about. The story has nothing to do with weather in general or snow in particular, so when the topic suddenly switched to cheating husbands in the 2nd paragraph it was annoying and disorienting. Did they stick that first paragraph on by mistake? If it had nothing to do with the story you could paste it onto the beginning of ANY story and it would make the same amount of sense.
6. no real ending or beginning. Most of the stories didn't really have a beginning nor really have an ending. The stories began when the words started, and ended when the words stopped. Typically, the real story begins when something changes in the person's life, and ends at some kind of resolution, whether it be death, or change of character, or the resolution of the actual conflict. Not so in these stories.
7. The stories all had a tone and them of "Woe is me ain't my life terrible". It's easy enough to find these stories on the news, do I really need to seek out fiction that does the same thing? And I really hope the proportion of protagonists who hate their lives isn't proportional to real people who hate their lives, else we are all in a lot of trouble!
8. Not in every story, but maybe 1/4 to 1/2, pedophilia is an element, whether it's explicit sex or just creepy looks from teenagers' dads. Maybe I'm just naive, but I like to think that it doesn't happen to everybody as often as these stories would have me believe.