In Loving Memory of Mikko Steffen
Born November 1, 2007
Adopted May 24, 2008
Died May 8, 2023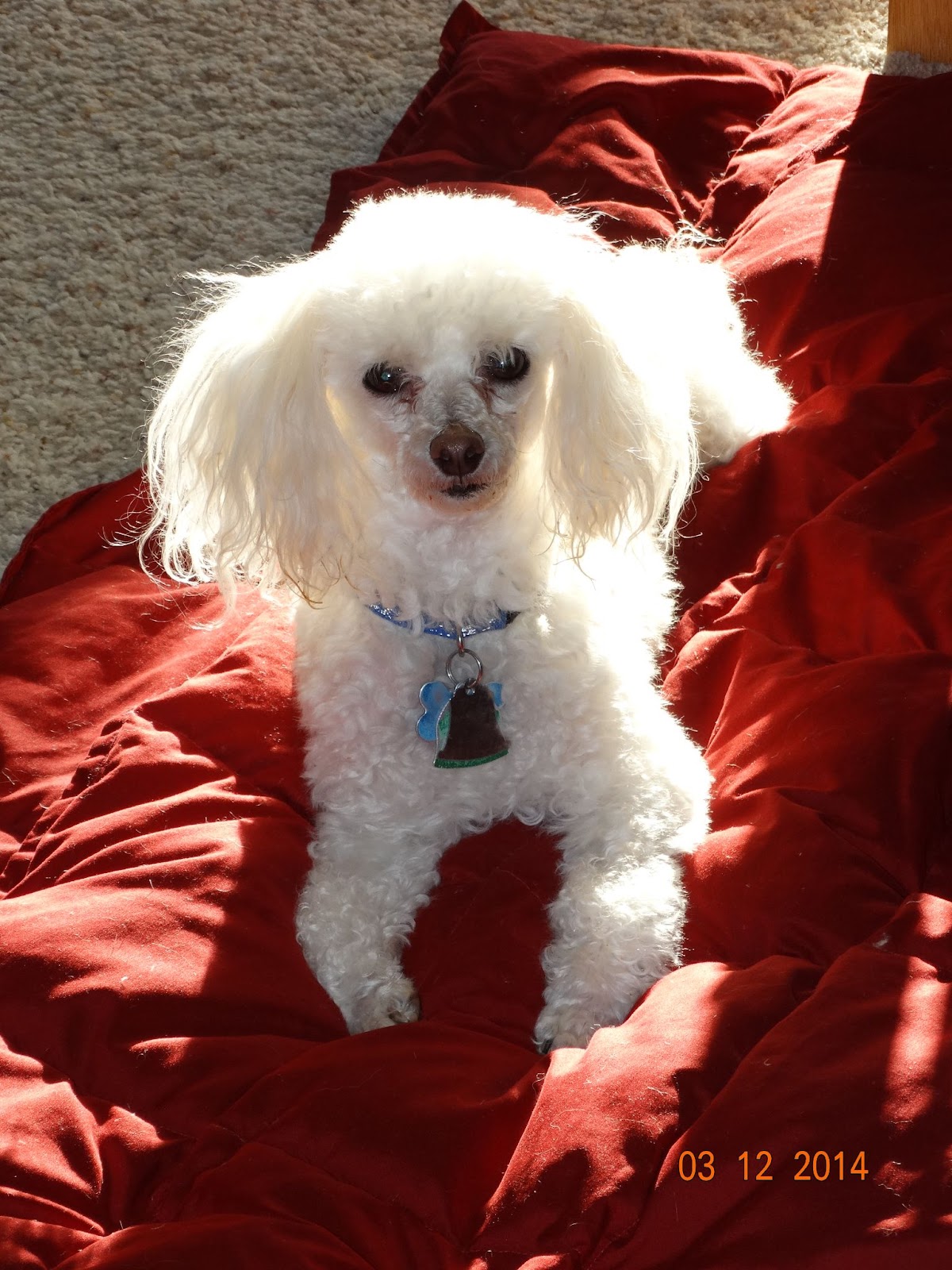 This is the story of a dog who has been a part of our family for fifteen years and connected all of the other dogs we've ever had. This is the story of a miracle dog who beat the odds over and over again. This is the story of Mikko the white poodle.
Mikko's Life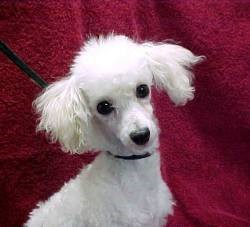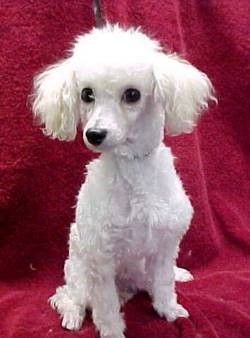 Bringing Him Home
At the time we adopted Mikko, we had just moved into our first house after living in a series of apartments. We had our first dog, Aria, and we were looking for another dog to be a playmate for Aria in the wide open spaces of our new home that we hadn't filled with much furniture yet.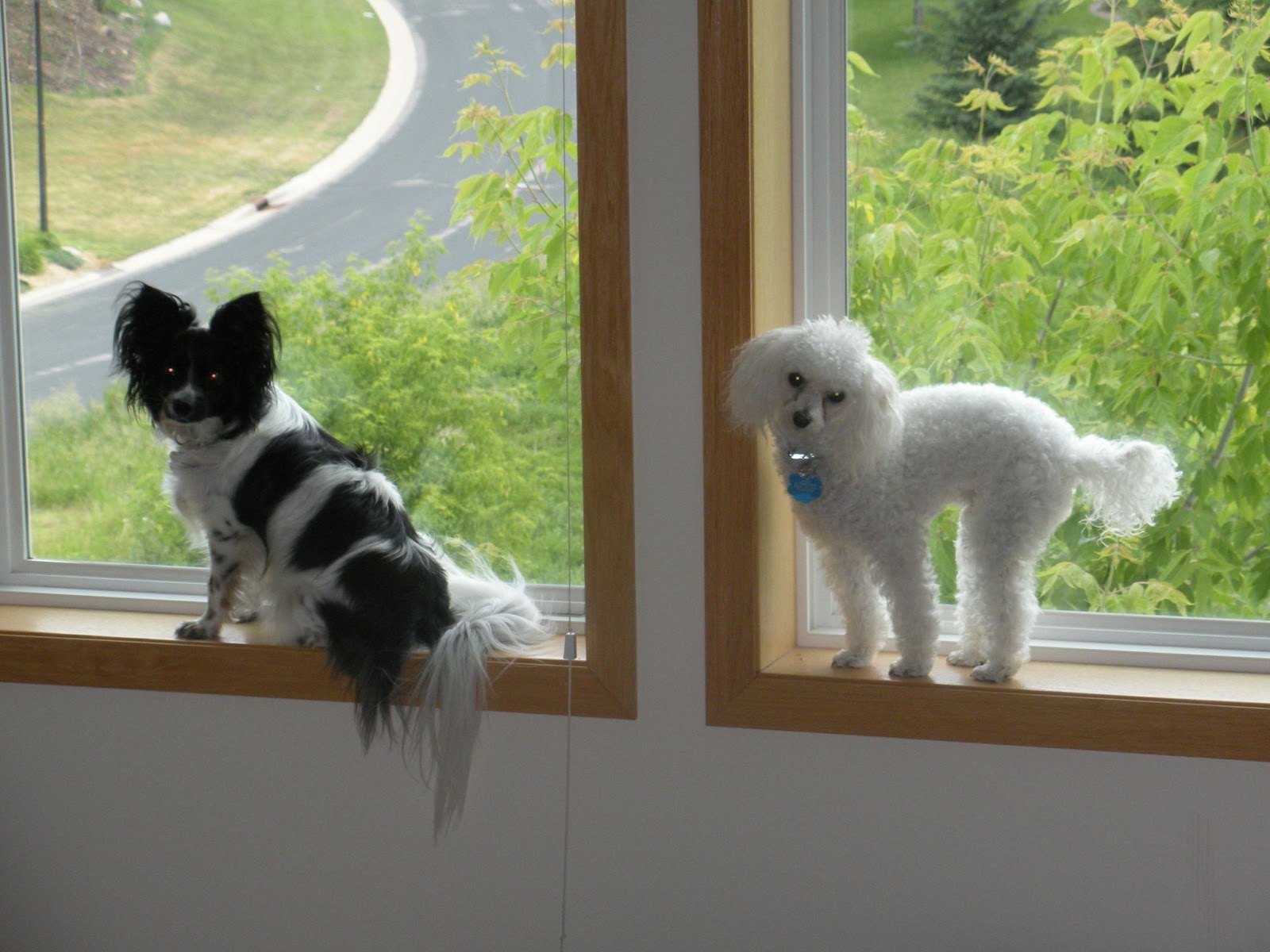 Heather had fond memories of the poodles she had when she was a kid so she wanted another poodle. She found Picket Fence Poodles, a poodle rescue organization that was a mid-length drive away. Listed on their site was "Perry". For this adoption, it required people with poodle experience and people who were willing to adopt a dog with special needs, because he was born with luxating patellas, where his kneecaps are not fixed in place the way they should be.
We set up a meet and greet with Picket Fence Poodles to meet him, with just the two of us going to meet him at the home of the rescue organization. We had a great time playing with him, we talked about his leg issues, talked about his care, and we decided to take him home.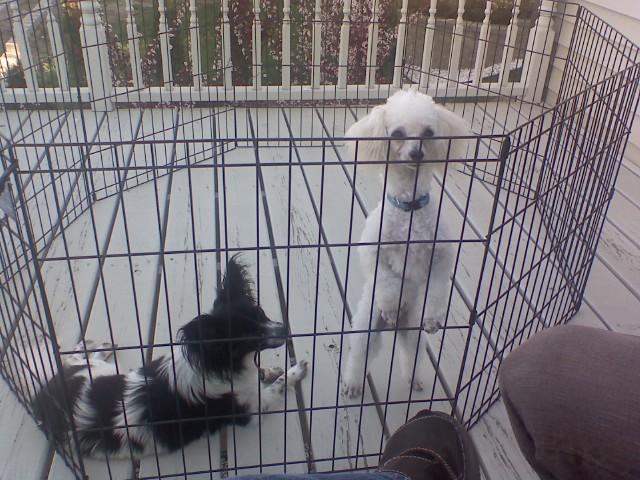 He had been born at a poodle breeder. Because of his legs, he was unable to walk when puppies normally learn to walk. They had planned to euthanize him, but he was so cute they kept putting it off and carried him around and then, surprise, he actually started walking on his own! He managed to get enough strength in his legs that he was still able to learn to walk. So at that point they gave him over to the rescue organization. They warned us that he would never be able to jump or to climb stairs, but of course that didn't matter to us.
We decided we didn't like the name "Perry" (this was before the days of Perry the Platypus or we might have kept it) and he didn't respond to the name yet anyway. We named him "Mikko" after Mikko Koivu who was a long-running player on the local NHL hockey team The Minnesota Wild.
We brought him home and introduced him to Aria, and they became best friends and playmates. Of course, there was plenty of conflict. Aria was the more dominant of the two, but Mikko didn't want to up on that, so he would try to boss her around.
Nicknames
So many variations on the name, we would call him Mako, Mikko Mako, Makiko, Meeky, Squeako, Beako, Squabeako, Mr. Mikko, Magical Mikko, and so many variations of each.
What Made Him Special
Determined
Aria was still pretty young at the time too but Mikko never had enough playtime. They would chase and play and wrestle and playfight, and then Aria would jump up to the back of the couch and watch smugly with the terrain advantage while he barked from the floor and tried to reach her. He would alternate between putting his front paws on the couch and doing tiny little hops that were nowhere near high enough, to taking a running jump from four feet away which he landed on the ground before he reached the couch.
This went on and on for days and weeks and finally he managed to jump up onto the couch and even surprised himself, and then when he jumped back down he couldn't figure out how to get back up again, though he did eventually figure it out.
Still, the stairs were an obstacle. Aria could run down or up the stairs without any problem and he would get so mad if she left him behind, so she would go up or down and then taunt him and he wanted to do the stairs so badly because he couldn't let he just gloat like that. We taught him to go up stairs first, by putting him one stair down and coaxing him up while we stood below to catch him if he slipped. Then two stairs, then three, and soon he was confident enough he could go up the whole flight.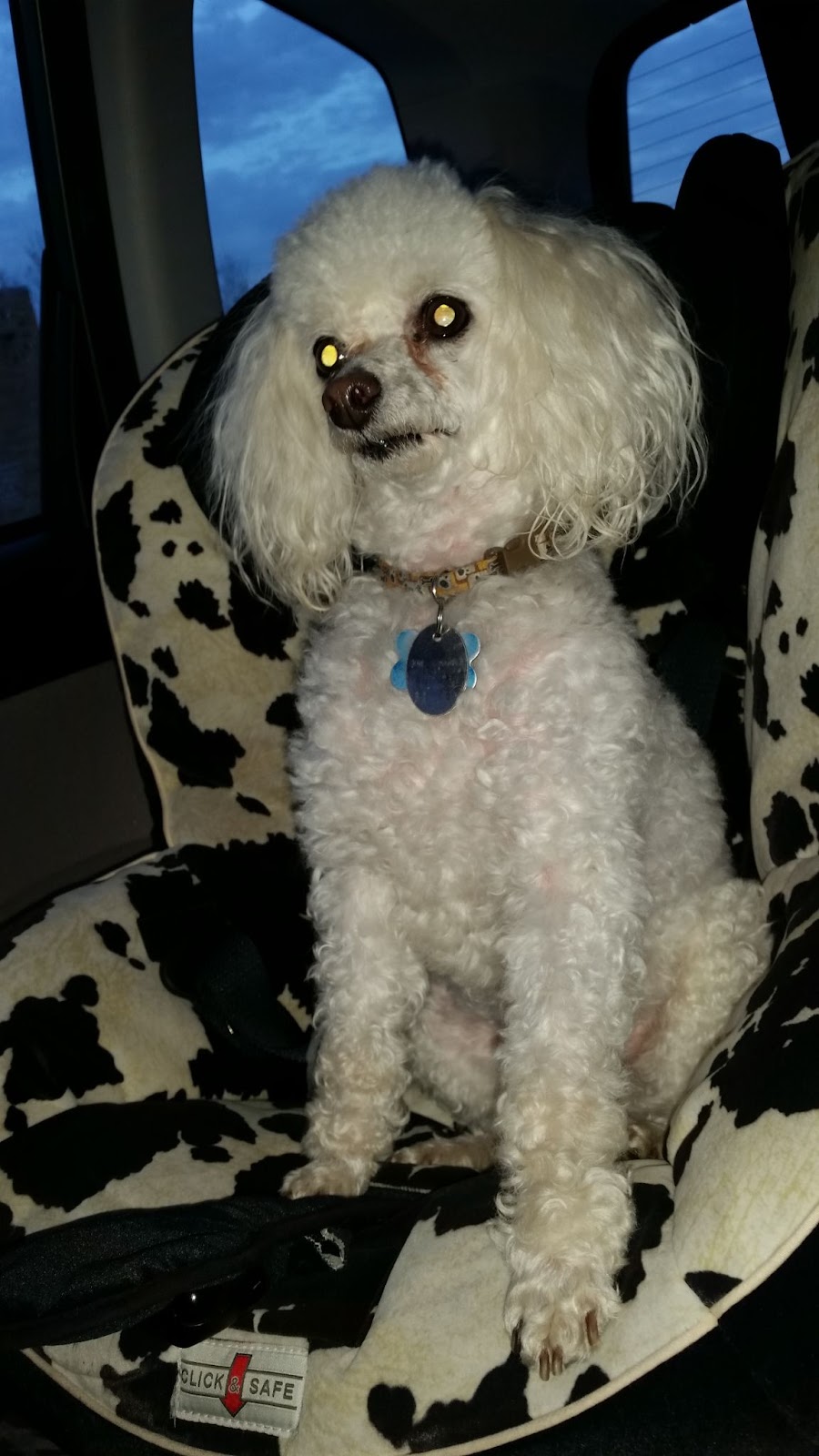 At the time, we watched TV on cable and the only cable jack was downstairs, so we would watch TV in the basement. This worked fine when Mikko couldn't take the stairs, but once he learned to go up but not down then he would decide to go upstairs and then would sit at the top of the stairs and bark for someone to carry him down. So, yes, we did eventually teach him to go downstairs too.
From the start, he defied expectations from sheer determination.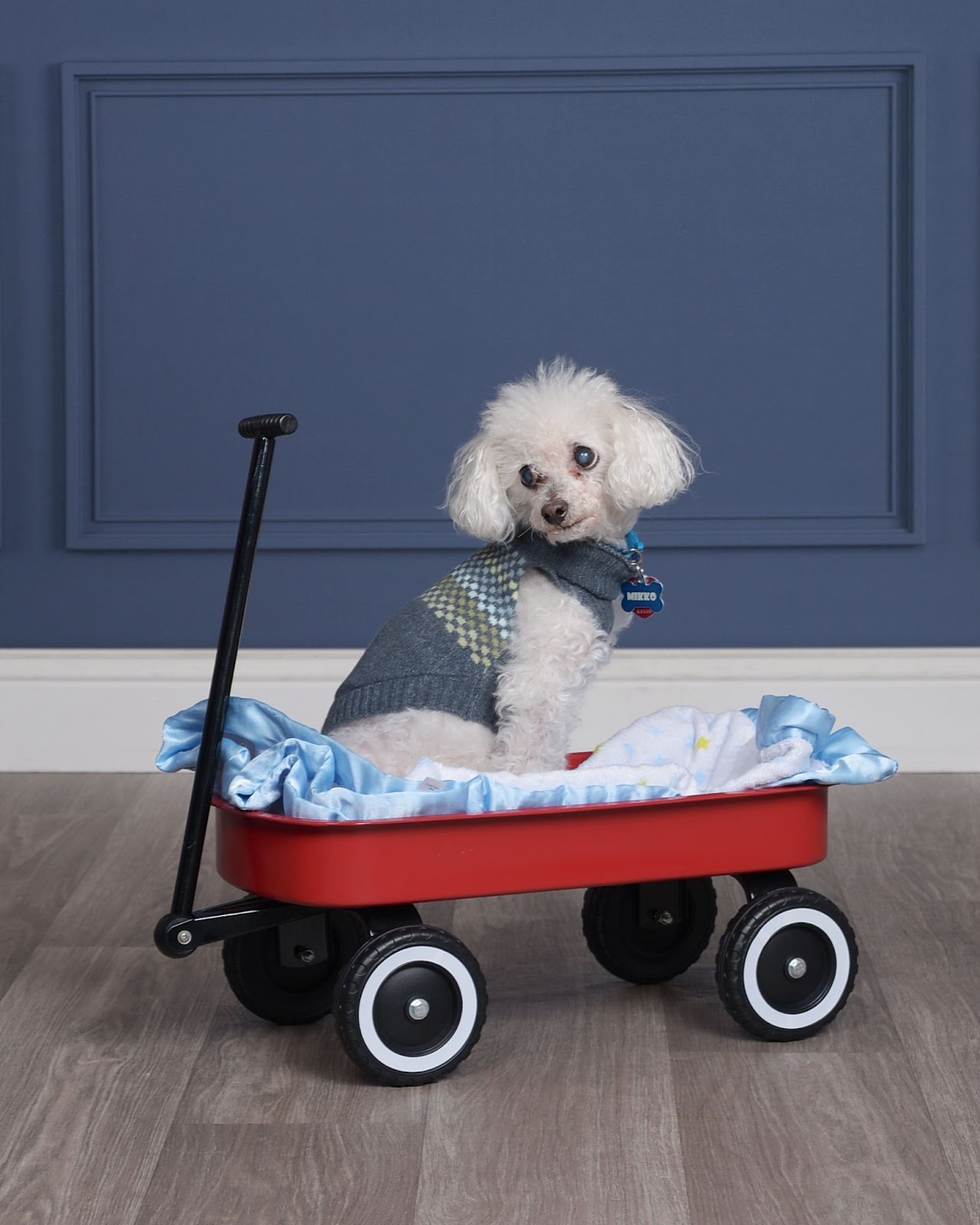 Bossy
From when he was young he tried to be the most dominant dog in the house. Which really didn't work with Aria, but he could get away with bossing Timmy around when he was there, especially as Timmy got older and confused Mikko would try to coach him and say "don't do that, you're being weird" when Timmy would wander or get stuck in a corner.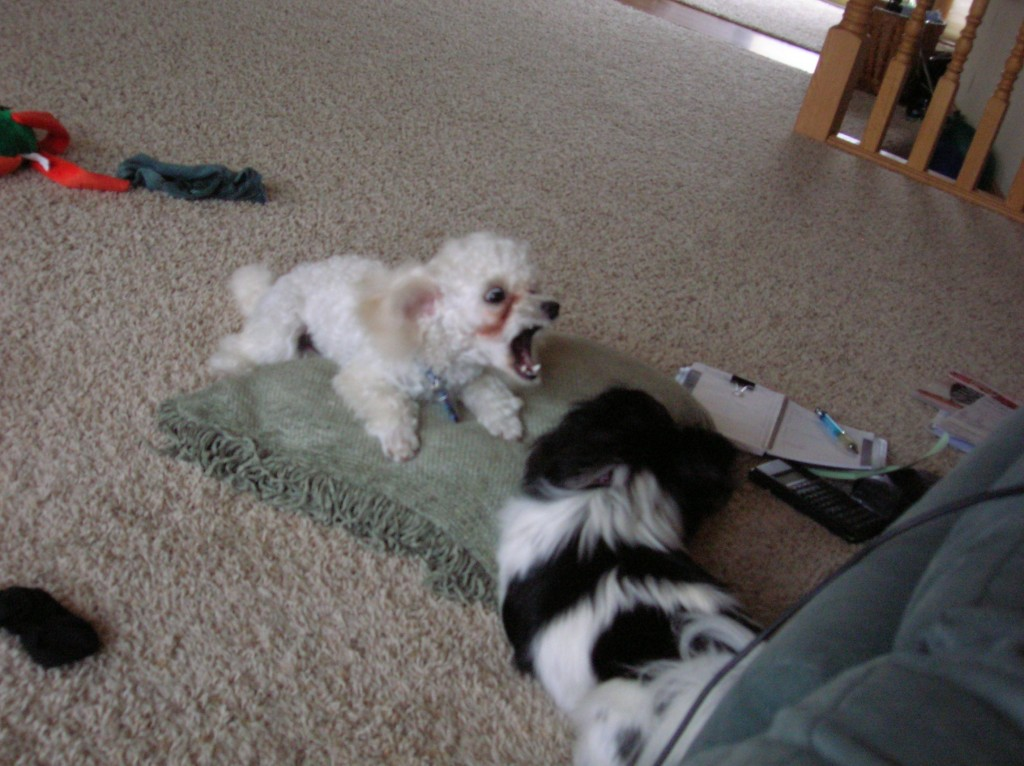 His determination was not always a positive trait, even to himself. For some reason, he would sometimes get very angry if he was left in a kennel with a bowl of water, and he would furiously try to bury it with his nose, sometimes until his snout was bloody from pushing. When he was older and was having some difficulty maintaining his appetite he sometimes did the same with food left for him, but then sometimes he would try to bury it for a while, then he would eat some, then he would try to bury it again.
He would always bark at leaves blowing in the wind as if they had offended him personally, and if he happened to catch a tailwind he would look as if he thought someone was blowing on his butt.
Compassionate
If someone cried he would always go to them and want to be held and lick their tears away.
If Aria got locked in a closet by accident as she often did when she followed someone in there, then Mikko would found out where she was and would come get someone to come get her out, and would keep giving significant looks at the closet door until someone let her out.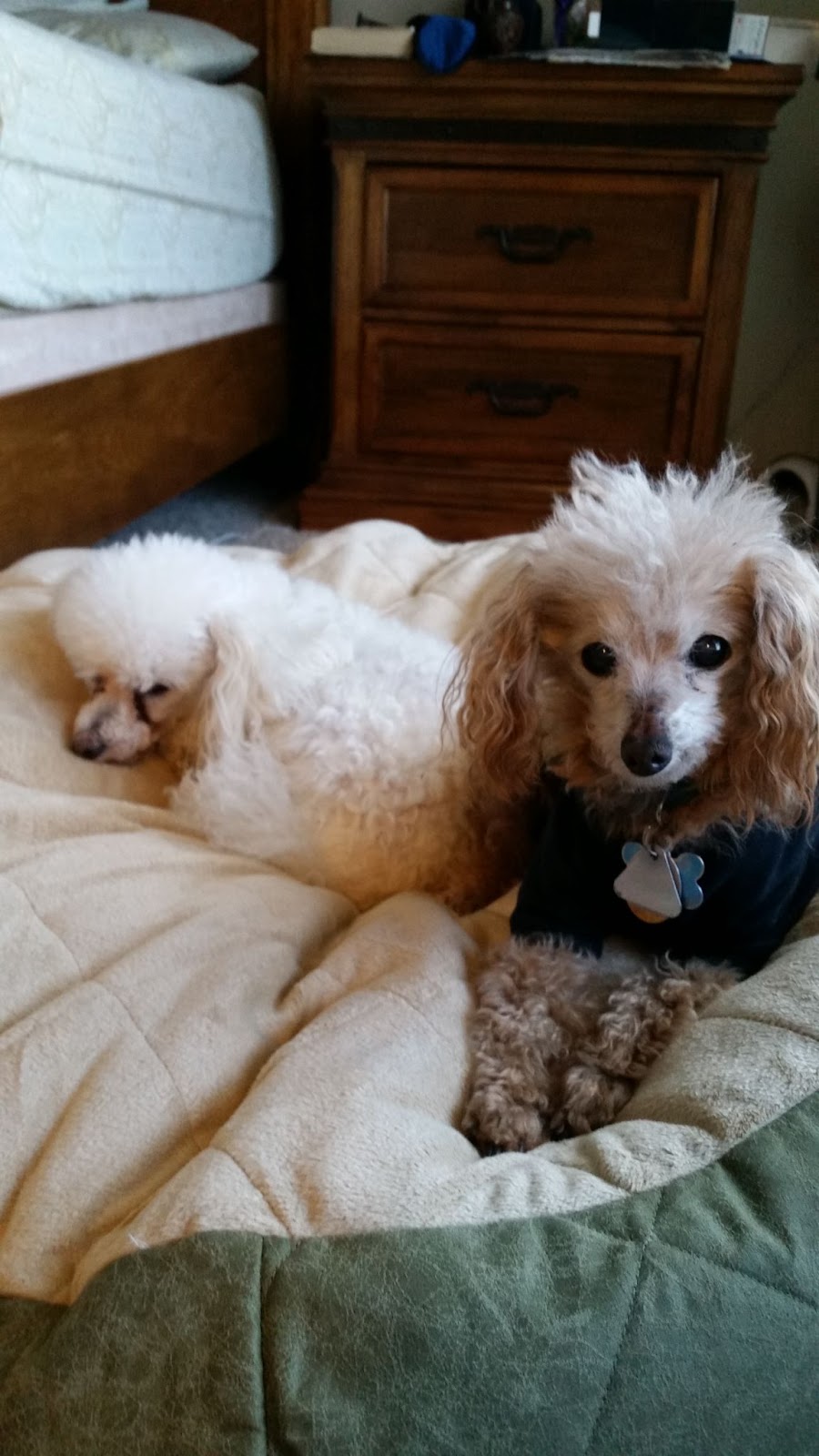 Unusual
Probably some of this came from his luxating patellas, but Mikko had some weird postures. Mikko loved pillows and beds, but he tended to never lie in them all the way, always draping himself across the edge of the bed with half his body outside of his bed. When he was young he also liked to squeeze into tiny dog beds with Aria. He's the only dog I've seen who would kneel with one or both legs instead of always sitting on his butt (which prompted people who didn't know him to think he was going to pee). And when he laid down he would like to lay with his legs splayed out that we liked to call a "Mikko-skin rug". He was also never able to pee with one leg lifted like most male dogs do.
When you brought him to bed at night and he was getting settled in, he would often do a sort of superhero stretch where he laid on his back and stretched one foreleg away in front of his face.
Friendly
Besides making immediate friends with Aria, and with Timmy who became our third Musketeer, when he was younger, Mikko would always be the greeter and ambassador of the group. When we walked the dogs, or when we had visitors, he would always be the first one to meet the new dog, because he never saw a dog he didn't want to play with.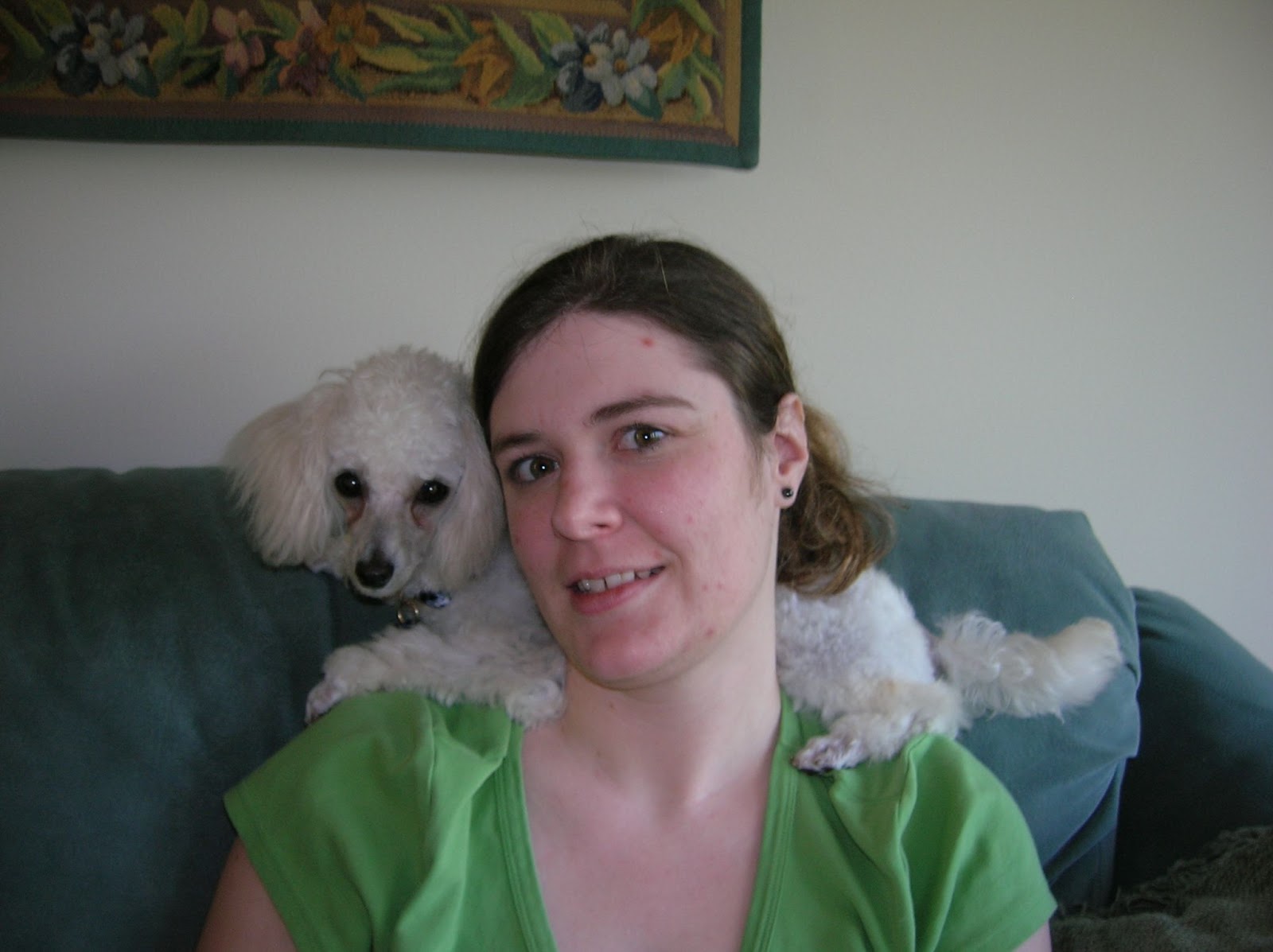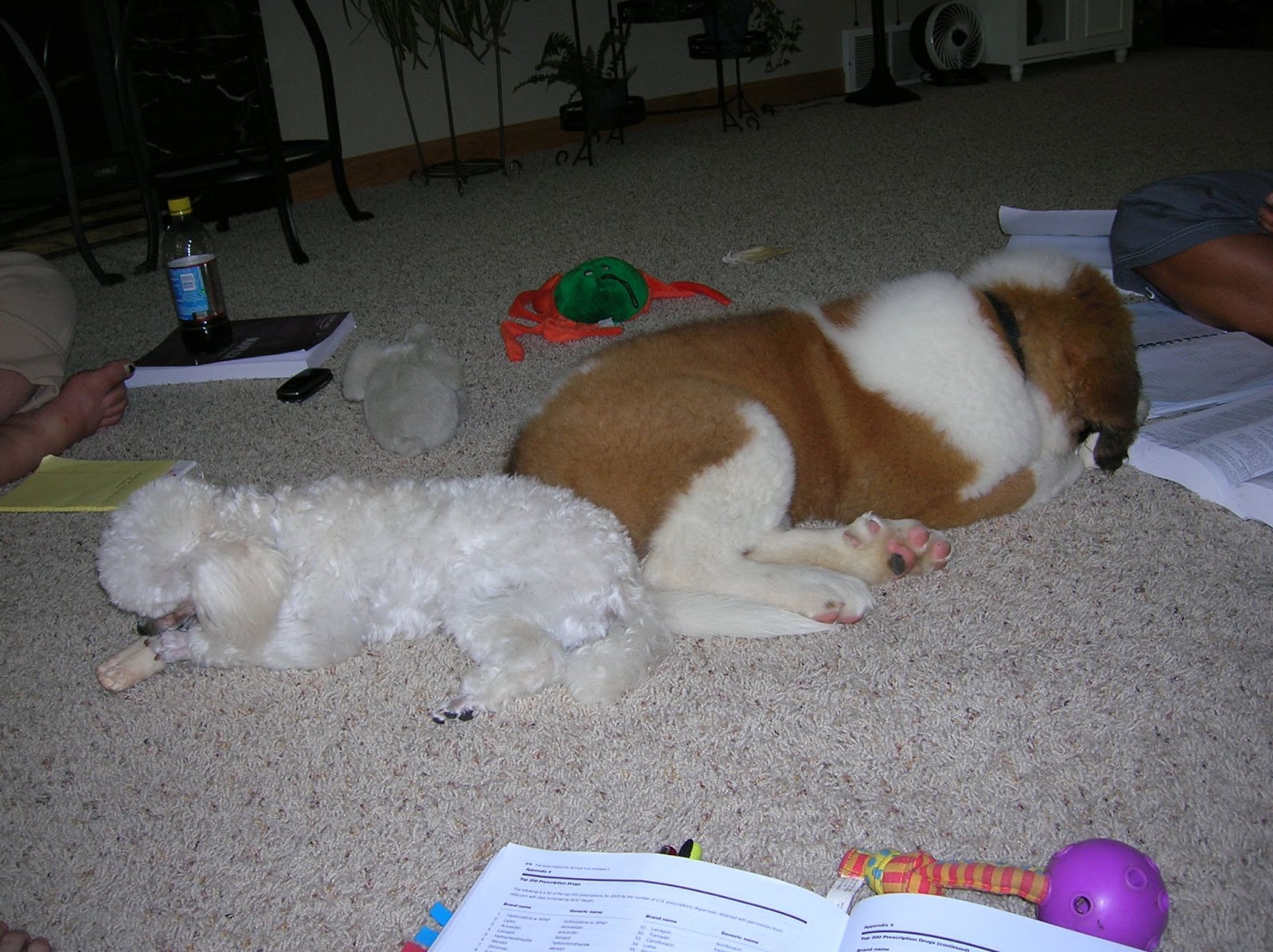 Unfortunately he gradually lost much of this trait of being able to immediately click with new dogs, perhaps due to increasing arthritis and other health issues, though he remained playful with people and his dog roommates for most of his life.
One time when he was young we set a big upright mirror down on the ground, the upper portion of a furniture hutch. Mikko saw his reflection and was obsessed with it, barking and pawing at his reflection and trying to get it to play with him, rearing up on his hind legs and pawing at it to try to reach the other dog, looking on the other side of the mirror and surprised he couldn't find it there.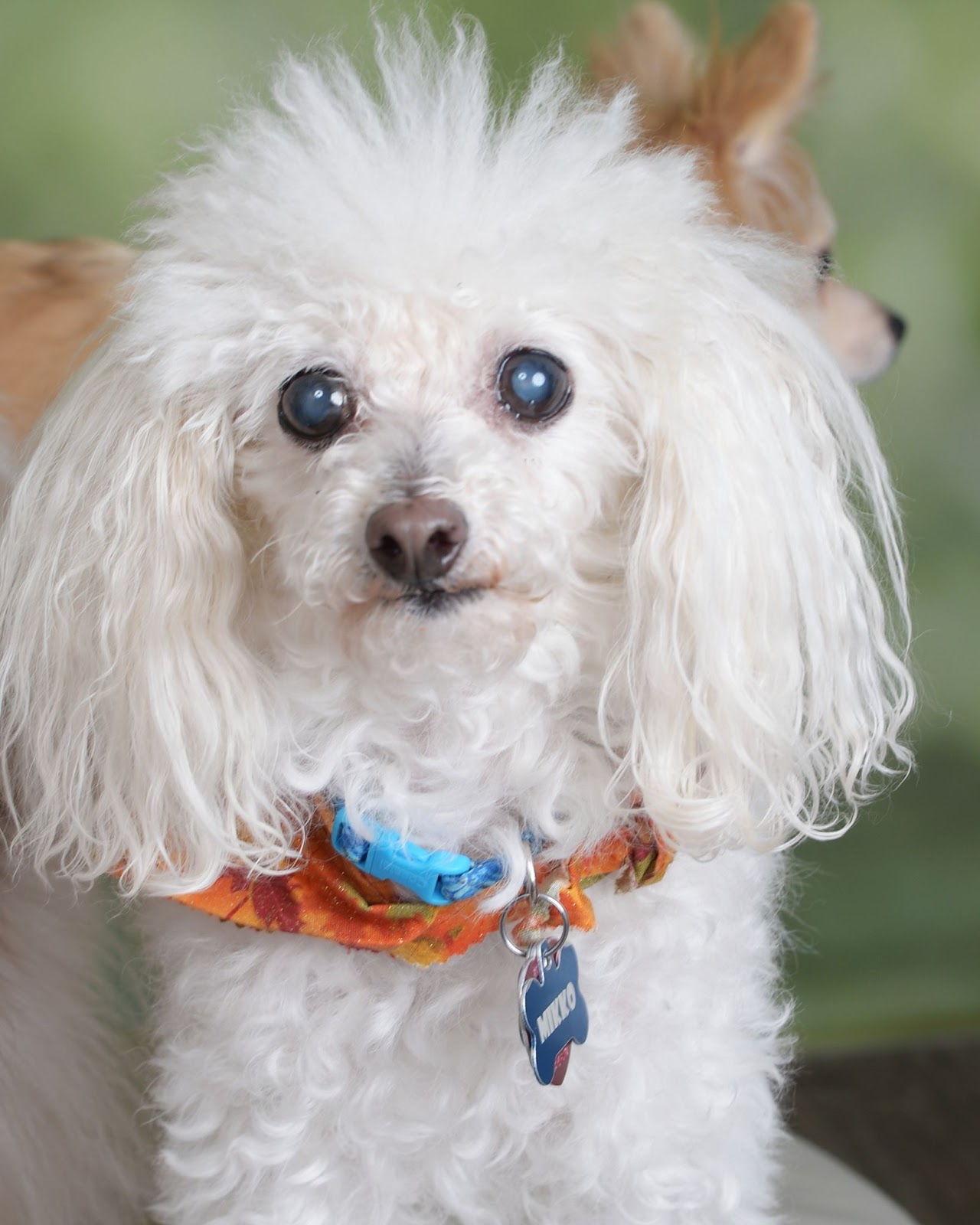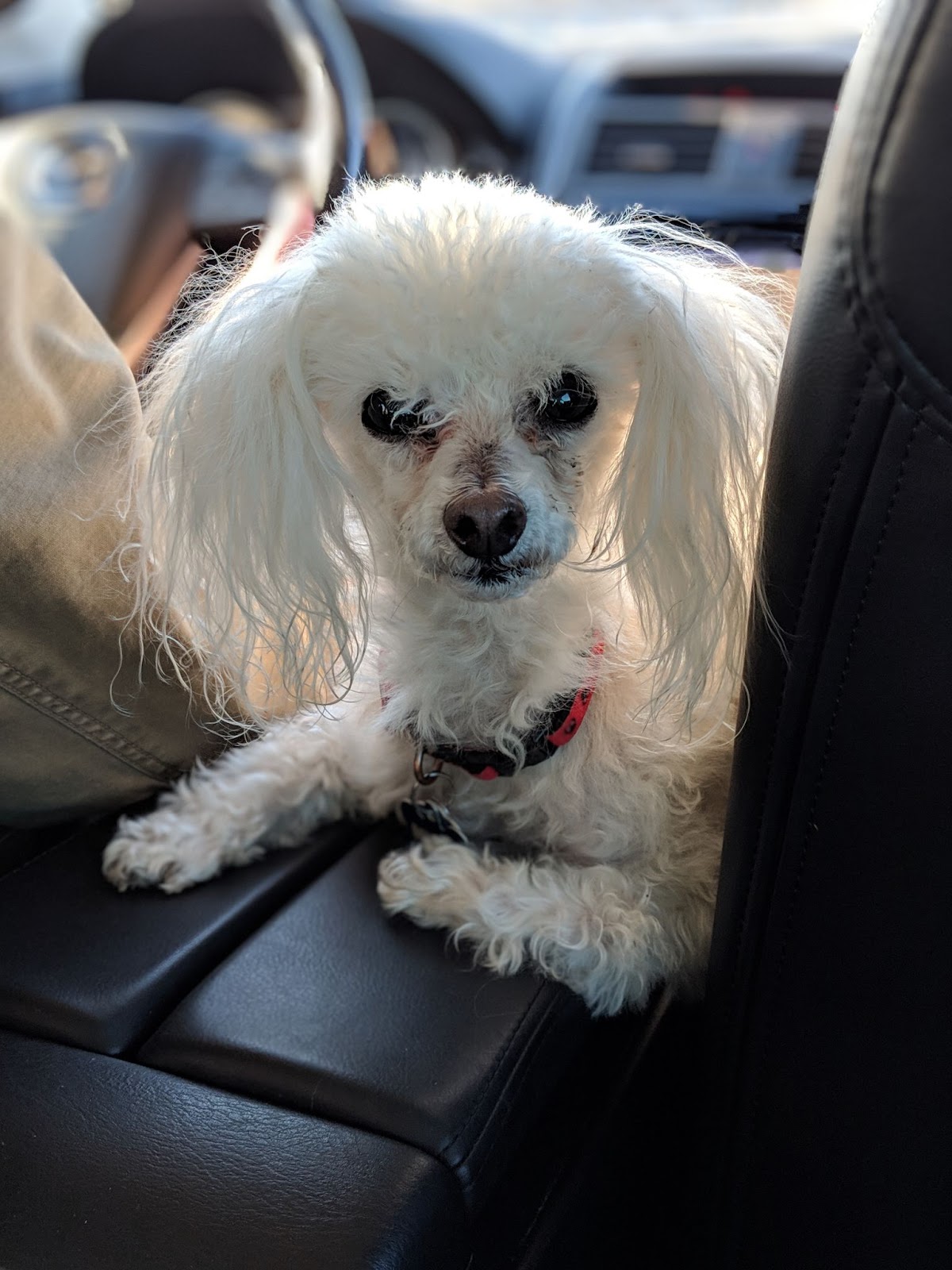 Communication
For barking, Mikko had one volume: loud, and his barks were very animated. More so than other dogs, he would throw his head back like the recoil of a cannon as he fired each loud bark into the world. Some of our other dogs we could teach to bark quietly on command, with a "say please" they would give a quiet talking-level bark. We taught Mikko to do this too, but with him it was either "full volume" or "mute". When he was on mute, he would make the full head-throwing-back motion of a bark, but make no vocal sound whatsoever, just the soft "click" of his teeth.
When he wanted something, he would stand right next to you and look up with his gigantic eyes, and then lift one paw and scratch softly at your leg–scratchscratchscratch and then look again. He would alternate this with his own unique vocalizations that were a variation on a whine, but would sound like "hoot hoot hoot" like a monkey.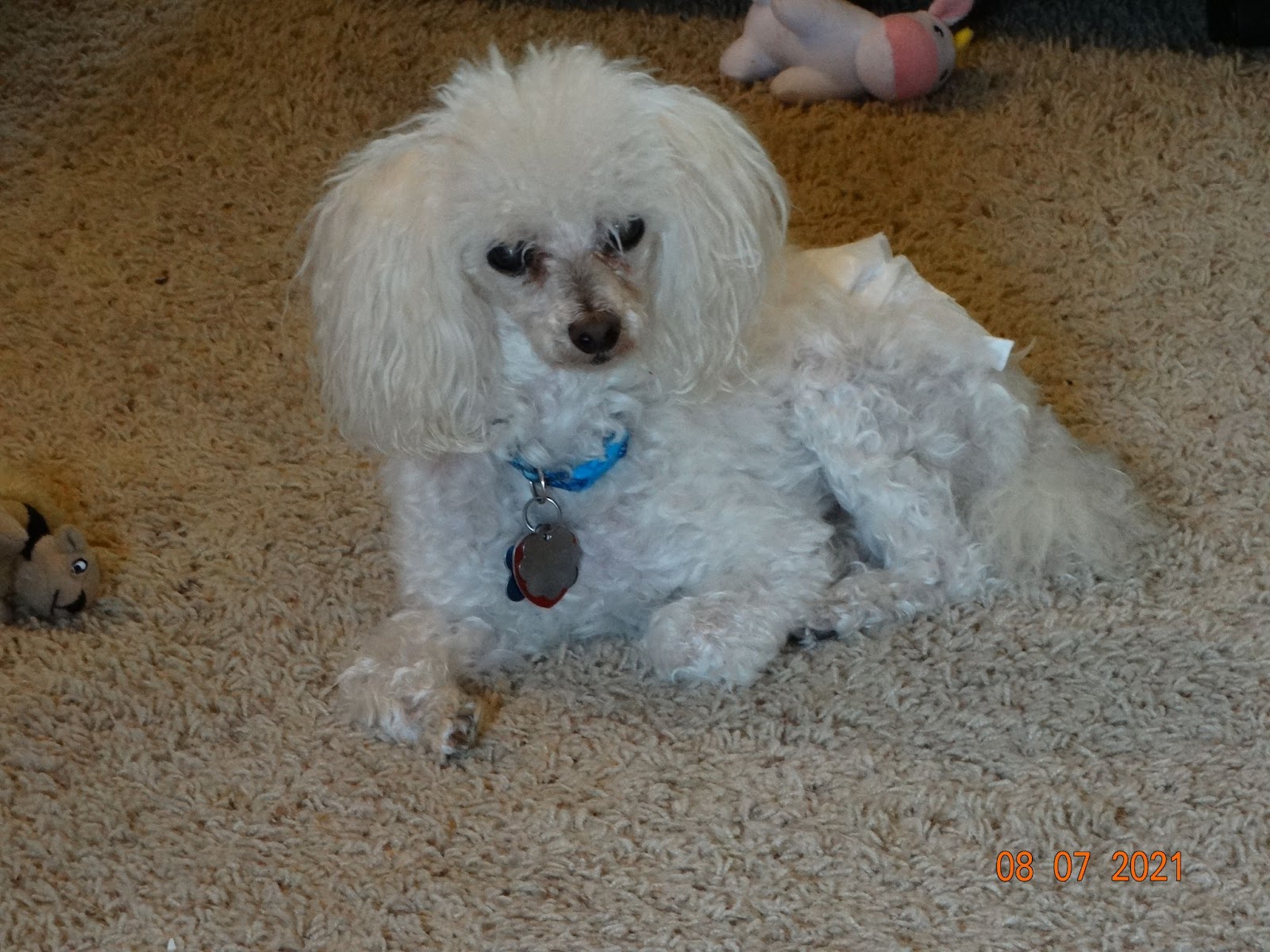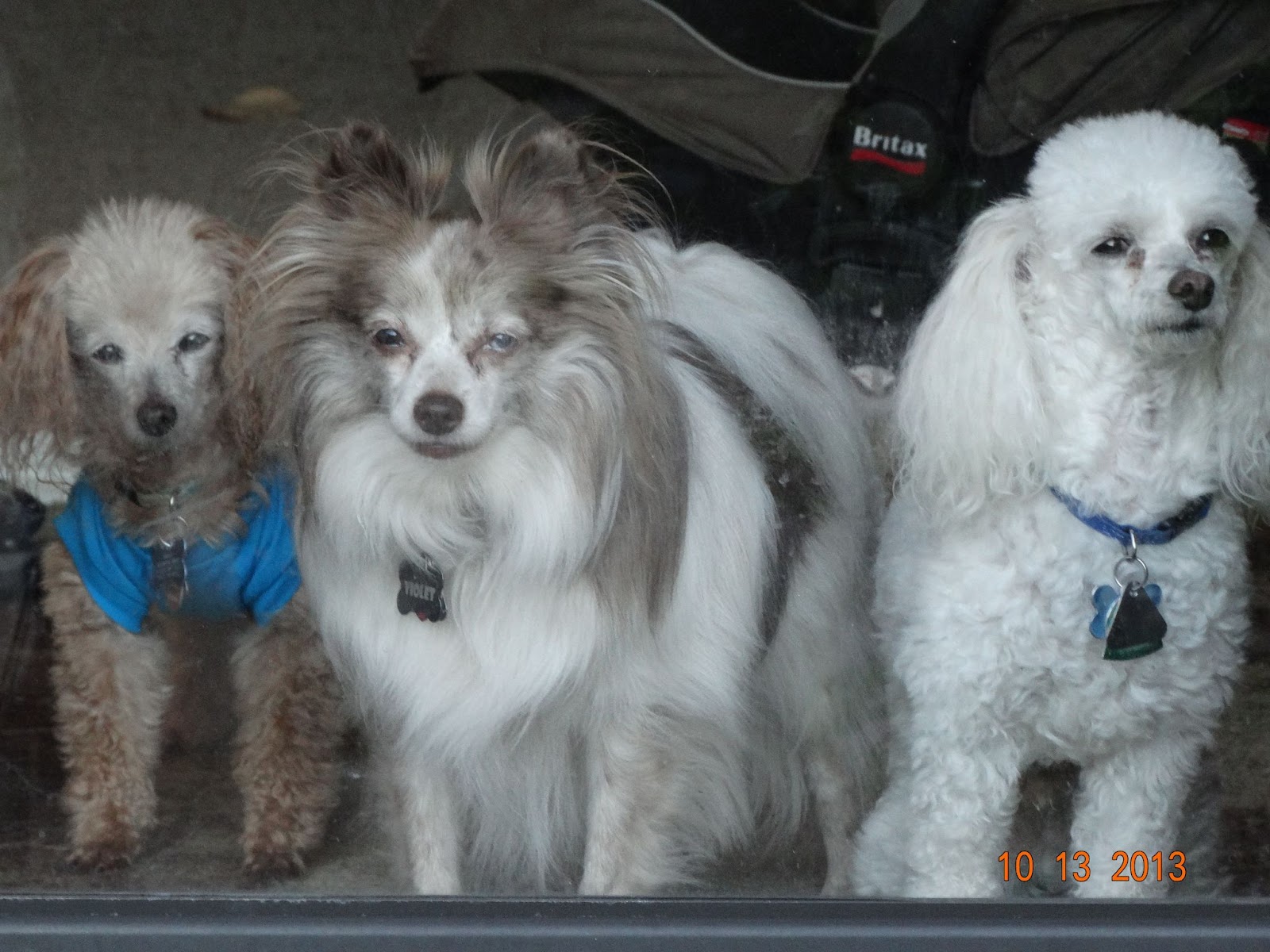 He could answer the question "Where's Heather?" (or other member's of the household). If you asked that, he would recognize which member of the household and would either find that person in the same room and point at them like a hunting dog with one front leg raised and head pointed, or would go find them in a different room. Even if the person was hiding he would keep at it until he found them.
If you took him out to use the lawn, sometimes he would pee and then head back for the house. But then if you asked him "Mikko, do you need to poop?" he would actually stop, seem to consider it, and sometimes he would head back to the lawn to poop. Like "oh yeah, thanks for reminding me.".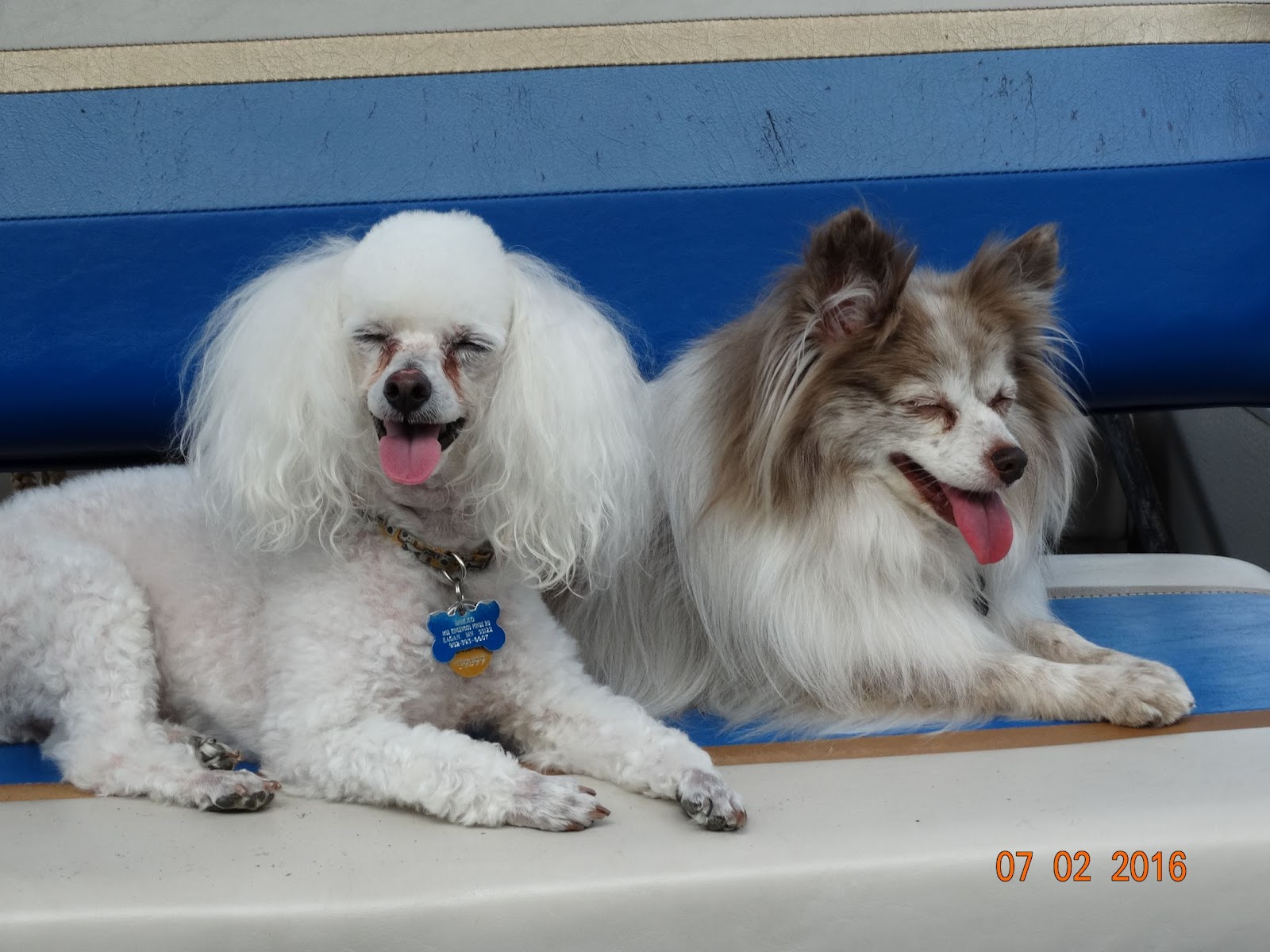 Like most dogs he would wag his tail when he was happy, but he also had a very distinct tail wag when he was nervous about something. Instead of wagging at a constant rate he would wagwagwagwag three or four times very quickly and then pause, and then wagwagwagwag again.
When he was young he would love to have training sessions where he would learn to sit and lie down and try to learn other tricks. He was great at "spin left", if you said that with some treats in your hand he would spin and spin and spin and spin. Surprisingly, he never ever did get the hang of "spin right". You would try to lead him around that way and he just seemed to find it perplexing.
Although he had sporadic digestive issues for much of his life, he was usually pretty good about getting us some warning. Sometimes I would wake up to the hork-hork-hork sound of him preparing to vomit, and sometimes I could wake up fast enough to pick him up and carry him to the bathtub for easier cleaning. Sometimes.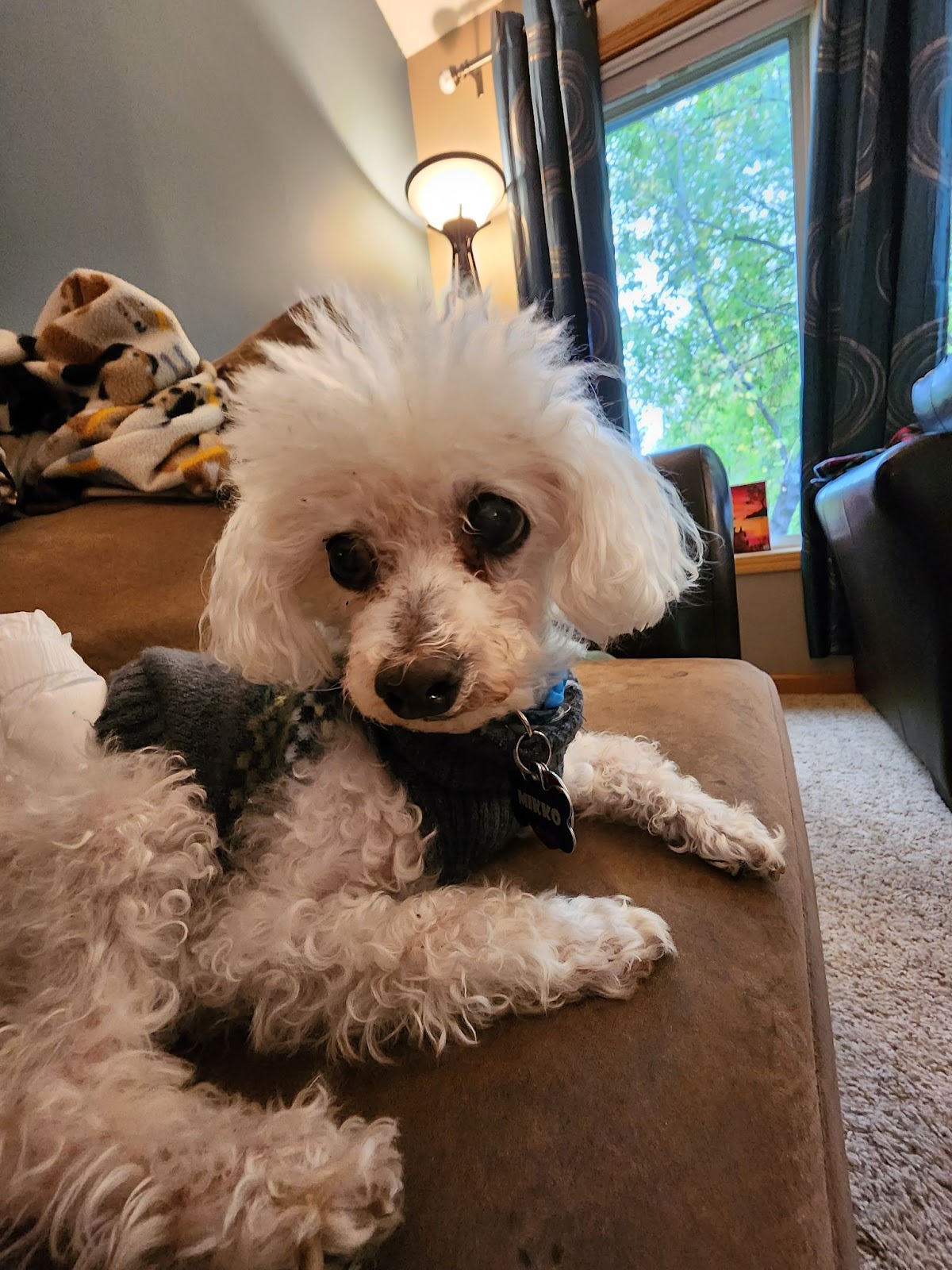 Woolly
He had the most beautiful fluffy white fur, that he looked like a little lamb, and was so soft. Like any poodle, he absolutely needed to be clipped periodically, because poodles don't shed, their hair just keeps growing. When he came back from the groomer his fur would always have been freshly washed and dried and brushed so his fur was just like touching pure fuzz. As he went between groomings his hair would get longer and would separate into big spiral shapes and get heavy and start drooping, which was an easy way to know it was time to get the dogs groomed again.
We joked that we should shear him and sell the fur to make Swiffer sweepers, because the fur was extremely absorbent. If we walked him on a dirt trail his legs would turn almost black up to the knees. If I didn't pick up the grass clippings after I mowed, he would come back inside with green sleeves.
People Person
Besides chasing and wrestling with the other dogs, he loved interacting with people however he could. If anyone laid on the floor, he would always immediately go over to them and get comfortable on their belly or back. We have never had another dog who liked lying on people so much.
He also liked to sit behind people's necks on the couch, and loved to be carried behind people's necks with his front on one shoulder and his back on the other.
He was the most trusting dog we've ever had for having his belly up. He wouldn't even mind being held in your arms with his belly up. In fact, when he was very comfortable he would be a limp noodle with his neck dangling loosely.
He was always a playful nibbler. If you held a hand out to him he would licklicklick your finger, and then put your finger in his mouth and give a very gentle squeeze with his teeth, licklicklick chew chew, licklicklick chew chew, the same pattern over and over again.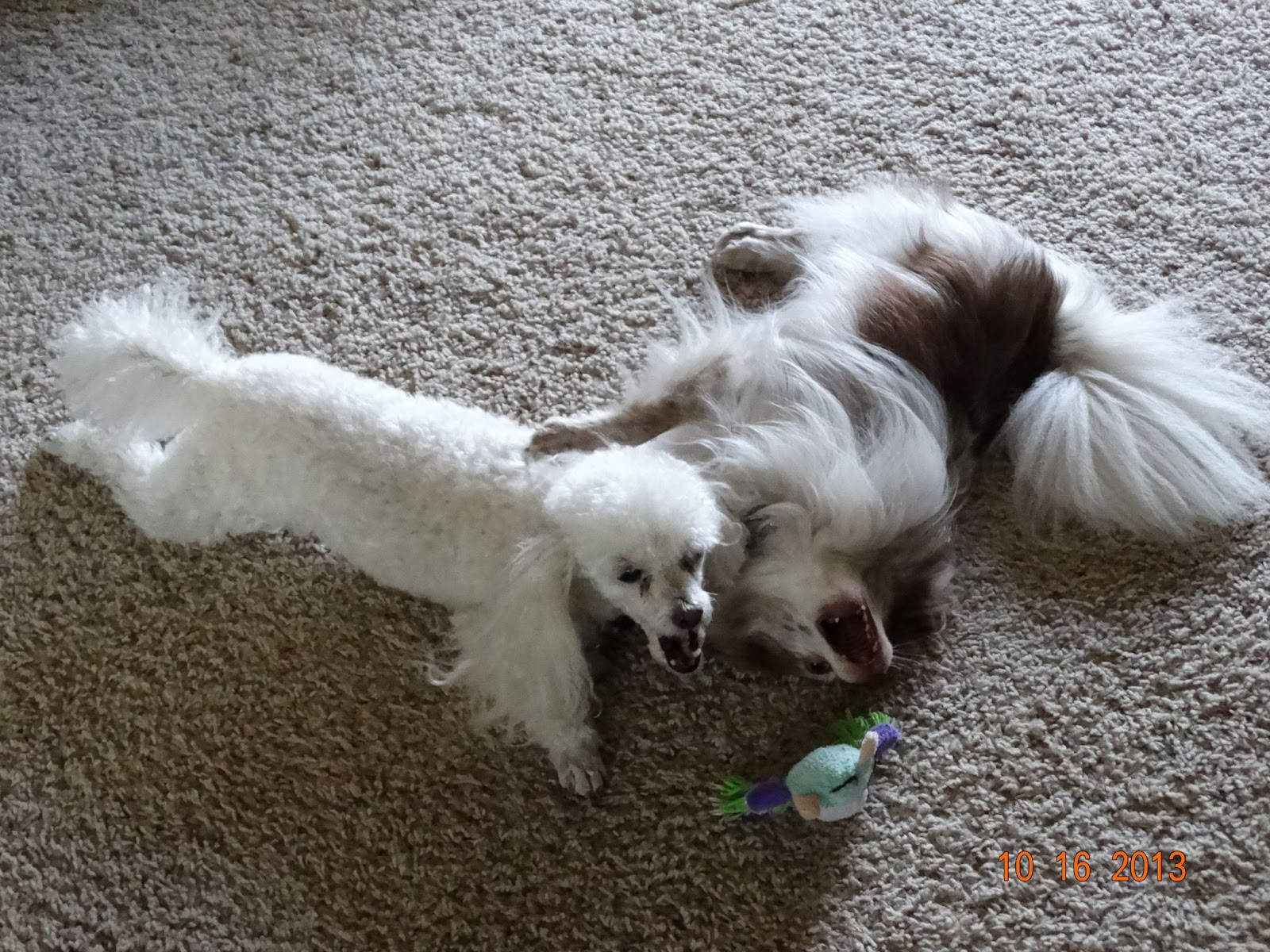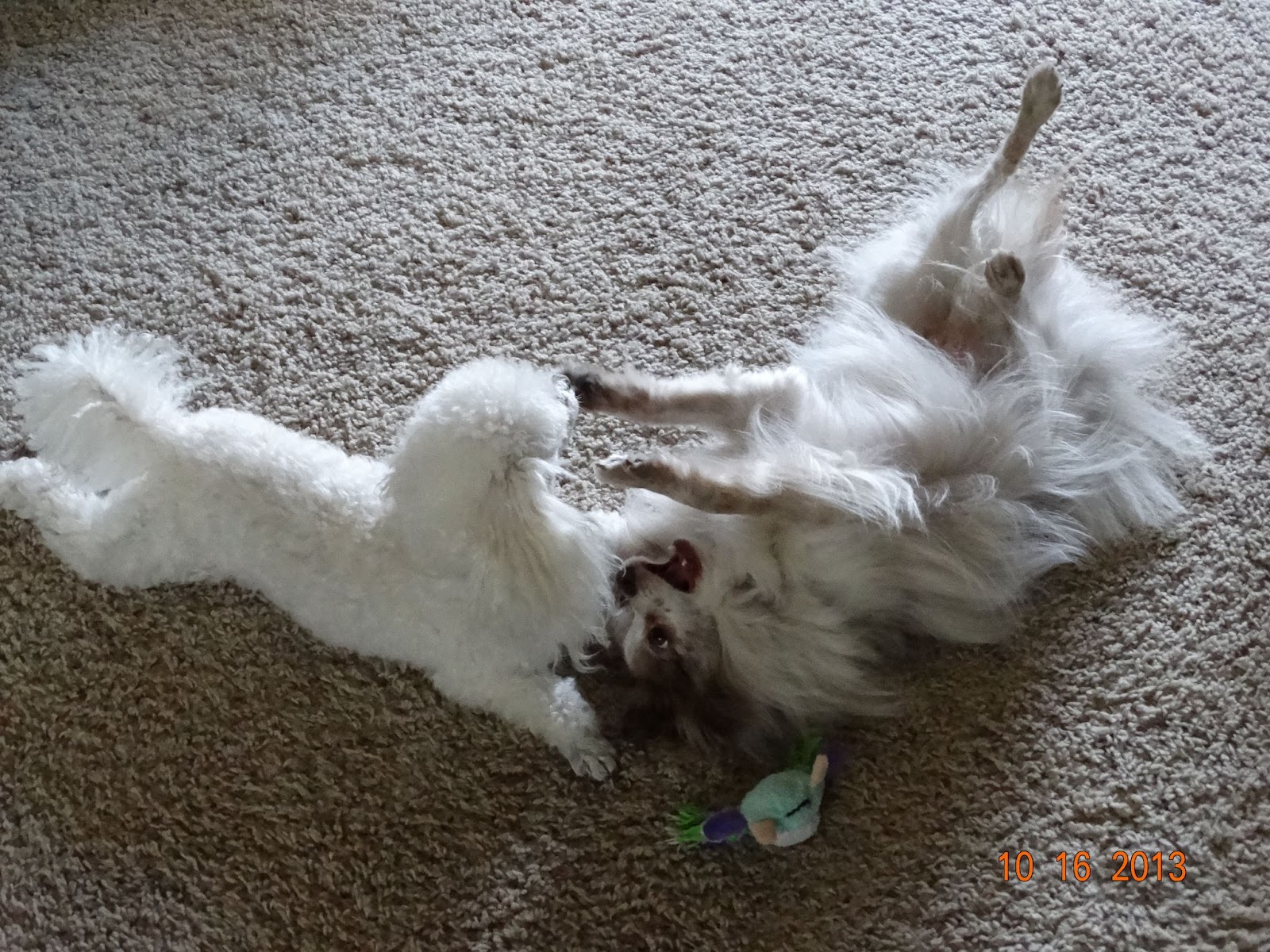 Toys
He loved toys. He was a big fan of playing fetch, he would bring toys over and over if you kept throwing them, and he was pretty good at catching them in mid-air. Our living is carpeted and then we have a rug by the front door on hardwood–if you threw a toy over there he would hop over the wood section between them like a little deer.
He had a habit of dismembering stuffed animal dog toys and playing with the limbs. Among his favorite toys were a zebra leg, a crab leg, and a monkey paw (we of course trained him not to make any wishes on it).
He loved to pull the fuzz off of plush toys, and would just sit there and rip, rip, rip. And if you were like "Mikko, have you been defuzzing" and he would look up at you with his giant innocent eyes and a green or purple goatee of fuzz. If anyone left any toilet paper or tissue where he could reach it he would shred it everywhere.
He loved bones too, but what he loved more than bones is putting a bone ON a toy or vice versa, and chewing both of them at the same time.
Treat balls were one of his favorite things (plastic balls filled with treats where some would dump out randomly if they rolled it around enough). He was the only one who could figure out how to pick them up–they were too big for our digs to fit the whole ball in their mouth, but there is a little opening where the treats come out and Mikko was clever enough to get a couple teeth in there enough to grip. He would play with that thing for a long time.
Walks
He always loved walks, and when he was young he would always make the absolute most of them, easily getting twice the steps of anyone else on the walk, because he would walk to the full extent of the leash allowed to him, and then he would zigzag to the far left, to the far right and back and forth.
One of his favorite things was sniffing the white splats of bird poop, he would always stop to smell every single one, even if there were a bunch of them he would thoroughly work through them. If there were any white chalk or white paint markings on a walking path he would always investigate those too, and was probably disappointed at the lack of fecal aroma.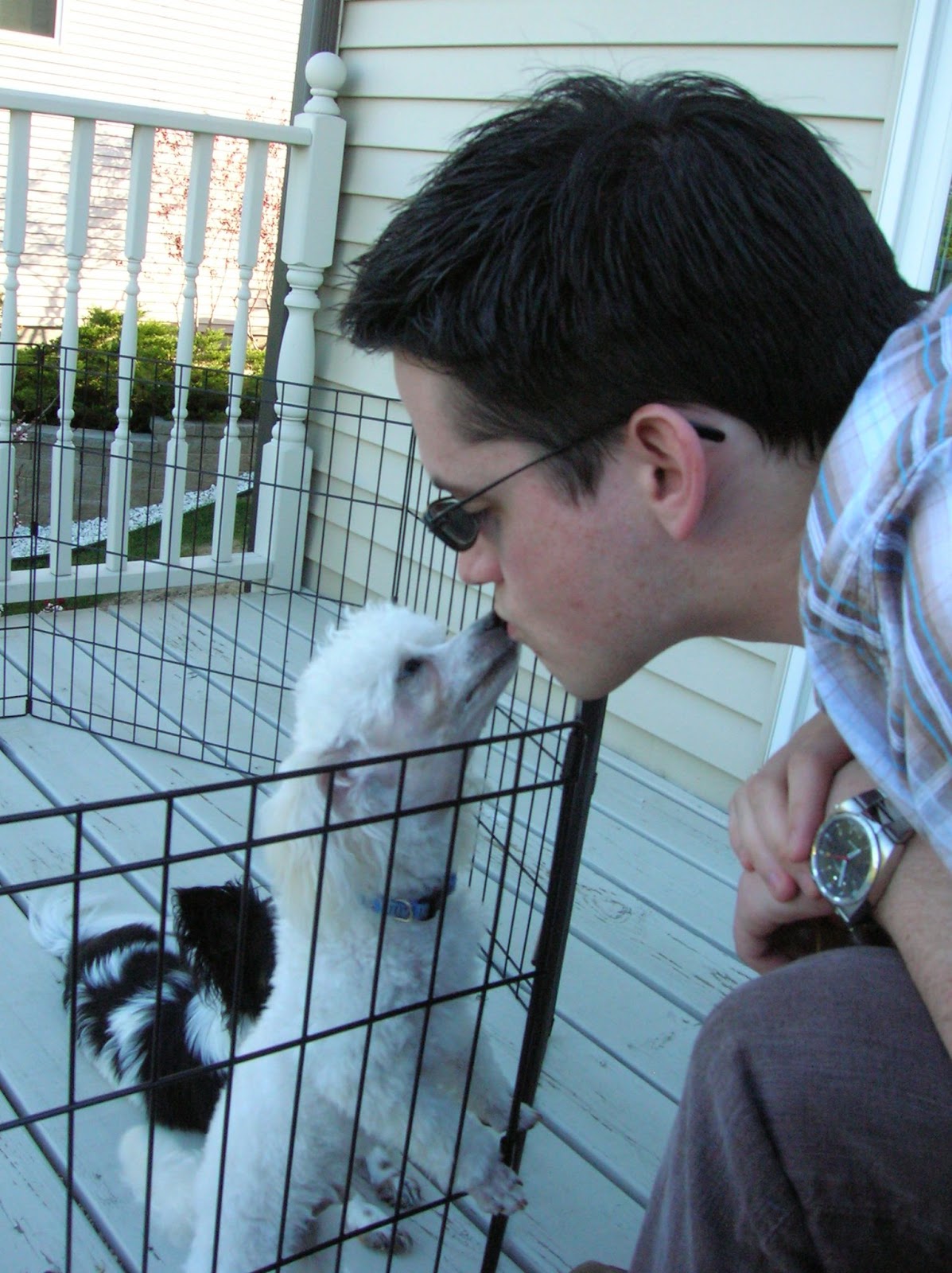 Fears
Many dogs are afraid of thunder or lightning. Mikko never was much bothered by it, even when other dogs were trying to hide from the storm he would curl up and nap. But he was often afraid if someone passed gas, even if that someone was him, he would look back at his butt like someone snuck up behind him. And he was very afraid when someone started crafting, perhaps because of the noises that holepunchers or other crafting tools make. We liked to joke that his only weakness was farts and crafts.
With Others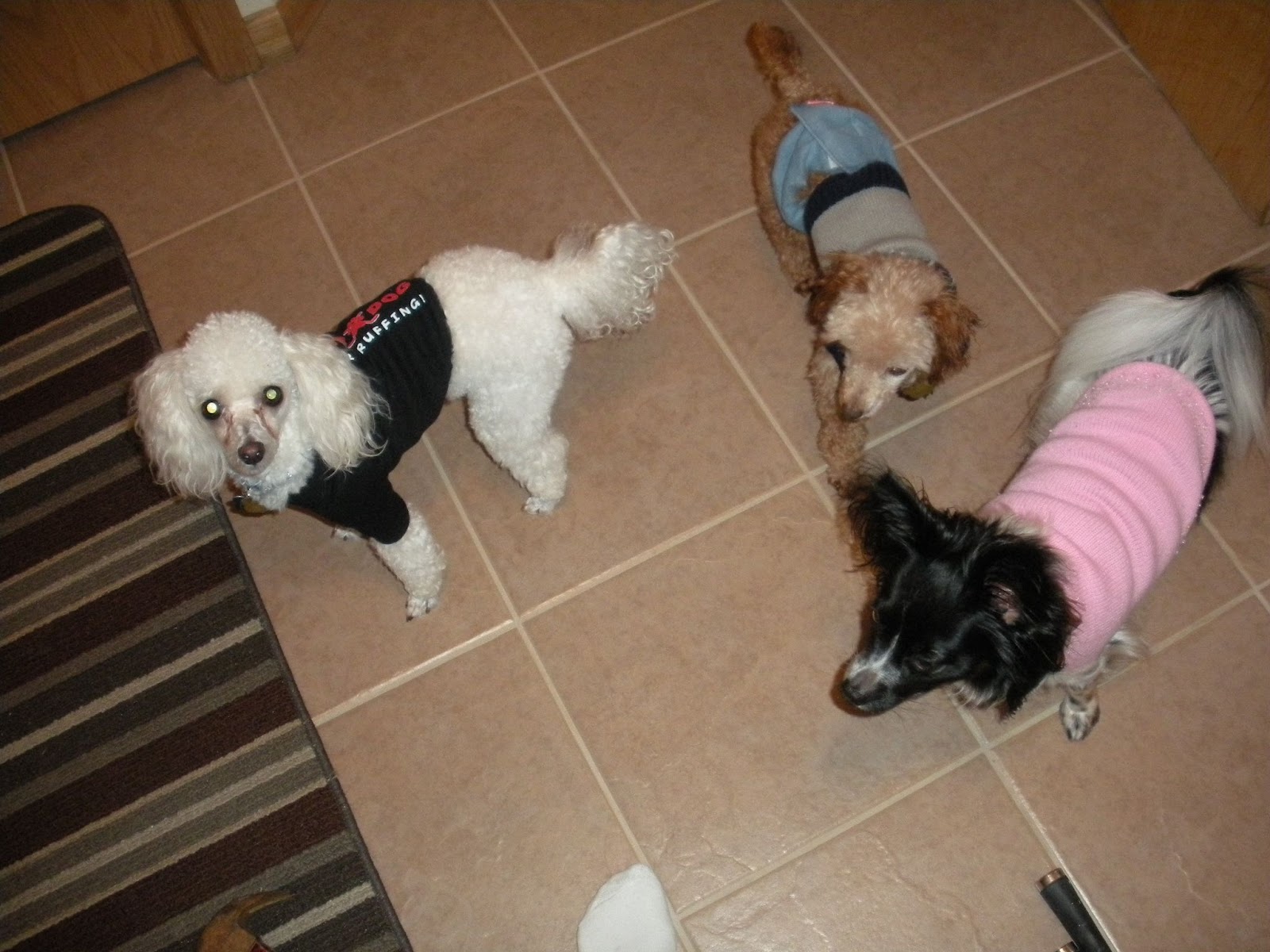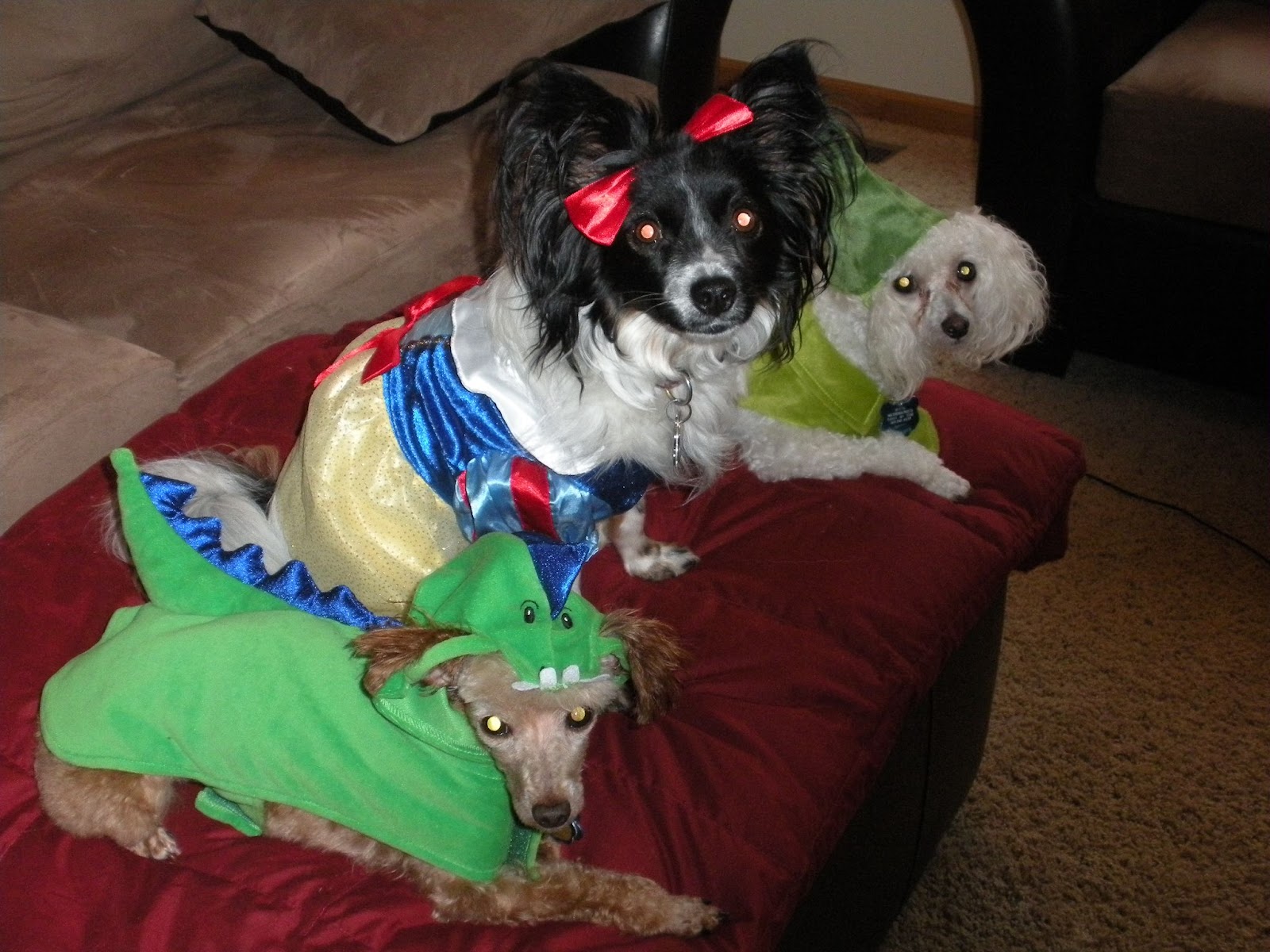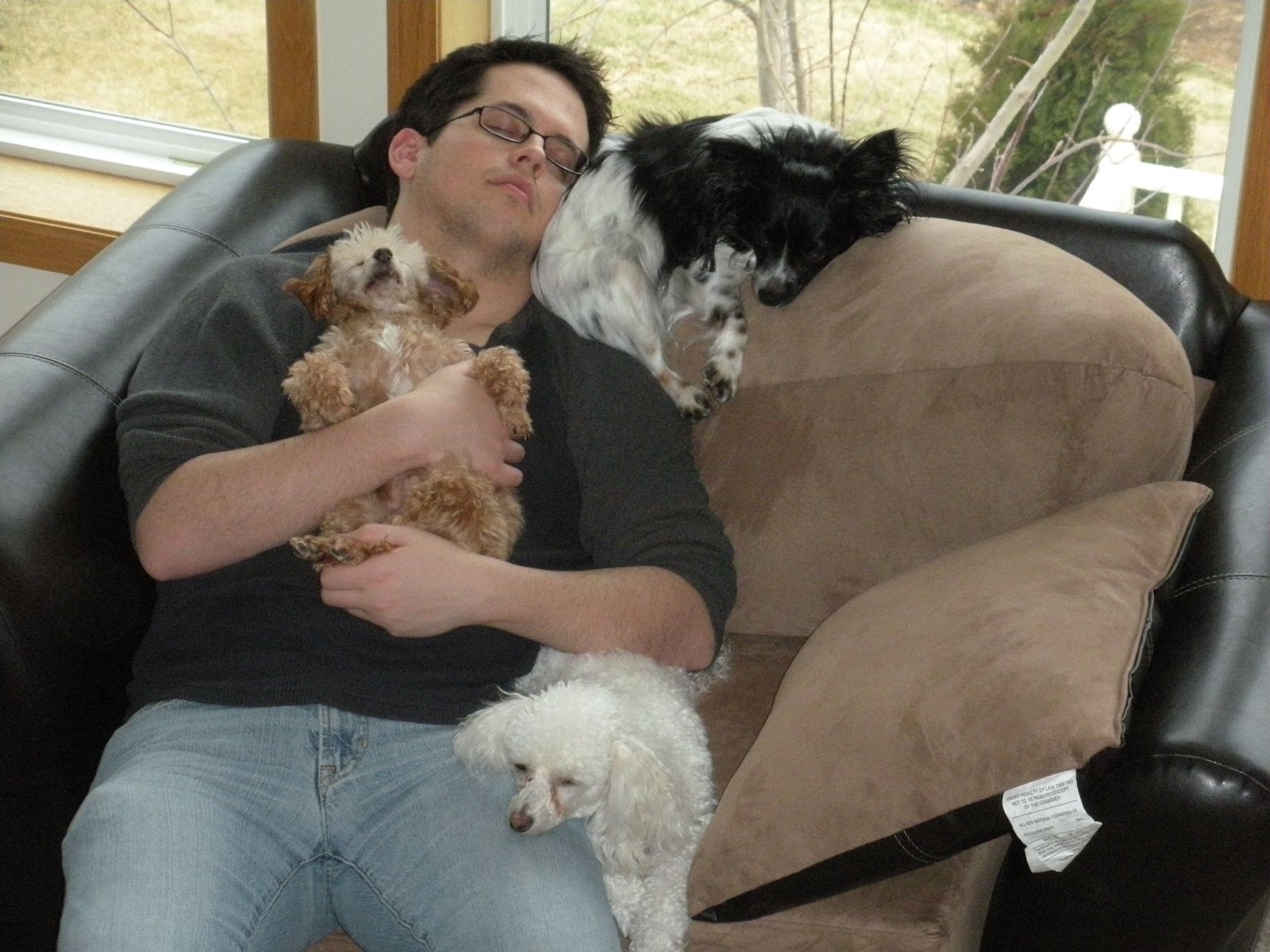 With Aria
When we first got Mikko, Aria was the only other dog. They were instant friends, though there was plenty of conflict. They fought over food and bones but were pretty much always ready to play with each other, or go for a walk, or bark at the door and Mikko loved to stand on his hind legs at the door and paw with both front legs like he was trying to dig through the door.
They were always learning from each other. When Aria was an only dog she would always try to save treats for later by going behind a piece of furniture and "burying" the treat in the carpet by placing it gently on the carpet and pushing with her nose like she was pushing dirt over the top. She learned not to do that pretty quick when Mikko would follow along behind it and immediately eat it.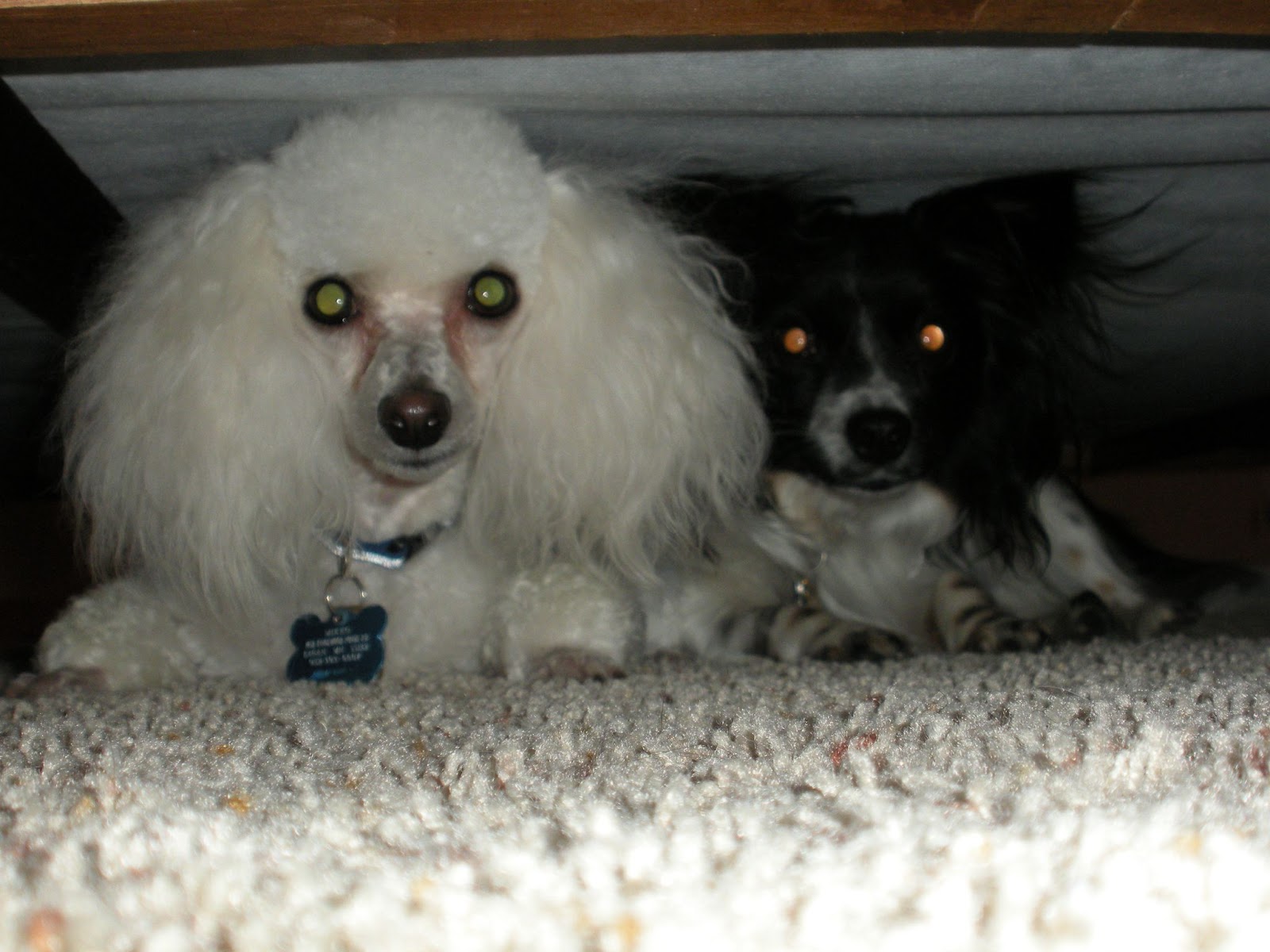 In most situations he wasn't as smart as Aria, but if he was sufficiently motivated he could be very clever. He would love to taunt her if he had a bone, he would hold it sticking out of the side of his mouth and walk up to her, and if she grabbed for it he would spin around to get it out of her reach. He also would find ways to draw her away from a bone she was chewing. They both loved to bark at the front door when pedestrians or animals were outside, so if she had a bone he would sometimes go bark at the front door like there was something out there, and then when she joined him, he would loop around behind her and grab her bone. She learned the trick pretty quick and would try it on him, but he was too clever for that, he would run to the door but he would remember to grab the bone first.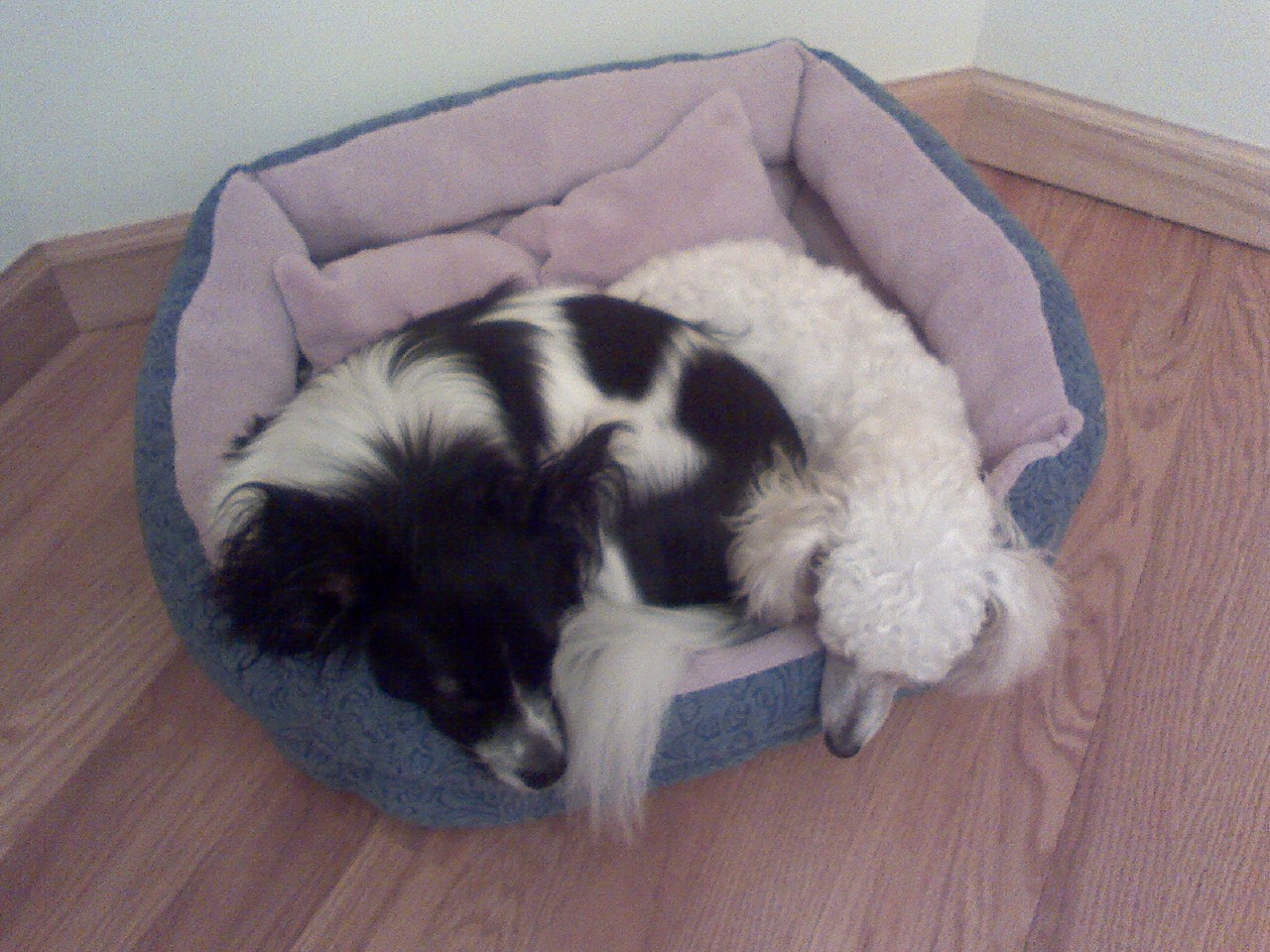 They loved to chase each other so much. We had a couch downstairs in a huge area without much else around it, and they would chase each other around and around until you couldn't tell who was chasing who. She was definitely the stronger of the two and on a straightaway she could definitely outsprint him. But she also had more momentum because of her greater mass. So he could take sharp ninety degree turns at his top speed while she would swing wide into a wider oval shape as she tried to make the turn and they would end up being pretty evenly matched.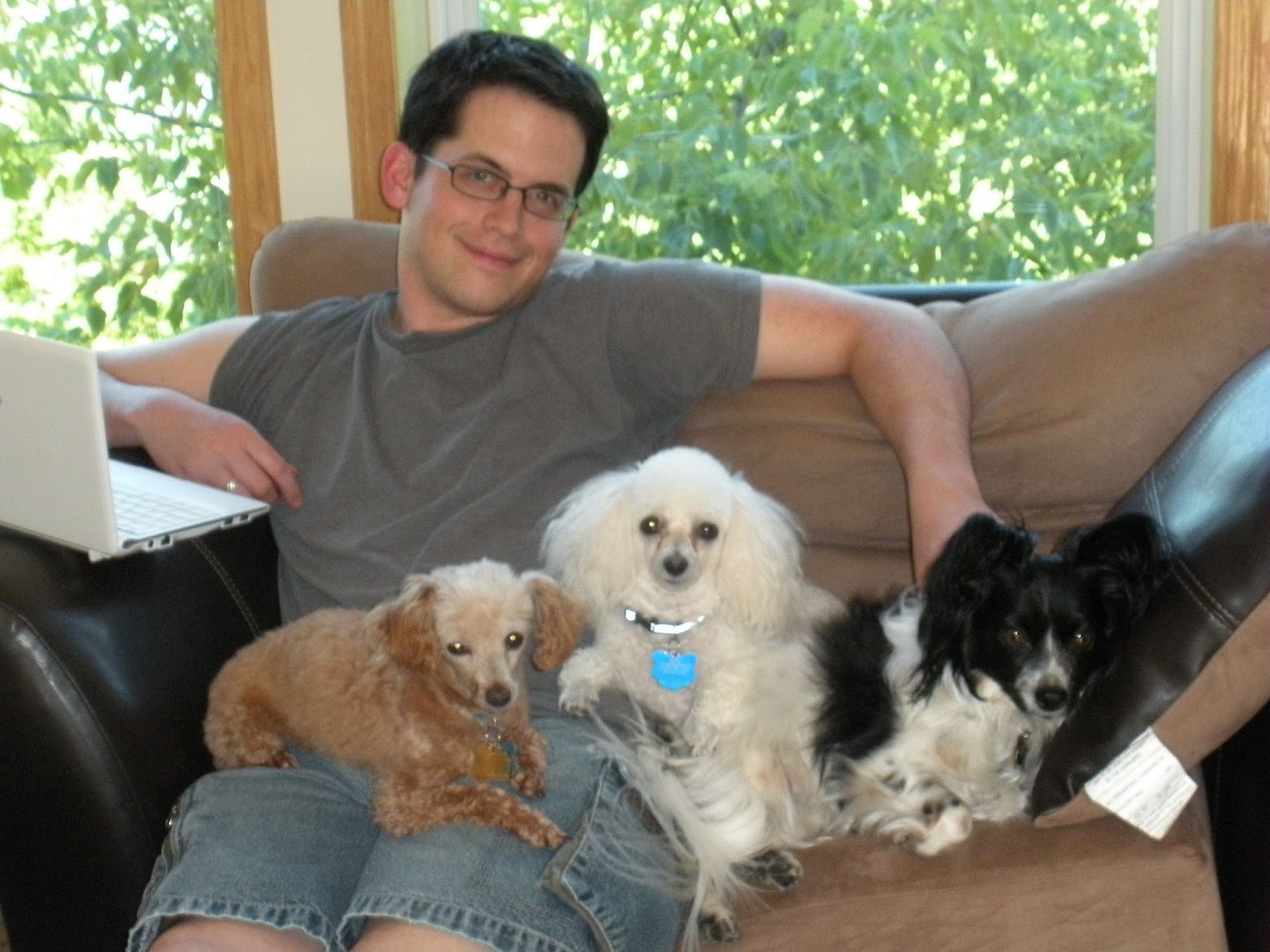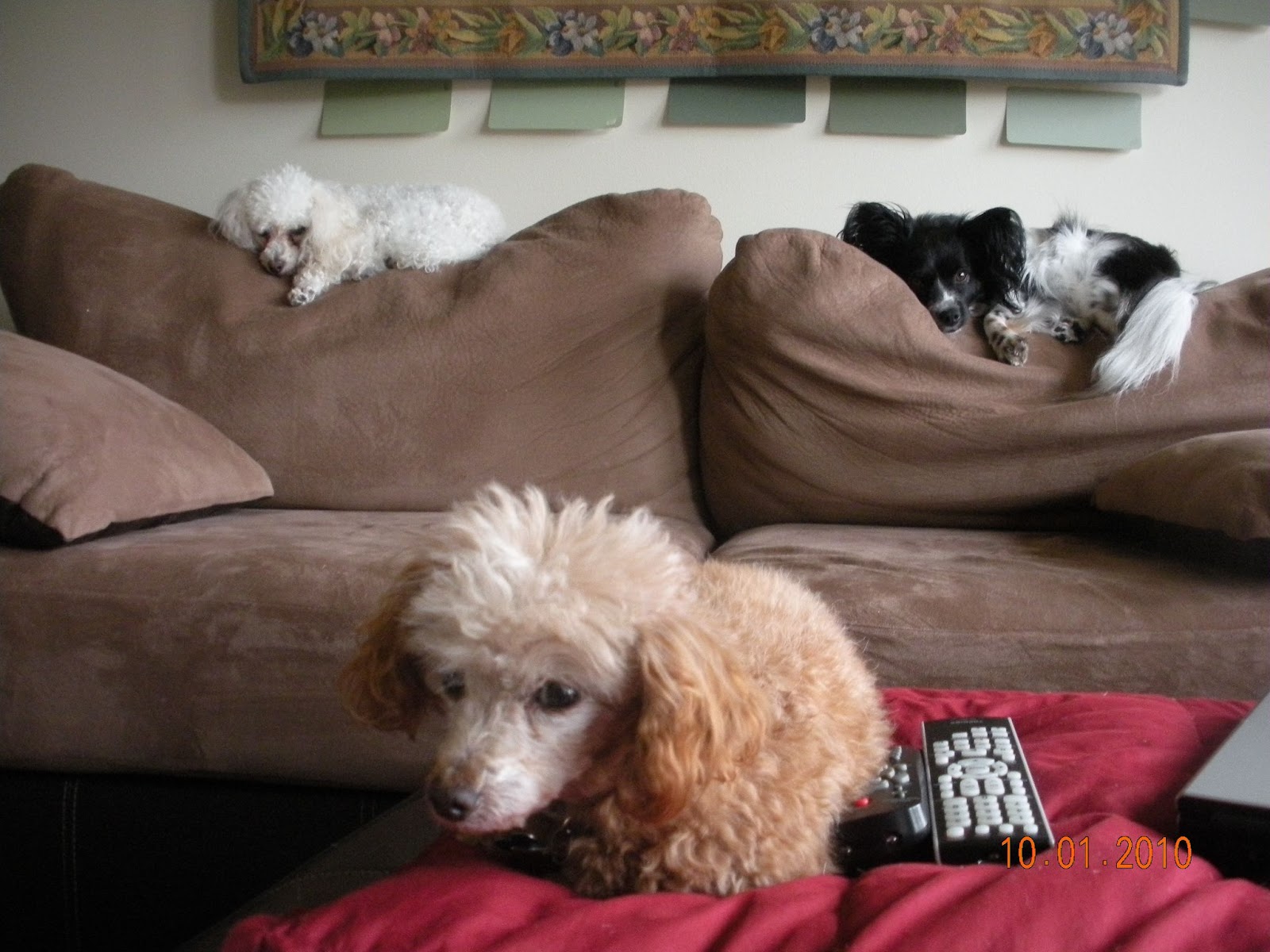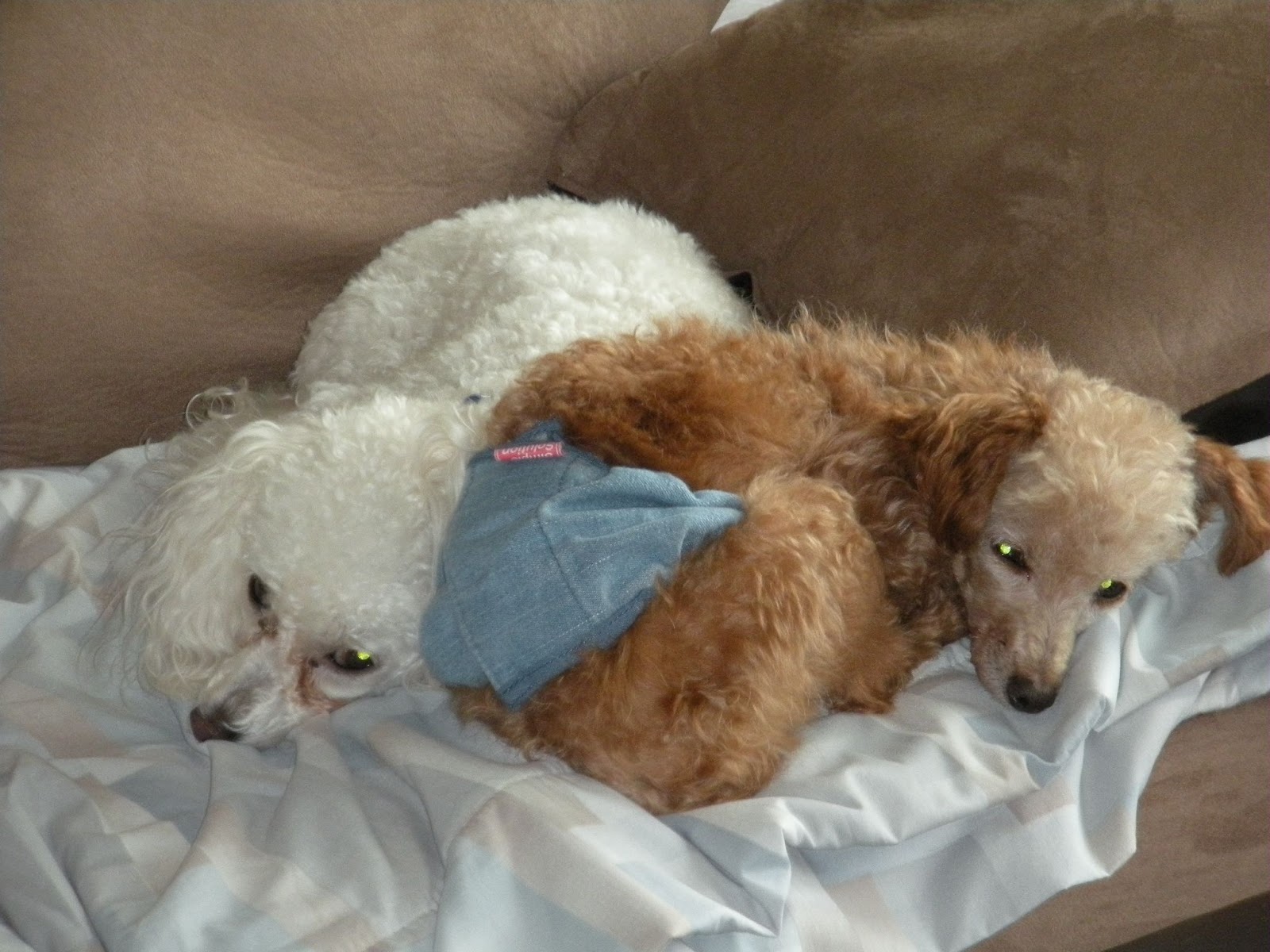 With Timmy
We adopted Timmy within the first year that we had Mikko, so he completed the Three Musketeers that were all together for four years. When Timmy and Mikko were both young they would love to play together and wrestle too, both of them rearing up on their hind legs and grappling with each other. Both of them lived to a very old age, so it's always still a little surprising to look at those early videos and see how spry and energetic they both were.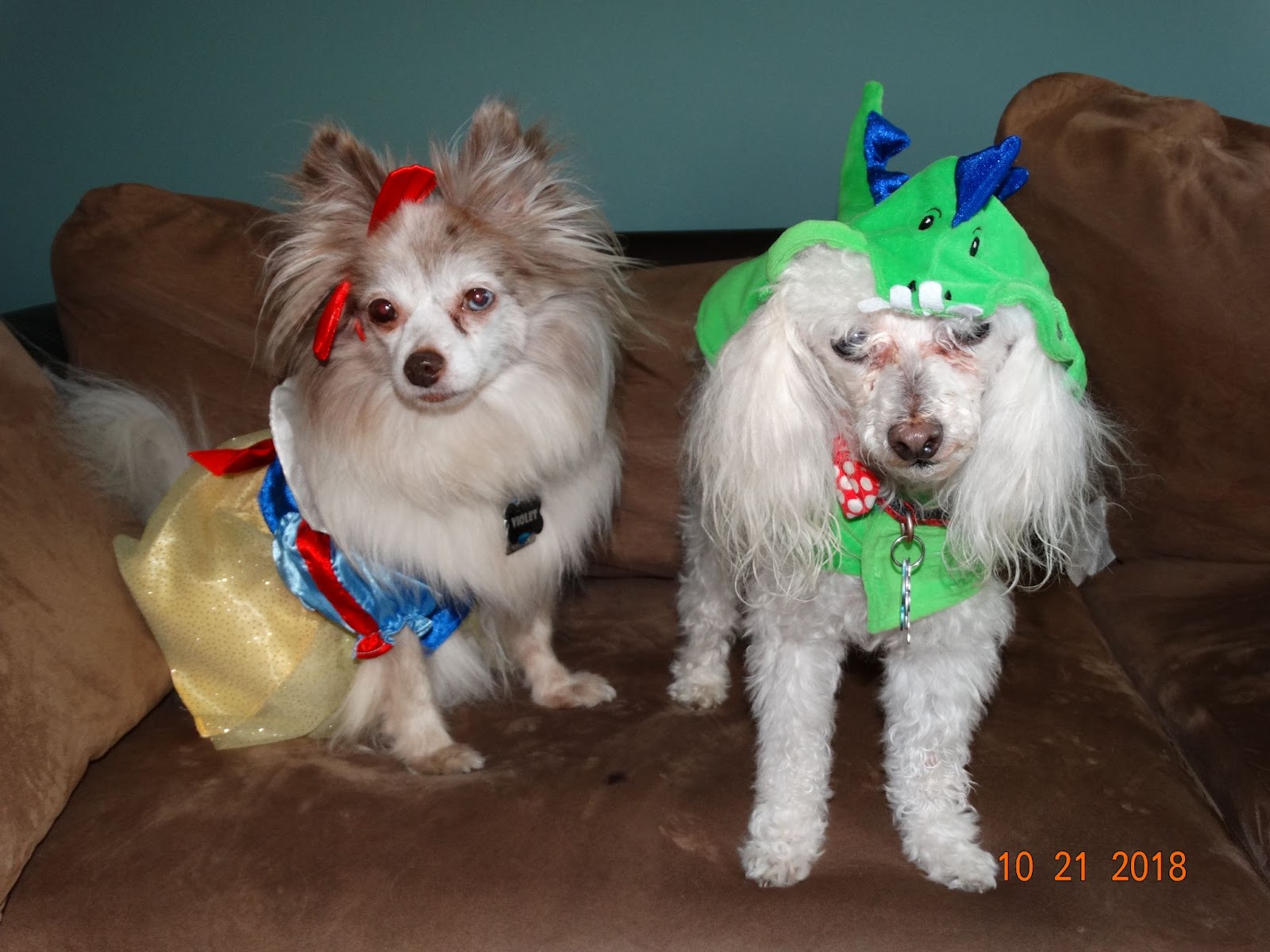 With Violet
In December 2012, when Aria passed away unexpectedly at only age 5, Mikko was distraught. His usually high energy level went way down and he didn't want to do anything but sleep. We adopted Violet in a relatively short time after that, just before Christmas travel, to try to help him through that with a new extra companion. Violet and Mikko took well to each other immeidately. Theywould play-bow and like to chase each other around. As Mikko got older, his arthritis and other conditions meant he got a less playful so Violet had to find her playtime elsewhere, but they got along most of the time. Mikko was always pretty bossy, and Violet was usually happy to be a follower.
They lived together for almost ten years, for almost two-thirds of his life.
With Michael
We adopted Michael after Timmy passed away in 2018, and Michael lived with Mikko for the last five years of Mikko's life. By that time, Mikko was usually not super big at playing with other dogs, though occasionally we could coax them to play tug of war briefly, more likely they would both play fetch with one person alongside each other. Otherwise they generally got along as long as someone playing fetch with Michael didn't throw the toy over Mikko so that Michael would bowl over him.
With Mabel
Mabel joined the family when Violet passed away and Mikko was already quite old. Between his different health problems he had a lot less patience in general and was no longer the greet and ambassador he used to be. But he was very patient with Mabel the big overbearing lumbering giant.
He was always very good with Mabel, sort of a father figure and she adored him from the moment she met him. If he was doing something she always wanted to be right there doing it with him. As he got older and his health complications got worse, we found we needed to start watching them very closely because sometimes her infatuation would manifest in unhelpful/unhealthy ways where if he fell down she would try to jump on top of him (and with him being so old and weak and her outweighing him by a significant margin), and one time even bit him pretty hard though since she didn't have any teeth no permanent harm was done.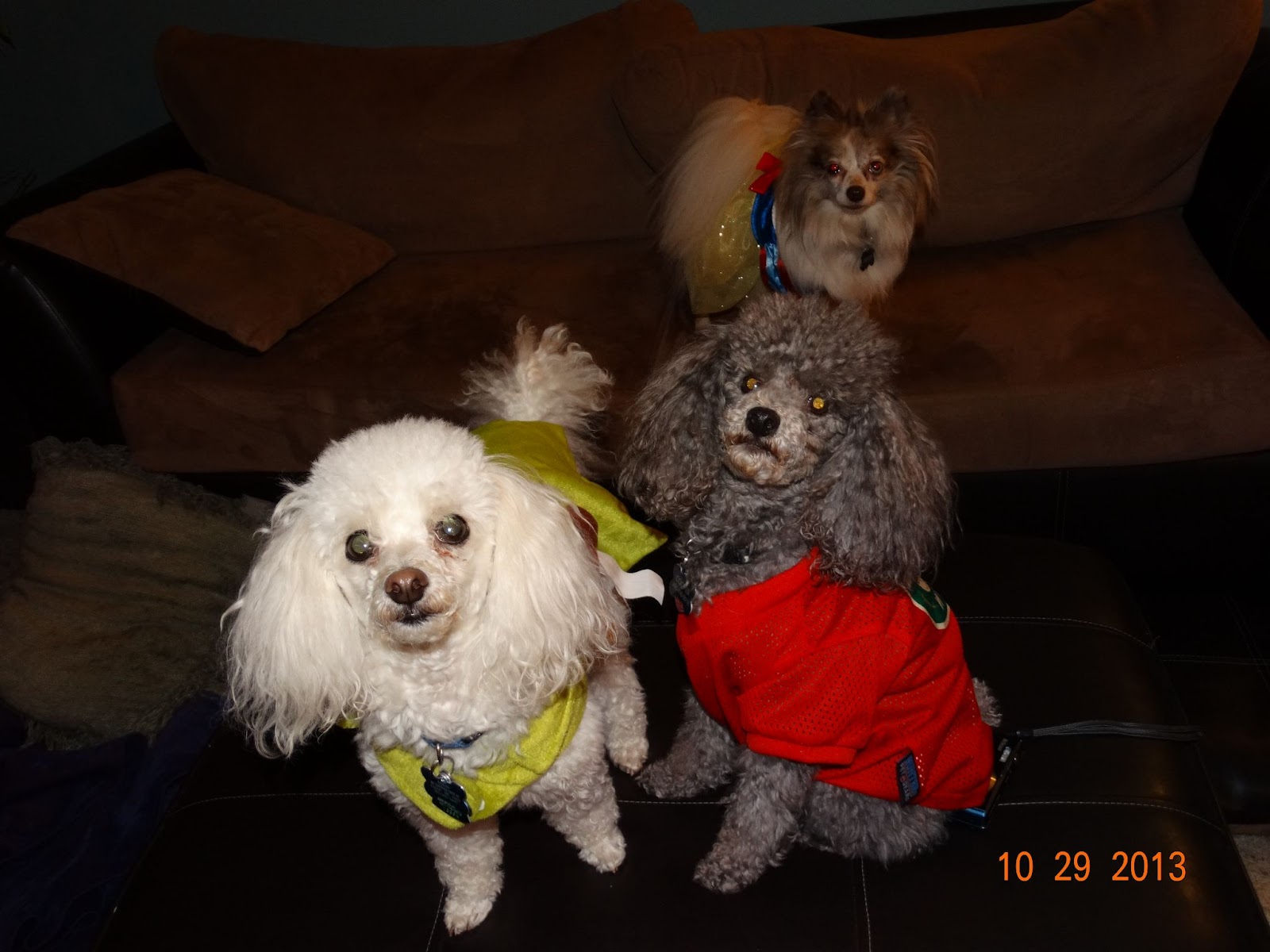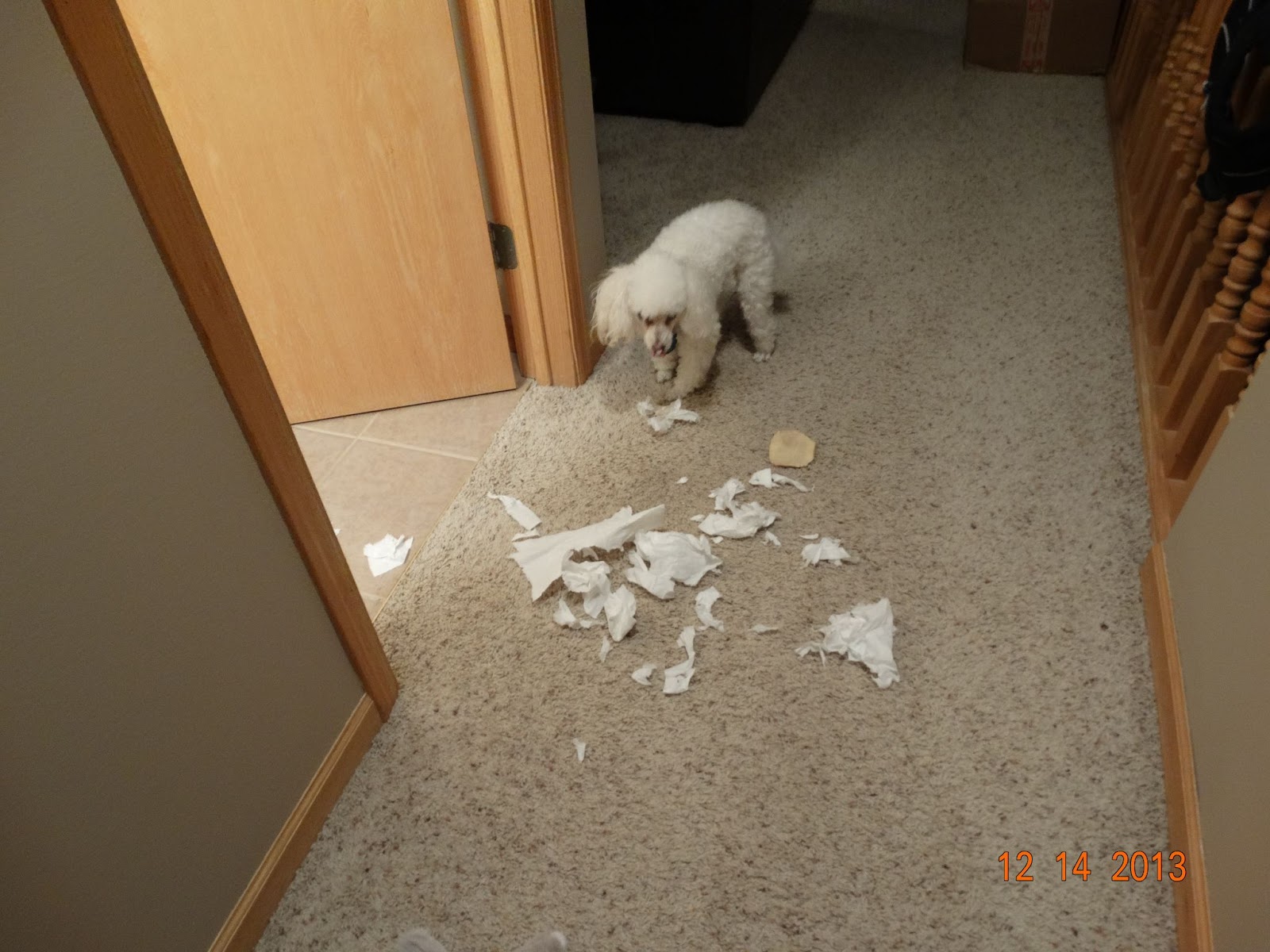 With Cooper
When Cooper and Mikko were both young, they would love to play and wrestle and roughhouse with each other. Cooper lost the knack for it, but they still got along pretty well most of the time. Though they didn't live together they would see each other at least a few times a year, and both knew each other for almost fourteen years together.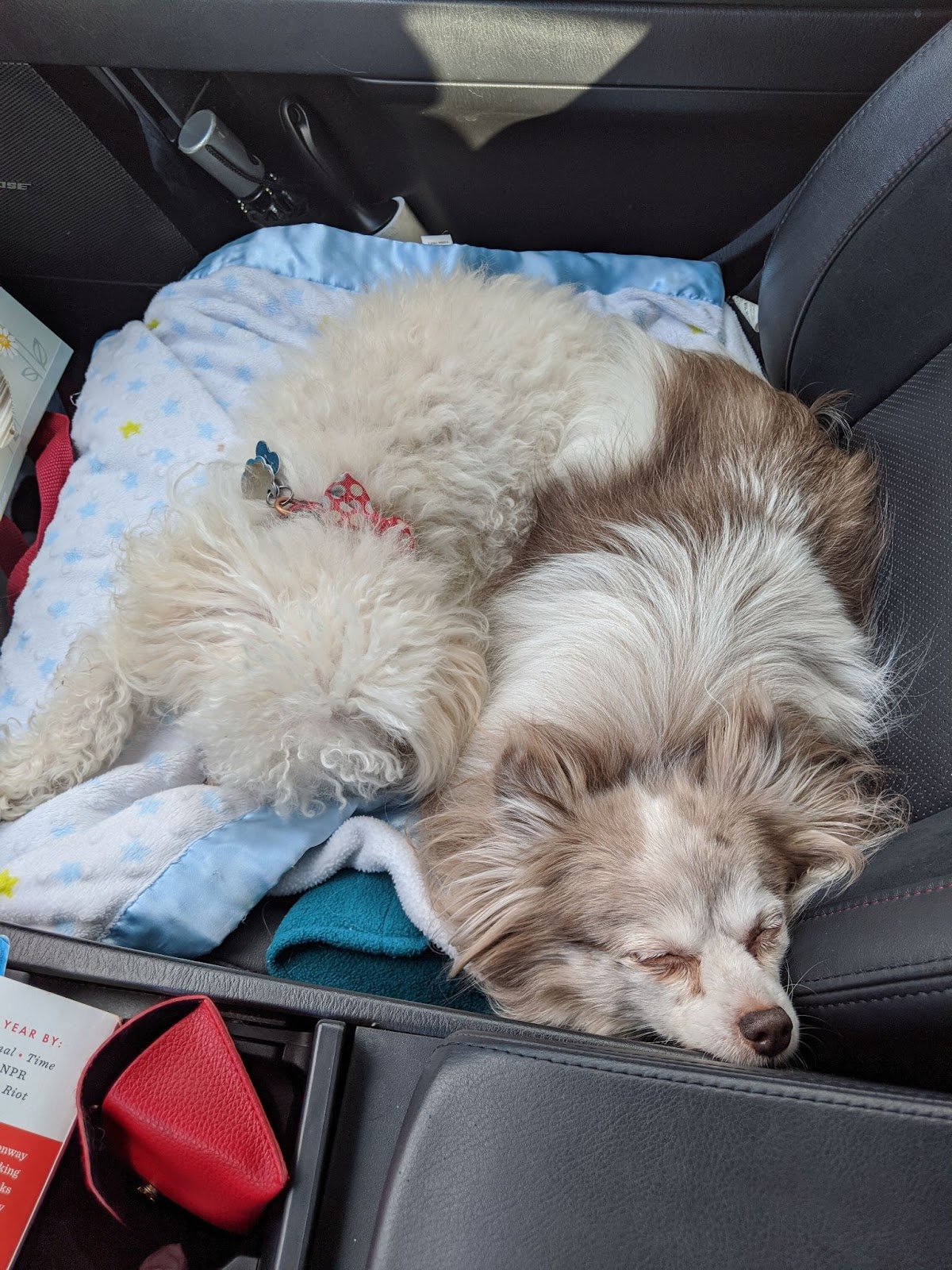 With the Cat-In-Laws
Mikko, as noted elsewhere in this memorial, was always a big barker, and the cats were among his favorite bark-targets and any cat that would run away from him would get a steady barking and chase, though I don't think he would honestly have had any idea what to do with a cat if he caught one.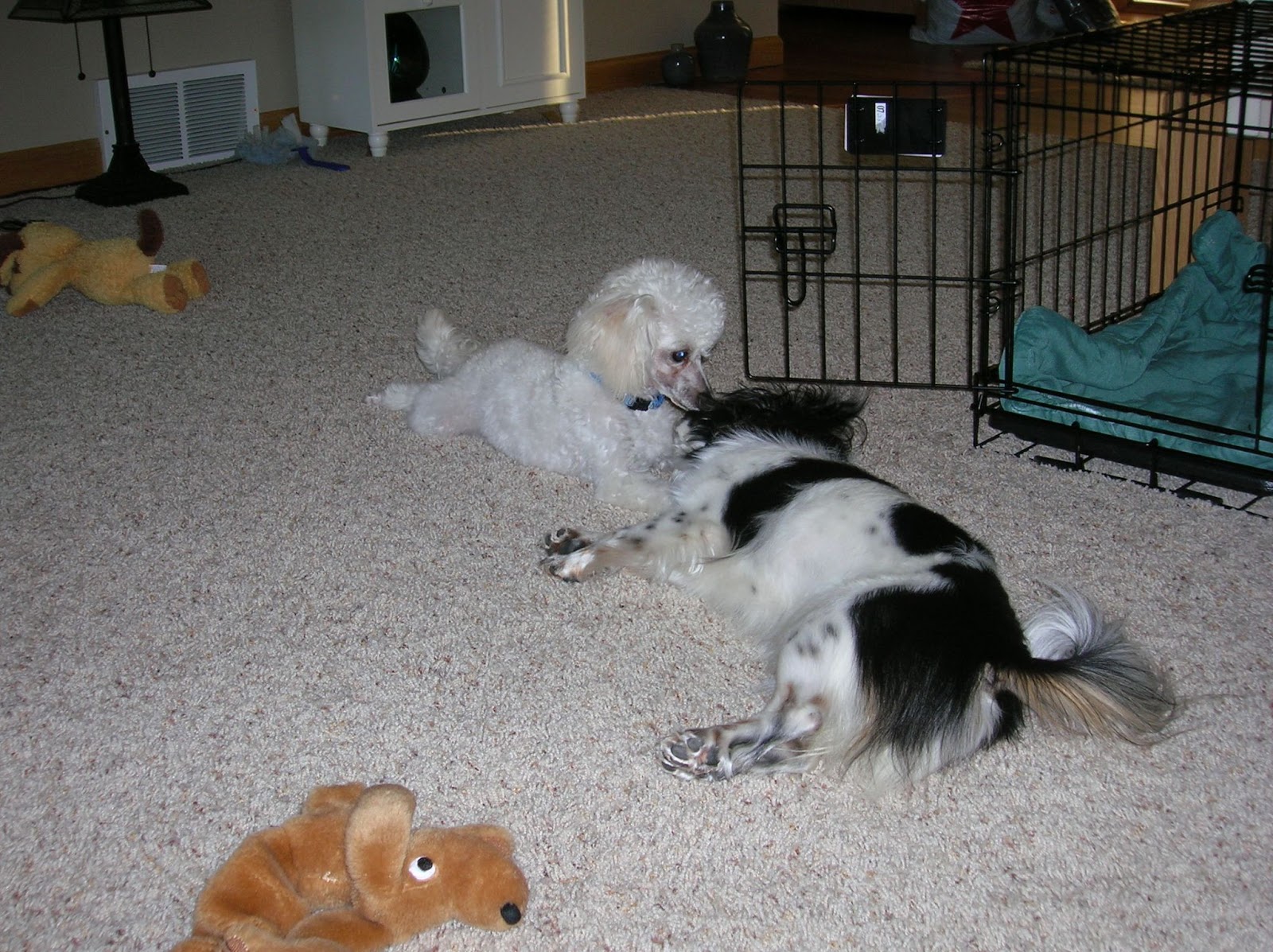 With the Kid
The kid and Mikko when the kid was young would both excite and sometimes terrify each other. Mikko would chase the kid as the kid was toddling around and the kid would squeal and giggle and run away.
As Mikko got older and started slowing down, the kid was also getting older and toning down the uncontrollable toddler energy, and eventually Mikko learned to trust the kid and would even let the kid hold him and pet him. Some of our professional family photos he would take while Ian held him to keep him still.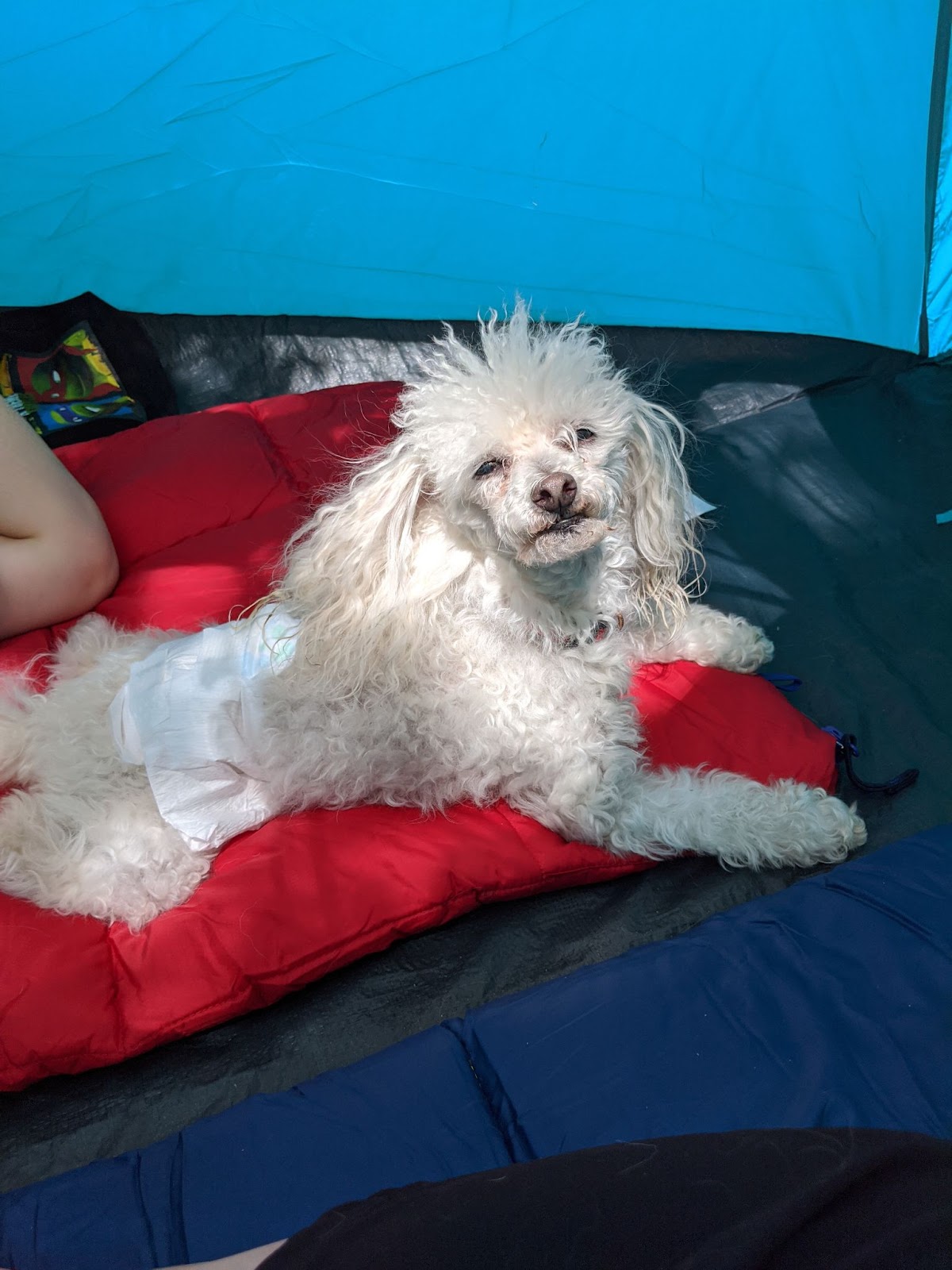 Medical Adventures On the Way
Mikko and Violet had a common desire to chew small plastic objects, which was very unfortunate when the kid was very young and would leave small plastic objects everywhere. Pacifiers were a particular favorite, but any plastic toy would do. Sometimes we find part of a chewed-up toy and we wouldn't know whether Mikko or Violet ate it and we would have to bring both of them to the vet to induce vomiting. He also ate some leaves of a plant that we found out was toxic and had to take him in for that.
Mikko had problems with smegma buildup throughout most of his life. I won't go into details here, but if you decide to do a search for the word, you probably want to leave the image search off until you read what it is.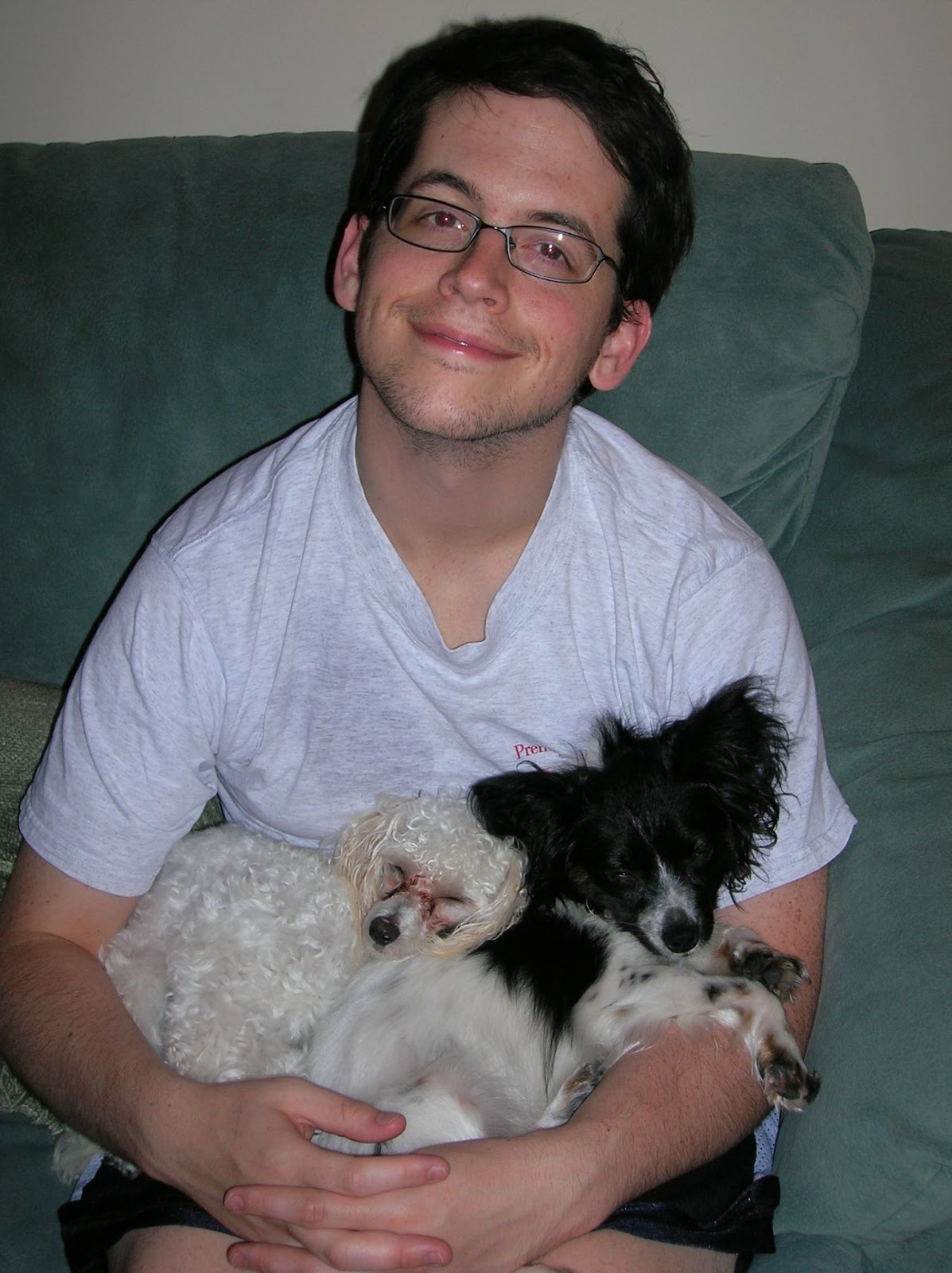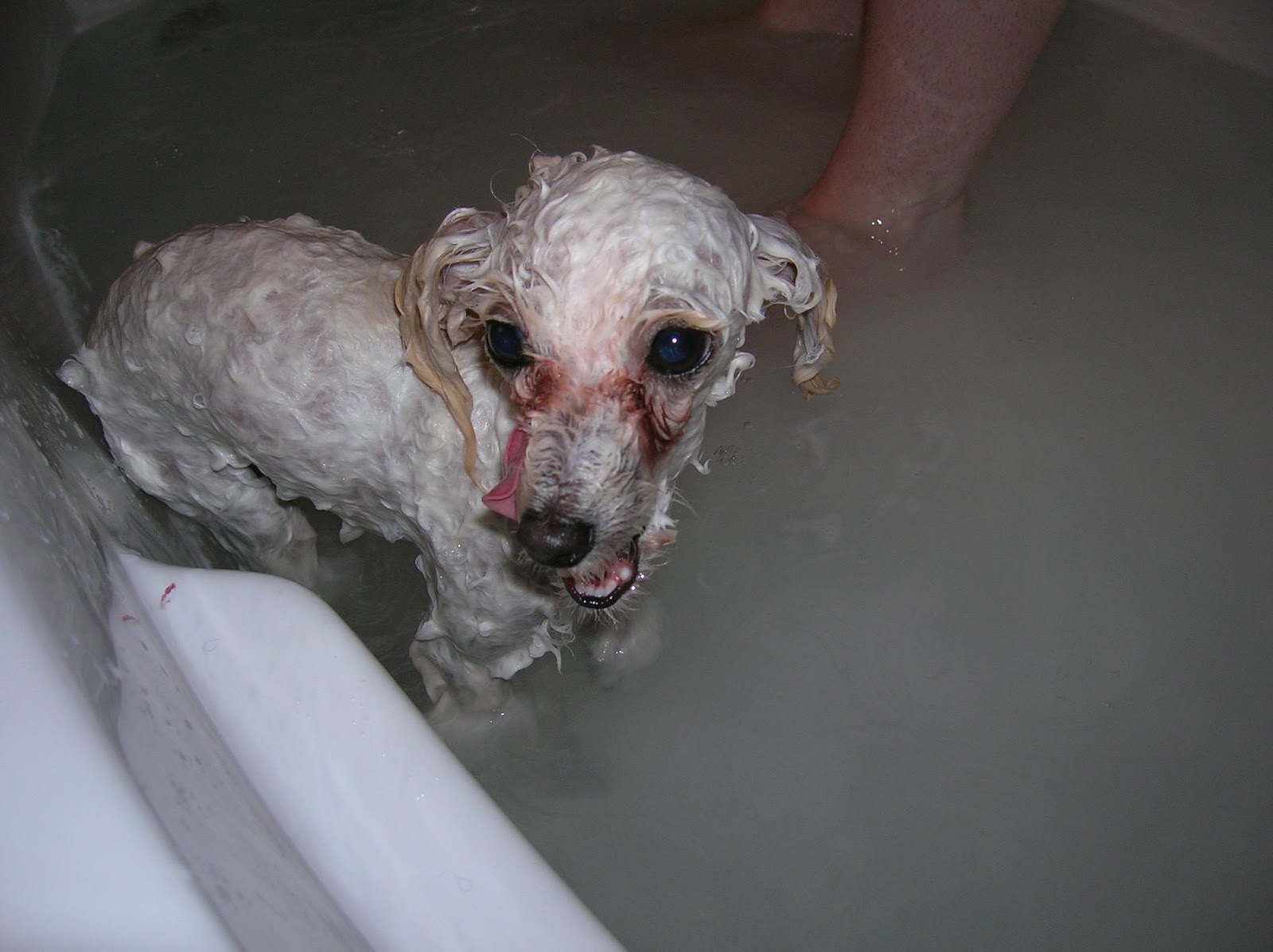 In the last couple years of his life, we started to notice he would get a "bubble butt" sometimes, where he would have a section near his butt that was literally like a little inflated balloon. It didn't seem to bother him, and with a little pressure it could be pushed into his body. It turned out that this was a prolapsed bladder. As he aged he was losing quite a bit of muscle mass, and so there was more of a gap in his pelvic area where muscles would normally be and his bladder could sneak out through there. The vet said a surgery was available where they would try to fix the bladder in place and suture some of the muscles together so there was no space for it to sneak through. We were fully planning on doing this, when he got an intestinal bleed from something unrelated and had to delay it due to not wanting to anesthetize him while he had another condition. By the time we got all that sorted out, he was struggling with other health problems again and we decided to put it off. It was some risk to do so, because if his bladder became strangulated it might have meant extreme pain and a visit to the emergency room, but doing the surgery would also have been quite risky at that point. He continued to have the bubble butt for the rest of his life, but it never really seemed to bother him, and didn't escalate.
One time fell and managed to jam his tail on landing and he couldn't wag it at all for a while, and he wagged his tail so much generally this was very difficult for him.
One time when we had a guest over at our house and we were working on putting the dogs in a separate room, Mikko tried to sprint out to the living room to see them and got deflected just enough by someone's leg to run full speed into a doorframe and knocked a tooth loose in the front of his jaw.
The Sad Part
In 2018, when he was having some problems with urination we took him to the vet to get him checked out, to see if there was crystals in his urine, that sort of thing. As part of that, the vet did a sonogram and concluded that he had a tumor in his bladder and that vet pretty much said that we should say our goodbyes because we had between weeks and months to be with him whether or not we started cancer treatment. He was still generally very healthy and we didn't want to give up on him so we were considering whether for a dog cancer treatment would affect his quality of life too much, but before we made any major decision we got a second opinion and they couldn't find any sign of a tumor, so the other vet's original diagnosis seemed to be based on one image and maybe there was a weird angle or something. We decided not to move forward with cancer treatment, given that there was no clear sign, and given that he lived five years longer after that and no sign of a tumor presented itself, in retrospect it must have been an incorrect diagnosis. This didn't actually play into his end of life health issues in any way, but I put it in this section because it was scary and sad anyway.
In September 2020, he had a strange and scary episode where he started acting dizzy, fell over, and then was breathing fast and heavy after that. Fast and heavy breathing can be a sign of serious urgent issues and can indicate pain among other things, so we took him in right away. He had had a heart murmur for years before that, and they said that the issue was that he was going into congestive heart failure where the heart enlarges from gathering too much fluid, we were already familiar with this from when Timmy went through it. So they sent us home with a diuretic to try to pull some of the fluid out of his lungs. Over the next twenty-four hours this didn't help at all, and at times was up to 95 breaths per minute resting which is much higher than it should be. We ended up taking him to the emergency room and they found that there was fluid outside of his lungs pressing on his lungs and making it hard to breathe. He was diagnosed with protein-losing enteropathy (PLE), a digestive issue which causes albumen protein to leak, which pulls water out into the abdomen and causes other issues. They put him on a special low-fat diet after that, and we had to be very careful what kinds of foods and treats that we gave him, because going off-diet could send his health plummeting again.
He had always had irritable bowels, and during this time we struggled with further digestive symptoms like colitis, and had to constantly watch him for bouts of foul-smelling strange-looking diarrhea, though much of the time he was fine. He went on like that for quite some time, having good health most of the time on this diet and with an increasing set of medications to help with his heart and his PLE, and with periodic checkups with the cardiologist and internal medicine to adjust his medications now and then, as we watched his albumen very closely to make sure it didn't go too far. He sometimes had bouts of digestive issues but was manageable most of the time.
In October 2022, he started having some weird violent flinching reactions to movement or to light. We thought it might have been due to him gradually losing his eyesight as his eyes clouded over. And then he had the scariest medical episode of his life thus far. He was just coming in from using the lawn, and he seemed to freeze up like a statue, all his legs going rigid. I was getting the leash off of him and he just tipped over onto his side as I called for Heather who was across the room. She came and picked him up and he was as stiff as a board with his legs and neck outstretched. We tried to comfort him with words and touch as best we could, though we couldn't tell if he could hear us. He stayed like that for maybe thirty seconds and then suddenly he went as limp as a rag doll, with his head lolling down at an unnatural angle.
We really thought he was dead, and we were frantically telling him we loved him just in case, and he started to come awake, very groggy and confused. We of course rushed him to the emergency room and spent a long night there. At first they told us that it couldn't have been a seizure, because nothing seemed to indicate a cause. But some of his digestive conditions make some tests give weird results, so they didn't realize at first that he had dangerously low calcium, which was probably what caused the seizure. So we added more medicines to his daily regimen to manage his calcium levels and that stabilized him for quite some time.
Every month we were surprised but blessed that he was still with us and we cherished our time with him. We were both working from home, which did make it easier, because we could take him into one of our offices with us, and could usually rush him outside if he needed it. No more having to put him a kennel during the workday.
As time went on in those last months, he had more difficulty with appetite, more difficulty with vision, and controlling his bowel movements, and loss of muscle mass, and slept more and more. He had bad days pretty more and more often and we started to have conversations about when we would have to say our final goodbyes. We had to rotate between foods to try to tempt him into eating, but we were limited in our options because of the PLE.
We found that we could never leave him alone with Mabel in that last stretch because although she seemed to adore him, sometimes if he was acting strange like stumbling or struggling to get up she would react incongruously and either jump on him, or even one time she bit him though she had no teeth. We're still not sure if she was just trying to help somehow, or if this was some kind of instinctual reaction or what.
The spring came late in 2023, but when the weather was nice enough we would still take him for walks, but we would take him in a stroller while we walked the other dogs on leashes, as he still enjoyed the fresh air and the sights.
We gave him a hair clipping in the spring with the help of Heather's mom, because we couldn't send him to the groomer anymore with all his conditions and he had gotten quite shaggy. It took three of us to do it, because he was getting pretty cranky about it at that time and snapped at the clippers a lot.
As May arrived, he was barely anything but skin and bones–when we had to give him a bath after a digestive issue, and all the fur clung to his skin, his ribs and other bones protruded very prominently.
He started to have trouble standing and walking for any period of time. We would feed him by hand in a bed, and when we took him outside we would stand him up and he could manage it after a couple tries and then we would carry him back inside. He got very sensitive about his head, which he normally would like to be pet, but if anyone pet him on the head in the last few days he would snarl.
He stopped eating his prescription food entirely and we had talks hourly about what we could do, what we could try, what other kinds of simple non-fatty foods we could try to feed him, and whether we needed to make the difficult decision yet. Finally, we decided, with him not eating anything and struggling to take care of his basic needs, we needed to make the tough call. We decided we would give him a chance to eat some junk food as a last hurrah, so on the last day he got to eat Arby's roast beef, hamburger, chicken nuggets, and some other things that we normally could not allow him to eat.
The last week or so of his life, he could get very sensitive about being touched in certain contexts and he would snarl to try to get his space. Which, if he needs space, that's fine, but it did make nights difficult because the dogs sleep in the bed and any slight movement would set him off. But it all worked out much better when we decided to put an open-topped soft-sided kennel by our bed, with a dog bed and a blanket inside it. That way he could have his space without being bumped, and we could know that he was safe and not wandering the house, and nearby so we could help him if he needed it. The last night with us, even though he was having trouble walking and didn't seem to always know where he was, he was still diligent about informing us when he needed to go out, he reached the side of the kennel and clawed it with his paw so it made a zipzipzip sound and woke me up so I could take him out.
We used a home service, the first time we have done it that way instead of doing it in a veterinary setting.. After work we got him to the park for a last walk in the stroller before the vet came to our home, gave him special snacks. He passed away with the three of us holding his feet and petting him gently (but not on the head). After the first medication seemed to have him conked out, Heather patted him on the head and he still had some fight in him then because he snapped at it. But soon he slipped away peacefully, with his family at his side.
What Came After
Mabel missed him fiercely, looking around the house for him wondering where he was. Her general anxiety seemed to be worse. If she hears Michael yowling somewhere , then she has been freaking out trying to get to wherever he is. Maybe she worried that Mikko's disappearance is not the last. We watched some old videos of Mikko; in the ones where Mikko barks she recognizes his voice and looks around for him.
Heather always looks for signs after a dog passes that the dog is coming back to visit. When Violet passed, she saw three cardinals in a group (one for each dog we had lost), so she was watching for cardinals again after Mikko passed. She didn't see more than two cardinals the day after he passed, but she did find Mikko's zebra leg, crab leg, and monkey paw lined up neatly under the projector screen where we watch TV and swore she hadn't seen any of those for a while.