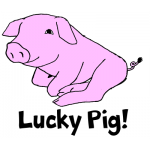 written by David Steffen
I have some very exciting news for you. Joey Jordan (our resident artist) and I are joining forces once again in a different webspace, this time to design and sell t-shirts (and other novelties) with designs of our own devising upon them. The name of our store is Lucky Pig Studio–just click on the name to go check out our wares. You can see a select few of our designs in this article, but we have many more available at the store, each of which can be printed on many types of goods, including t-shirts, tote bags, coffee mugs, baby clothes and more. If you order soon your order will hopefully arrive in time for Christmas, making a lovely stocking stuffer for your family or friends. We think there's a little something there for everyone. We have 12 designs posted for now, to give you something to browse through.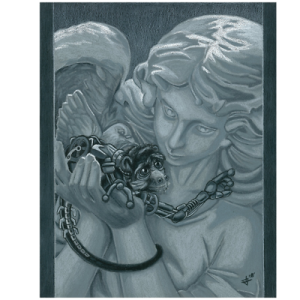 Joey is the talented member of the duo. She is a fantastic artist and a truly nice person, and I'm happy to be working with her. In case you didn't know, she's the one who provided our awesome site art, as well as the pieces showcased in the Diabolical Art section of our site. She's a professional illustrator, which is very clear from the quality of her work.
"What does David contribute?" I hear you wonder aloud.  Well, I just try to keep up, mostly. Some of the designs are created and perpetrated by my own hand. You can tell which ones they are because they're the ones that look like they were not made by a professional artist. What I lack in skill, I try to make up for with humor and enthusiasm. I like to make designs that make me giggle, and I hope they make you giggle too.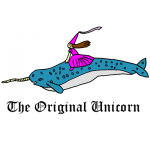 We're just getting started, so anything you can do to spread the word will be greatly appreciated. If you know someone who would enjoy our wares, please, please share a link with them. Post to your blog. Wear one of our t-shirts to a science fiction convention. Hire a sky writer plane to write our URL in the sky above New York City. Whatever you can do, thank you very much in advance.
We very much look forward to hearing from you, and we hope that you like what we're putting together. And we'll be feverishly working on new designs, so please stop back every once in a while to see what's new. This shop is of the small, temporary variety. In the long run we plan to assemble a bigger shop with more products and more designs, but we are very excited about this and wanted to launch before Christmas. The homepage of the new improved store will be here.
Also, with the current kind of shop we're working with, there's no way to disallow certain unwise combinations, so you'll want to avoid those yourself, particularly:
-If there is a caption with black font, you won't be able to see it on black and some dark shirts.
-For light colored but non-white shirts, CafePress does not print white ink for white/gray parts of the image. So, the white part of a design printed on a yellow shirt will just be yellow instead.
Thank you so much for stopping by!