written by David Steffen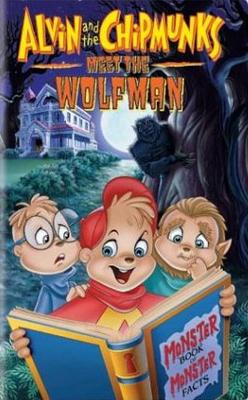 Alvin and the Chipmunks Meet the Wolfman is a 2000 straight-to-video cartoon film distributed by Universal Studios reviving the version of the characters from 1983-1990 TV show. Three child-sized anthromorphic chipmunks Alvin (Ross Bagdasarian Jr) , Simon (Ross Bagdasarian Jr), and Theodore (Janice Karman), live with their adopted dad/manager Dave (Ross Bagdasarian Jr).
Alvin has been having nightmares about monsters, and is constantly reading his monster facts book, having become convinced that their new neighbor Mr. Talbot (Maurice LaMarch) is a werewolf. Alvin seeks out proof of what he believes to be their neighbors dark secret while trying to navigate their everyday life, including acting in the play adapted from The Strange Case of Dr. Jekyll and Mr. Hyde by Robert Louis Stevenson.
This might be appealing to kids of the appropriate age, but it doesn't have very broad appeal like the best cartoons do. Much of the mystery of the movie is kindof spoiled by the title because you know from the title that there must be a werewolf somewhere in the story and so Alvin's crackpot theories have to be true of someone, if not the neighbor. It's fine if you have a kid at a young enough age to enjoy it, but it's not too likely to have broader appeal. (We happened to catch it on streaming)