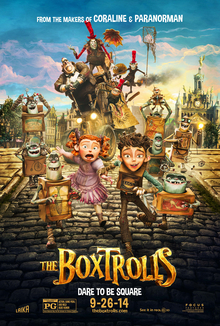 written by David Steffen
The Boxtrolls is a 2014 claymation film by Focus Features. Everyone knows Boxtrolls are dangerous monsters. Everyone knows they capture and eat children. This is only confirmed when a boy is taken by them, and the exterminator Archibald Snatcher (Ben Kingsley) establishes a deal with the cheese-loving aristocratic council The White Hats that if he exterminates all of the boxtrolls they will let him join their council.
What everyone knows is wrong. Boxtrolls are peaceful creatures who hide from humanity and whose only interaction with them has been to scavenge human garbage for tools and other things of interest. They're called boxtrolls because each one wears a box as a sort of permanent garment, like a hermit crab's shell, and will retreat into their box as a refuge to hide. A boy lives among them, called Eggs (Isaac Hempstead Wright) (because he wears a box with a picture of eggs on it), who thinks he's a boxtroll like any other. He is the boy who had disappeared years ago, his very existence acting as the proof of the fraud of Snatcher's arrangement with the White Hats. As Eggs witnesses the continual disappearance of boxtrolls, he decides to venture up to the surface where he finds out about Snatcher's quest to exterminate them all.
The setting and character design are particularly good because the characters each have their own characteristic style, from the sinister and greasy character of Snatcher, to the polished and aloof White Hats, to the grubby but well-grounded Eggs.
The Boxtrolls is a fun, funny, and well-paced movie that's well worth watching, that does enough unexpected to keep things interesting. The boxtrolls themselves are easy to root for and loveable, while both Snatcher and the White Hats are easy to root against.