written by Nathaniel Lee
DEADLINE EXTENDED TO MAY 31ST! GET YOUR TRIGGER IN!
I am pleased to be featured here on Diabolical Plots, and equally pleased to offer a bit of entertainment for you nice people. Here's how it works: you give me a prompt, and I'll turn it into a drabble, a 100-word story for you. The best approach, speaking from personal experience, is to keep the prompt between two and five words long, and to avoid getting too specific. For example, something like "werewolf shampoo" can lead all sorts of directions and gives me something to work with. "A depressed angel commits suicide" nails it down a bit too much; it's not a horrid prompt, but I don't have a lot of room to embroider. "Dave the fat clown gets chased and eaten by an alligator" is no fun at all to write, because it's already got everything in it. To participate, just post your prompt within the next 48 hours (ending 6am central on Wednesday). The resulting drabbles will be posted here on Diabolical Plots for your entertainment.
For a few examples of my drabbles, check out Mirrorshards, where I post a daily drabble. A couple examples: Bag Full of Name, and The Kraken Awakens.
I started Mirrorshards in November of 2008 as a writing exercise. There were several factors; a lack of energy to work on long-term projects, a desire for daily writing practice, and a niggling concern about my consistent failure to maintain any sort of personal journal or blog for any length of time. I remembered reading about a poet who wrote a limerick every day because the strict limits of the form gave him the literary equivalent of a quick morning exercise routine. I thought I'd try for a similar structure in prose. I did some quick research on short-shorts and nanofiction, and I eventually settled on 100 words as a nice round number that wasn't too short and wasn't too long. Since then, I have written over 54,000 words, one day and one story at a time. It's far from the only writing I do, but it's important to me to maintain that continuity. I pretty quickly migrated to Blogger, and a few months ago I registered a custom domain name. Everything at the site is under a Creative Commons license (Derivative works welcome for non-commercial purposes and with attribution.)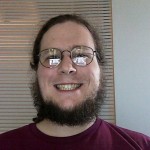 Nathaniel Lee is an amateur wordsmith with delusions of grandeur. He's been writing stories since the second grade, but as yet has not found anyone willing to pay for them. ÂHe maintains a daily writing blog at Mirrorshards.org, and several of those stories have winkled their way onto the Drabblecast (Episodes 154, 156, and 158). Nathan and his wife keep two cats, Ozymandius and Belshazzar, and they spend most of their free time staring into glowing screens of one sort or another. ÂNathan is also an avid board gamer and roleplayer who suffers from a chronic lack of willing participants.