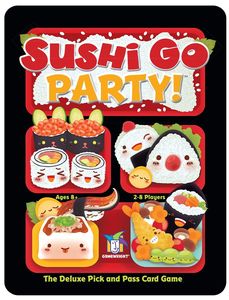 written by David Steffen
Sushi Go Party! is a 2016 expansion of the fun and fast-paced strategy point-scoring game Sushi Go! (previously reviewed here). The basic gameplay of the game is the same: each player starts with a hand of cards, plays a card facedown and then flips it over, and passes their hand to the person next to them and rotates. Points are scored at the end of each round except the desserts which are saved until the end for scoring.
Sushi Go Party! takes the solid concept and execution of the original game and simply expands it with more kinds of cards. You still only have the same number of types of cards per game, but you can choose a different set for each game–you choose one roll, three appetizers, two specials, and a dessert (and the reliable-scoring nigiri are always included).
The original game had types that you would get points by collecting more of, collect 3 sashimi for 10 points, 2 tempura for 5 points, more dumplings for more points apiece. But Sushi Go! Party has tofu, for which you get 2 poitns for 1 tofu, 6 points for 2 tofu, but 0 points for 3 or more tofu. Or eel, for which 1 is -3 points, but 2 is worth 7. The specials in particular have more weird varieties, like the menu which lets you look at the next 4 cards in the deck and pick your favorite, or the special order which can mimic any other card you've already laid down.
The original Sushi Go! is a great strategy game that keeps itself interesting with the strategy, and Sushi Go Party! just multiplies that. You can change the game significantly by swapping in some different cards, and so there's even more potential for replay. Great game for all ages.
Audience
All ages who are old enough to be ready for this type of strategy. My 5 year old plays it very well and loves every minute.
Challenge
Can be quite challenging, and can be made more or less challenging by swapping in different card sets to make you think of new strategies for different combinations.
Session Time
You can play a full game in maybe 10-15 minutes, so reasonably quick, if not as quick as some other games.
Replayability
Lots of replayability, your strategies might or might not be rigid, but the variations of the card combinations and the other player's strategies serve to keep it fresh, and once you've figured out a good strategy for a particular set of cards, try a different set.

Originality
Even considering the original Sushi Go! the new sets of cards are a huge expansion of variety and originality.
Overall
A very fun and fast-paced strategy scoring game where chance plays a big enough factor that the best strategist isn't going to just walk away with a win easily. Suitable for people of all ages, and is a lot of fun. Highly recommended. Only downside compared to the original Sushi Go! is that the other one is a little more compact and easy to set up, because you don't have to separate out all the cards like you do with this one–so if you're going to bring it to work to play with friends at lunch or something the original has the advantage of being easy to move and set up.