written by David Steffen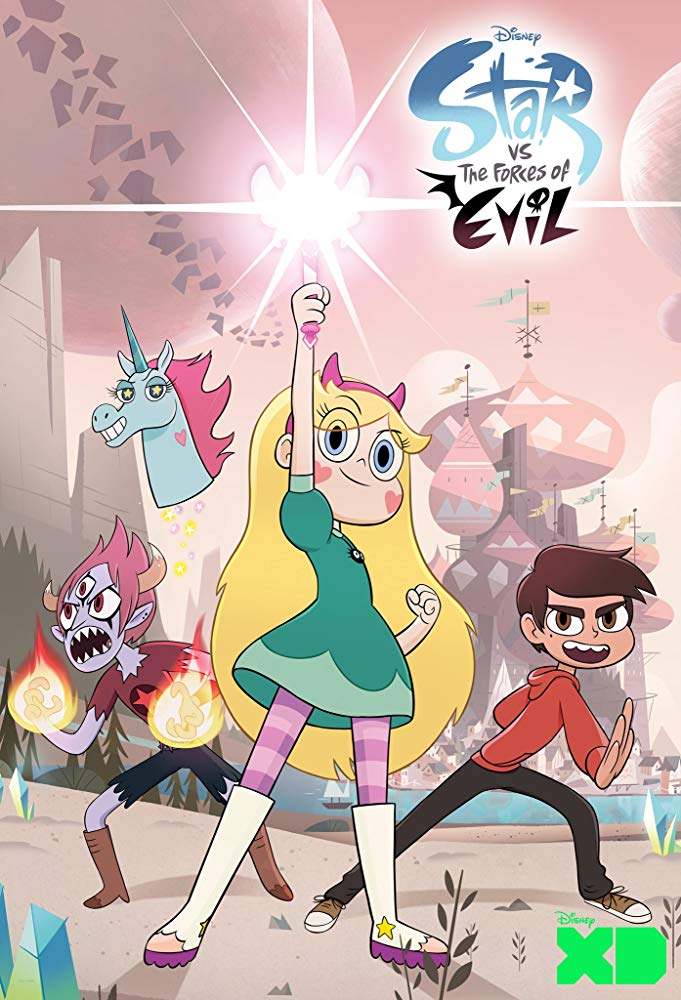 Star Vs. the Forces of Evil is an action comedy cartoon about an interdimensional mage-warrior princess (Eden Sher) who was sent to Earth for a while where she made friends with earthling Marco Diaz (Adam McArthur) . Season 1 was previously reviewed here, and Season 2 reviewed here. Season 3 aired between July 2017 and April 2018. This review will have spoilers for previous seasons.
Some context from Season 2: It is traditional for princesses in the Mewni royal family to have a princess song written about them when they come of age. Most of the songs are vapid fluff pieces, but Star insisted that the piece should have substance. But this idea backfires when the song reveals the major family secret that Star lost the book of spells that has been handed down from generation to generation, and Glossaryck the magical guide to the book, as well as revealing that Star has a crush on Marco. These revelations cause riots among the citizens of Mewni for their Queen Moon (Grey Griffin) keeping secrets from them, and the news of Star's crush drives a wedge between her and Marco. Shortly after, the villain Toffee (Michael C. Hall) in control of their common enemy Ludo's (Alan Tudyk) body manages to suck the souls from the Magical High Commission, the highest magical authority, leaving any sort of authority in shambles. Star leaves Earth to deal with matters on Mewni, leaving Marco behind.
The series has always had short episodes that often have seemingly random unrelated plots but has also had building of overarching consequences, and the end of season 2 is the most catastrophic of them all, breaking up the dream team of Star and Marco, leaving the Butterfly family's most powerful villain on the loose with the magical authority disabled, Season three starts off with the stakes already high and our heroes' support system in disarray. I loved the series since the start, but Season three shows how intense it can really be, while still having plenty of fun and silliness that is also a great part of the show. I highly recommend it!