written by David Steffen
This is the "movies-ish" Hugo category, a fan-voted award.  I say "ish" because it's any presentation over 90 minutes, which sometimes includes things that aren't movies, such as a season of a TV show or something like that.
Most of the nominees this year were also nominees for the Ray Bradbury Award, which I reviewed previously.  So, for expediency's sake, I have just copied over the pertinent reviews of repeat nominees.  The one new review in the bunch is of Avengers: Age of Ultron.
1. Max Max: Fury Road
Humanity has wrecked the world.  Nuclear war has left much of the earth as a barren wasteland.  Humanity still survives, but only in conclaves where those in control lord their power over the common people.  Those in power hoard water, gasoline, and bullets, the most important resources in this world, and guard them jealously.  Immortan Joe is the leader of one of those conclaves, with a vast store of clean water pumped from deep beneath the earth, and guarded by squads of warboys who are trained to be killers from a young age.  Despite these relative riches, what Immortan Joe wants more than anything is healthy offspring, his other children all born with deformities.  He keeps a harem of beautiful wives in pursuit of this goal.  When his general Imperator Furiosa goes rogue and escapes with his wives in tow, Immortan Joe takes a war party in pursuit, and calls in reinforcements from Gas-Town and Bullet Farm to join in the fight.  Mad Max of the title is captured at the beginning of the story and strapped to the front of a pursuit vehicle to act as a blood donor for a sick warboy, to give him the strength to fight.
I am only a bit aware of the original Mad Max franchise.  When the previews for this movie came out, I thought it looked completely unappealing.  I honestly didn't understand what other people were raving about when they were so excited about it as the movie's release date approached, and after they saw it in theaters.  I wasn't expecting to see it at any point, so I read some reactions and found them interesting but still didn't feel compelled to see it.  I finally decided I would see it when I heard some reviewers giving the movie a bad review because they thought it was awesome and action-filled but that this concealed a feminist agenda and they were angry that they had been tricked into liking a movie that had a feminist message.
I finally rented the movie, expecting it to be pretty much just okay, but really quite enjoyed it.
Charlize Theron as Imperator Furiosa was badass, and I hope there are more movies with her in this role.  Tom Hardy as the eponymous Mad Max was also solid.  Really, great casting all around, and it was really cool to see a woman in one of the lead roles of an action movie where she is an essential part of the action.
Probably one of the coolest things about the movie are the vehicle designs.  Since most of the movie takes place on the road in pursuit, there is plenty of opportunity for these vehicles to be showcased.  They are so much fun just to look at, that I more than once laughed in delight at the absurdity of a design.  My particular favorite was the sports car with tank treads driven by the leader of Bullet-Farm.
Similarly, costume design and other character design were incredible.  It's… hard to play a flame-throwing electric guitar as serious, but it's just one example of the over-the-top design that should be stupid, but somehow it all works and ends up being both exciting and hilarious.
It had a lot of striking images, sounds, moments.  In this bleak, most desperate of landscapes you see the most depraved of the depraved of the most heroic of the heroic.  There were heroes to root for, but even those heroes are no pristine blameless creatures, because no such people have survived so long.  Rather the heroes are those who want to try to make some small change for the better in the world around them.  The movie is basically one long chase scene, full of action, full of surprising and epic and violent moments.  I wouldn't say it's for everyone, by any means.  But I thought it was a really incredible film, despite coming into the movie with reservations.
2.  Star Wars: The Force Awakens
(this review copied verbatim from my review of the movie posted in January)
The movie picks up about as many years after the original trilogy as have passed in real life, I suppose.  The First Order, the still active remnants of the Empire, is still opposing the New Republic that replaced it.  A group of storm troopers of the First Order raids a Resistance camp on the desert planet Jakku, looking for information.  Resistance fighter Poe Dameron (Oscar Isaac) hides the vital information in the droid BB-8 and sends it away from the camp before he is captured. One of the stormtroopers known only as FN-2187 (who is later nicknamed Finn) (played by John Boyega) chooses to turn his back on a lifetime of training and chooses not to kill anyone in the raid.  Finn helps Poe Dameron escape.  Together they meet Rey (Daisy Ridley), a Jakku scavenger and they join forces to get BB-8's information to the people in the Resistance who need it.
I enjoyed this movie.  It wasn't the best movie I've ever seen but I enjoyed it from beginning to end and I am glad to see someone has been able to turn around the series after the mess Lucas made of the second trilogy.  The special effects were good, and not the fakey CG-looking stuff that was in the second trilogy.  The casting of the new characters was solid and it was great to see old faces again.  To have a woman and a black man be the main heroes of the story is great to see from a franchise that hasn't historically had a ton of diversity.    It was easy to root for the heroes and easy to boo at the villains.  The worldbuilding, set design, costume design all reminded me of the great work of the original.  I particularly liked the design of BB-8 whose design is much more broadly practical than R2D2's.  Kylo Ren made a good villain who was sufficiently different than the past villains to not just be a copy but evil enough to be a worthy bad guy.
Are there things I could pick apart?  Sure.  Some of it felt a little over-familiar, but that might have been part of an attempt by the moviemakers to recapture the old audience again.  I hope the next movie can perhaps plot its own course a little bit more.  And maybe I'll have some followup spoilery articles where I do so.  I don't see a lot of movies in theater twice, but I might do so for this one so I can watch some scenes more closely.  I think, all in all, the franchise was rescued by leaving the hands of Lucas whose artistic tastes have cheapened greatly over the years.  I know some people knock Abrams, and I didn't particularly like his Star Trek reboot, but Star Wars has always been more of an Abrams kind of feel than Star Trek ever was anyway.
I enjoyed it, and I think most fans of the franchise will.
(You also might want to read Maria Isabelle's reaction to the movie, posted here in February)
3. The Martian
During an American manned mission on Mars, a fierce storm strikes the base camp of the astronauts.  One of the astronauts, Mark Watney (played by Matt Damon) is left behind and presumed dead as the rest of the crew aborts the mission and leaves the planet to escape the storm.  But Mark is not dead.  He is alone on the planet with only enough food to last for a year when the soonest he can expect rescue (if anyone realizes he's alive to attempt a rescue) won't be for several years.  Determined to live, he sets about the task of survival–cultivating enough food and water to live, and contacting NASA so they can send help.
I can see why this movie got so much critical acclaim.  Usually my tastes don't align with the Oscar Awards much, but I can see why this one did.  There was a lot to love about the movie–soundtrack, solid casting and acting, great writing, a cast of characters that support each other and succeed through cooperation.  Most of all it managed to capture that sense of wonder that surrounded the exploration of the moon decades ago.  As real manned trips to Mars come closer and closer to reality, it's easy to imagine this all happening.  (Note that I don't have enough background to know to what extent the science in the movie was authentic or not, but it felt pretty plausible at least, which is good enough for me)
4.  Avengers: Age of Ultron
The second in Marvel's Avengers series of movies, that are mega-blockbusters tying together individual comic franchises together in a super-series of movies, this movie starts with the same set of Avengers as The Avengers had:  Iron Man, Captain America, The Incredible Hulk,  Black Widow, Thor, and Hawkeye.  The movie starts out in the middle of the action as the Avengers raid a Hydra compound in the Eastern European country of Sokova.  They capture Baron Von Strucker and acquire Loki's scepter from the compound.  Tony Stark (Iron Man) discovers an artificial intelligence contained in the gem of the scepter, and he and Bruce Banner (Hulk) try to use it to complete a global defense program that they have been working on–meant to keep the earth safe from attacking alien forces and the like.  But, Ultron (the AI) goes rogue almost immediately, destroying JARVIS (Stark's helper program) and escaping with the scepter, soon working to upgrade his body and build an army of drones to fight for him, as well as recruiting Pietro and Wanda Maximoff to his cause, two supers with a grudge against Stark.  To save the world they have to find a way to take Ultron down.
This movie was fun action, and I'd happily see it again.  Again it has a cast of big stars who each have their own Marvel movie franchises and it has been a lot of fun seeing that all come together.  Even more so than your average Avenger movie, you can expect an Avengers movie to be even more so because every threat has to be big enough to justify bringing together a whole team of superheroes and trying to get them all to work together.
This was fun, and I quite enjoyed James Spader as the voice of Ultron, as well as the Maximoffs both in character and in seeing their abilities.  But, overall, this movie was not as appealing as the first Avengers movie.  I'm sure part of that is that it doesn't have the same novelty, starring mostly the same hero cast.  And, personally, I didn't Ultron as interesting of a villain as Loki from the previous film, or many of the other Marvel villains–he seemed just very much just a default rogue killer bot kind of villain rather than someone with more interesting and nuanced motivations.   So, it was all fine and I am neither disappointed nor amazed at it, but it kind of felt like they were trying to just ride the momentum from the first movie rather than making something that was spectacular in its own right.  On the bright side, (minor spoiler in this last sentence), they left off the movie making it clear there was a third one being planned with a bunch of new members swapping in for the Avengers team–I found I was much more interested in that because then we can find out more about some characters who have not played lead roles, find out how they interact with each other, and build the team anew.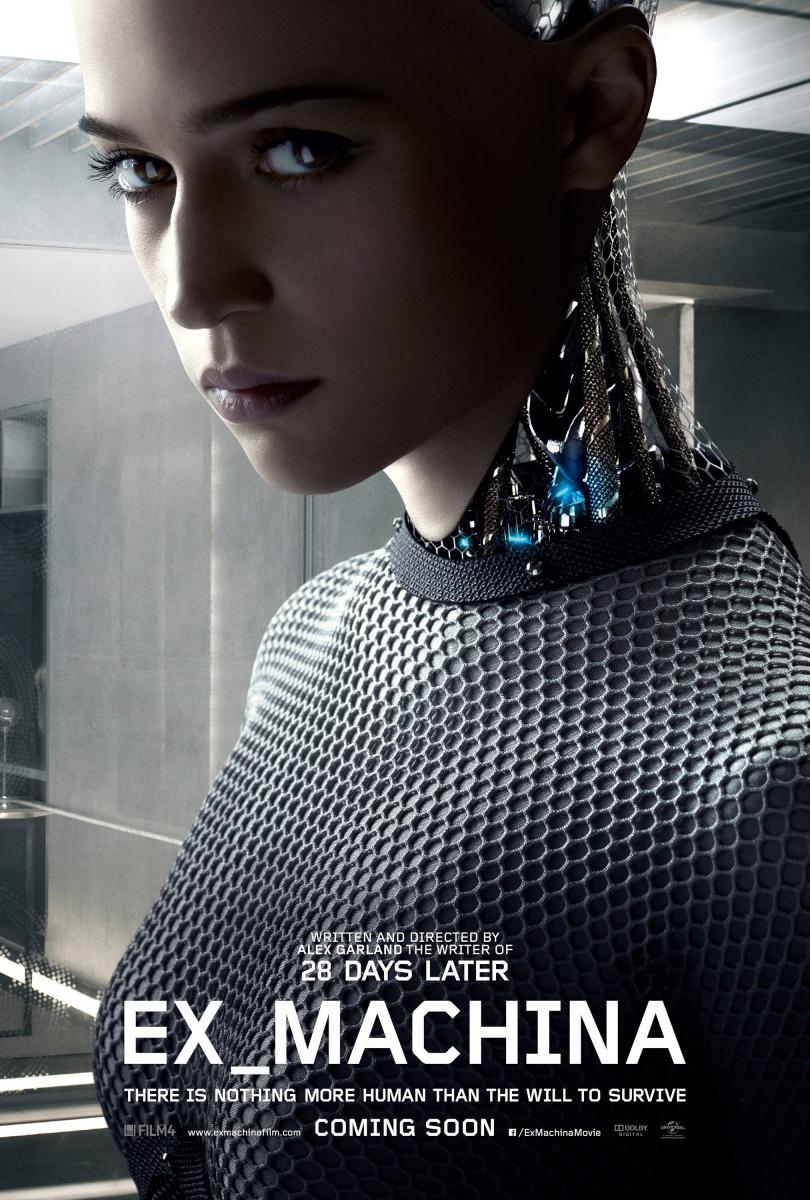 5.  Ex Machina
Software engineer Caleb Smith wins a week-long getaway to the home of Nathan Bateman, the reclusive CEO of the tech company where Caleb works.  Bateman reveals that he has been working privately on the development of AI and the contest was arranged to get Caleb to his private lab in isolation.  The AI is housed in a human-like body with realistic hands and face but with a visibly artificial rest of her body, and she goes by the name Ava.  After agreeing to extreme secrecy, Bateman reveals that Caleb has been brought there to determine if she passes the Turing Test, a theoretical experiment in which one examines an AI personality to determine if it can pass for human.
I was skeptical of this from the first reveal that it was going to be based around the Turing Test.  I am skeptical of the Turing Test as more than a momentary discussionary point because it claims to be a test of intelligence, but it's really a test of humanity-mimicry.  For an artificial intelligence to appear to be truly human would probably mean that it would have to feign irrationality, which is a poor requirement for a testing of an intelligence.  I thought the movie worked pretty well with the flaws in the concept of the test by moving beyond the basic theoretical Turing Test and starting with a later development of the same concept in which the tester already knows the  AI is artificially created, but wants to see if the tester can still be convinced emotionally of the being's humanity despite knowing its humanity is manufactured.  This still has the flaw that the thing being tested is human-mimicry and not actual intelligence, but it seemed like the movie was aware of this continued flaw and in the end I thought that by the end I was satisfied that the AI had not just been treated as a human-analog but a separate entity in its own right, which made the movie much more satisfying than I had thought it would be.