written by Laurie Tom
Autumn snuck up faster than expected. Ushio and Tora is the only summer show that is continuing its run into the fall, but I'm not quite as gung-ho about it as I used to be, so if there is something good here, it could possibly displace it. Fafner: Exodus is also returning after its summer hiatus, and I'm more likely to keep watching that.
I selected eight shows to check out this season and these are my impressions based on their first episode as well as which ones I'm likely to come back to.
Attack on Titan: Junior High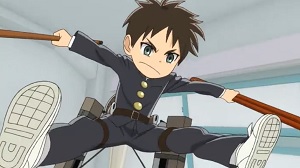 Why I Watched It: While I'm still fond of Attack on Titan two years after the hype train, it's starting to feel played out due to the constant bombardment of AoT-related spin-offs and merchandise, which is a pity since the core series is pretty good with a fantastic bit of worldbuilding. Attack on Titan: Junior High is a parody series where the main characters go to a modern day junior high, but somehow there are still titans? I'm watching out of morbid curiosity.
What I Thought: It's cute parody series done in the chibi-style, but is definitely aimed at the AoT fanbase as it doesn't bother explaining what titans are and some jokes only make sense if the audience is already familiar with the original. All of the original cast members reprise their roles and it's a little odd hearing them act out what are essentially caricatures of their more serious performances. Some scenes (and definitely the opening credits) are direct callbacks to the original. The titans themselves have been de-fanged though as they now eat kids' lunches instead of live humans. Unlike the original, I suspect the worldbuilding isn't going to be there to explain why titans have their own school system next door to the human-populated junior high.
Verdict: I'm going to pass. It's worth something as a curiosity, but my funny bone isn't easy to hit and I would rather save my Attack on Titan enthusiasm for the proper return of the series in 2016 instead of settling for a parody.
Where to find stream: Funimation and Hulu
Beautiful Bones -Sakurako's Investigation-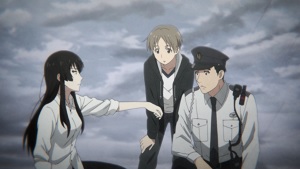 Why I Watched It: The Japanese title translates literally into something like "A Corpse is Buried Under Sakurako's Feet" or "Burying a Corpse at Sakurako's Feet" and it's so evocative it's a pity that the official English title was changed to Beautiful Bones -Sakurako's Investigation-. The show features a high school student and his quirky female friend, Sakurako, who investigate murders together.
What I Thought: Though Sakurako is the older of the pair, you would only know it from appearances as Shoutarou is the one constantly wrangling Sakurako's more wild and petulant nature. We're not told how old she is exactly, but she already works as a osteologist so she is probably in her mid-twenties. Shoutarou says the relationship isn't romantic, and Sakurako has a fiance, but I question whether things will remain that way even if he's still in high school. We don't know how they met, but human bones tend to turn up whenever he's with her and Sakurako is eager to unravel the mystery of any corpse she comes across. She's a Holmes-style detective in that she picks up a lot the average viewer would not just by looking at a body, but that also means viewers are generally incapable of solving a case along with her.
Verdict: I was hoping for a good mystery show, but it looks like I'll pass. I don't really like Sakurako's flightiness and I wasn't that impressed with the opening mystery (which barely takes half the episode), so unless I hear the mysteries get better I probably won't come back.
Where to find stream: Crunchyroll
Dance with Devils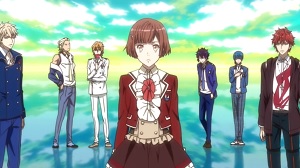 Why I Watched It: I wasn't going to, because it looked like an adaptation of an otome game (dating sim for girls), which generally don't make stellar transitions to anime, but when I found this was an original vehicle I thought I would give it a try. In a nutshell, ordinary high school girl suddenly discovers a bunch of cute demon boys are into her. Hm… hitting the Twilight crowd?
What I Thought: It's a musical! Oddly enough, having music numbers livens up what could have been a fairly standard story about a high school girl discovering that a world of good-looking demons and vampires are mysteriously hunting for some forgotten grimoire, that of course her family possesses (probably). Even though the character designs don't do much for me, there are a lot of good plot tidbits dropped that make me interested in seeing where the story is going. The protagonist's older brother is clearly more up on the family secret than she is as he warns her about being in danger, and considering that the shot of him on the phone shows him dressed up in some fancy priest robes means that there's probably going to be some holy battling going on by the time he gets home.
Verdict: I'll be watching. I didn't think I would be, but it looks fun, and I still can't get over the student council introduction number. It took cheesy dialogue and made it work becauses it's a song!
Where to find stream: Funimation and Hulu
Mr. Osomatsu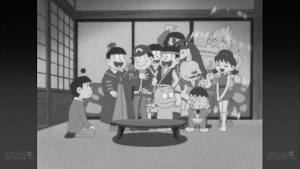 Why I Watched It: When I heard the premise was a group of anime characters from the 1960s trying to make a new home for themselves in modern day by cribbing off other anime series, I figured it was worth a look. In a nutshell, the Osomatsu sextuplets discover they're getting a new series, but they realize that all their jokes are horribly dated because they're decades out of touch with the audience, so they decide that they're going to modernize themselves. And how.
What I Thought: The Osomatsu sextuplets originated in a gag manga so most of their material involves ridiculous humor, and I think their late creator probably would probably appreciate their latest incarnation. It was really hard to pick a good screenshot to represent the show since their cribbing of other series is done in a colorful world they don't exist in, so I opted for their original B&W world. The first episode left me with a feeling of "What the heck did I just watch?!" with everything from pop idols to sports anime to Attack on Titan making an appearance. Plot? I'm not sure this show has one beyond the premise itself.
Verdict: It was funny, even though the episode defies any kind of logic, but gag humor doesn't normally work with me and Mr. Osomatsu isn't good enough to keep me hooked. The characters promise the real show will start in the second episode, but I imagine the humor style will still be the same.
Where to find stream: Crunchyroll
One Punch Man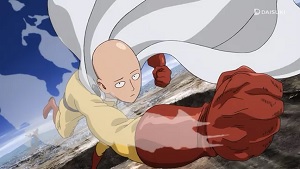 Why I Watched It: One Punch Man is about a guy who trained so hard to be a hero, his hair fell out and now he defeats every villain in just one punch. It's not the kind of comedy I'd normally watch, but it's arriving with good word of mouth, so I decided to check it out.
What I Thought: The story is not as slapsticky as I thought it would be (aside from living in a comic book world where eating too much crab can legitimately turn you in a crab monster). Though One Punch Man does beat his enemies in a single punch, the joy of being a superhero has gone out of his life. I admit, having a character as strong as Superman feeling ennui over a lack of a challenge isn't what I expected when I started watching. The show is still funny, but the protagonist does have some legitimate concerns about what he's doing with his life since his battles have not stopped monsters and super villains from appearing.
Verdict: I might watch this one, but I'm not sure where it will go from here. It can't be too actiony because One Punch Man has to win in one punch, and it's not going to be much fun if he's always moping. The show does get some points for his pre-superhero self as an unemployed salaryman who's largely given up hope… until he encounters a monster that makes him remember that when he was a kid he wanted to be a hero. Who hasn't had that dream?
Where to find stream: Viz and Daisuki
The Perfect Insider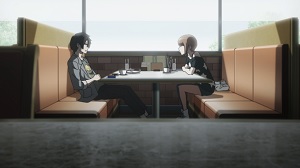 Why I Watched It: Murder mystery procedural with an adult cast that even includes a married couple. Given that anime tends to skew its protagonists young, I'm really surprised how much older the cast looks in the promotional material. The main character is a professor, and actually looks old enough to have gotten an advanced degree. Based on an award winning mystery novel.
What I Thought: It's hard to say where this is going. It held my interest the entire way through and I'm looking forward to the next episode, but the premise itself hasn't been laid out yet (possibly due to novel pacing rather than TV show pacing). So far there is the suggestion of a murder several years in the past by a genius doctor who was declared not guilty by reason of insanity, but no clue how that ties into the present.
Verdict: I think there's a good chance I'm going to continue with this one, at least long enough to figure out where it's going.
Where to find stream: Crunchyroll
Tantei Team KZ Jiken Note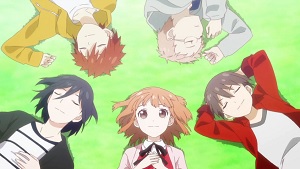 Why I Watched It: I stumbled across this one completely blind as an also recommended after watching Beautiful Bones, and wondered why I had never heard of what was obviously a new and simulcasted series. "Tantei" translates into "detective" and in my craving for more mystery anime, I looked into Tantei Team KZ Jiken Note to find out that it's based on a children's novel series and the anime is a series of shorts, meaning the episodes are only 10 minutes long, which is why it's largely been overlooked by most anime sites.
What I Thought: I don't usually watch shorts because they don't feel like they have much depth to them, but this one is cute, introducing sixth grade protagonist Aya Tachibana and the four boys that will join her as the Detective Team. There isn't time for anything more than the group of them getting off on the wrong foot, but the episode ends with one of the boys' mountain bike being stolen. As a short, there is no time for padding, but pacing still felt good instead of rushed, and Aya is easy to relate to. The animation feels a little on the cheap side, but I'm guessing that's because shorts generally hit a smaller audience than the regular half hour long shows.
Verdict: I'll be watching. I'm hoping the mystery solving will be like the Encyclopedia Brown books I grew up with since the audience is likely in the same age bracket, but even if it's not, the first episode is charming enough to make me think of the times I had at that age. Aside from having to read the subtitles, it's also more child friendly than most anime that gets brought over here.
Where to find stream: Crunchyroll
Young Black Jack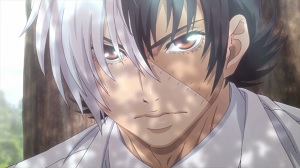 Why I Watched It: Black Jack is one of the series from legendary manga creator Osamu Tezuka (better known in the west for Kimba the White Lion), focusing on the titular unlicensed doctor who only performs surgery for exorbitant amounts of money. In the years since Tezuka's passing, writer Yoshiaki Tabata and artist Yuugo Oukuma began a prequel series called Young Black Jack, set in the 1960s when the future medical genius is still in medical school.
What I Thought: Even though Kuroo Hazama, the future Black Jack, is still in med school, it doesn't feel too much like an origin story. His blunt personality is already familiar to anyone who has read the original and the story plays surprisingly close to some of Tezuka's work, down to the fact that paying the doctor means less in hindsight when a loved one's well being is no longer in danger. The character designs are more realistic than Tezuka's work, except for a few characters here and there, which are done bizarrely close to the original style, making for a mismatched viewing. I'm a little bothered that Megumi, Kuroo's med school love interest from the original Black Jack, appears to have been replaced by a different woman and I'm not sure why.
Verdict: I'll be watching. For being a medical show, it is surprisingly blood free (which is not true of some of the older Black Jack anime). Tezuka had graduated from medical school, which had lent a certain realism to Black Jack's otherwise fantastical surgeries, but I'm not entirely sure that there in Young Black Jack.
Where to find stream: Crunchyroll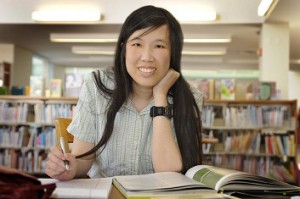 Laurie Tom is a fantasy and science fiction writer based in southern California. Since she was a kid she has considered books, video games, and anime in roughly equal portions to be her primary source of entertainment. Laurie is a previous grand prize winner of Writers of the Future and since then her work has been published in Galaxy's Edge, Strange Horizons, and Crossed Genres.