written by Laurie Tom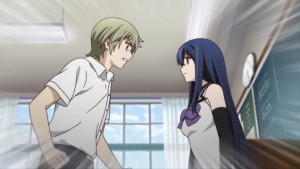 Brynhildr in the Darkness tried very hard to make me stop watching it, probably more so than any other series I can think of in recent years. On the one hand it has a smart and likeable main character who manages to pull off being a high school student protagonist without coming off as unrealistic wish fulfillment. Ryota is definitely not that powerful and works within the limitations of being an ordinary human caught up protecting artificial witches from the secret organization that created them.
On the other, Brynhildr in the Darkness is home to gratuitous fanservice. It's not that blatant early on, but after Kazumi joins the growing group of escaped witches, the fanservice kicks into high gear. (And there is a highly graphic death in episode 2 that was almost enough to make me stop watching, but there's nothing else like it later on.)
Most of the series is still very much about super-powered witches; battling the ones pursuing them, protecting the ones that ran away. But after Kazumi's introduction scarcely an episode can go by without a short scene with gratuitous (though censored) nudity that has no bearing on plot or character development at all.
And that's too bad, because the situation the escapee witches find themselves in is a compelling one. Deemed failed experiments due to not being powerful enough, the main protagonist witches managed to escape their own termination, but they need a supply of pills from the laboratory that created them or they will die within two days of taking the last one.
The witches are all teenage girls who have been held in captivity since they were young, so what they plan to do with their limited remaining lifespans tend to be ordinary things like going to high school, hitting their sixteenth birthday, and seeing the beach for the first time. They're very easy to sympathize with, and most of them are quite selfless when it comes to others of their kind. They know that each new escapee they add to their group reduces the length of time all of them can live since they must split their remaining pills even further.
After discovering their predicament, Ryota refuses to let them die when he can help, even knowing that he will be killed if the secret organization discovers him. Though he can't fight, he's very bright, serving as the group's strategist and guide to the world in general. He convinces the witches to keep living while looking for a way to get more pills to keep them alive.
Unfortunately the greater storyline of why the witches are being created is rather muddled and nonsensical. The anime concludes a story arc, but it's clearly a season ending rather than a series ending and the last few episodes feel a bit rushed, with two characters appearing in the epilogue with no explanation at all. (I had to read fan comments to make sense of why they were there.)
This may have to do with trying to condense too much of the manga into a thirteen episode TV series. My feeling is that the show writers took their time introducing everyone and then realized they only had 6-7 episodes left in which to conclude the first major story arc of the manga, so they skipped smaller subplots and/or super-condensed larger ones to cram anything of importance into the second half. There are even characters appearing in the two opening sequences who will not show up until the second to last episode.
This also prevents the series from having a satisfying resolution as everything that does happens feels a little pat. It doesn't have a proper build-up and supporting characters come and go without the audience really getting a chance to know them.
Of special note is the first set of opening credits, which is not only visually striking in how it portrays the well-being of the witches versus the rest of the world, but has one of the most memorable instrumental opening tracks in recent years. When the main theme plays during an episode chills go up my spine.
Brynhildr in the Darkness is a mixed bag and that makes it very difficult to recommend, especially after seeing the second half. A lot of potential was squandered here. Despite the fanservice though, I'd be tempted to pick up the manga if it was available in English.
Number of Episodes: 13
Pluses: extremely likeable main character, compelling reason to care what happens to the cast, one of the most striking sets of opening credits anime has had in years
Minuses: mood-ruining fanservice in a story about life and death, rushed plotline in the second half, unsatisfactory resolution
Brynhildr in the Darkness is currently streaming at Crunchyroll and is available subtitled.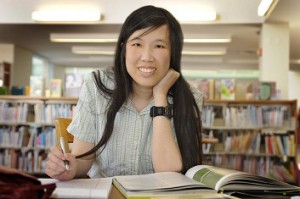 Laurie Tom is a fantasy and science fiction writer based in southern California. Since she was a kid she has considered books, video games, and anime in roughly equal portions to be her primary source of entertainment. Laurie is a previous grand prize winner of Writers of the Future and since then her work has been published in Galaxy's Edge, Penumbra, and Solaris Rising: The New Solaris Book of Science Fiction.