written by David Steffen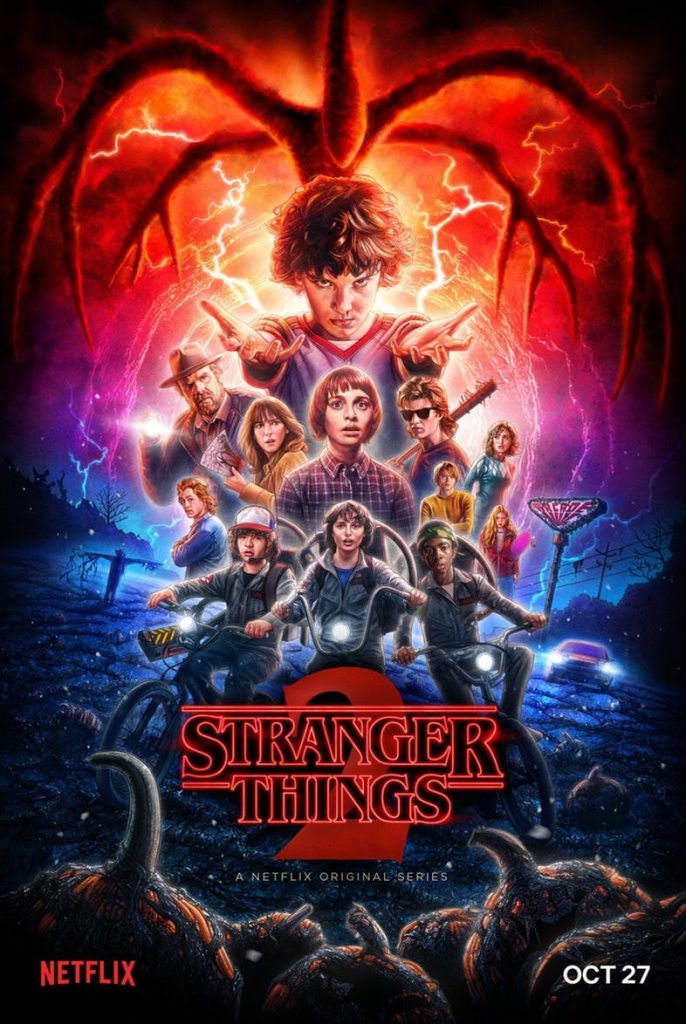 Stranger Things is a speculative horror/mystery show with an ensemble cast. Following the success of Season 1 on Netflix, 9-episode Season 2 launched in October 2017, and the third season is scheduled for July 2019. I reviewed Season 1 here.
Season 2 takes place more than a year after the events of season 1 and in the meantime things have apparently returned to (mostly) normal after Will Byer's (Noah Schnapp) odd disappearance and reappearance–only a handful of people know the truth, that the local government agency disguised as the power company opened a hole to another dimension (the "Upside Down") that let a vicious dimension-hopping monster (the "Demigorgon") into our dimension, who abducted Will into its own dimension, and killed several others before it was killed itself with the telekinetic powers of a girl called Eleven (Millie Bobbie Brown) who was herself a result of experiments by the power company.
As seen in the prologue of the last episode of Season 1, Will is not free of the Upside Down yet. He is no longer physically there, but he has been having periodic episodes where he seems to move back and forth between our world and the Upside Down. His mother Joyce Byers (Winona Ryder) and their friend Police Chief John Hopper (David Harbour) have been taking Will to therapists employed by the power company to treat what they think is post-traumatic stress disorder, but the visions seem so real it's hard to tell if they could have some reality to them. Will's friends Mike (Finn Wolfhard), Dustin (Gaten Matarazzo), and Lucas (Caleb McLaughlin) want to help him however they can but they don't know what's wrong.
Meanwhile, unbeknownst to the boys, their friend Eleven is still alive and living in secret with Chief Hopper, kept a secret to keep her safe from the Power Company.
The second season was very good, if not good as the high bar set by season 1 (second book, season, in a series is always the hardest because you don't have the novelty and mystery of the first), there is much of the same mystery and action and emotion that made the first season great, but with a new adversary to face off against. I highly recommend it, and I'm looking forward to watching season 3!