written by Shane Halbach
The Nebula awards are one of the two big awards you can win in speculative fiction (the other being the Hugo awards). The Nebulas are put on by the Science Fiction & Fantasy Writers of America (SFWA), and include not only the big, fancy, academy award-style award ceremony, but also a conference for professional writers.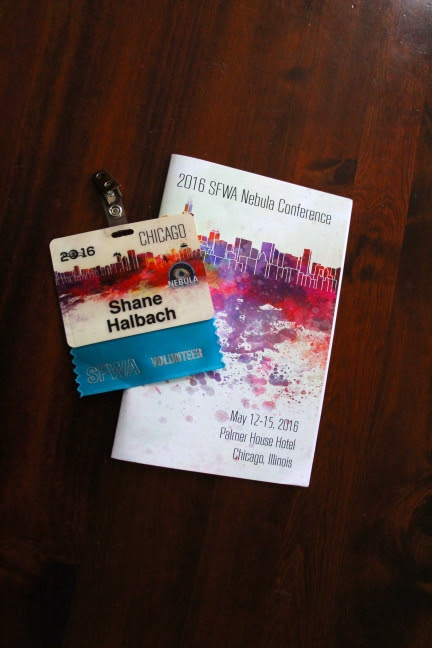 So, the panels weren't focused so much on writing, per say, (although there were a few) but more on all of the aspects of business around writing. Things like running a Kickstarter, how to teach workshops, questions on intellectual property, and how to be interviewed.
I was a speaker on two panels: "Social Media Puzzle Pieces" and a panel just entitled "Humor" (no pressure there — hey, stare at these people, they are HILARIOUS! Okay go!). I think they actually went really well (though of course nobody would tell me if they were awful, now would they?) I was particularly anxious about Humor, because…what do you say about humor? Who's to say anybody should listen to me on the matter? Did someone think it was funny to schedule my panel in the absolute last time slot on the absolute last day of the conference, and then expect me to have enough brainpower left to be interesting, much less make people laugh??? But the panel was actually well attended, and I thought we had a very deep, intellectual conversation about humor (if not actually that funny).
In addition to all of the panels, socializing, and networking, you also get a HUGE PILE OF FREE BOOKS, plus the opportunity to buy more. There was even an enormous autographing session (open to the public) featuring over 80 authors signing books.
(My haul)
The autographing session was certainly one of the highlights of the weekend for me, not only because I got to meet Naomi Novik and have her sign a copy of Uprooted (which would go on to win Best Novel), but also because I knew so many people that I hardly had time to say hello to everybody.
I think that's ultimately what made this the best con experience I can imagine. Everybody was someone I wanted to meet or talk to. The Nebula Conference was actually very small (well, 300ish people small), and you couldn't help but trip over everybody you wanted to see. It was the absolute crème de la crème of the writer's world, and for the first time I actually felt like I was successful enough that these people were my peers.
I could start listing names, but seriously I would just end up listing every person who was at the conference. I met so many online friends that I had never met in person before. I met new awesome people that I didn't even know existed before the weekend. People were actually excited to meet me, like I was somebody to meet. I chatted with Nebula nominees, SFWA Grandmasters, editors, and bestselling authors like it ain't no thang. Lunches were had. Friends won awards. I spoke on panels like a boss.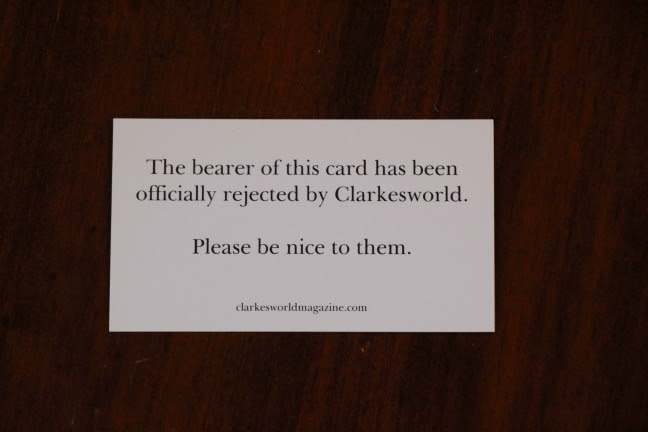 People make the distinction between introverts and extroverts: introverts "recharge" by spending quiet time alone, and extroverts "recharge" by spending time around people. By that definition, I am a classic extrovert, unlike 99% of all other writers. ("So you're the one stealing all of our energy!" said my friend Danielle.) After spending all day Friday at the conference, I was charged up enough to arc lightening into anybody who sat close enough on the train home.
(Apparently this drink was called a "Hugo" which seemed both ridiculously appropriate and inappropriate at the same time)
I didn't actually attend the Nebula awards ceremony; since I was local and since I had already called in all my favors to help watch the kids all weekend, it seemed like a good place to go home and actually help out around the house. My plan was to watch the livestream of the awards but…I may have ended up falling asleep at 8:30.
I wanted to mention my three favorite panels:
"I Remember When" 
This panel was basically just the "elder statesmen" (and states-women) of SFWA telling stories about the good old days. These stories were amazing, and talk about name-dropping! These people remember a time when Asimov and Heinlein were members. There was something so adorable about Damon Knight secretly throwing peanuts at Joe Haldeman's head. I don't know, if this panel was scheduled for every timeslot of every day, I would just keep going to it.
"What Teens are Looking for in YA Literature"
Real, live teenagers talking about what they want and what they don't want to see (love triangles) in their books. This panel was so great. These teenager were such teenagers, it was hilarious. They had strong opinions. I'm amazed that they could get up in front of a room of strangers and speak so confidently. Seriously, though, you can't pay for that kind of insight.

"How to Give an Effective Reading"
Any time I have ever heard someone ask about giving a reading, someone directs that person to Mary Robinette Kowal's website. So I was very happy to attend this one in person. Mary didn't just tell you silly tips or something, she actually explained WHY you should do certain things. Like, the science behind it. This was by far the most informative panel I attended over the weekend.
The whole experience was absolutely amazing, start to finish. It was so amazing, that it's almost like it wasn't real. I feel like I forged some lasting friendships, learned a lot about the business of writing (a peek behind the curtain, if you will), and most importantly I feel like I gained a ton of confidence.
I fit in. I belonged among the best writers in the field.
It's a magical feeling. So magical, in fact, that I had trouble adjusting back into the real world on Monday. It was how it must feel to be kicked out of Narnia.
Maybe time to start planning for Pittsburgh next year?
Shane lives in a secret lair deep under Chicago with his wife and three kids, where he writes software by day and practices his maniacal laughter by night. His fiction has appeared in Analog, Escape Pod, The Year's Best YA Speculative Fiction, and elsewhere. He plots (diabolically) at shanehalbach.com or can be found on Twitter @shanehalbach.