interviewed by Carl Slaughter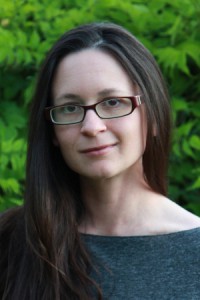 Flash podcast site Toasted Cake was launched in 2012 by speculative fiction author, theater buff, and painting hobbyist Tina Connolly. Toasted Cake recently posted its 100th podcast. Connolly's first novel, Ironskin, published by Tor, is a fantasy retelling of Jane Eyre and was nominated for the Nebula award. Ironskin was followed by Copperhead. The third in the series, Silverblind, is due in the fall of 2014. Seriously Wicked, a YA novel, is due in the spring of 2015. Connolly's short stories have appeared in Lightspeed, Beneath Ceaseless Skies, Strange Horizons, and many other magazines. She is a graduate of the 2006 Clarion West workshop.
CARL SLAUGHTER: Why did you decide to launch a podcast?
TINA CONNOLLY: Because once upon a time in 2008 or so, Rachel Swirsky asked me to narrate a story for Podcastle. Podcastle led to Escape Pod led to Drabblecast led to Pseudopod led to Beneath Ceaseless Skies led to Three-Lobed Burning Eye led to Cast of Wonders led to Strange Horizons led to Far-Fetched Fables led to John Joseph Adams & Hugh Howey's anthology, The End Is Nigh. And so on. Basically, I got hooked.
So there I was in 2012 with a book coming out (Ironskin) and another book under contract (Copperhead) and a one-year-old boy and a new-to-us fixer house, and I said, Self, you know what would make this year even better? Podcasting a new story every single week, that's what.
TL;DR: I be crazy overscheduled, yo.
CARL SLAUGHTER; How did you choose the name Toasted Cake?
TINA CONNOLLY: I knew I wanted it to be a flash fiction podcast, so I was batting around ideas that would play off of the bite-sized idea. Things like Snackcast. They were all taken. I kept brainstorming tasty -pod and -cast names, but still, all taken. Eventually I just got to things I like, like Pie for Breakfast (taken.) And eventually, Toasted Cake. (Listen to episode 32, "The Hungry Child" by Romie Stott, to hear an outro about why you should totally toast your cake.)
It has been since pointed out to me by more than one person that Toasted Cake and Tina Connolly share a set of initials. I did not do this intentionally, but I suppose my subconscious may have gotten the best of me….
CARL SLAUGHTER: Why restrict the podcast to flash fiction?
TINA CONNOLLY: One, because I wanted to podcast an episode every week, and that wasn't going to be feasible with full-length fiction (not doing it all myself, anyway.)
But two, because I LOVE flash fiction, and I think it gets a bit overlooked. A really good piece of flash fiction is just a different creature than a full-length story, or a poem. (Listen to episode #13, Helena Bell's "Please Return My Son Who Is In Your Custody", for an outro with some of my Brilliantly Insightful Theories (TM) on what makes flash fiction work.)
The fact that I DO love flash fiction has made Toasted Cake work out really well, I think. I mean, in that you should probably only start a magazine if a) it's filling a niche, and b) if it's something you're passionate about. I never wanted to become a magazine editor in particular, but boy howdy, I do love reading a piece of flash fiction each week.
CARL SLAUGHTER: How often do you post readings?
TINA CONNOLLY: Once a week. (With occasional misses for laryngitis.)
CARL SLAUGHTER: What type of stories do you feature?
TINA CONNOLLY: A few descriptors I like are weird, quirky, dark, twisted, funny, fun, literary, puzzling, bizarre, tongue-twistable, singable, patter-friendly, elocutionary, experimental, witty, and wistful.
A few of our amazing authors: Camille Alexa, Vylar Kaftan, Ken Liu, Cat Rambo, Rachel Swirsky, Caroline M. Yoachim, and I have to stop there or I never will. Most of the stories are reprints, and since they're flash they tend to come from a few markets in particular,I notice a number of stories from Nature and Daily SF (and in the first year there were still a number from the late lamented Brain Harvest.) But I've also run original stories ("Zing Zou Zou" by C. S. E. Cooney, is a particularly awesome example), and stories from folks who've told me this is their first podcast appearance.
CARL SLAUGHTER: Who does the reading?
TINA CONNOLLY: Me! But while I was off on maternity leave, I had a few fantastic guest-narrators read for me: Dave Thompson, Graeme Dunlop, David Levine, and Matt Haynes. It ended up being all male voices, actually, because with three of the four of them I sent them something that I had wanted to run on the podcast but thought I wasn't quite the right narrator for it.
CARL SLAUGHTER: You read for a variety of other podcasts. What type of stories do you like to read?
TINA CONNOLLY: Here's where I post the list of descriptors I like again! 🙂 Seriously, though, what's different about Toasted Cake is that everything I purchase has to be a) be podcastable and b) by ME. I sadly have to turn down stories that I personally like but I think I'm not a good fit for. So the stories on Toasted Cake are definitely the sort of stories that I think I will enjoy reading, and that will suit me. (But I also sometimes stretch a point and make my listeners listen to me sing, for example. 🙂
When an editor asks me what I feel comfortable with, my list usually goes something like: younger voices, alien/fey/otherworldly creatures, snarky, wistful. I'm planning to join Audible as a narrator one of these days,once the baby's older, anyway! I would love to sink my teeth into a full-length book.
CARL SLAUGHTER: A number of your stories have been podcasted. Who chooses the reader for your stories, you or the podcast editor?
TINA CONNOLLY: The podcast editor does. I've had a lot of great podcasts run! Actually, my first exposure to Drabblecast was via hearing Norm Sherman read my On the Eyeball Floor for Escape Pod in a killer reading.
CARL SLAUGHTER: Toasted Cake recently reached a milestone. 100 podcasts. Can we expect any major changes or is it 'steady as she goes'?
TINA CONNOLLY: Thank you! Yes, we did reach 100 , I'm thrilled to make it this far. (I was originally just planning to do one year, but then it picked up the Parsec award for Best New Podcast, so I thought, hmm, maybe there's some people out there who'd enjoy hearing a little more of it… 🙂 No major changes,I plan to at least make it to 200, so there's a good bit of Toasted Cake in store yet!
CARL SLAUGHTER: How does an author submit their story to be podcasted on Toasted Cake? How does someone volunteer to read for Toasted Cake? Do you accept prepackaged podcasts from the author or reader's publicist or agent or fan?
TINA CONNOLLY: Right now I am the only narrator, although I wouldn't rule out having another guest voice from time to time. Prepackaged podcasts is an interesting idea! I'm not sure if anyone's doing that,at least, they haven't contacted me with it. AFAIK, all the main podcasts, including mine, just accept submissions of stories. In text form.
I currently am doing two open submissions windows, one in February, and one in August (but not this year). Here's the info, and I'm looking forward to the August submission period! Toasted Cake is a boutique market, which is a nice way of saying I can only pay $5. (You can also choose the option of me buying you a drink at a con, which I love as it means we get to sit down and chat a bit.) However, it is primarily a reprint market, which means you could have sold that story ten times already before sending it to me, and another ten times after. . . . Or, just come listen to the show!
Thanks for the interview, Carl, and for having me here on Diabolical Plots!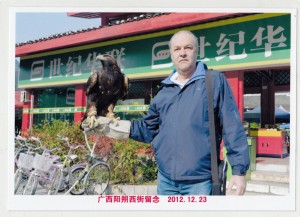 Carl Slaughter is a man of the world. For the last decade, he has traveled the globe as an ESL teacher in 17 countries on 3 continents, collecting souvenir paintings from China, Korea, Thailand, Vietnam, and Egypt, as well as dresses from Egypt, and masks from Kenya, along the way. He spends a ridiculous amount of time and an alarming amount of money in bookstores. He has a large ESL book review website, an exhaustive FAQ about teaching English in China, and a collection of 75 English language newspapers from 15 countries.