Connor was shy, introverted and a thousand other things that made sitting there, at the tiny coffee shop table, torturous. He didn't want to be tortured. He wanted to hear harp music and cherubs giggling and all the other noises that accompanied your first date with your soul mate. It had taken him weeks to screw up the courage to ask Kayla out for coffee. As far as he was concerned, glitter should ooze from the walls in a poltergeist-style reward for the brazen bravery he'd demonstrated.
Meanwhile, Kayla pretty clearly didn't realize this was supposed to be a date.
She wasn't being weird or anything. And Connor wasn't sure what she ought to be doing instead. But she wasn't nervous or awkward or in any way different from how she was when they hung out with Debra and Joe and the rest. This was basically the same as hanging out in Kayla's workshop for their hack-a-thon sessions, except the coffee was better, nobody else was around, and Connor felt entitled to glitter ooze.
Kayla was in the middle of a lengthy monologue about the various activities going on in her workshop. "Joey was pretty adamant about getting the beta testing approved by the IRB but we managed to talk him out of it before he actually filed any paperwork. Can you imagine, just telling the government what you're planning like that? Ruins all the fun of making them figure it out for themselves."
Connor was so nervous and uncomfortable that he couldn't process any of the things Kayla was saying. He cared about what she wanted to talk about a lot. He just couldn't get past the absence of cherubs and harp music. So he was completely astonished when she stopped. She glared at the table next to them, then rifled through her bag. A moment later she retrieved a silver and black object covered in wires.
"Uhm, Kayla?" Connor said, finding his voice for the first time since he'd ordered his coffee.
"Mm," she said, her eyes steadily fixed in a death glare on their neighbor.
"Why do you have a ray gun?"
The neighbor was a petite girl with curly hair trimmed in an asymmetrical bob and thick eyeliner. The eyeliner covered her face in wavery trails, distributed by the tears she was actively shedding.
"It's not a ray gun," Kayla said without breaking her gaze.
Connor might be nervous, and he might be overwhelmed, but he damn well knew a ray gun when he saw one and that was a ray gun. But this was their first date and, even if Kayla didn't know it, and he wasn't about to pick a fight in the middle of it. "Please don't shoot that girl in public."
"If she wanted to be shot in private, she should have kept her crying fest there." Kayla pointed the ray gun at their tearful neighbor.
Connor wanted to check the return policy on this date. Did dates come with return policies? Maybe there was some sort of insurance you could buy for first dates, like you did with airline tickets.
She pulled the trigger. Connor was blinded by a sizzling white beam emitted by the metal tip of the not-a-ray-gun. The light hit their neighbor who gave a startled yelp.
The light faded, and the weeping girl was gone, replaced by a dapper man with a cravat and a monocle. The man folded his hands on the table and looked around the coffee shop. Then, his voice low, breathy, and thick with the Queen's English, uttered two words that would come to haunt Connor. "I say."
***
If there was a gold standard for good at people, Connor was the opposite of it. Talking to people was just about the most terrifying thing in the whole world, even scarier than those raptors from Jurassic Park. If he started a conversation with people, they might expect him to know something about popular music, or sports, or lutefisk. Worse, they might want him to talk about himself.
But Connor didn't want to die friendless and alone. He didn't even want to hit middle age that way. He was useless in a conversation, but he was good at listening, and he liked to tinker and to collect things. So he decided to start tinkering with social groups and to collect interesting people.
Kayla wasn't the crown jewel of his collection. That would be Debra, who took up new hobbies and advanced to the cutting edge with the same ease other people deployed in changing their socks. But Kayla was funny and had quirky interests and never seemed bothered by Connor's shyness. On the contrary, she tended to praise his reserve. Other people seemed to like Connor with an asterisk. "He's great when you finally get to know him." "Once he opens up he's pretty cool." Kayla liked him without wanting him to talk or expecting him to crack a joke. It put him at ease, which ironically made it easier to open up, but it was also a relief. He hadn't realized how much he wanted other people to let him be shy and scared until he had it.
Which might be how he missed the early clues that Kayla was completely unhinged.
***
Sitting at a small table in a coffee shop, deprived of spontaneously manifesting symbols of compatibility and romance, Connor stared at the Englishman née crying girl. It was possible he was facing something more frightening than conversation about lutefisk.
"Kayla?" Connor asked. He didn't take his eyes from the Englishman. Maybe, if he kept watching, the Englishman would disappear and the crying girl would be there, still crying, and Connor wouldn't have to face this.
"Yes, Connor?"
"Did you just shoot somebody with your ray gun?"
"I already told you, it's not a ray gun."
"What is it?" Connor was blinking hard. He'd just now realized that the mug of coffee the girl had been drinking transformed, too. It was a delicate china cup, white and blue. The Englishman took a dainty sip.
"The Social Propriety Enforcer Mock 1. I call it SPEM."
Connor silently repeated the name to himself. "Is the effect…permanent?"
Kayla patted the side of the gun. The gesture was distressingly similar to what you might perform on a terrier or toddler. "Yup. I've been waiting to test it for days. Isn't this great?"
This was worse than Kayla not realizing they were on a date. Somehow, Connor tried to connect with his soul mate and instead he'd become an accessory to some sort of demented homicide.
Or was it homicide?
"Excuse me, sir," Connor said, his fear of talking to strangers momentarily outmatched by sheer bewilderment.
The Englishman's posture was perfect. He settled his cup on the table. "Yes?"
"How long have you been sitting at that table?"
He tilted his head thoughtfully, then reached a finely manicured hand into his morning coat and retrieved a pocket watch. "It must be the better part of an hour," he said, tucking the watch back in place.
Just as long as the crying girl had been there. Not murder, then. Kidnapping? Assault? Was there even a name for the crime of turning random strangers into Englishmen?
"Does it always have the same effect?" Connor asked. Maybe that girl had been crying because deep down inside, she desperately wanted to be a dapper Englishman, and the Social Propriety Enforcer Mock 1 operated by granting wishes.
"Don't be silly. Of course not," Kayla said, to Connor's great relief. If it was a wish granting gun, then this was great. His first date with Kayla was salvaged. Heck, she could shoot him and then they'd get those cherubs he was still waiting on.
His hopes were utterly dashed with her next comment. "English people aren't a monolith."
***
Connor knew when he needed advice. Having an awkward first date with a girl you really liked, when she didn't even know it was a date, was definitely a situation for which he was not at all qualified. The right thing to do would be to go to the most competent person he knew and see what they said. But Debra was a little intimidating. Instead, Connor went to Joey.
Joey was a knitter/weaver/soapmaker/blacksmith extraordinaire. Connor met him three years before at a maker fair where Joey was giving a presentation that heavily implied that to be a real knitter, you needed your own herd of specially bred sheep that you sheared yourself. With shears you had, of course, forged on your own. It was unclear whether you should also mine and refine your own ore.
Connor didn't have any interest in sheep, but he collected interesting people, and in addition to his maker talents, Joey could karaoke to Lady Gaga like nobody's business. Connor acquired him.
So Connor screwed up his courage, lured Joey out for drinks, then explained his dilemma. He went into fairly extensive detail, for Connor. It took him three sentences.
Joey was knitting when he wasn't actively pouring beer into his mouth. It was unclear what Joey was knitting. "You mean you have no chemistry?"
Connor cursed himself. He'd spent too much time lamenting the absence of glitter ooze. "No, that's not it." How to correct his mistake? "She didn't realize it was a date."
Joey nodded. "You said that. But I think maybe she did. It sounds like there was no chemistry, so she was letting you down easy."
Connor tried again. "She turned a stranger into an Englishman."
"Were they crying?"
"Yes."
Joey shrugged. "That's sorta Kayla's thing, isn't it?" He had a point.
To hear Kayla tell it, she was locked in an adversarial relationship with the universe. She, a natural born super villain, had endured a lifetime of petty torments at the hands of unseen cosmic forces. Prominent stoplights along her frequent routes would linger on red just to slow her down. Her favorite TV shows were always canceled after half a season. She moved to Seattle for its cool, rainy weather, and the entire Pacific Northwest immediately became warm and sunny. Also, wherever she went, people cried in public.
"In Seattle, instead of shaking hands, people share their sexual histories and sad childhoods," she'd lamented during one of the hack-a-thon sessions. "Don't people know that's unhealthy?"
Pointing out details like, those red lights have always been slow, Fox cancels anything good, and global warming has been around since before you were born, did nothing to budge her conviction of persecution. She took a weird sort of pride in her war. It was charming.
"What do I do?" Connor asked.
Joey's knitting needles clacked madly as he worked. Was it possible to knit a sheep? It looked like Joey was knitting a sheep. "Ask her out again?"
***
Their second date was just as lacking in tangible manifestations of romance as their first. This time, Connor expected that, so that was okay. Kayla still didn't show any signs of knowing it was a date. That was less okay. Twice she pulled out SPEM and transformed a bawling bystander into an unobtrusive Englishman.
"Did you put 'pew pew' stickers on your ray gun?" Connor asked the second time.
"It's not a ray gun," Kayla said. "And yes. I did."
Yup. This was definitely love.
***
There are ethical problems to consider when dating somebody who doesn't know you're dating them. The first time, it's an honest mistake. The second time, it's bad communication. After that?
After that, you decide that you don't care whether it's a date or not. You divorce yourself from the idea of dating. You're just having one-on-one hangouts with the girl who happens to be your soul mate, and while yes, you should probably mention your discovery of your cosmic entanglement to her, particularly given her already fraught relationship with the universe, maybe the whole world should remember that you are terrified of conversation, especially about yourself, and cut you a little slack and oh holy hell there are Englishmen everywhere.
No really.
Everywhere.
When Connor catches the bus to work, the driver is an Englishman. So are half the passengers.
Mailman? Englishman. Amazon Prime bike delivery guy? Englishman. Barrista? Who are we kidding? The entire coffee shop is English. They've started serving crumpets. Connor doesn't know what a crumpet is. The homeless people living in Cal Anderson park all wear tweed and play cricket.
"I think I would like it if Englishmen took over the world," Kayla said on their sixth date.
"They did that once," Connor pointed out. "We call it colonialism."
"Sounds like fun. Let's start with Portland."
"You did get the memo that colonialism is bad, right?"
Kayla rolled her eyes. "Duh. I didn't mean we should all fall under the Queen's rule. I mean everybody should adopt the English reserve. Their ability to repress emotions and cope with everything by drinking tea. It's so healthy."
"Healthy?"
"Mm-hmm," Kayla said, sipping from her coffee. "It's important to keep your feelings inside. If you let them out, you become structurally unsound and run a high risk of deflating. That's why everybody in Seattle is depressed."
That didn't sound right to Connor. "I thought it was the rain."
Kayla leaned back in her chair, then raised her arms. "What rain? The weather hasn't been right since I moved here."
She was definitely wrong about the weather changing to thwart her. But she had a point. The last two years had set records for sunshine and warmth.
***
Is it still creepy to date somebody who doesn't know you're dating when you are sincerely concerned that, if you try to have a conversation about how you feel, you'll horribly embarrass yourself and ruin everything? What about if there's a real risk that she'll turn you into an Englishman?
***
Connor and Joe were supposed to have a planning session for the hack-a-thon, but Joe was late. Being late is a classic practice for west coasters in general. Flaking out and canceling is a specialty of the Pacific Northwest. But Joe was usually pretty good about hack-a-thon related things. Connor gave him twenty minutes, then called.
"Joe?" he asked when the call connected.
"Speaking."
"Are you coming to the meeting? It's getting late."
"Goodness gracious, what are you nattering on about?" Joe asked.
Connor dropped his phone. Then he looked around the coffee shop. There were no mugs. Instead, everybody was drinking from porcelain tea cups with saucers. The tables were covered in doilies. Every single other patron in the coffee shop was wearing either wool or tweed and there were an alarming number of ascots on display. Connor, in his blue jeans and T-shirt, was the only non-Englishman in sight.
He scooped up his phone and fled into the street. Without thinking, he ran to Kayla's, weaving through Englishmen out and about in the course of their day. As far as he could tell, everybody in Seattle had been transformed into an Englishman. He ran faster. He had to reach Kayla before she packed up her ray gun and went to Portland.
"I say!" somebody protested when Connor pushed them aside to cross an intersection.
"Pish tosh!" another exclaimed when he accidentally bumped into them.
"I'm pretty sure English people don't actually say that," Connor shouted over his shoulder has he ran on.
Finally, he reached Kayla's door. Sweaty, chest heaving, gasping for breath, he rang her doorbell. She opened the door almost immediately.
The ray gun was in her hand.
She had to be stopped. Somehow, Connor was going to have to talk some sense into her. It just wasn't okay to go around transforming people because you didn't like the way they behaved in public. He took a deep breath, preparing the words he was going to say. What came out was, "I think we've been dating for three months."
Kayla frowned at him, the gun held close to her body. "Three and a half."
"What?"
"Our first date was that time we caught the bus together to go to Debra's. When that weird guy started ranting at you about lutefisk. I figured that was the end of it, but you were so discombobulated, you asked me out for coffee."
The whole world spun away from Connor. He'd completely blocked out the memory of that bus ride. Had there been glitter or cherubs then? He'd never know. "You didn't turn a crying girl into an Englishman on our first date?"
"God, no," Kayla said. "You can't do things like that on a first date."
She was right. Waiting until the second date to assault strangers with a ray gun changed everything. And, Connor realized, he wasn't a giant creep after all! They'd both known they were dating the whole time. He just hadn't known they'd known. "I think I'm in love with you." The words poured out of him in a rush, relief masquerading as courage.
Kayla's whole frame slumped. "Aw, Connor. What'd you have to go and do that for?" She raised the ray gun. An intense white light enveloped him.
He had a desperate hankering for a good pot of tea.
---
© 2018 by Anaea Lay
Author's Note: This is the real life, completely true story of how I moved to Seattle, discovered some charming cultural quirks, and helped fix them.  Everyone in Seattle is now very stoic, if not happy, and nobody drinks coffee anymore.  You're welcome.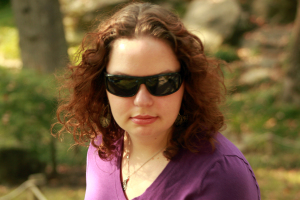 Anaea Lay lives in Chicago, IL, where she engages in a torrid love affair with the city.  She's the fiction podcast editor for Strange Horizons, where you can hear her read a new short story nearly every week, and the president of the Dream Foundry, where she gets up to no good.  Her fiction work has appeared in a variety of venues including Lightspeed, Apex, Beneath Ceaseless Skies, and Pod Castle.  Her interactive game about running a railroad and finding love, Gilded Rails, is forthcoming from Choice of Games.  She lives online at anaealay.comwhere you can find a complete biography and her blog.  Follow her on Twitter @anaealay.
---
If you enjoyed the story you might also want to visit our Support Page, or read the other story offerings.