written by David Steffen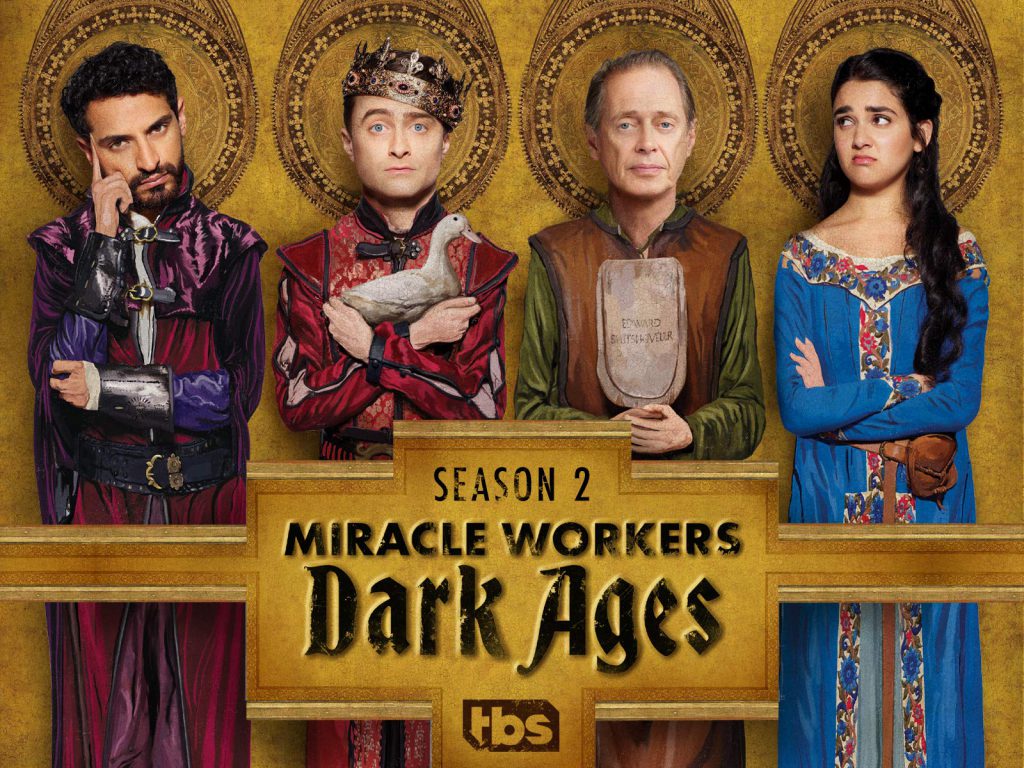 Dark Ages is the second season of TBS comedy series Miracles Workers. I use the term "series" very loosely here, because there is no plot continuity whatsoever between the two seasons–if they didn't actually have the same name I wouldn't call it a series. Besides the name, they do have a major connection in that most of the cast from season 1 returns… as entirely different characters in an entirely different setting. The other common element is that both are based on the comedy writing of Simon Rich, this season from the short story "Revolution".
While the last one was a contemporary fantasy that took place in heaven with bureaucratic workers there trying to convince God to not destroy the world, this one takes place in a fictional city in mideival Europe.
Our protagonist this season is Alexandra "Al" Shitshoveler (Geraldine Viswanathan), daughter of Eddie Murphy Shitshoveler (Steve Buscemi). She has big dreams for exploring the world as she graduates from high school but she is obligated to follow in her father's footsteps to follow the family business and shovel human poop for the rest of her life. Meanwhile, Prince Chauncely (Daniel Radcliffe) lives in his castle and lives his life without any real hardships nor connection with his people, though he also lives in apprehension of the future ascending to the throne of his bloothirsty father King Cragnoor the Heartless (Peter Serafinowicz). Soon their paths happen to cross each other and they form an unlikely friendship and both see a glimpse of a life outside their own and yearn for something more.
The same sense of humor is evident in both seasons, and it's great to see the original cast back again in different roles so we can see some of their range. Again, it's particularly fun seeing Daniel Radcliffe playing a role different from what we're familiar with, especially at the beginning as Chauncely is cowardly and exploitative if not bloodthirsty like his father he does not have a great deal of redeeming qualities. It builds much of its humor on historical elements from that time period, but often exaggerated for comic effect and also the ludicrousness of it pointed out by Al as she chafes against the boundaries of their small kingdom. Well worth seeing!