written by David Steffen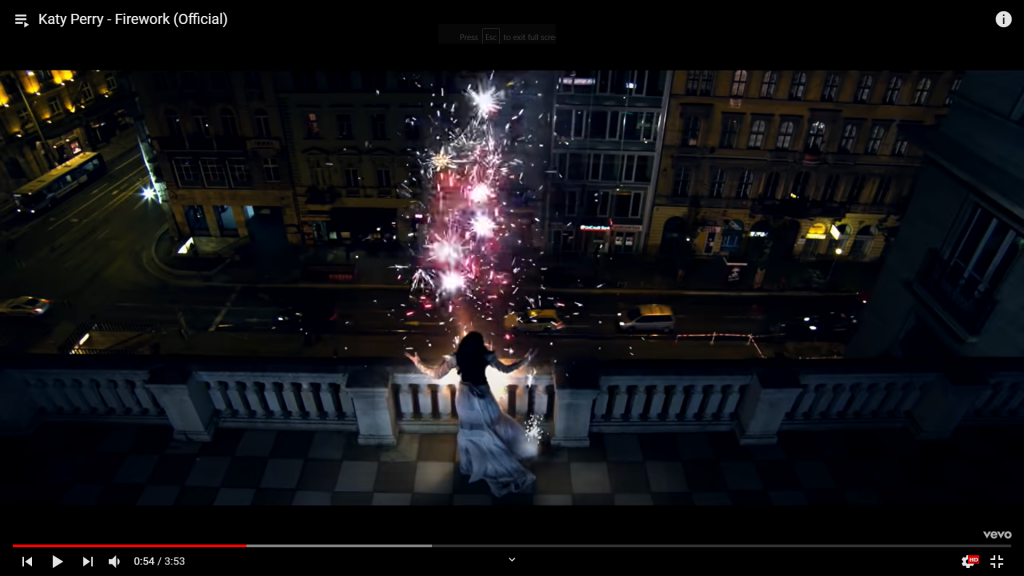 This is one of a series of articles wherein I examine a music video as a short film, focusing on the story rather than the music, trying to identify the story arcs and characters motivations, and consider the larger implication of events.
The film this week is the 2010 film Firework by Katy Perry, a fantasy story about people finding emotional acceptance of themselves and their life situations and harnessing that power in visible and fantastic and potentially hazardous ways.
The film starts with panning across a city-scape, and zooming into Katy Perry (as herself) on a rooftop singing: "Do you ever feel like a plastic bag drifting through the wind, wanting to start again?"
As she sings this, we see other people dealing with their own life situations:
A brother and sister trying to stay out of an angry, loud, and violent conflict between their parents.
A teenage girl at a pool party, afraid to show her body enough to get in the pool with the rest of them.
A child in a children's hospital with no hair, presumably a cancer patient.
Katy Perry sings: "You just gotta ignite the light and let it shine, just own the night like the Fourth of July." As she sings this self-affirming mantra, a visible and dangerous change overcomes her as she literally starts shooting fireworks from her chest as her voice swells in volume and intensity, starting with minor sparks like sparklers but with larger bursts like Roman candles. In some ways, her choice of location for unleashing this firestorm is probably safe, in that she is on a rooftop shooting the fireworks into the open air, so the chance of fire is perhaps not too high, though I would like to see firefighting equipment and support staff on the rooftop with her. It's not clear if these fireworks are something that she calls at will whenever she feels like it, or if it's something that swells up and happens on its own and she just does the best she can to mitigate the risk. It seems to be an emotional outlet to some degree, presumably cathartic, but to what degree it can be guided or controlled is unclear.
What becomes clear, though, is that her condition is either contagious to the general population, or there is a subset of the population that has the same latent ability that is awakened upon witnessing her rooftop display. So, even if she herself is trying to prevent fire risk, there are additional potentially exponential risks. Others in difficult emotional situations start showing their own fireworks–the boy trying to avoid his parents fighting gets between them to separate them as fireworks burst from his chest (as a threat/dominance display apparently?) , the girl at the pool party sheds her cover-up and joins in the fun, a teenage boy who has apparently been afraid to tell people he is gay approaches his crush and they kiss.
In the most confusing but perhaps helpful variation of this spreading ability, a teenage boy is mugged by a group of other teenage boys but when they try to rifle through his clothes they find only an endless chain of handkerchiefs and a pair of live doves. They stand transfixed at the sparklers bursting from his chest as the boy does a series of card tricks. It's not clear if the effort at the act is necessary to maintain the frightening display or if he actually thinks that what they are transfixed by is the card tricks themselves.
The child in the hospital wanders down the hallway and finds a room where a woman is giving birth and manifesting her own fireworks. Considering the size of the city that was panned at the beginning, this is a bit confusing, as most hospitals in major metropolitan areas will have large departments physically separated from each other–and it's confusing that a birthing suite is just a couple doors down from a child's hospital room, doesn't the shouting and other noise from the birthing suite keep the children awake who need to be resting? And wouldn't the expectant mothers prefer to not have random kids walking into their room in the middle of delivery?
When the girl at the pool party surfaces after jumping into the pool, her chest is bursting with flame as well. Thankfully whatever energy it is doesn't seem to be conducted by the water, as the others in the pool don't appear to be electrocuted, but we don't see further in this scene, so it's entirely possible that her manifesting powers will raise the pool temperature–hopefully just to make it a hot tub rather than raising it to boiling.
Finally, Perry leads an excited throng of people into an open plaza by what appears to be a government building where they dance in formation as they all manifest their own fireworks. This seems to suggest that she is intending to not only unleash this intimidating power in the youths but to teach them to use it as responsibly as she has, favoring open spaces where fire hazard is minimized. And, hey, if these people can express themselves, can discover something new about themselves, and the rest of the city gets a free fireworks display, that could be a net benefit to most. Though, for the sake of any pets living in the area or any veterans with PTSD I hope they don't do this every night and I hope they announce their intentions ahead of time so people aren't surprised by it.
The next Music Video Drilldown will be for the film Take Your Mama by Scissor Sisters.