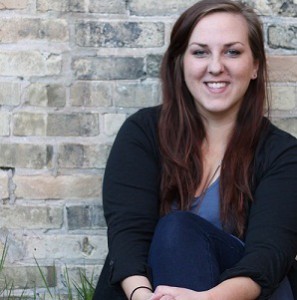 Jennifer Rush does YA and MG, sci fi and horror, prequels and sequels, male and female POVs, romance and action. Let's just say she's versatile.
CARL SLAUGHTER: When your agency decided to represent Altered and when your publisher decided to buy it, what type of feedback did you get from the agent and editor? What aspects of the story appealed to them?
JENNIFER RUSH: I think it was a few different elements. Thrillers, and characters that have been genetically altered, weren't huge at the time, so I think it helped that the idea was fresh. I also focused a lot on keeping up the action, and the plot twists, so I think that helped too!
CARL: Your third Altered book is going to be a prequel. Why delve into Nick's past?
JENNIFER: It's technically a companion novel to Altered and Erased, since it takes place shortly after Erased ended. A lot of readers expressed interest in Nick after reading Altered and Erased, and I really loved him as a character, so when it came time to deciding what my third book would be, it really was a no-brainer! Nick is an interesting guy, with a dark, complicated past. I knew he'd be fun to write, and I knew there was a lot of potential for plot lines with his past involvement with the Branch. I'm hoping readers will enjoy it as much as I enjoyed writing it!
CS: Why do you use a dual POV in the third book, one boy, one girl, as opposed to one POV in the first two books, namely the female character?
JR: It was my editor that suggested I try writing the book in a dual POV, and using Nick as one of the POV characters in order to get inside his head. I was afraid of trying it at first. I didn't think I'd be able to do him justice. And Nick is a mysterious character, and I wasn't sure if readers would really want to see inside his head. I wasn't sure if I wanted to peel back that layer. But, it turned out, writing Nick was one of the best experiences I've had yet! You're never really sure what he's going to do, or what he's going to say. I loved that aspect.
CS: One of the main characters in Altered 3 is male, broken, and a badass. You're none of the above. So how do you take the reader into this character's head?
JR: Good question! This was something I definitely worried about when setting out to write Altered 3. I wasn't sure if I'd be able to write from a male POV. I have in the past, with Bot Wars, for instance, but Trout is a twelve-year-old boy, which isn't quite the same as writing an older teenage assassin. I definitely used my husband for some of the writing. I would ask him what a boy would do in a certain scenario, or what he would say. As far as the broken aspect, I just tried to imagine what it would be like to have lived through the things Nick has lived through, and what it would do to a person. For Nick, that means a lot of destructive behavior. The only thing keeping him together are the people surrounding him — Anna, Sam, Cas, and in some regards, Trev. Nick really is a better man with his "family" around.
CS: The male characters in the Altered series are described as hot. But at the same time, there is plenty of danger for the main characters. How do you blend the sex appeal and the danger into the relationships and the plot? Do the protagonists make decisions based on their survival instinct, their moral compass, their desire for human fulfillment, or their romantic and sexual attraction to each other?
JR: I think it's all of those elements. Their decisions do have a lot to do with surviving. They're running for their lives on a daily basis. But they are also good people, or want to be. They don't want to kill people just to kill, but sometimes its necessary in order to survive. And I think romance, or perhaps love is a better way of describing it, factors into their decisions too. They all love each other, especially Sam and Anna, so when they make a move, they want to be sure the risk is worth it.
CS: Are there steamy scenes? How steamy can you get with a YA novel?
JR: There aren't many steamy scenes in Altered. There's some kissing and some sexual tension, but I'm a writer that fades to black. I'm a bit conservative when it comes to writing sexy scenes! But that's just a personal preference. I feel like YA now is a lot more open to a lot more subject matter, and there are fewer lines drawn in the sand. You have to write what you're comfortable writing, and what feels right for your book and your characters.
CS: Your first series, Bot Wars, is MG. Your second series, Altered, is YA. What are the distinctive storytelling challenges between these two age groups?
JR: With YA, the story is much more personal. Teens (usually) are getting their first taste of freedom, and exploring what's important to them, and how they relate to the world. Romance is also a huge part of YA. As a reader, I expect there to be romance! As a writer, I try to strike a balance between story and romance, so that neither element overshadows the other. With MG, families still play a huge part in a tween's life, so I like to incorporate parents and siblings as much as I can into the storylines. I also think humor is important in MG, at least from my standpoint, and being funny is hard work!
CS: You're working on a horror story. Is this an experiment or is this your next targeted genre?
JR: At this point, it's still an experiment! I have the entire story mapped out, and quite a bit of it written, but it's still in its early stages, and I'm not sure its quite right for my "brand" at this point. But I'm not giving up on it entirely! I'm just putting it on the back burner for now.
CS: The cover art for Altered has tree branches covering a boy's body. What do these branches represent?
JR: One of the boys — Sam — has that tattooed on his back. The tattoo factors into the plot quite heavily. But I don't want to dig further, because I don't want to spoil anything!
CS: What does a typical month look like for an author promoting their books?
JR: For me, it's a lot of social media work — tweeting regularly, whether it's book stuff, or just personal stuff, to engage with readers and potential readers. There's usually a blog tour as well, and we always try to keep it fun and unique! I also like to send out bookmarks, and books, through giveaways, or fun Twitter games. I really like playing trivia games on Twitter! I try to keep the month before a book releases as laid back as possible, because it can become stressful!
CS: Did you start with short fiction or delve directly into novels? How many novels did you write before you sold your first?
JR: I never really experimented with short stories in the beginning. I read primarily novels, so it's what I knew and it's where I started. Now with the digital market expanding, and with readers hungry for more content, I've started writing novellas to fill in characters' backstories, and give readers extra content between novels. Before I signed with my agent, I wrote somewhere around 12-14 novels. I'm an impatient writer, and there's always a book waiting in the wings! I tend to write fast, and then move right on to the next project.
CS: Any advice to aspiring novelists?
JR: Read! Read lots, and read widely. Read books you love, and read books you hate. Take note of what you liked about a book, and what you didn't like, and how you might have done it differently. And then write the book that you want to read. If you don't enjoy what you're writing, then the reader won't enjoy it either. Don't write to trends. And, most importantly, keep going. Don't give up. Perseverance is more than half the battle. It takes a long time to learn the craft, and perfect it, and it takes even longer to find the right fit with an agent or publisher. Try to be patient. It's easier said than done, though, I know!
Books by Jennifer Rush
"Altered" – out now
"Erased" – Altered #2 – out now
"Forged" – Altered prequel – out now
"Untitled" – Altered #3 – January 2015
"Bot Wars" – out now
"The Meta-Rise" – Bot Wars #2 – July 10th 2014