written by Laurie Tom
Unlike last fall, which had an anemic number of shows that interested me, this winter has several. It's also becoming more common for TV series consisting of more than 13 episodes to split their cours to run in staggered seasons rather than back to back. Hence last summer's Aldnoah.Zero and Tokyo Ghoul are both returning for their second halves this winter, and this winter's Durarara!! x2 will take a hiatus in spring and return in summer.
With Aldnoah.Zero and Tokyo Ghoul returning, and two of the fall shows I did enjoy continuing into winter (Yona of the Dawn and Parasyte), this winter is experiencing something of a logjam and something's gonna give, but I'm not sure just what yet.
Assassination Classroom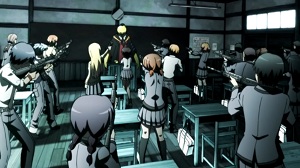 Why I Watched It: It has an absurd premise where an octopoid being blows up the moon and then agrees to teach a class of teenagers to kill him within a year. If they succeed, he won't blow up the world. The alien's yellow humanoid octopus design is very distinct, making the show easy to recognize.
What I Thought: Despite its life or death premise, the show is largely a comedy and rolls with its bizarre premise. Kuro-sensei moves as fast as Mach 20 and none of the world's governments have managed to kill him, so they've agreed to let him teach a class of students as he's requested. Oddly enough, they're the E class, made up of the school's lowest performers, but their strange genocidal teacher is also the best one they've ever had, praising them when they do something well (even if its an attempt on his life), and honestly trying to get them to do their best. It makes for an interesting dynamic since they need to kill their teacher, but they actually like him.
Verdict: I'll save it for later. It's off to a good start and I liked it, but because it's based on an ongoing manga I'm not sure we'll get a satisfying ending and there's too much else to watch right now.
Where to find stream: Funimation and Hulu
Cute High Earth Defense Club Love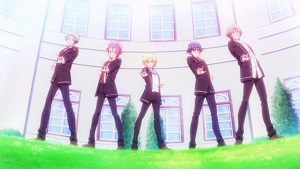 Why I Watched It: It certainly wasn't for the title. Rather, it looked like it might be an interesting twist of the magical girl genre in that the protagonists running around in frilly outfits and using sparkly attacks are all male this time around.
What I Thought: It's better than the premise sounds and there are a lot of good laughs. Four male high school friends and a sudden fifth are arbitrarily chosen to save the world with the power of love by an alien that looks like a pink wombat. This includes magical girl style transformations into their frilly combat outfits, though they are wearing either shorts or pants instead of skirts (the tail of their coats is the nod to the skirts). The boys take this about as well as can be expected. But despite compulsions to pose and say weird things (they try and fail at getting their costumes off), they finally give in and fight this episode's monster, which in frequent magical girl fashion, is a transformed classmate. I about died laughing when they used their wands and instead of calling out a magical girl-style attack they used things like "Something-or-Other Storm!" and "I Am Awesome Fire!"
Verdict: I have no idea how I'm going to find time to watch this, but I really want to. Might end up being a save for later.
Where to find stream: Crunchyroll
Death Parade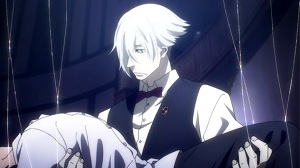 Why I Watched It: Based on a previous short film, Death Parade is one of the more mature offerings this season with no signs of teenagers. It takes place in a sort of purgatory for people who have died, where visitors are asked to play a game to determine their fates.
What I Thought: Death Parade won't win awards for originality, but the execution is spot on and beautifully animated. A couple on a honeymoon are the purgatory bar's first visitors and are convinced to play a game of darts with their lives on the line, unaware that they are already dead, and what a game of darts! As they play the game the audience is led and misled regarding the truth about their marriage and how they died. My only concern is that the deceptively energetic opening credits features a lot of other bar employees besides the bartender who managed the game in this episode and I'm not sure I want the focus to shift off the visitors. I'm completely down with a Twilight Zone anthology format.
Verdict: I'll be watching. Unless the format changes too much, I'm going to try to find space for this one.
Where to find stream: Funimation and Hulu
Durarara!! x2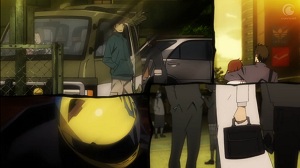 Why I Watched It: I really enjoyed the first Durarara!! in 2010, even though the series defies a convenient plot summary. The closest thing I can say is that it's about some of the inhabitants of the Ikebukuro neighborhood of Tokyo and all the very weird, even supernatural, things that happen around them. Why and how it all happens makes about as much sense as it does in real life, and maybe that's the point.
What I Thought: Durarara!! x2 is just as mind-bending as the original, and goes to pains to show how nothing has really changed in Ikebukuro. The style of the opening and ending credits are direct callbacks to the distinctive look of the original, and the episode itself follows the same non-linear storytelling that has encompassed all animated versions of Ryougo Narita's novels since Baccano. I can't honestly say I know what's going on other than it looks like all the weirdness will probably revolve around a serial killer eventually since that plotline is the only one that is not directly a part of anyone's life… yet.
Verdict: In another season, I would probably watch this right away, but because of the non-linear storytelling that looped back and forth, between and within episodes in the original, I think Durarara x2 would be better saved for later marathoning so I can better keep things straight in my head.
Where to find stream: Crunchyroll
Fafner: Dead Aggressor: Exodus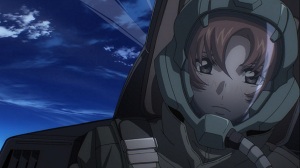 Why I Watched It: The sequel to 2004's Fafner: Dead Aggressor and it's 2010 movie, Heaven and Earth. Presumably problems continue with the alien Festum trying to deal with their own changing nature and trying to annihilate humanity. Exodus is supposed to take place two years after Heaven and Earth which should make most of the protagonists adults now.
What I Thought: Exodus doesn't waste time, giving viewers a breakneck intro to where humanity is in the war with the Festum before moving on to glimpses of almost everyone who survived the original series and the movie. I was pleasantly surprised by the original Fafner: Dead Aggressor because of its unusual focus on whole families being part of the military structure while still trying to be a family, and I'm honestly not sure where Exodus is going to be able to go thematically now that the original protagonists are adults. It's not clear if they can still pilot the Fafners (compatibility slips once past the teenage years), so I'm curious how the show will continue to involve them, especially those that chose to avoid full-time military work. New pilot candidates have been introduced as well, so there will definitely be enough characters to pilot the Fafner mecha, but I'm hoping the show will focus more on the original cast and where they go from here.
Verdict: I'll be watching. I don't know where the show is going, but enough of the key staff from the original series have returned, along with just about all the voice actors, that I want to give this a chance.
Where to find stream: Crunchyroll
Gourmet Girl Graffiti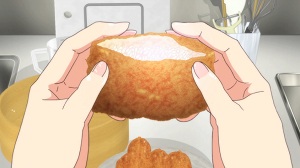 Why I Watched It: I'm not normally much of a fan of slice of life shows, but Gourmet Girl Graffiti is about a girl who's good at cooking, and I hoped to see lots of delicious anime versions of Japanese food.
What I Thought: It was definitely a good idea to watch while I was eating, and not while I was hungry. The level of detail on the various Japanese dishes was great, and the main character Ryou is obviously really into cooking so there's a lot to be learned about how food is prepared and how leftovers from the making of one dish can be made into another just from listening to her dialogue. On the other hand, some of the animation of Ryou eating seems to have the wrong idea about what people mean when they say "food porn." It's a small part of the show, but very noticeable.
Verdict: Interesting side adventure, but not likely to be going back.
Where to find stream: Crunchyroll
Maria the Virgin Witch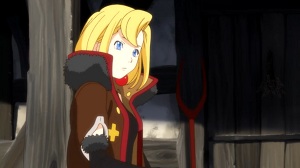 Why I Watched It: The art style isn't quite to my tastes, but I heard good things about it and the Hundred Years War between England and France is a really unusual setting for an anime.
What I Thought: There are a lot of jokes about Maria's virginity and the naivete that comes along with it, mostly from her succubus familiar. Aside from that, this is a version of the Hundred Years War where witches exist and meddle with battles out of patriotism or for profit (or to enforce peace in Maria's case). There are surprising historical touches, like the English giving the French the bowfinger or capturing knights for ransom, that I wasn't expecting in what easily could have been generic medieval warfare.
Verdict: I might come back to it later. It's not my usual cup of tea, but the historical part of the story piqued my interest.
Where to find stream: Funimation and Hulu
Bonus!
Quite unusually, there was one show picked up for winter simulcast that actually started in the fall and it's still running. Back episodes are being added at a pace of two old episodes for every one new.
Magic Kaito 1412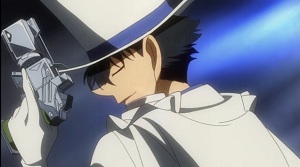 Why I Watched It: Set in the same universe as Case Closed, Magic Kaito focuses on a high school student who becomes a master thief to fight against his father's killers. Case Closed (also known as Detective Conan) was one of my favorite anime series back in college and I always wanted to see some of the manga artist's lead character, Kaito.
What I Thought: The opening episode feels a little dated, which isn't surprising given that the manga was started in the 80s. Even though there are touches to show it's modern day (video calling on a laptop), the show's core sensibilities, how quickly Kaito both accepts and assumes his new position as a master thief appeals to an earlier time.
Verdict: I'll be watching it when time allows, hoping that it has the same crime-solving (or crime-committing!) attention to detail that the Case Closed series is known for.
Where to find stream: Crunchyroll
Fall Leftovers
There are the only three shows I was interested in last fall, and all of them I continued to watch. Fate/stay night is now on break and will resume in spring. Yona and Parasyte continue into winter.
Fate/stay night: Unlimited Blade Works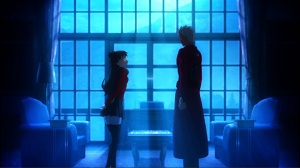 Why I Watched It: This is supposed to be an alternate telling of the well regarded Fate/stay night series and it has a female protagonist so I figured if I was going to jump in, this would be a good starting point.
What I Thought: Rin turned out to be a decoy protagonist, only starring in the zero episode, and it's still the same main character, Shirou, as in the original series for the rest of it, but apparently we are going through a different storyline from the visual novel series (which has multiple endings). The series has beautiful action sequences between the mages and the Servants they command, but the worldbuilding falls down if looked at too closely. It works best as a popcorn show.
Where to find stream: Crunchyroll
Parasyte -the maxim-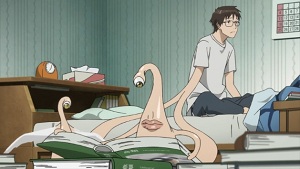 Why I Watched It: Parasyte originated as a Seiun Award-winning science fiction horror manga that questions what it is to be human. The manga was first translated into English back in the 90s and no other story I've read has so eloquently pointed out the many flaws in humanity while still saying it's okay to be ourselves. I mainly had two concerns going in. 1) Parasyte is at times very gory and will have to be censored for its broadcast run. I'm rarely an advocate for gore, but Parasyte might be one of the few stories that is less powerful without it. 2) I'm really not digging Shinichi's new character design. It makes him look like an introverted nerd, which he never was, and I'm concerned that might mean they're changing his personality.
What I Thought: The adaptation made some changes the bring the story to modern day, and the rapport (or lack thereof) is spot on between main character Shinichi and alien creature Migi, who has taken over his right hand after a failed parasitic invasion. There are odd additions to the story while at the same time condensing others, but it's still coherent and I found I liked the changes more as time went on. The gore is partially on screen, but toned down, and there's no escaping the fact people are being eaten. Shinichi initially comes off as a bit more of a wimp than in the original manga, but he's not unbearable, and I can understand why they gave him the glasses since it allows for a later transformation to become more pronounced. If it hadn't come out against Aldnoah.Zero it would probably be my favorite show to have started in 2014.
Where to find stream: Crunchyroll
Yona of the Dawn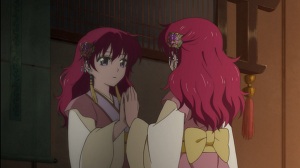 Why I Watched It: Asian fantasy adventure story geared towards the female audience with a female lead character who does not appear to have a prominent love interest in the promotion art. Plus she's holding a sword.
What I Thought: The early episodes are a bit slow as Yona tries to come to grips with the fact that the cousin she loves has just killed her father the emperor and usurped control of her nation in one fell swoop. But after being on the run for a few episodes she finally comes to accept that she can't let things stay the way they are and we see the birth of a warrior. She's not particular good at the start, but she's persistent and I like that the show makes it a point to show how hard Yona is training every day as she and her guardian, Hak, journey in search of the legendary dragons who will be able to help her reclaim her country.
Where to find stream: Crunchyroll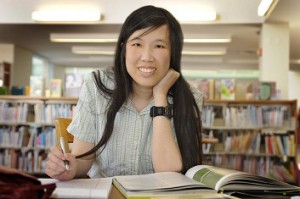 Laurie Tom is a fantasy and science fiction writer based in southern California. Since she was a kid she has considered books, video games, and anime in roughly equal portions to be her primary source of entertainment. Laurie is a previous grand prize winner of Writers of the Future and since then her work has been published inGalaxy's Edge, Penumbra, and Solaris Rising: The New Solaris Book of Science Fiction.