The reporter is young, smells young even through the miasma of bleach and boiled vegetables. Three Willows Retirement Village is not an olfactory feast, so Millie is grateful for the scents of mango shampoo and coconut hand cream the girl brings with her.
"First of all, congratulations on the milestone!"
Millie wraps her knuckles around the gnarled head of her driftwood cane, leans forward.
"Congratulations?" She releases a calculated chuckle, gently chiding. "On not dying?"
"I just mean… I mean, not everyone gets to celebrate their one-hundred and tenth birthday!"
"Well, that's very true. I've been blessed."
"I was hoping you could tell me a little about your life. You must have seen so much!"
"Oh, yes."
The girl has a notebook out now, pen poised.
"I was hoping you could tell me, what's your earliest memory?"
The pods. The heat of the sun soaked into the sand by day, warming the cluster of egg-sacs. Warm, dark, protected. Her lungs and gills growing, the bones of her limbs hardening. Keratinous spurs on her wrists grew sharp, and the urge to surface gripped her hard. The skin of the egg parted like paper, and salty sand mingled with the cooling jelly. She had squirmed onto the beach. Her parents watched nearby, their horses shying.
Her siblings had crawled free, but she had been the first, the first to see the stars.
"I remember the beach. We always lived near the water, and I loved to run across the sand at low tide, when it was cool. When I was older we'd ride the old mare down. Tried to get her to gallop along the shore once, and she threw me right into a tidepool!" Millie forces a chuckle and a wry smile.
"You grew up on a farm?"
"Oh yes. Lots of chores to do. And schooling, of course. Mama educated us herself, us being so far out in the country."
They stalked one another through the trees and fields, games of hunt and evasion. Millie had the sharpest nose. She could find her siblings hidden even when their skin changed to match the mottled pattern of leaf and twig. They pounced and bit one another, drawing blood and laughing, violently tender.
Later, Mother drilled them. Human languages first, English and Mandarin, German and Spanish. "You must be able to blend among them. You can't rely on your hybrid DNA. Never let them suspect. The slightest slip could be fatal to our kind and our mission."
After lunch it was their Home language, the keening and clicks, the consonants aspirated through flared gills. They studied the old poets and the old songs, in glyphs as twisted as the coils of barbed wire that marked the edges of their homestead.
The reporter leans forward, elbows on the table. "I suppose you didn't have a telephone, or a car? Do you remember when the first time you saw a car was? Or a radio?"
Father held the communicator in his palm. Smooth as beach glass, liquid fractals pulsed from its center as he clicked and cooed.
"When will I be able to speak to Home?" Millie asked. 
"When the time is right," said Father. "When you are old enough to begin work on the mission."
He gently stroked her hair, palm still warm from the communicator. "Soon," he promised.
"Radio seemed like magic. I heard it first at another family's home. Voices through the air, you know. The first car I ever saw was considerably less pleasant — it was an old Model-T. The rattle and roar of the thing! I clapped my hands over my ears."
The reporter nods, scribbling.
"You've lived through such turbulent times. What was it like to live during the World Wars?"
The government man's heels beat hard against the cheap rooming house carpet. Millie held tight to the wooden handles of the garrote, ignoring the blood that seeped around the wire and dripped onto her good shoes. 
Too close. He'd come too close, had seen her emerge from the lake near the munitions factory.
When his heart stilled, she eased him to the floor, then collected every trace of her presence from the small room. She'd have to abandon her identity, find another source for the chemicals they needed for the third phase. The damned war had made the humans watchful, almost clever.
Not so clever that they wouldn't be easily thrown off the trail. She left a torn page from a German-American Bund pamphlet in the back of the cheap plywood dresser. 
She left, not worrying about fingerprints on the doorknob. She didn't leave any.
"Nothing as exciting as you may imagine. It was all victory gardens and scrap drives for me. The war on the home front. I was just fortunate that I didn't have any children in harm's way."
"But you did have children?"
"Oh my, yes. Everyone had a big family, back then. A family meant a future."
She and Henry didn't bother to put their clothes back on, just walked out of the beach house and onto the moon-silvered sand. She dug the hole with a garden trowel.
"I'm worried," he said. "We've lost contact with the Chicago brood."
She dropped to her haunches. "Protocol. Scatter and hide. They've done it before, after a mission's gone bad."
"It's been too long. I think they've been captured, or killed. One of those G-men pursuit teams maybe."
She shuddered, half at his words and half at the birth-ecstasy. The egg mass slid out of her and filled the hole. Blue-veined embryos blinked at the black sky for a moment before she covered them with sand. She pressed one hand to the spot for a moment, felt their warmth.
"It will be okay," she said.
"Tell me about your husband."
"Henry? We met at work, after I first moved to the city. I knew he was a good man, and, well, our families were friendly. We were a good fit.
"It turned out to be a real love match, though. That was rarer than the movies would have you believe."
She pauses, contains herself. Let the reporter see the sorrow, not the anger.
"He died young."
The first bullet caught him in the lower back. Purplish blood oozed from the wound as they ran through the alleys, seeking cover in the steam rising from the sewer grates. Men in long coats ran behind them, yelling into crude radios.
The second bullet struck higher, in Henry's spine. His legs spasmed wildly as he fell. She grabbed his coat, pulled him with fierce strength, but the alley ended in a filthy courtyard.
"Go," he hissed. She hesitated, and he sang the word in the speech of Home, his golden tones strained with pain. She scaled a fire escape, bullets shattering against the metal railings.
She looked back once. He wasn't moving.
That winter, she found the leader of the FBI pursuit group. She watched his house burn on a cold night. No one got out, not the government man, not his wife, not their children.
"I still miss him. He was a good man. Left me with a little nest egg, fortunately. In my later years, I travelled, all the trips we'd meant to take together after we retired. But the loneliness… it can get to you, sometimes."
Goa was comfortably warm, the monsoon kind to her skin. The mathematician at the university had proved amenable to sharing his notes. He was bright, too bright. She cupped the communicator in her hand and reached out to the brood in Bombay. They would need to arrange an accident.
After, she reset to commune with Home, but the device remained silent and dark.
Nothing. Three years, and no word.
What was going on?
The stars were cloaked by clouds, and the sky held no answers.
The reporter taps pen to notebook. She is already running low on questions. Millie sighs. She's been through the gauntlet at one-hundred, and again at one-hundred and five. There are only a few questions left to go, then it will be time for the tooth-achingly sweet cake, and a walk back to her room.
"Did you ever expect you would live so long?" The question bursts forth, the pleading look says the girl would take it back if she could.
"No," Millie says. "But when you're young, you always think you'll live forever."
Millie's knee ached, the arthritis a gift of her human genes. A hurricane was coming, rolling in across the Gulf and making for Florida. She could feel it even inside the sterile grey-carpeted halls of Cape Canaveral.
She pushed the mail trolley, dropping packages in cubicles and offices. When no one was looking, she palmed the scanner the Moscow brood had sent her over racked floppy disks. The scanner hummed in her hand like a wasp as it soaked up data.
They were stealing technology from the humans now, desperately trying to build an alternate means of communicating with Home. Pathetic, but what else could they do?
They could forget. Susan and Abel and Henry Junior spoke to her in English now, called her on Sundays and worried about mortgages as much as missions.
How many of the old poems did they still remember? How much could they be expected to remember, three generations removed from Home?
Thirty years, and no word.
"I suppose everyone learns the secret, if you go on long enough," Millie says. "You just keep on living. You hope you find someone you can love to spend your life with, you try to do right by your children. You do your work, and hope things turn out well. They don't, always. You have to make your peace with that. That's about all I've learned, in my time on this planet."
She sighs, and something in her face makes the reporter draw back a little. A little too much revealed there, the twinge of guilt at any crack in the facade. But she's an old woman. Who will think her moods are anything worse than the product of a decaying mind?
The singing comes from the kitchen, singing and fire's feral glow. The fools have somehow lit a full hundred and ten candles atop the white-and-blue frosted slab. It reminds her pleasantly of a burning house.
The chorus of "Happy Birthday" dies away.
"Blow out the candles, Millie!" shouts the home's manager through lipstick-smeared teeth.
The reporter has her camera pressed to one eye. Fine, if they want a photo, she'll give them one. She draws breath into lungs deeper than any human's, and purses her lips.
The flames flicker and die, a hundred smoke trails coiling about like seaweed at slack tide.
The applause is genuine, the kitchen staff and nursing aids shouting in wonder. "Go Millie!" "Lookit that!"
The reporter leans in again, face bright. Good photo for her sad little page twelve human interest story, that's all she cares about.
"What did you…" She breaks off. "Your brooch…"
Millie puts a hand to her sweater. The communicator hums with life. Fractals bloom across its surface in wondrous, glowing profusion. She clutches her hand around it hard, closes her eyes. It has been so long. One of the lost broods?
No.
Home, the signal strong and clear, the message simple: We are coming.
Millie smiles.
"Just a piece of costume jewelry, dear. What were you saying?"
"I, um, what did you wish for? When you blew out the candles?"
"If I tell you, it won't come true now, will it? But I think you'll find out soon enough."
She lets them cut her an extra slice, and with relish she licks the frosting from her fingers.
On her way back to her room, she hums one of the hymns of home, in subsonics and whispered gill-speech too low for any human to hear.
Millie smiles. She is eager to clip out a copy of the young reporter's story. Assuming there is another issue of the paper.
It would be nice to have a keepsake. It's been a day for milestones.
---
© 2018 by Matthew Claxton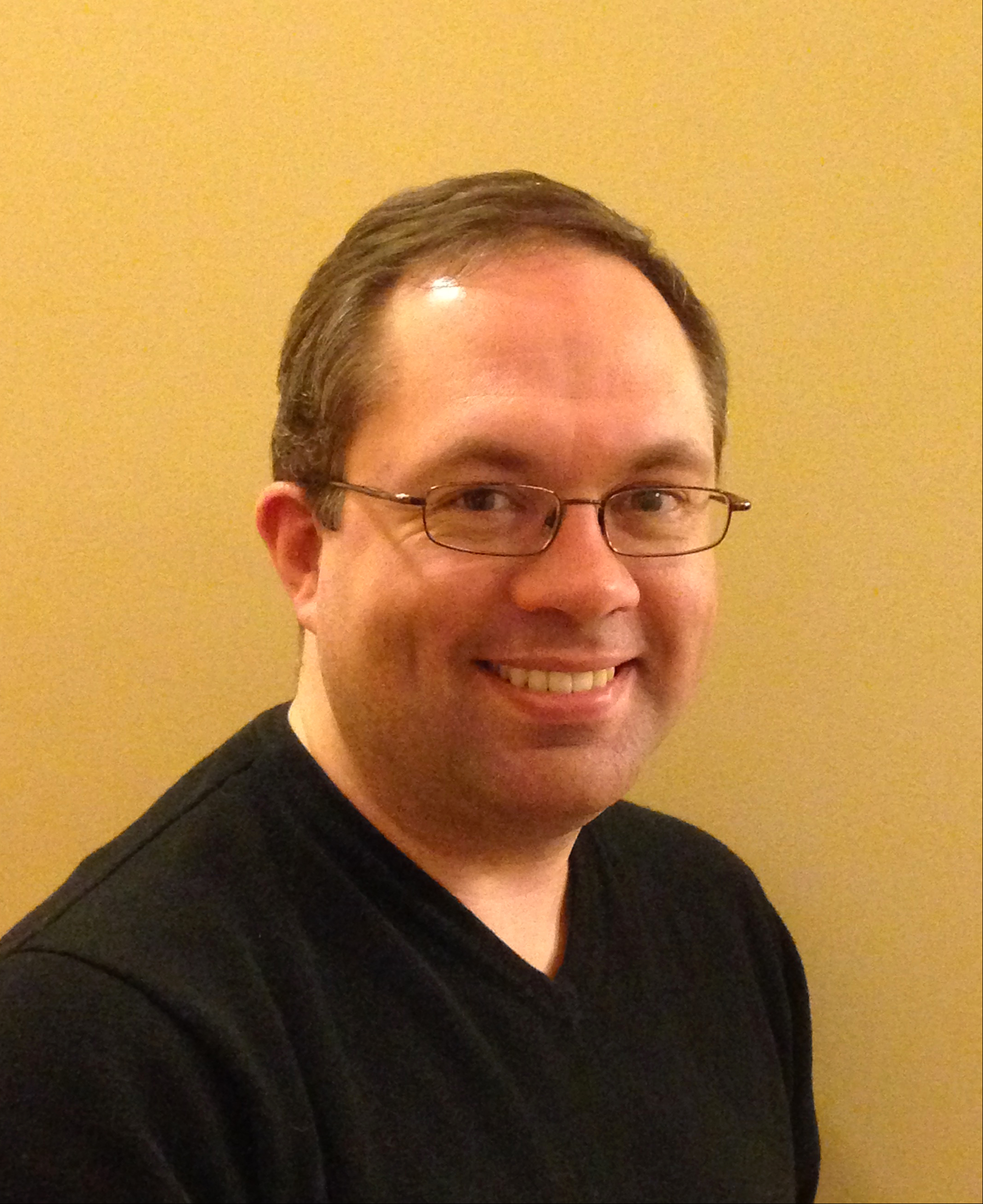 Matthew Claxton is a reporter living near Vancouver, British Columbia. His stories have appeared in Asimov's Science Fiction, Mothership Zeta, and The Year's Best Science Fiction 34. Rumours that he is three small dinosaurs standing on each other's shoulders in a trenchcoat have never been proven. You can follow him on Twitter @ouranosaurus.
---
If you enjoyed the story you might also want to visit our Support Page, or read the other story offerings.