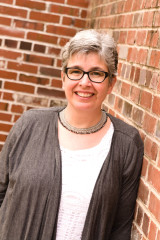 Ann Leckie's Ancillary Justice swept the awards. (See the list below.) The sequel, Ancillary Sword, is due in October 2014. The third novel in the trilogy will be titled Ancillary Mercy. Lecke is a Clarion West graduate, former VP of SFWA, founder of GigaNotoSaurus, and former slush editor for Podcastle. Her short fiction has appeared in Realms of Fantasy, Strange Horizons, Beneath Ceaseless Skies, and Subterranean Magazine.
CARL SLAUGHTER: YOU'RE A CLARION GRADUATE. WHAT DID YOU LEARN AT CLARION THAT MADE A CRUCIAL DIFFERENCE IN YOUR WRITING CAREER?
ANN LECKIE: I learned a *lot* at Clarion West. It would have been difficult not to. But I think there were two things that made the biggest difference.
One was something that, when I say it, maybe sounds kind of trivial. But it was so important. Which was, that before I went, I knew that I wanted to write, and I had been writing–of course, you have to send a sample of your fiction with your application. And I had written two novels (now trunked, fortunately) and several short stories, and had been submitting those short stories. But I was hesitant to say, "I'm a writer." I would, when asked, kind of hedge. "I'm trying to write."
After six weeks of being with people who took my work seriously, who all assumed that of *course* I was a writer, I went home feeling like I could take my own work seriously now. Not that I was holding back, or not taking it seriously before. But the "gosh should I really be doing this, am I wasting my time, what if I'm not really a writer?" part of my internal critic was gone, which psychologically freed me up to push harder and be more confident in my work. This might not be a big deal for some folks, but it was really important to me.
The second thing is maybe also a bit odd. So, our week six instructor was Michael Swanwick. Who is awesome. I mean, he read every single story each of us had applied with and also every single story we'd turned in during the entire workshop, and gave us critiques on every one of them. This is an amazing commitment, an incredible gift to us. And he's Michael freaking Swanwick, right? So when he critiqued the story I'd turned in for week six, he gave me all kinds of fabulous advice, much of it very specific, and I noted it all down and was all set to revise the story according to his advice. Because, seriously, it was, no question, excellent advice. How could it not be?
But the more I thought about it, the more it seemed to me that it was excellent advice for an entirely different story. Not the story I'd written, but the story he'd perceived in the shambles that was my first draft. And I said to myself, "Self, you can't actually take any of that advice. Instead, you need to rewrite the story in such a way that Michael Swanwick would not have misread it."
That story turned out to be my first genre sale, my first pro sale, and my first appearance in a Years Best anthology. And the vitally important lesson Michael Swanwick taught me was that sometimes you ought to ignore even the very best advice. Even if it comes from Michael Swanwick. Maybe that sounds trivial, too. But anyone who's been faced with several, possibly contradictory critiques of a story will probably know how incredibly useful that knowledge is.
CARL SLAUGHTER: FROM THE FIRST DRAFT OF ANCILLARY JUSTICE AS A SHORT STORY UNTIL YOU SOLD THE NOVEL MANUSCRIPT WAS, WHAT, 10 YEARS? WERE THERE TIMES DURING THAT DECADE WHEN YOU THOUGHT YOU'D NEVER FINISH THE BOOK OR THOUGHT IT WOULD NEVER BE GOOD ENOUGH TO SELL?
ANN LECKIE: Oh, merciful Unconquered Sun, yes. Pretty much the entire time I was working on it, plus the entire time I was querying agents. I've come to think of that as the normal emotional background of writing, actually.
CARL SLAUGHTER: YOU WERE WORKING ON THE MANUSCRIPT WHILE YOU HAD YOUNG CHILDREN IN THE HOUSE. HOW DID YOU MANAGE BOTH AT THE SAME TIME?
ANN LECKIE: With some difficulty. At first, I would write in the few hours a day that my toddler napped, while my older child was at school. When he stopped napping, I signed him up for morning nursery school and wrote then. Once both kids were in school full time it got easier, though I'd made my life a bit more complicated by taking a job as a lunch lady. I wasn't able to finish Ancillary Justice, though, until I quit that job and had school hours to myself. It would have been a zillion times harder if I'd had a full-time day job to handle. I've been really, really lucky.
CARL SLAUGHTER: ANCILLARY JUSTICE SWEPT THE AWARDS. ANY IDEA WHAT THE APPEAL OF THE STORY IS THAT MADE IT SO POPULAR?
ANN LECKIE: I honestly don't. Well, I did sit down to write a kind of story that I thought I'd enjoy reading. I threw in things that appealed to me–heck, I crowbarred them in. I was working the whole time with the assumption that it would never sell so I might as well please myself. I guess there are other people out there who like the same kinds of things I do!
CARL SLAUGHTER: YOU HAVEN'T DONE SHORT STORIES IN A WHILE. TOO BUSY WITH NOVELS?
ANN LECKIE: Pretty much, yes! Though I'd like to do more short fiction some time.
CARL SLAUGHTER: WHAT WAS YOUR INVOLVEMENT WITH GIGANOTOSAURUS AND WHAT WERE THE HIGHLIGHTS OF YOUR TIME THERE? WHAT ABOUT YOUR ROLE AT POD CASTLE?
ANN LECKIE: I started GigaNotoSaurus because I'd inherited a bit of money, and I felt that there weren't enough places publishing longer fiction. I've been really pleased with how it's turned out: in its first year, two stories I published were nominated for Nebulas, and another one the next year. And I published some amazing work by amazing writers, like Zen Cho's "House of Aunts" or Benjanun Sriduangkaew's "Woman of the Sun, Woman of the Moon." Or Yoon Ha Lee's "The Winged City." Or…I could go on.
Podcastle–when Rachel Swirsky became editor of Podcastle (that was before PC had even started running) she asked me if I'd like to read slush for her. And I said yes, because it seemed like it would be fun. And it was! I also did some episode intros, and narrated some stories, which was also great fun. When Rachel was ready to step down, she asked me if I was interested in editing, but I was already setting up GNS, and felt two editing gigs would be too much. So I stayed on slushing for Anna and Dave when they took over.
I enjoyed it very much, but I've stepped down as slusher there, and turned over my GNS editing duties to Rashida J Smith, because noveling right now is taking up a lot of brain space.
CARL SLAUGHTER: WHAT PERSPECTIVE DID YOU GAIN DURING YOUR TIME AS SECRETARY OF SFWA?
ANN LECKIE: There's a lot of work that goes on behind the scenes at a volunteer organization. Orgs like SFWA continue to exist and function because of the hard work of folks who actually have lots of other things to attend to, and they spend their free time doing that hard work. And it's easy for members to think of the Board (or whatever the org equivalent is) as "them" to our "us" but really "they" are us to begin with. I've come to be a bit more patient with how slow some organizational decisions are, and how easy it is to think a particular issue or procedure is just a matter of immediately doing one particular thing, when really it's more difficult and complicated than that, for reasons that aren't necessarily visible to me.
CARL SLAUGHTER: GOT ANY ADVICE TO ASPIRING SPECULATIVE FICTION WRITERS?
ANN LECKIE: Yes! Don't give up. Be willing to take criticism, be willing to reconsider what you're doing, but once you've decided on what you're doing, do that. Don't worry about what someone told you editors want or don't want, don't worry about whether your work is marketable, don't worry about lists of "rules" that tell you not to use second person or never to use adverbs or whatever. Just do it, and do it as awesomely as you can at that particular time in your life, and trust the universe for the rest. And when it's done, send it out and try to forget about it, and start working on the next thing. And speaking as a former slusher–when you submit, always read and follow the guidelines!
Ancillary Justice won the following awards:
2014 Hugo Award for Best Novel
Golden Tentacle for best debut novel of 2013.
Arthur C. Clarke Award for best science fiction novel of the year.
British Science Fiction Association BSFA Award for Best Novel of 2013.
Nebula Award for Best Novel.
Locus Award for Best First Novel.
The novel was also nominated for the following awards:
Shortlisted for the Philip K. Dick Award.
Tiptree Award Honor List for 2013.
Finalist for the 2013 Compton Crook Award.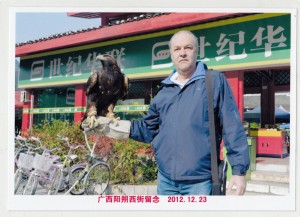 Carl Slaughter is a man of the world. For the last decade, he has traveled the globe as an ESL teacher in 17 countries on 3 continents, collecting souvenir paintings from China, Korea, Thailand, Vietnam, and Egypt, as well as dresses from Egypt, and masks from Kenya, along the way. He spends a ridiculous amount of time and an alarming amount of money in bookstores. He has a large ESL book review website, an exhaustive FAQ about teaching English in China, and a collection of 75 English language newspapers from 15 countries.