Content note (click for details)

Content note: eating disorders
The wifi is out in Scylla's cave. The four dog heads around her waist whine as she scutter-paces, twelve feet tapping on the cave floor. Scylla wants to check her email. She wants to see if that jerkface troll is still active on the disordered eating board she moderates, and catch up on her feeds, and check the status of her latest online orders, and all the other things she has in her morning routine these days. She stares with half her heads across the water, three long necks stretching toward the mouth of the cave. She is trying to be subtle about it.
She won't bother Charybdis for this. They used to go for years not speaking—decades sometimes! —and Charybdis loved that silence. She is the ultimate introvert, on her little island of rock. Scylla can wait. It's fine. She's had time beyond measure to work on patience.
Across the strait, Charybdis squints against the sun at the restless shadow in the cave. She peels herself off the rock and undulates over to the shelter where she keeps precious things—carved bone and wood mementos, solar panels and electronics, a tea set for guests. There she delicately pokes the router into resetting with one fin.
The whorling motion in the gloomy cave settles as the lights blink back to green. Charybdis smiles a nearly mile-wide grin and goes back to basking.
This is how they are with each other.
*
They get drone-dropped deliveries, to the rock or the cave mouth. Some things come by crate, floated in on little recyclable rafts that Scylla gleefully pops.
There are no ships. No boats, no tankers, no submarines or skiffs. Not for a very long time. Scylla makes due with copious amounts of fish and protein shakes. The dog heads prefer kibble, but she has standards. She may have ten total mouths, but there's only one stomach, after all. The kibble is just for special occasions.
She desperately misses eating sailors.
Charybdis has always been a vegetarian. Phytoplankton is her favorite. In copious amounts.
Neither of them really get what they want anymore—the crush crack of wooden ships in the whirlpool, the screams of men. They've found better ways to sate their appetites.
*
Scylla's typing rate is proportional to her fury. Today, she is expressing bone-crunching anger at BroAcles69, the jerkface of the day. She is working on yet another paragraph about why he should be permabanned (and eviscerated, iced, and delivered to her cave in bite-sized pieces, please and thank you) for how he treated vulnerable community members, when a whine from near her hip breaks her concentration. Charybdis is in the mouth of the cave, half out of the water, watching her.
"How long have you been there?" Scylla spits some of her shark teeth into the bucket by her stool, surprised to find it overflowing. She must have been grinding for a while. All six of her necks are tense and whipcord tight.
Charybdis's voice is a whisper of gravel. "That's my line."
Scylla gestures at the screen, all grasping claws and emotion, eloquence lost as she realizes she's been at this for days now without a break.
"You take it all too personally. You always have." Charybdis pushes off the ledge and lets the current take her. Scylla notices then that she brought gifts, just like in the old days—there's a long twist of sturdy rope for the dog heads to play tug-of-war with, and red nail polish in Scylla's favorite shade. Best of all, there's a new pair of boots.
She deletes all but the first seven lines of the screed, posts, and turns away from the computer. He doesn't deserve any more than that anyway. Charybdis is asking her to come back to the world, and there are new shoes to try on. Scylla flexes the tips of two of her tentacles into the right size and shape for the new boots and smiles. She'll need to find some suitable gifts, too. This volley will not be unanswered.
*
Charybdis is coughing off her rock, retching out the sea again. Scylla sits, twelve bare feet all dangling into the rapidly rising water. She scritches Enki and Adapa between the ears, waiting. The waters will be swirling with powerful currents until sunset. It's been a while since Charybdis drank down too much and had to purge like this—a long while, honestly.
When Charybdis is done, shriveled and shivering on her rock, Scylla counts slowly to a thousand, and then calls across to her in six-voiced unison over the roaring waters between them. "Snack time, Chary."
She waves fins in an exhausted but complicated looping gesture. It roughly translates to "Leave me alone, I couldn't possibly eat, ugh, everything is terrible."
Scylla smiles toothy grins. "I know. But you need your strength. There's miso soup and a seaweed salad over near the shelter for you. Just a few bites and I'll leave you be."
Charybdis relents and slowly slouches toward the food. They've learned over the long ages that having something after the purge helps moderate her appetite. It means the next cycle will be slower, gentler. Anything slow and gentle in this world is to be cherished.
Scylla sucks at moderation, herself. Affectionate extremes, though, she excels at. Behind her, the computer dings repeatedly. She ignores it, watching to make sure Charybdis eats, muttering encouragement under her breaths. The monsters in the world will wait. Her friend is what matters, and today, they've got this.
---
© 2022 by Cislyn Smith
900 words
Author's Note: I studied classical civilizations in college, and have long had a fascination with the monsters of Greek mythology. When I was presented with the prompt "What does the monster think?" for a writing challenge, it didn't take me long to fall into the what-ifs of Scylla and Charybdis and their long, immortal relationship.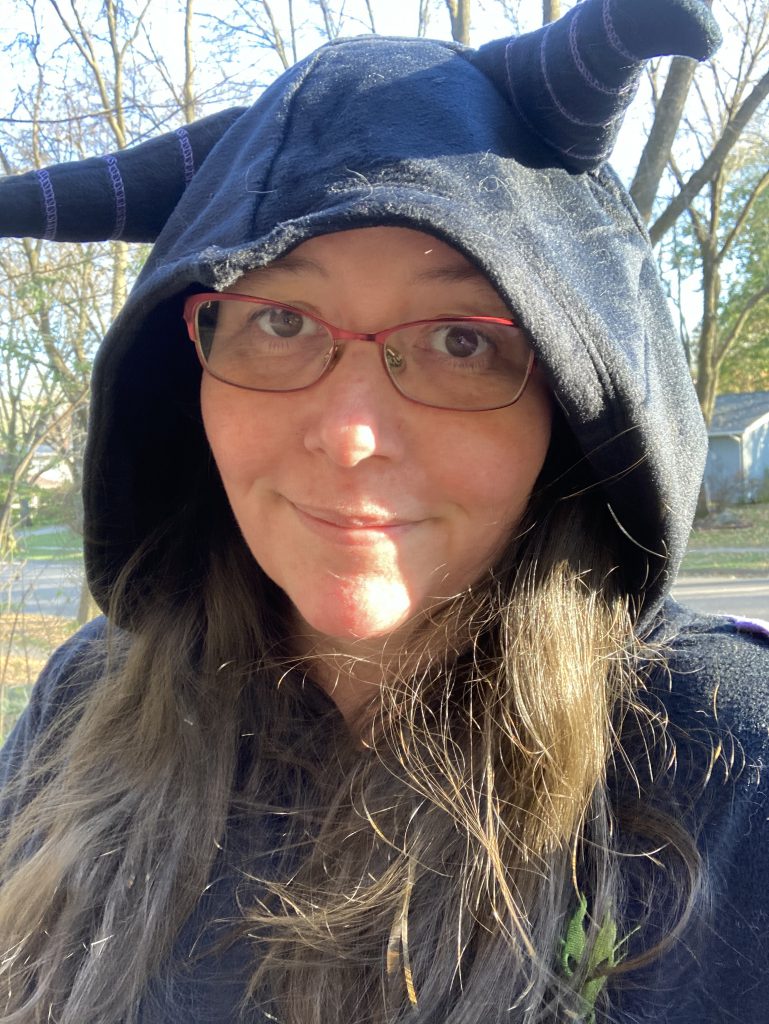 Cislyn Smith is a speculative poet and short story writer who likes playing pretend, playing games, and playing with words. She calls Madison, Wisconsin home. She has been known to crochet tentacles, write stories and poems at odd hours, and gallivant. Her wordy work has appeared in Strange Horizons, Daily Science Fiction, and Flash Fiction Online. She is a graduate of the Viable Paradise workshop, a first reader for Uncanny Magazine and GigaNotoSaurus, and one of the founders of the Dream Foundry. She wears a lot of hats both metaphorically and literally.
---
If you enjoyed the story you might also want to visit our Support Page, or read the other story offerings. Cislyn Smith's story "The Dictionary For Dreamers" has appeared in Diabolical Plots previously.