written by David Steffen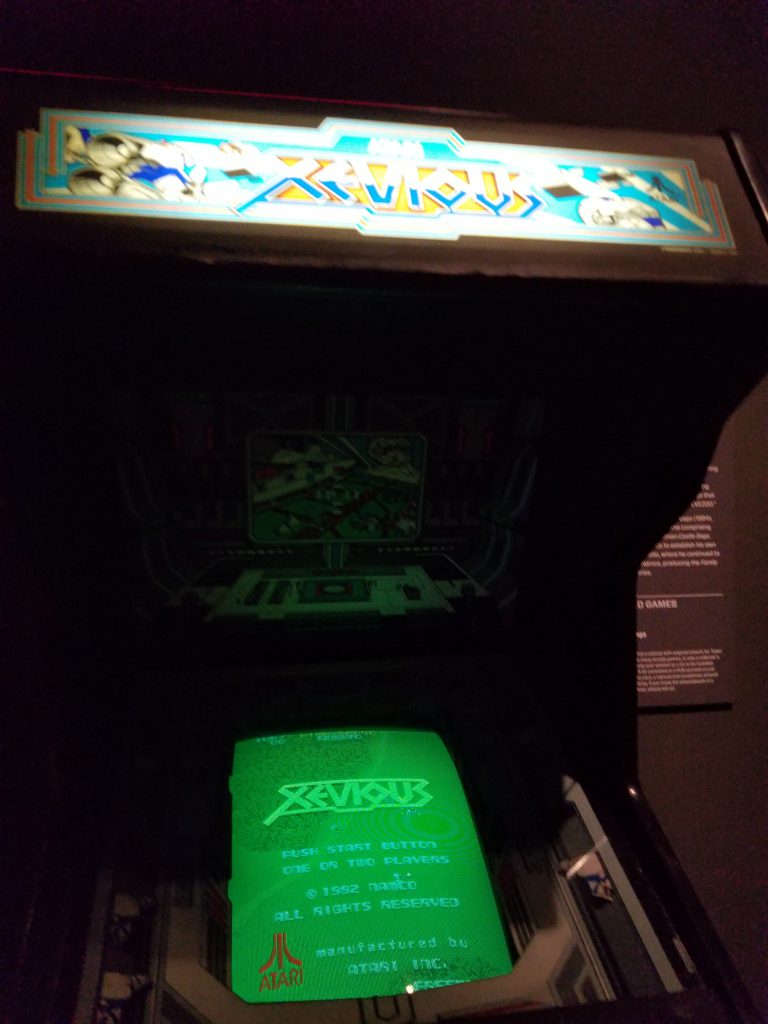 Xevious is a 1983 vertical-scrolling top-down shooter arcade game published by Namco.
In the game you have two weapons: a laser that fires straight forward that can destroy air targets, and a bomb that fires forward suitable only for land-based targets. As you travel through the level, other flying ships are firing back, as well as ground-based turrets and tanks, reflective obstacles that can only be avoided, as well as boss fights.
I played this game for the first time at the Game Changers exhibit at the Science Museum of Minnesota.
Visuals
Quite good for the era! Much more detailed than some of its contemporaries.
Audio
Typical for the era.
Challenge
High.
Story
Not much story (typical of the era and format).
Session Time
Depends how good you are!
Playability
Simple, apart from it not being immediately obvious that ground forces CAN be destroyed (lasers fire over the top of them and it takes a little trial and error to figure out the bombs). Joystick for movement, and two fire buttons.
Replayability
Not in the usual way I mean, but if you like this kind of game there's certainly plenty of fun to be had.
Originality
It was a groundbreaking design of this type of its time, so any perceived lack of originality may be because you've played other games inspired by it..
Playtime
I don't know how long it would take to play all the way through.
Overall
This is a fun shooter arcade game if you like classic shooter games this is a solid one from the era. If you want to play it now you can find it on some recent-ish game systems, such as Game Boy Advance on Amazon for $12.