interviewed by Carl Slaughter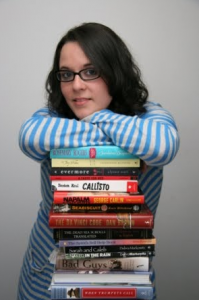 Joanna Volpe is the founder of New Leaf literary agency. New Leaf represents Veronica Roth, author of the Divergent series, now a hit movie. They also represent Leigh Bardugo, author of the New York Times best seller Shadow and Bone, which is scheduled to hit the screen in 2015. Joanna has build a stable of talented authors who share her passion for storytelling. She also hired a screen agent with an impressive resume. She has business savvy and keen editorial instinct. She has succeeded at every stage in her career. She is an agent to watch, an agent to work with.
CARL SLAUGHTER: MOST LITERARY AGENTS TRANSITION FROM BOOK EDITOR. YOU LEAPFROGGED THAT STAGE. HOW DID YOU ACHIEVE SUCCESS WITHOUT EDITORIAL BACKGROUND?
Joanna Volpe: Really? Many agents I know were never an editor. In fact, they come from all walks of life: lawyers, film industry, teaching, social work, etc. I do have some editorial background; I worked for a small press called Blue Marlin Publications my first year in the business. Outside of that, I'm a self-taught editor and a lot of that came from reading and writing myself. I'm a terrible writer though. But I should also note that editing my clients work is a small portion of my job, and in fact my job is to find them the right editor! So I think it's definitely OK not to be an editor first.
YOU WERE COMPARATIVELY YOUNG WHEN YOU MADE THE MOVE FROM AGENT TO ENTREPRENEUR. WHY LAUNCH YOUR OWN BUSINESS SO EARLY IN YOUR CAREER? WASN'T THAT A BIG RISK?
Agents are entrepreneurs, even when they're working for someone else. Running your own client list might as well be running a mini-business. So the leap wasn't that difficult to make. Of course there is risk involved whenever you're laying your own money on the line, but I knew it was a risk worth taking. I wasn't planning on doing it so soon, but it was the right time for Nancy to take a step back, and that helped me to make the decision.
NOW THAT YOU OWN YOUR OWN AGENCY, DO YOU STILL HAVE TIME FOR AGENTING OR DO YOU SPEND MOST OF YOUR TIME MANAGING THE BUSINESS AND MANAGING THE STAFF?
At first it was a big (and rather difficult) adjustment, and we're still trying to perfect the system. I hired a CFO and business manager about a year ago and it was the best decision I ever made. He is brilliant and handles most of the management so I can focus on my clients.
OPERATING A SUCCESSFUL AGENCY REQUIRES PLAYING AND WINNING THE NUMBERS GAME, NOT JUST BEING ABLE TO RECOGNIZE GOOD LITERARY QUALITY. HOW DID YOU MASTER THE BUSINESS SIDE OF THE EQUATION? MENTOR? NIGHT CLASSES? FINANCE MANAGER? JUST GOOD WITH NUMBERS?
How about all of the above? My parents have owned and operated their own businesses my whole life, so I grew up in an environment where work was home and home was work. My father always says that "you have to be creative to stay in the game," and he's absolutely right. He is the guy on-the-ground, and my mom is the bookkeeper. I helped her in the office when I was a kid, and she had me balancing my own checkbook by the time I hit 6th grade. That's just how my childhood was. But even beyond that, I've had a number of mentors over the years that continue to inspire me. I also took some night classes in the NYU publishing program in 2006 and 2007, and they were really helpful. And of course, there's my CFO. He changed the way I was looking at the Big Picture, and I'm so grateful to him for his expertise! And finally, I have a fantastic financial adviser. As you can see, success is rarely won alone.
QUERIES, PARTIALS, SUBMISSIONS, MANUSCRIPTS, CLIENT MANUSCRIPTS, CONTRACTS, EMAILS, PHONE CALLS, MEETINGS. HOW DO YOU JUGGLE ALL THE LOGISTICS? DO PERFORM TRIAGE OR DO YOU ALLOT CERTAIN TIMES AND A CERTAIN AMOUNT OF TIME FOR EACH TASK?
Ha! I wish I had a good answer for this one. I'm still trying to figure out the best way to juggle it, especially when you throw a lot of traveling into the mix, which is what my 2014 has been looking like. (It's only May, and I've been to 7 different states and 2 countries this year!) All I can say is that I have an incredible team, and I wouldn't be able to juggle any of it without them.
DO YOU STILL READ ALL YOUR SLUSH? DO YOU STILL HAVE TIME TO READ BOOKS THAT ARE NOT IN THE SLUSH PILE?
I read some slush, and I also have an assistant who reads a lot of things first. It just depends–we actually discuss it first and split it up each week. I'm desperately trying to make more time for published books that aren't client books. It's important for agents to read a lot and read widely so we can keep our fingers on the pulse! But it's sometimes tough to squeeze it in.
DO YOU STILL HAVE TIME FOR WRITERS CONFERENCES, WRITERS WORKSHOPS, AND GUEST ADVICE COLUMNS?
I'll do 1-2 a year of these things, but not as much as I used to. I also contribute to an awesome and informative publishing blog called Publishing Crawl.
"LUNCH WITH THE EDITOR." IS THIS LEGENDARY RITUAL UNDERRATED OR OVERRATED?
Both. It's not nearly as fancy as someone might think (though it can be, sometimes). But it's also underrated in the fact that too many people rely on social media to interact these days! A lunch can be so much fun, and it's still the best way to really get to know an editor.
HOW OFTEN DO YOU DECIDE TO REPRESENT A BOOK BUT CAN'T FIND A PUBLISHER FOR IT? HOW MANY TIMES DO YOU SUBMIT A MANUSCRIPT BEFORE FINDING A BUYER?
This truly is on a case-by-case basis, and also dependent on where I am in my career and what kind of talent is seeking me out. As for how many rounds of submissions I'll do–usually just two, though it also depends on whether or not we've revised significantly again.
HOW MANY COPIES OF A DEBUT SPECULATIVE FICTION NOVEL COME OFF SHELF BEFORE AN AGENT SMILES? HOW MANY COPIES OF A NOVEL SELL BEFORE YOU HEAR PEOPLE SAY, "OH, SO YOU REPRESENT SUCH-N-SUCH BOOK" OR "OH, SO YOU REPRESENT SUCH-N-SUCH AUTHOR"?
This also depends! It's not so much about the amount of copies as it is about the entire package and publication roll out. It also depends on how much a publisher paid for the book in the first place. Different things make me smile, not just sales numbers. But as for when I start to REGULARLY get praise for a book or author–that's usually after it's hit 50,000 copies if I had to guess. There are exceptions to this though, and I do get praise for clients who don't hit that number as well.
DO REVIEWS HAVE AN IMPACT ON SALES? DO THEY IMPACT MANUSCRIPT BUYING POLICIES AND HABITS? DO YOU CULTIVATE RELATIONSHIPS WITH REVIEWERS?
They can have an impact on sales, but not always. Reviews don't impact my manuscript representation policies or habits though. Just to clarify–agents don't buy manuscripts. We represent the authors and the work. As far as relationships with reviewers go, I value the relationships I do have with them very much.
DIVERGENT RECENTLY HIT THE BIG SCREEN AND HAD A SMASHING OPENING WEEKEND. "DIVERGENT BREAKS THE YA CURSE" READ THE HEADLINE IN THE WIRE. SHADOW AND BONE IS SCHEDULED TO HIT THE BIG SCREEEN NEXT YEAR. YOU'VE GOT A SCREEN AGENT WITH SOME IMPRESSIVE CREDENTIALS. ARE YOU PLANNING TO EXPAND SIGNIFICANTLY INTO SCREEN?
Divergent opening in theaters was a thrilling experience. Shadow and Bone is still in the very early stages of development, but we've placed it in good hands at Dreamworks. I do have another project that starts filming next month called The DUFF by Kody Keplinger. I would love to see more of our projects break into this arena, but I also know it's a very long and arduous journey, each and every time.
WHEN YOU DECIDE WHETHER TO REPRESENT A MANUSCRIPT, IS SCREEN ADAPTABILITY PART OF THE FORMULA? ARE YOU MORE INCLINED TO REPRESENT IF IT'S SCREEN ADAPTABLE? ARE YOU LESS INCLINED TO REPRESENT IF IT'S NOT SCREEN ADAPTABLE?
I got into this business because I love books, first and always. Whether or not something is more inclined to be screen adaptable is not something I take into account when considering if I should represent the author for the long haul.
MORE AND MORE, AGENTS ARE PLAYING THE ROLE OF EDITOR AND PUBLICIST. PUBLISHERS HAVE EDITORS AND PUBLICISTS. WHAT ARE YOU DOING THAT THEY AREN'T DOING? HOW DID YOU ASSUME THOSE ROLES? AREN'T PUBLISHERS GOING TO START CUTTING EDITORIAL AND PUBLICITY BUDGETS WHEN THEY REALIZE AGENCIES ARE TAKING ON THESE ROLES? ARE YOU GETTING A HIGHER PERCENTAGE OF SALES FOR ALL THIS WORK?
They've already been cutting budgets across the board, even before agents stepped up their game in these areas. If I want my clients to succeed, I need to go to sleep every night and know that I did everything I reasonably could to help them do so.
I'VE NOTICED IN YOUR AUTHOR'S BLOGS THAT THEY SPONSOR AN AWFUL LOT OF CONTESTS AND GIVEAWAYS AND MAKE AN AWFUL LOT OF VISITS TO SCHOOLS, CLUB MEETINGS, AND CONVENTIONS. IS ALL THIS ACTIVITY AUTHOR BRANDING, STORY EXPOSURE, FAN BASE BUILDING, OR SUPPLEMENTAL SALES? ISN'T THE POWER OF THE STORY ITSELF THE PRIMARY FACTOR IN SALES?
Depending on the author and the project and the event, it could be any one of those reasons you list, but I do think it all comes down to story exposure and fanbase building. All of the bells and whistles in the world aren't going to make up for a bad book. So yes, I agree that the power of the story itself is essential, but unfortunately not the primary factor in sales. I've seen many a brilliant book go on to sell very little. I hate when I see that.
WHY IS IT AUTHORS -MUST- HAVE AN ONLINE PRESENCE? AREN'T THE BRICK AND MORTAR STORES STILL IN BUSINESS? DON'T READERS STILL BROWSE THE SHELVES? WHAT CAN A BLOG OR SOCIAL NETWORKING SITE DO THAT GOOD READS AND AMAZON CAN'T DO?
These questions don't act against one another–they are all part of the whole. Are brick and mortar stores still in business? Yes–and thank goodness for them! Do readers still browse the shelves? Some do. What can a blog or social networking site do that Good Reads and Amazon can't? Well, social media gives readers a direct connection to content creators. That's something that would have been very difficult to do before social media existed. Why must authors have an online presence? Because of consumer expectation. But I don't think authors need to do everything (Facebook, Twitter, Instagram, Pinterest, etc). They should find the one thing they feel comfortable doing and do it well.
HOW IS IT POSSIBLE TO SUMMARIZE A 100,000 WORD NOVEL IN A 2 PARAGRAPH QUERY THOROUGHLY ENOUGH AND CONVINCINGLY ENOUGH TO GET OUT OF THE SLUSH PILE?
It's possible. Every client I've signed has done it. It just takes practice.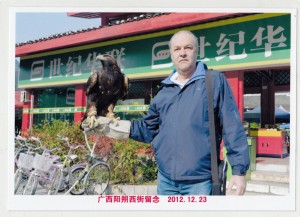 Carl Slaughter is a man of the world. For the last decade, he has traveled the globe as an ESL teacher in 17 countries on 3 continents, collecting souvenir paintings from China, Korea, Thailand, Vietnam, and Egypt, as well as dresses from Egypt, and masks from Kenya, along the way. He spends a ridiculous amount of time and an alarming amount of money in bookstores. He has a large ESL book review website, an exhaustive FAQ about teaching English in China, and a collection of 75 English language newspapers from 15 countries.