written by Laurie Tom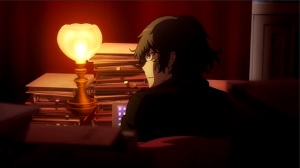 Rampo Kitan: Game of Laplace commemorates the 50th anniversary of the death of renowned Japanese mystery author Rampo Edogawa, and each episode is based on one of his works, updating the time period from the first half of the 20th century to modern day.
Because the original pieces are not necessarily related, this results in a particularly disjointed feeling when the third episode appears to be a simple stand alone after the two-part opener, and I wasn't sure if the series had anything more ambitious than modernizing a collection of fiction. Fortunately, Rampo Kitan makes an effort from episode 4 on to tie everything together into a loose, but cohesive story arc.
The main characters come from the Kogoro Akechi stories, though Akechi himself is now a dour teen detective instead of a married adult. Assisting him are Kobayashi, a middle school boy with a penchant for crossdressing (a trait he had in the original works), and Hashiba, Kobayashi's worrywort classmate.
Together they get involved in solving criminal cases (usually murder) that in the real world a teenager, let alone a couple of middle schoolers, would never be allowed near. Despite the ages of the protagonists, Rampo Kitan: Game of Laplace is definitely not for those with sensitivities as many elements of the show are violent, gross, or sexually disturbing. It makes me wonder why the adaptation team decided to make all the protagonists younger.
Rather than deal with excessively censoring the show to get it on the air, the animation studio, Lerche, opted to heavily stylize most of it, which as a result makes it a unique watch. Rampo Kitan is frequently presented as though it is on a stage, with things like interior monologues happening while the viewpoint character is standing on a wooden floor with a spotlight over them. Sets slide in and out of view as needed and autopsy reports are delivered in quick comedic sketches designed to get the grisly information across without dwelling on it.
Some of the crimes are gruesome enough that those with lighter stomachs might appreciate any attempt to soften what actually happens to some of the murder victims, even the ones that had it arguably had it coming.
The stylization extends to a few viewpoint characters who have trouble seeing the world as most people do. When the camera is depicting their points of view, individuals they don't know or care about are not drawn recognizably as people until they become important enough to be worth it. For instance, Kobayashi, our first POV character, views most other people as simply silhouettes, indistinguishable from one another until they become intrusive enough that he's forced to acknowledge them. Characters that cease to be important, go back to being silhouettes.
Rampo Kitan is stuffed with interesting visuals like those to frame the story and the frame of mind of the current POV character.
That said, it needs them, because the plot itself is not its strongest point, which is probably the most disappointing thing to say about a series made in honor of a celebrated mystery author.
Most of the time it's not possible to figure out who the criminal is ahead of time, which is downright miserly for a mystery series, and as a procedural it doesn't feel like there's enough emphasis on procedure. If the criminal's identity isn't confirmed before capture, the audience rarely has a chance to draw their own conclusion, and if the criminal is revealed, then capture is rarely more complicated than bringing in enough police officers, with the exception of the main story arc villain.
After Twenty Faces becomes established as a central figure, the series gains its main plot, and Akechi is more clearly allowed to be a main character. Kobayashi dominates much of the early episodes, which is rough since he's difficult to relate to. He's the kind of character who is thrilled to be in the middle of a murder mystery, even if it means he's the prime suspect, and it never quite sinks in his head that he should be bothered by that.
Kobayashi never fades away entirely, but it always felt like Akechi should be the primary protagonist, being based off Edogawa's most famous detective. Here, as in the original stories, Akechi has a rivalry with Twenty Faces.
Despite being a teenager, Akechi feels like a young adult who has been worn down before his time. He's constantly mashing up painkillers that he washes down with canned coffee and treats his work like a job rather than a game or a means to play hero. This makes him believable when he's called on by the police as a consulting detective.
It feels like Rampo Kitan wanted to make a statement about society, alienation, and how the cycle of violence never ends, but it doesn't quite make it. The only things that clearly come across are the bonds between Akechi and Twenty Faces, between Kobayashi and Hashiba, and that good people will do awful things when they feel they've been let down by the ones who should protect them.
Though I enjoyed Rampo Kitan I don't think it's one to easily recommend. It's worth trying for something different, particularly if you like to see something new in animated story techniques, but most of the characters outside of Akechi and Twenty Faces are not that well developed and neither is the plot.
Number of Episodes: 11
Pluses: use of imagery and stylization make for a visually unique show, moving soundtrack, Akechi's weary personality is a refreshing change from more enthusiastic teenage protagonists
Minuses: rocky beginning, too much focus on Kobayashi, plot is a little lackluster
Rampo Kitan: Game of Laplace is currently streaming at Funimation and Hulu and is available subtitled. Funimation has licensed this for eventual retail distribution in the US.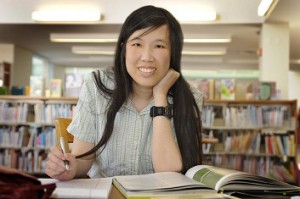 Laurie Tom is a fantasy and science fiction writer based in southern California. Since she was a kid she has considered books, video games, and anime in roughly equal portions to be her primary source of entertainment. Laurie is a previous grand prize winner of Writers of the Future and since then her work has been published inGalaxy's Edge, Strange Horizons, andCrossed Genres.