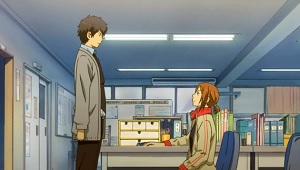 Despite taking place mostly in a high school, ReLIFE seems to be designed to appeal to people in their twenties and thirties, following the misadventures of twenty-seven year old Arata Kaizaki.
Arata got out of grad school a little later than most, got his first job, and then quit after three months. Being twenty-seven and jack to show for work experience, he found himself completely unhireable by any white collar company. To make ends meet he ends up taking a part-time job at a convenience store which doesn't pay enough to cover rent, and to make matters worse, his mom intents to cut off her support and have him move home.
His situation, being college educated and still struggling to obtain a full time job, is something easily relatable for anyone who's been in a tough job market.
Fortunately for Arata, the ReLife company steps in and makes him a deal. They're working on an experimental program to rehabilitate people who've fallen out of the job market, and they need test subjects. In exchange for being a program participant, Arata will be paid a full year's worth of living expenses, and if the program is successful, he will also be given job opportunities.
Though initially skeptical, Arata ends up taking the program medication after a night's drinking, and wakes up to find himself de-aged to seventeen. Initially he does not take this well, but considering his other options, he agrees to sign up.
The program sends him back to high school as a third year student (a senior in the US) where he will have to study and relearn what he's lost. And it's not simply the course material, which he's completely forgotten like any other adult who's been out of high school for ten years.
As we follow Arata's adjustment to being a student in school, we see the difference in how he behaved as an adult, at the bottom of his company's social hierarchy, and how he behaves as a student, where he feels free to say whatever is on his mind.
Watching Arata is the biggest joy in the series and the biggest source of comedy. At first it's because he's been out of school (and an adult) so long that he screws up things like forgetting to bring a pencil to class, bringing cigarettes to class, and worrying about outdated restrictions like whether it's okay to bring cell phones to class.
But later, the fact Arata is twenty-seven makes a difference when it comes to friendships and his interactions with the other students. Because Arata is actually older, he pushes and encourages the teens around him to be more honest about their feelings and to step out of their comfort zones because he's well aware that high school isn't going to last forever.
The refreshing thing is that because he's considered such a goof-up by his classmates (he's forever in make-up test hell due to his grades) the exchange between him and his classmates feels equivalent. Arata may have more life experience, but he's far from an older brother or mentor figure, and many times when he's talking to them, he comes to realize how he may have failed in those very circumstances himself.
Arata is not the only adult character masquerading as a teenager in the story (he has ReLife support staff watching him too), and it's interesting seeing the differences between how the adult characters pretending to be teenagers differ from the actual teenagers. None of the adults flat out behave as adults, but they're much more inclined to act based what they think is the best action, where the teenagers tend to hesitate.
Unfortunately, the manga is still running and is only a handful of volumes in, so the ReLIFE anime doesn't have anything close to an ending. The finish episode wraps up with a revelation about one of the characters and settles into a new normal as the credits roll.
It's not particularly satisfying since this ends Arata's story four months into his year as a high school student, but if one doesn't mind the lack of an ending, it's a fun watch.
Number of Episodes: 13
Pluses: painfully relatable for its target audience, adult perspective on high school hang-ups, Arata being a fish out of water
Minuses: whenever the show deviates from Arata and his immediate circle of friends, no ending, Arata's ongoing incompetence at tests gets old after a while
ReLIFE is currently streaming at Crunchyroll and is available subtitled.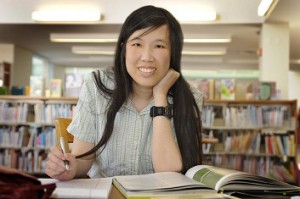 Laurie Tom is a fantasy and science fiction writer based in southern California. Since she was a kid she has considered books, video games, and anime in roughly equal portions to be her primary source of entertainment. Laurie is a previous grand prize winner of Writers of the Future and since then her work has been published in Galaxy's Edge, Strange Horizons, and the Year's Best YA Speculative Fiction.