written by David Steffen
Another category in the Hugo Award review series for this year, this is for the Dramatic Presentation Long Form category which covers dramatic presentations (most often movies, but it could be dramatic stageplays or video games).
Not reviewed here are Deadpool, because it had cycled back out of Redbox by the time I looked for it, and Stranger Things, which I haven't gotten my hands on either.
1. Hidden Figures, screenplay by Allison Schroeder and Theodore Melfi, directed by Theodore Melfi (Fox 2000 Pictures/Chernin Entertainment/Levantine Films/TSG Entertainment)
Hidden Figures is a drama based on the true story of three Black women who played pivotal roles in the space race, making John Glenn the first American to orbit the earth in 1962.  All three women worked for NASA in the segregated "colored" group : Katherine Johnson (Taraji P. Henson) worked as a computer ("computer" at the time was an occupation of people who did calculations, rather than the modern use of being a machine), Mary Jackson (Janelle Monae) as an aspiring engineer, and Dorothy Vaughan as an unofficial supervisor.  After the Soviet launch of the Sputnik satellite, the USA pushes to catch up in the space race and many people at NASA push back against prejudice to give these women the chance they deserve.
This is an incredible movie, with incredible actors, and tells a story of the space race that I had never heard before, with the focus usually on the astronauts on the front lines.  They fought for what they wanted to do, and in a place and society that was always holding them down they fought for their place and they succeeded, playing an integral part in American history (the tragedy being that their role had not reached much of the public awareness until this movie).  This movie does a great job not only portraying the conflict between the US and the USSR at that tense time, but also the race conflict in America in a time when segregation had officially been ended but was still in effect in many regions.  Great film, and I can see why it has been so acclaimed.
2. Arrival, screenplay by Eric Heisserer based on a short story by Ted Chiang, directed by Denis Villeneuve (21 Laps Entertainment/FilmNation Entertainment/Lava Bear Films)
I reviewed this movie here on Diabolical Plots in December, and for the Ray Bradbury Finalists review.
Arrival is a science fiction first contact story starring Amy Adams as Louise Banks, one of the linguists recruited by the US government to learn how to communicate with the aliens dwelling inside one of the twelve giant ships that have suddenly appeared all over the world–this one in Montana.  Why are the aliens here?  What do they want?  The world trembles on the brink of war from the tension of not knowing, and it is up to Louise and her team to find out the truth.
This movie is tense and compelling with compelling characters and cool SFnal ideas based around the classic challenge of first contact.  It is based on a story written by Ted Chiang, one of my favorite short fiction authors, and is well worth seeing.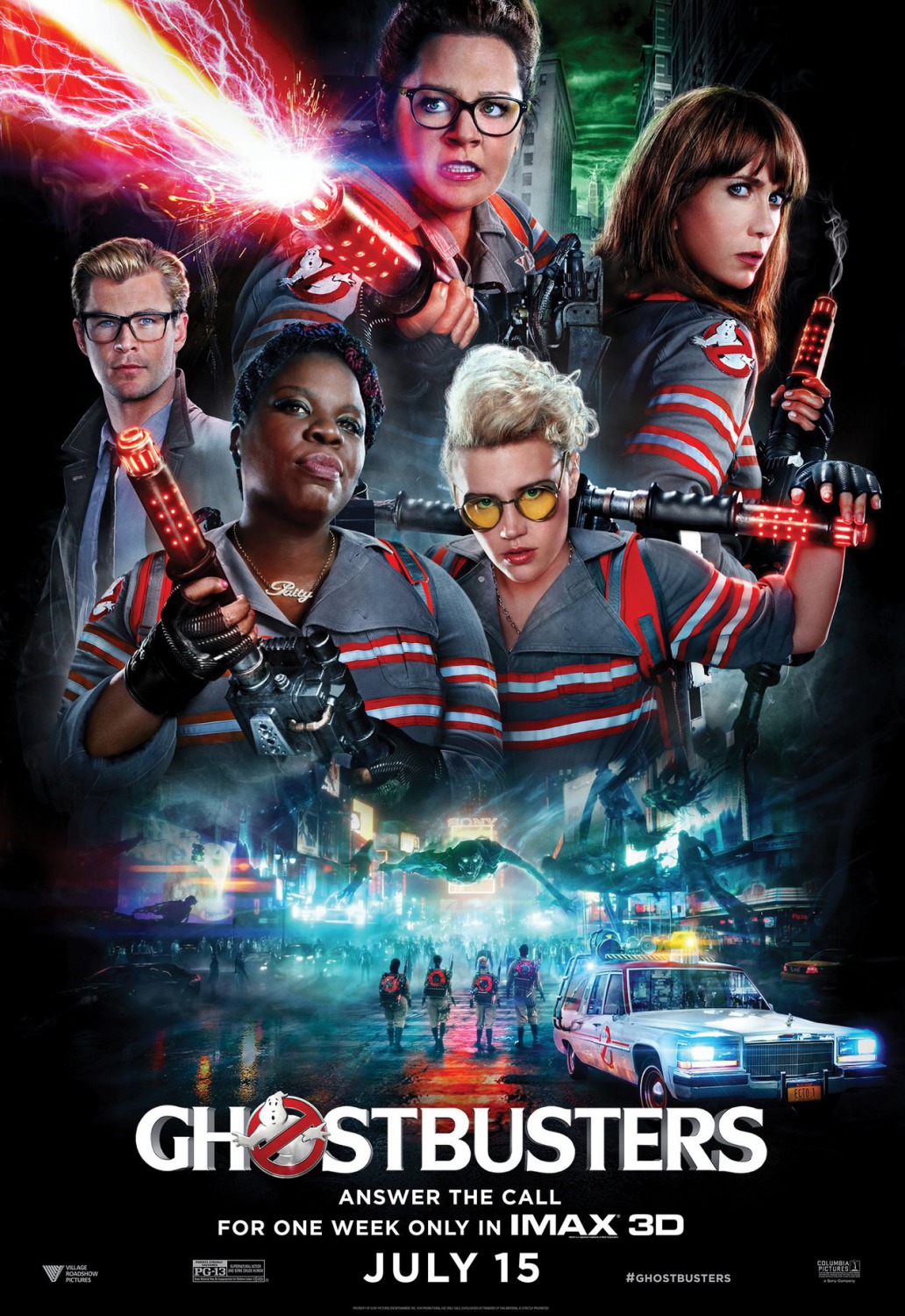 3. Ghostbusters, screenplay by Katie Dippold & Paul Feig, directed by Paul Feig (Columbia Pictures/LStar Capital/Village Roadshow Pictures/Pascal Pictures/Feigco Entertainment/Ghostcorps/The Montecito Picture Company)
Ghostbusters is a comedy/action reboot of the original Ghostbusters franchise which consisted of films in 1984 and 1989, about a quartet of ghost-hunters who use high-tech gadgets to trap and contain hostile spirits loose in the world.  The film takes place in a world where the original Ghostbusters film never happened,  and the public as a whole is skeptical of the existence of ghosts, but major hauntings have suddenly started happening all over New York and four women come together to investigate and stop this from escalating.  Dr. Abby Yates (Melissa McCarthy) and Dr. Erin Gilbert (Kristin Wiig) are physicists who wrote a book about paranormal phenomena.  Gilbert has disowned the book in the pursuit of what she views as a more legitimate academic career, but she discovers that Yates has self-published it without her knowledge.  Yates has been working with Jillian Holtzmann (Kate McKinnon), an eccentric engineer who has been building the equipment for new experiments in the paranormal.  Together they found the Ghostbusters, and soon after they hire Patty Tolan (Leslie Jones), a subway worker who knows pretty much everything about New York.
The movie starts fresh, but it doesn't forget its roots–there are cameos from the original Ghostbusters cast, which is a fun nod to the original.  And as a whole, the feel of the movie fits in nicely with the other two films.  The action has large scale stakes and there is plenty of action, but always with an edge of comedy.  McKinnon was the highlight of the film for me, being the new-movie analog to the Egon character played by Harold Ramis in the original, her look, her attitude, her gadgets, she is a very fun mad scientist character.  McCarthy and Jones are up to their usual form, though I would've liked if the movie hadn't been set up so that the only black Ghostbuster was also the only one without higher education.  Wiig is one of my favorite comedy actors, but I didn't feel like the film did much with her comedically, for reasons I don't understand–she has very few funny lines, and as a whole her character felt like she was trying to be in a more straightforward action film while all the the rest were in a comedy.  Perhaps in the tradition of playing the foil against the other oddball characters, but perhaps I'm so used to Wiig playing the oddball characters herself that it just seemed out of place.  I also loved Chris Hemsworth as their doofy secretary.
And… this probably only annoys because I work in self-publishing, I feel like the self-publishing element of the plot was a super weak way for the characters to meet.  If someone you haven't talked to for years  ruins your chance at tenure by self-publishing the old book you co-wrote without bothering to ask your permission, I wouldn't respond by seeking them out and talking to them, I'd file a Copyright Takedown Notice with Amazon immediately, and might consider seeing if they want to publish the book without my name AFTER negotiating something in terms of the existing and future royalties.  I would probably not become buddies with my copyright-infringing estranged school buddy.  But… I'm sure most of the moviegoing public doesn't feel as strongly about that as I do, so…
But as a whole this was a lot of fun, funny and action-packed.  It's gotten a fair amount of the pushback that you would expect, "it ruined my childhood" sort of nonsense, but I thought it was fun to take a new angle, let new actors take on a familiar franchise.  I look forward to seeing the sequel that I expect will arise from it.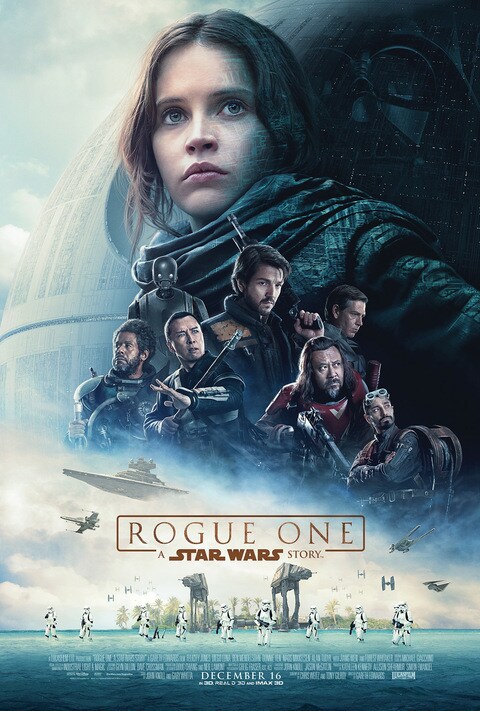 4. Rogue One, screenplay by Chris Weitz and Tony Gilroy, directed by Gareth Edwards (Lucasfilm/Allison Shearmur Productions/Black Hangar Studios/Stereo D/Walt Disney Pictures)
I reviewed this movie in the Ray Bradbury Finalists Review in April.
The newest in the Star Wars movies, albeit not one of the main numbered sequence.  This story takes place just before Star Wars: New Hope (the original movie).  Galen Orso (Mads Mikkelsen), former scientists for the Galactic Empire, has been living in seclusion for some time, but he is abducted and brought back to work on his grandest project yet–the weapon that will come to be known as the Death Star.  When he is taken, his young daughter Jyn (Felicity Jones) escapes and is taken in by extremist rebel Saw Gerrera (Forrest Whitaker).  Fifteen years later, the Death Star is nearly complete and Imperial pilot Bodhi Rook (Riz Ahmed) has defected from the Empire with plans for the weapons to give to the rebels, but the pilot falls into the hands of Gerrera, who is just as violent against other rebels as against the Empire.  Jyn is captured and recruited to communicate with Gerrera to try to recover the plans.
It was exciting and fun to get to see this important piece of Star Wars lore that we only heard about the results of in passing.  The main complaint I heard about the movie before it came out was that the cast was so large that you never really got to know anyone, and I think there's some truth to that, although I did have a great deal of affection for the protagonist Jyn, and also for spiritual warrior Chirrut (Donnie Yen) and the mercenary Baze Malbus (Wen Jiang) who were weird and quirky.  Unfortunately because of the nature of the movie, and the fact that none of these characters were in the original trilogy, you can probably guess how they end up, and you also know that they succeeded since that's what made the ending of A New Hope possible.  But it's still a fun movie worth watching, even if the characters aren't as well developed and the ending is already known.